Note that the products discussed on our site are independently selected by our editors. Your purchases through our recommendations may earn us a commission at no extra cost to you.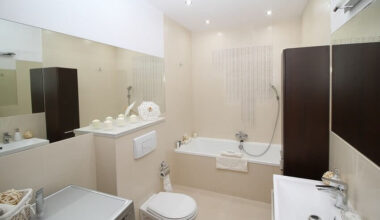 When it comes to remodeling your bathroom, most homeowners think that being on a budget does not allow them to be creative and innovative. Nothing is further from the truth since you can have a genuinely inspired bathroom and maintain a budget by being quite creative. It is recommended to list your bathroom ideas first when planning to renovate your old bathroom to have a clear-cut idea of what you need your bathroom to look. Here are forty bathroom remodeling ideas for those homeowners on a budget:
1. Swap the Old Shower Head with a Modern One
The old shower head can be swapped with a low-flow showerhead. You can consider getting a sunflower-style head that creates a rain-like spray. Else, you can acquire a hand-held shower head that hangs from above like a standard shower. The attached nose to this type of shower head allows it to be hand-held. Installing a low-flow showerhead that generally controls the volume of water as well as temperature emanating from the head is an added advantage. These types of showerheads are designed to reduce the amount of water wasted during use. So opting for a modern low-flow showerhead is good for both your wallet and the environment.
2. Install A New Shower Trim Kit
After some time, the metal on sprouts, tub, as well as shower controls, can become dull-looking and tarnished irrespective of all efforts to clean and polish it. A simple approach to solving this issue is simply fixing a new trim. You should substitute the nozzles and handles on your shower with brand new ones manufactured by the same manufacturer. This task is a straightforward do-it-yourself, with s shower trim kit retailing at just $20 to $ 50 on the basis of brand.
3. Paint the Bathroom
An effective and cheap tactic of enhancing the look and value of your bathroom is often as simple as adding a fresh coat of paint on the walls. You should try selecting a color that apart from brightening your bathroom, it will also match well with your new design ideas. In fact, a coat of mold-resistant bathroom paint will uplift your bathroom in a significant manner. You can either paint the bathroom yourself or hire the services of a pro painter.
4. Install New Towel And Toilet Paper Holder
You may be required to install a new towel and toilet paper holder when remodeling your bathroom. The bathroom tissue and towel holders wear out over time and ultimately require to be substituted as well. Installing a brand new toilet paper holder and towel rod is not all that hard since you can accomplish the task by employing simple DIY strategies.
5. Replace The Faucet, Sink, And Vanity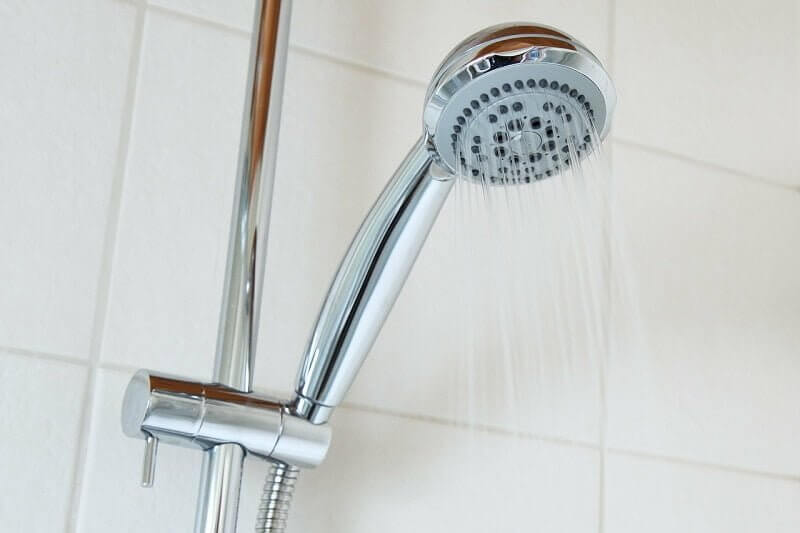 You should incorporate a minimal design if you have a limited budget. With a limited budget, you can substitute the old bathroom faucets, shower faucets, sinks and vanity with new ones. The modern, trendy remodeling fashions allow you to choose various types of these products. Most of these items are available in the market at an affordable price.
6. Substitute Your Old And Two-Handled Shower For A Single-Knob
It is essential to swap your old and two-handled shower with a single-knob pressure-balancing valve. With this upgrade, you will significantly eradicate the risk of any individual getting blistered when the flow of cold water is interrupted when another family member flashes the toilet. A licensed plumber will help you replace this at an affordable cost.
7. Resurface The Tub
Removing an inbuilt tub typically need carrying out a lot of destruction to the bathroom, from the floor to the walls. Nevertheless, you can refurbish your current enameled cast-iron tub to make it look new by changing its color. You can hire a proficient tub refinishing person for this task. The person hired should wear respirators and follow appropriate measures to protect him or her against refinishing chemicals. If need be, you can replace the tub with an appropriate size.
8. Use Stylish Lighting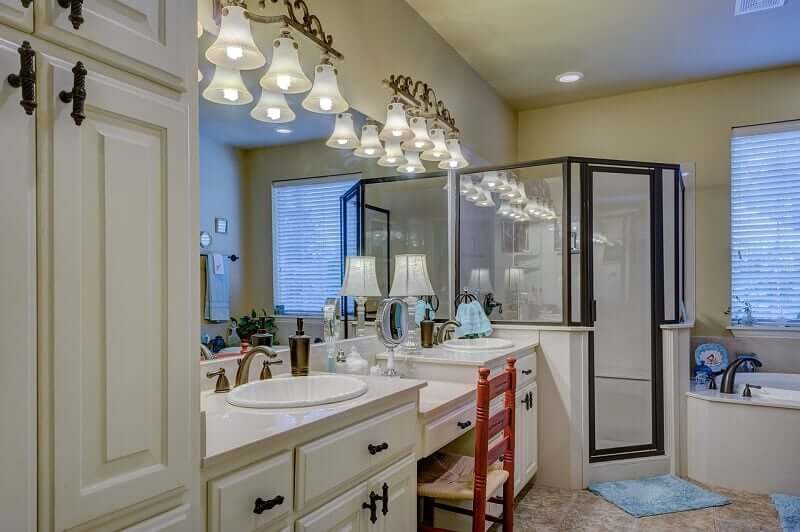 Apart from the common bathroom lighting being too functional, it can also be pretty. Nevertheless, you can add exceptional and stylish lighting in your bathroom by incorporating a showstopper chandelier. This setting is unique because it displays beautiful patterns of light over your bathroom. This aspect gives your bathroom space an exceptional feel at every time of the day. You may opt for a bronze-toned light that contains crystal teardrops.
9. Add Bead-Board Wainscot
This exceptional half-wall painted modernizes the look of your bathroom, dresses up the bathroom and also protects the walls from spills and dings. Professional painters can assist you to install the bead-board wainscot comfortably. This board can be painted in any color that you need and can genuinely put a lively look on an otherwise boring and dull bathroom. If installed below bar areas, the bead-board wainscot offers an appearance of sophistication while giving a protective wall covering from the bar stool feet.
10. Coordinate Accents
You can give your bathroom a designer touch by installing matching accessories. In such a case the cabinet's silvery frame is fitted alongside a decorative metal outlet covers. It is true that almost any color in the world would match the color scheme you use. You can attain a sophisticated look by using a dark grey and white color. You can opt for a light rose pink and dark rose pink if you need a feminine look.
11. Tile The Countertop
The wide range of tile selections present at home supply stores makes tiling your bathroom countertop a simple task. A tiled countertop is an alternative to a stone slab. Apart from this countertop costing much less, it is also easy to fix it using a simple do-it-yourself method. A bead of clear caulk can be added to the countertop to ensure that water does not get into the wood. Ceramic tile bathroom countertop can be unique and attractive for your bath.
12. Refinish Fixtures
It is essential to refinish your old sink and cast-iron claw-iron claw-foot tub rather than replacing them. It will cost you a significantly low amount to refinish them as opposed to acquiring new ones. For instance, the cost of purchasing a new set of fixtures and labor may cost you more than $ 3000 while refinishing may cost you between $ 800 and $ 1000.
13. Paint The Floor
Replacing and replacing a bath floor is an exceptional way of remodeling the bathroom, but it is not always straightforward to remove the existing floor due to restrictions such as time and budget. Painting your bathroom floor may not seem like a viable option, but given the durability and quality of waterproof sealers and adhesion primers, it is an astonishingly attractive, durable and inexpensive way to give your bathroom a brand new and unique look.
14. Reclaim The Towel Rack
While bathroom resurfacing can comprise slight replacements of bathroom furnishings, or can even translate to replacement or removal of structures such as towel racks and cabinets, bathroom remodeling means having every structure redone or re-surfaced to give it a new look. This can involve changing the color or repairing the structure. You should, therefore, seal the aged finish of the towel rack with the best sealant to prolong its lifespan.
15. Make A Unique Wallpaper
From bold geometric patterns to ditsy floral and subtle damasks, bathroom wallpaper is back and making a huge impact. Bathroom wallpaper has occasionally proved to be incredibly affordable than tiling, and the current wallpapers can be easily changed when need be. You can consider developing your own graphic wallpaper covering out of pages from a classic book. Place wallpaper paste at the back of the pages and then adhere them on the bathroom wall.
16. Install A Salvaged Slider
If your bathroom space does not facilitate for a traditional hinged door, you should instead install a sliding door. A salvaged schoolhouse door glides on your bathroom wall-mount track decorated with barn-door hardware. Glass can also be fitted in your door's top panel to allow light to enter the windowless bathroom. With a small budget, you can purchase the salvaged slider and have it installed by an expert.
17. Integrate A Metal Tub Surround
Use a rustproof and rustic surround for your in-drop bathtub out of galvanized-steel and corrugated roof paneling. Generally, corrugated metal seems like a rust disaster waiting to occur, and it is essentially quite dependable and corrosion resistant. The metal tub comes with corrosion-resistant coatings such as aluminum and zinc. A 12 X 12-foot sheet is sufficient for one side of a tub and only costs $ 18.
18. Brighten Your Tiles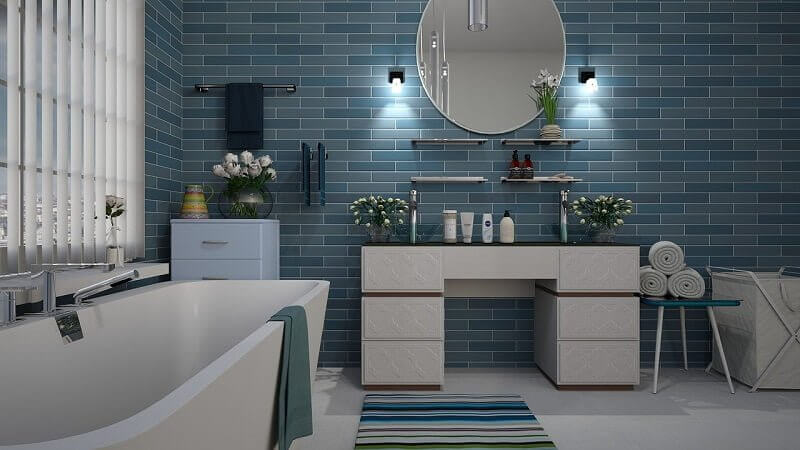 Nothing makes your bathroom look old and become dirty faster than tired old tiles and grimy grout. These also tend to entertain mildew and mold, which pose extreme health risks. Bathroom tiles lose their luster and shine via every-day tear and wear, as well as exposure to scum, soap, water spots, dirt, and other environmental aspects. Several techniques from natural to DIY treatments can help you restore shine to your bathroom tiles and make it reclaim its exceptional look.
19. Create A Pleasant Color Palette
The color of the floor in a bathroom contributes greatly to the general feel of the space. With this aspect, the shade you select for the bathroom's walls can either balance or magnify the impact of the floor. Since the bathrooms possess limited wall and floor space, the crucial aspect is maintaining a feeling of airy and open space. If your flooring contains more than one component color, it is essential to coordinate with the whole palette other than coordinating with the dominant color only.
20. Incorporate A Water-Resistant Wainscot
Try a comfortable bathroom remodeling with wainscoting. Bathrooms can be difficult spaces to work in but by integrating wainscoting, you can genuinely make it stand out no matter how small or big the bathroom is. Wainscoting is typically three feet tall and mounted along the bottom of the wall. The most common way of adding wainscoting is to acquire a bead board. The beadboard offers an illusion of having made with numerous different small pieces of lumber.
21. Put A Mirror On The Bathroom Wall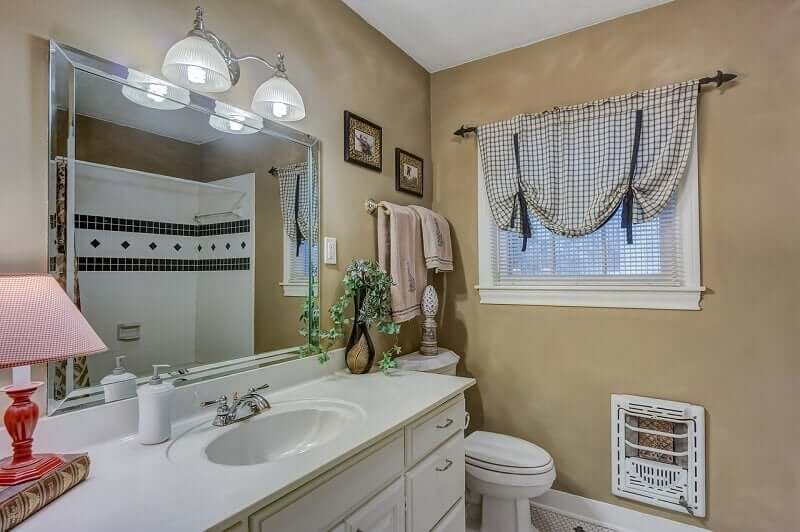 Do you want to make your bathroom seem much bigger? Does your bathroom look cramped and want to improve it with some design tricks? Well, in these scenarios, the best solution is fixing a bathroom mirror. Regardless of a guest bathroom, tiny bathroom or master bathroom, you can make the space of the bathroom look much bigger by incorporating hanging mirrors strategically.
22. Create A Paneled Overlay
Install a plain mirror that is adhered to the wall alongside a wood frame. For instance, you can opt for three mirrors where a 1 X 8 mirror is fastened at the top of the wall; a 1 X 6 mirror is vertically glued on the wall while a 1 X 4 mirror is fitted at the bottom of the rail.
23. Tile A Mirror Frame
Tiling a mirror frame not only improves the beauty of the bathroom mirror but also enhances the look of your entire bathroom. While any form of tile can be utilized to make the mirror frame, ceramic tile is the most prevalent among homeowners. You can even opt for multi-colored tiles for an exceptional look.
24. Salvage A Mirror Surround
You should frame your bathroom mirror instead of ditching the old plate-glass mirror. You will genuinely fall in love with the wood molding as well as how it makes your bathroom mirrors seem more attractive and unique in comparison to the standard and unframed mirrors. This project is wholly achievable even if you don't have carpentry skills. There are standard DIY tactics you can follow to achieve this task.
25. Install Plantation-Style Shutters
With bathroom window shutters, both privacy and light are ascertained. You can close the shutters entirely for a total discretion or shut out the night for a sheltering atmosphere when you are enjoying a relaxing soak in your bathtub. During the day, you can tilt the slats to let in the appropriate amount of light that you need. Opening the slats and shutters entirely enhances daylight while keeping your bathroom hidden from snooping eyes.
26. Paint Two-Tone walls
You can add a sense of style, depth and drama to your bathroom by painting two-tone colors on the bathroom walls. Your bathroom can be instantly colorful, fun and look much bigger with the appropriate application of two colors. It is essential for the two-tone paint color to echo the color of the tiles or floor.
27. Carve Out A Wall Niche
Whether it is new construction or remodeling, wall niches are a unique way of creating more space in your bathroom. A shower shelf or niche is comfortable to install and provides the ideal place to put your bathroom items. This exceptional piece of bathroom design can be custom-fitted to practically any space, from the most cramped bathroom to the tiniest to the most luxurious and the largest one.
28. Create A Storage That Has Dental-Supply shelves
Irrespective of your bathroom size, you would probably desire to have an even much larger bathroom without paying for expensive remodeling. The most standard way of achieving this is storing your clothes in an old metal cabinet. You can consider looking for a salvaged apothecary, lab or medical cabinets that retails at around $70 and place them in your bathroom.
29. Craft a Do-it-yourself Etagere
In simple terms, etageres are baker's racks in a bathroom. These tools add functionality by offering additional drawers and shelving for toilet paper, towels, and other products that require being within easy reach. Just like Baker's racks, the etageres are more than just standard shelves as they provide a viable way of decorating and adding style to your bathroom. Also, they are available in varying styles from traditional to fashionable and offer both unique and standard geometric designs.
30. Wall-Mount A Cabinet
Wall cabinets in your bathroom are a perfect place for storage. You can store toiletries, and other bathroom items in a sleek hanging cabinet mounted on your bathroom wall. The good thing about this kind of cabinet is that it does not consume any floor space.
Follow this guide from WikiHow to learn how to mount cabinets to walls.
31. Repurpose A Vintage Vanity
A bathroom vanity should not be supplied by a cabinetmaker or manufacturer or even purchased straight from the shop. In fact, thinking out of the box when thinking of a bathroom vanity can be a desirable option. Indeed, desks, cabinets, and sideboards, whether used or new, can all be repurposed to offer surface space and storage. There are various DIY bathroom designs that you can integrate.
32. Install A Rustic Towel Rack
A rustic towel rack is a stylish and functional accessory that can be added to your bathroom decor. In most cases, the racks are utilized in areas where surface space is not an issue, allowing for straightforward accessibility. These racks possess a much more dramatic impact on the entire theme of the bathroom space because they are more out in the open than other types of towel holders.
33. Select A Checkerboard Floor
The checkerboard floor has long been present in bathroom design and by now boasts a strong historical impression. It possesses the power to make a bathroom seem luxurious and magnificent. Whether the pattern is gently colored or monochromatic, the room immediately acquires a dynamic look that seems precise and organized. You should note that a vinyl composition provides a reasonable and dependable alternative to two-toned ceramic-tile flooring.
34. Showcase Accents on a Display Rail
What is more soothing than a relaxing neutral? Dress your bathroom in beige for the decisive retreat. Paired with warm woods, grays, and whites, this type of beige bathroom is certain to motivate your next home massage day. Beige in a bathroom displays a relaxing and tranquil effect while allowing your appliances and accessories to shine. From beige ceramic tile to beige paint, the idea of integrating beige into your bathroom design is exceptional.
35. Install Roman Shades On Your Windows
Roman shades are not only affordable as they offer homeowners everything they need from bathroom window treatments. The roman shades are practical, functional and offer a stylish effect on your bathroom windows. These shades allow you to regulate the natural light, assist in absorbing sound, and also to add a soft effect to the hard surfaces of a bathroom. There are endless colors that you can select according to the theme of your bathroom.
36. Use Faux Candles
Candle lighting possesses a soothing impact, especially in bathrooms. Whether you are preparing to start your day or reflecting on the day that has just passed, a glowing candle can bring serenity to the daily grooming rituals in your bathroom. You can opt for a bathtub caddy, shelve candle, or even cluster candles on your sink. The best thing is going for a battery-powered LED wax pillars as it produces a candlelight effect without dangers of fire.
37. Renovate the Old Bathroom Cabinets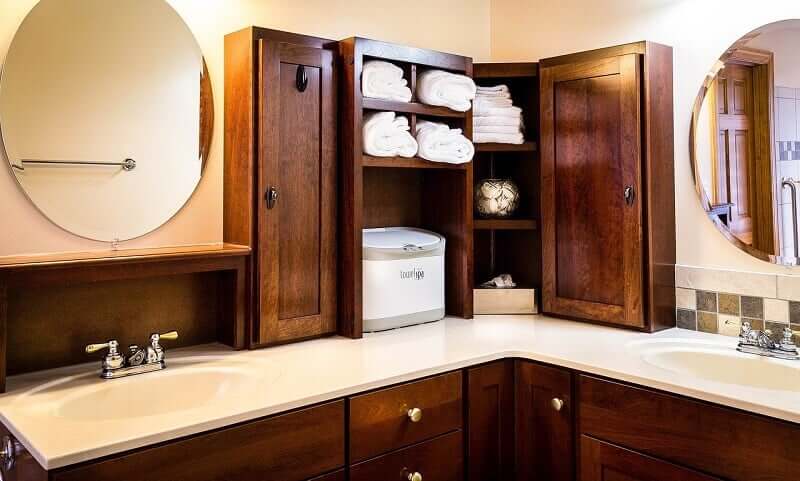 Replacing your old bathroom cabinets is costly. Therefore, you should think of refurbishing your old bathroom cabinets. You can either repair the ones that are broken or repaint the ones whose color has already started to peel off. With this tactic, you will be saving a few bucks that could have been used to purchase entirely new bathroom cabinets.
38. Bathroom Tile Backsplash
The perfect backlash can help in creating a spa-like environment in your bathroom. If you are anticipating for a bathroom improvement, you may be stuck to the notion of marble-everything and all-white, but this is not always the right thing. Your shower is indeed the perfect place for patterned tile and bold painting in your life.
39. Paint and Repair the Old Sink
Bathroom sinks make an attractive addition to your bathroom because they are available in lovely designs and are much easier to clean. But bathroom sink can chip especially when a heavy accessory is dropped on their surface. Luckily, bathroom repair kits are freely available in home improvement shops. These repair kits possess the perfect solution to address the crack or chip, as well as a touchup paint to develop a cohesive surface again.
40. Go Green with Your Remodeling
When remodeling your bathroom, you should not forget to remodel with the environment in mind. Low-flowing sinks, shower heads, and toilets will help you save money as well as conserve water. Besides, water-saving faucets and shower heads may cost you less than the standard ones. Purchasing used materials may also be suitable for the environment.
Final Words
Whichever the type of design that you need, you should make sure that you select the idea that suits your budget and requirements. It is ideal to mix both design and functionality as much as possible. Another essential consideration is matching your bathroom design to the general design or structure of your bathroom. It is advisable to take your time and think prudently to allow you to attain your perfect bathroom design.
If you incorporate these simple as well as affordable bathroom remodeling ideas, you are going to reap big out of your bathroom. If you find difficulties integrating these ideas by yourself, you should seek the services of an expert. Calling an expert is always advisable since they have the appropriate tools and equipment to help you in the makeover process.