Note that the products discussed on our site are independently selected by our editors. Your purchases through our recommendations may earn us a commission at no extra cost to you.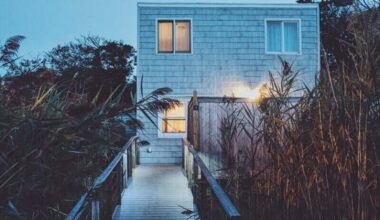 Are you looking to install an outdoor motion sensor light? Perhaps you would like to light up a dark walkway to avoid tripping on an unseen object. Or maybe you are trying to upgrade your home security system with a light that acts as a deterrent to a potential intruder. Either way, it is important to choose a light that will best suit your needs based on the specific features of a given light, research on existing options, and recorded experiences with a product.
Trying to find an outdoor motion-activated light can be somewhat challenging if you don't know where to start. That's why we decided to review some of the most common lights of this type in the following list. Hopefully your purchase decision will be made a bit easier by reading the following overviews of some of the best outdoor motion sensor lights available.
1. Mr. Beams MB360 Wireless LED Spotlight with Motion Sensor and Photocell
The Mr. Beams MB360 is a battery-operated product that can be installed anywhere it is needed. It features a bright, 140-lumen LED light alongside a photocell – a type of light sensor – to prevent activation while light is detected.
Therefore, the spotlight will only activate in the dark, and only when it detects motion. The built-in motion sensor is capable of detecting motion up to 30 feet away. Plus, you can easily adjust the light to the necessary or desired angle. Simply choose a location and install the light using the included screws and durable mount, and you will be able to pivot it up and down.
The Pros
Installation can be completed in less than five minutes
The batteries will last for about one year (with 8 – 10 activations per day)
Huge field of light (400 square feet)
30-second auto shut off
Low price
High-quality construction with weatherproofing
The Cons
Requires additional investment in batteries depending on use
Long-term sun exposure can lower impact resistance
The photocell is quite sensitive
Uses batteries quickly
Included screws may need to be replaced, depending on mounting location
Motion sensor can pick up small movements
The Verdict
The Mr. Beams MB360 is a solid choice for an outdoor motion-sensor light. It has a high rate of user satisfaction, and generally will last years with occasional battery changes. This is a perfect light for an outdoor area that doesn't get much sunlight, such as a patio or other shady location. Overall, the Mr. Beams MB360 delivers on its promises – and at a great price too.
2. Sengled Smartsense LED Security Floodlight w/ Built-In Motion Detector
The Sengled Smartsense LED Security Floodlight light is unique, as it simply screws into any normal-sized light bulb socket. No additional wires or hardware are needed to achieve functionality. The light itself is a small LED, and the device has an integrated passive infrared sensor to detect motion from up to 30 feet away. The light puts out 1050 lumens of brightness, and is suitable for installation in any location with a standard E26 fixture or socket.
This imported product boasts a 100-degree detection angle, and an intelligent algorithm that overlooks false triggers. It will stay lit for 90 seconds after it stops detecting motion. The Sengled Smartsense LED Security Floodlight is good for security or safety applications wherever it is needed.
The Pros
Installation is as simple as it gets
Eco-advantage LED offers 25,000 hours of life expectancy
Complete weather-proofing makes it suitable for all conditions
Large detection zone
Low-glare lighting
Reliable motion sensor
Great price
The Cons
No photoelectric sensor, so they can light during the day
Does not work with dimmer switches
You are limited to where there is a bulb socket
Motion sensors can be overly sensitive or not sensitive enough
Potential issues with bulb fit
The Verdict
Nothing will beat the convenient installation process of the Sengled Smartsense LED Security Floodlight. However, though the light itself generally works as described, it has one major design flaw – the complete lack of any sort of dusk/dawn sensor. It is therefore better installed in an area that is always dark, such as an indoors area. However, they will still work in a pinch if you need to use an E26 socket rather than installing any sort of new hardware or related mounting brackets.
3. 20W Dual-Head Motion-Activated LED Outdoor Security Light
If you desire a permanent outdoor fixture replacement, the 20W Dual-Head Motion-Activated LED Outdoor Security light from LeonLite is a good choice. It is designed to wire directly in to the previous fixture's spot on the outside of your house. This light is fully-adjustable (180 degrees of movement), boasts up to 70 feet of sensing distance, and has ultra-bright LEDs to ensure the best possible lighting in any situation.
This fixture complies with the ETL and DLC standards for energy efficiency. In addition, it has three modes of operation that can help to save even more electricity. You can have the light always activated with the on-time mode, which would be ideal for any place that it stays dark during the day. You may also use the auto mode, turning on during any time of day or night, but only lasting as long as you set it for. Finally, the dusk-to-dawn mode will allow the light to function only when less than 50 lux are detected.
The Pros
Low energy consumption
Huge detection distance and respectable angle (180 degrees)
Very customizable settings
Full weatherproofing
Updated base design for easier installation
They stay cooler than the halogen lights they replace
Compact and lightweight
Fantastic price
The Cons
Involved installation process
Harsh color
Mounting hardware is not the highest quality
Made for walls only
Not easy to set weatherproofing gasket
The Verdict
This light fixture is a great choice if you need outdoor security lights that will replace an entire fixture. The LeonLite 20W Dual-Head Motion-Activated LED Outdoor Security Light should be installed by an experienced DIYer or a professional, as it can be a bit hard to install properly to ensure that the weatherproofing works as designed. However, the end result will be worth it. This light puts off very bright, white light when it detects motion from up to 70 feet away.
4. RAB Lighting STL360H Super Stealth
For a top-of-the-line permanent motion-activated light fixture, look no further than the RAB Lighting STL360H Super Stealth. This fixture, which is suitable for installation in any type of environment, offers some of the best motion detection in any product on the market. Plus, the included photelectric sensor will deactivate the lights during the daytime (though this is fully adjustable for 24-hour applications).
This light also boasts an advanced detection algorithm to minimize the effects of false triggers. Another part of the algorithm includes temperature compensation, which adjusts the sensitivity of the light based on hot and cold ambient temperatures. Plus, these lights are radio-immune, preventing any sort of radio frequency from affecting the operation of the fixture.
The Pros
High-quality metal construction
Great sensing distance and angle
Can use regular light bulbs
Highly customizable and adjustable
Surge protection to withstand up to 6000 volts
Assembled on a universal CU4 EZ plate for installation purposes
The Cons
In-depth installation
Not recommended for use above 15 feet
Kills insects that gather around it
Occasional problems with fit
Only meant for use with halogen or incandescent bulbs
Pricier than most other options
The Verdict
The RAB Lighting STL360H Super Stealth is a perfect replacement for most outdoor lighting fixtures. This product offers a variety of safety and convenience-oriented features that are not matched by other products on the market. However, you may want to spend a little more and have this light professionally installed, as it is designed to be hardwired into your home. Of course, if you have experience replacing similar fixtures, the CU4 EZ layout on the base should make installation a breeze.
5. Light It! by Fulcrum
Fulcrum's Light It! is a solid piece of motion-sensing lighting technology. It consists of a battery powered, motion-activated bank of six ultra-bright LED lights. This device will pick up motion from 25 feet away, and within a 100-degree angle. Plus, it will only detect a moving heat source, which should lead to fewer false triggers.
The Light It! is lightweight, portable, easily installed, and casts a wide beam of light. It also comes in several different colors, which will help it match any design scheme that you use in your home. This Fulcrum device can also be adjusted easily to provide the best angle of light possible.
The Pros
Floodlight LEDs will last more than 100,000 hours
Can install anywhere; simple to install
Effective motion sensor
Great value
Efficient weatherproofing
Lasts for years
The Cons
Kills batteries quickly
Insects like to invade the case
Not good with snow
Light is not the brightest
Mostly plastic construction
The Verdict
If you want to mount a battery-operated, motion-activated light, the Light It! by Fulcrum wouldn't be a bad choice. They can be had at a pretty low price, and are installed easily with no additional wiring required. This type of light will never need a replacement LED – though the batteries must be replaced fairly frequently.
The Light It! is best used where it won't be activated too often, unless you are okay with purchasing batteries on a semi-regular basis. Of course, there is the distinct advantage that no new wiring must be ran out to mount a new fixture. Putting a little extra money into batteries might be worth the time you save with the easy installation.
6. Litom Wireless 24 LED Motion Sensor Solar Light
** This product is currently not available.**
The best part about a solar-powered light is that you do not need to do any custom wiring, nor do you need to purchase consumables (such as batteries) to keep the light operational. If you choose to go the solar route, the Litom Wireless 24 LED Motion Sensor Solar Light is a good choice.
This light has a 120-degree sensing range, and can detect motion from a maximum of 26 feet away. It can be mounted on any wall with the included hardware, including in outdoor locations. The durable, impact-resistant ABS case and certified waterproofing ensures that it can withstand any type of weather conditions.
The Pros
­Three operating modes ensure consistent desired functionality
Installation is simple with the included hardware
Solar panel must only be in direct sunlight for 7 hours to get a full charge
24 LED lights shine brightly in any conditions
Full weatherproofing ensures years of reliability
Compact size
The Cons
Does not function as well in winter due to reduced daylight hours
Must be mounted in a place that receives direct sunlight
Solar battery soldered in and thus not replaceable
Light may go out too quickly for your needs
Creates a bluish light that you may not like
The Verdict
As far as solar-powered lights go, this one is pretty good for the price. It is useful in security and safety applications, as long as it gets enough sunlight throughout the day to stay charged. However, you need to carefully consider where you wish to install this light. It must receive direct sunlight to function properly – otherwise, it may not light brightly (or at all) when it is needed most.
7. Hallomall Waterproof Solar Powered Outdoor Motion Sensor Lights
This product from Hallomall is suitable for a variety of applications. It is solar-powered, enabling this light to be mounted practically anywhere that it can receive sunlight. It also has
three distinct modes that make use of the motion sensor and photovoltaic cell in tandem to ensure that the light only turns on when you want it to.
The Hallomall Waterproof Solar Powered Outdoor Motion Sensor Light boasts a 120-degree sensing angle, with a maximum range of about 18 feet. This certified-waterproof fixture is constructed of durable ABS, and will withstand all sorts of weather conditions throughout the life of the product.
The Pros
Uses 2200mah lithium batteries to increase available lighting time
Three distinct lighting modes for various applications
Includes all necessary mounting hardware, and even a screwdriver
Great sensing range
Extreme weatherproofing
Are able to charge even
The Cons
Instructions are not clearly translated
Replacement batteries can be hard to find
Not necessarily that bright
Using it on the "always-on" nighttime mode can kill the battery before midnight
Weatherproofing seals could fall out while exchanging batteries
Can't be mounted from the top
The Verdict
A Hallomall Waterproof Solar Powered Outdoor Motion Sensor Light can be applied to a variety of situations. Whatever this device is used for, the easy installation and reliable lighting will help you to achieve your lighting goals. However, you should ensure that you place it in a location that gets at least some sun throughout the day. This will help your light maintain consistent operation throughout the night.
8. URPOWER 8 LED Wireless Waterproof Motion Sensor Outdoor Light
Some of the more compact motion-activated lights on the market are the URPOWER 8 LED Wireless Waterproof Motion Sensor Outdoor Lights. This product has a compact design, and will provide motion-activated lighting at a 120-degree angle and from up to 10 feet away.
The 8 bright LED lights included in this product are bright enough for practically any application. They also allow the product's charge to last a bit longer, as they hardly drain any of the 900mAh Lithium battery. Plus, these lights will never turn on during the day as they include a photovoltaic sensor that will not allow operation above 10 lux.
The Pros
Quick and easy installation
No need for batteries or wiring
Fantastic price
Unique and efficient internal design
Certified waterproof and heatproof
50,000-hour lifespan on the included LEDs
Don't require direct sunlight to function
The Cons
Might be too small for some uses
Construction is a bit flimsy
Delay timer is a bit too short
Color is a cool blue, which might not be suitable for your purposes
Cannot attach to metal surfaces
Key for turning them on can be easily lost due to its small size
The Verdict
For a small light, this product performs exceptionally well. It is perfect for any place that is
hard to get light to – even if the product isn't mounted in direct sunlight, it still gets enough of a charge to function as needed. The URPOWER 8 LED Wireless Waterproof Motion Sensor Outdoor Light is quite small. If you need an extremely bright or strong light, you may not want to choose this product. However, it is perfect for many other applications.
9. URPOWER 20 LED Outdoor Solar Motion Sensor Lights
The URPOWER 20 LED Outdoor Solar Motion Sensor Light can provide one of the best outdoor lighting solutions on the market today. It offers easy installation, a durable design, and is quite reliable. It can detect motion within 10 feet – upon which it will activate 20 LED lights that will provide improved visibility in any conditions.
This light is perfect for outdoors applications, as it is certified waterproof. Plus, it only needs about 8 hours of solar charge to provide all-night illumination. These lights are great for porches, patios, driveways, or other outdoor locations that require motion-activated light.
The Pros
Solar powered means no batteries or wires
Easy maintenance due to detachable solar panel and body
Stainless steel construction will help withstand weather
Simple to mount and install
Gentle glow will not disturb sleeping individuals
All hardware is included
The Cons
Not all that bright
The lighting cycle could be too short for some users
Solar panel must be cleaned occasionally
Too small for some applications
Blue color may not be desirable
Small field of light
The Verdict
These lights are best mounted on an outdoor wall, and in an area that will receive direct sunlight throughout the day. As long as you keep these lights by URPOWER charged up, they will provide consistent lighting performance throughout the night. However, they should only be used in areas that don't need extremely bright light, as they are somewhat dim. It is worth mentioning that these lights can be picked up for such a low price, that the drawbacks shouldn't preclude a purchase of the URPOWER 20 LED Outdoor Solar Motion Sensor Light.
How To Choose the Best Outdoor Motion Sensor Light
Okay, so we've gone over nine of the best outdoor-rated motion sensor lights on the market today. But how can you choose the right light for your intended use? Read on, and we will go over the six main questions you should ask yourself before choosing a motion-activated outdoor light.
1. What Are My Plans for this Light?
Generally, people who purchase motion-activated lights are after one of two results – improved path safety, or improved home security. Whether you are trying to see more easily or deter a potential intruder will have a bearing on what type of light you choose to purchase.
If you are merely trying to improve the safety of a walking path, you needn't purchase the top-of-the-line lights. You can use any type of power – solar, battery, or direct wire – without worrying about a security-compromising failure. You also may choose a light that offers less lumens, as even a small amount of light will drastically increase the safety of a path.
However, lights to be used in security applications must be bright and always reliable. Therefore, if you are purchasing an outdoor motion-activated light for security purposes, it would be wisest to choose a hardwired light. This way, you won't have to worry about dead batteries or cloudy days disrupting your home security system – potentially compromising the
safety of you and your family. A light in a security application should also be very bright, as bright lights act as better deterrents to potential criminals.
2. Where Will It Be Mounted?
The next thing you have to determine in choosing a motion-activated light is where you plant to mount the product. If there is a preexisting hardwired lighting fixture near the area you wish to provide with motion-activated light, buying a replacement fixture could be your best bet. Although they can be a little more pricey, they are incredibly reliable and hardly ever fail.
On the other hand, there might not be any sort of hardwiring available to you in your location of choice. You should instead consider whether a solar-powered light would be appropriate for your application. If the location you choose gets a lot of direct sunlight throughout the day, a solar light could be a cost-effective and efficient option. However, you should keep in mind that these tend to be a little dimmer than hardwired or battery-operated lights.
Finally, if the location does not receive a good amount of direct sunlight, and has no available space for a hardwired fixture, your best bet would be a battery-operated light. These are especially useful for applications in sheds, boathouses, or other enclosed spaces. It is best if you do not frequently use a battery-operated light – unless you are okay with replacing the batteries on a semi-regular basis.
3. How Much Maintenance Do I Want to Perform?
This is a very important question to ask yourself when you are choosing a motion-activated light. The type of light requiring the least maintenance would be a hardwired fixture. You need only change out lightbulbs – or perhaps you won't need to do anything at all, if your device makes use of LEDs. However, the installation process of a hardwired fixture is a bit more involved. If it is not done properly, it could actually lead to more frequent required maintenance than another type of light.
Solar panel lights must be maintained a bit more frequently than hardwired ones. They do not require changing batteries or bulbs, for the most part. However, solar panels tend to build up a layer of dust, dirt, and other debris that will impact their performance. Therefore, you need to clean the panels whenever you start to notice a decrease in effectiveness. This can turn into a monthly – or even biweekly – task, depending on your locale.
Battery-powered motion-activated lights require the most maintenance out of the three types. Depending on their frequency of use, they may require new batteries once every few months. Of course, the convenience of a battery-powered light can't be easily beaten. Plus, they are quite versatile and portable, and can be placed anywhere.
4. What is My Budget for a Light?
The most important question you should ask yourself is how much you can afford to spend on a new motion-activated light. For those with deeper pockets, a hardwired light would be a great option. Though they have a higher upfront cost – especially if you elect to have the device professionally installed – they will have a lower lifetime maintenance cost. Plus, they are the most reliable type of light.
For those on a mid-range budget, battery-operated lights are not a bad choice. They can be placed essentially anywhere. However, you must purchase new batteries for these units, which will drive up the lifetime cost of owning one of these lights. Therefore, these are the best choice for someone with too small of a budget for a professional hardwired installation, but enough money to purchase batteries somewhat frequently.
The lowest prices you can find for outdoor motion-activated lights are on solar-powered lights. Certain products come in packs, and you pay very little per unit compared to other types of lights. They also do not require any sort of consumable battery. However, they are not as versatile as other types of lights. Plus, they will eventually wear out due to their solar batteries – which are non-replaceable. When they burn out, they are done for unless you happen to be a solar panel technician.
5. Is It Outdoor-Certified?
The best motion-sensing light products will have a certification known as IP 65. This is short for Ingress Protection, which is a rating designed by the International Electrotechnical Commission. Basically, it refers to the ability of a certain product to withstand dust and water.
An IP 65 rating breaks down as follows: A first digit of 6 means that the light is completely
dust-tight. It is impossible for any particles of dust to enter the case while everything is sealed up. The second digit, 5, means that the light can withstand jets of water projected at the case.
It is very important to make sure that your product of choice offers an IP 65 certification. Any lower certifications may not withstand weather conditions as well. If you choose a device certified IP 65, it should handle even the most extreme weather conditions.
6. Does My Product of Choice Offer Any Warranties or Guarantees?
Though this is a question that you should ask yourself before purchasing any product online, it is especially important to do proper research before buying something that may impact your safety or home security. Many of the outdoor-rated motion-activated lights on the market today offer some sort of warranty or guarantee.
Be sure to read the language of the warranty – does it cover elemental damage, fire damage, and acts of God? Or is it simply a manufacturer's defect warranty? It is always better to choose a product with a warranty that offers comprehensive coverage, especially when you are dealing with products that are meant to be weatherproof and reliable.
There is always a chance that you might purchase a lemon, or the product might otherwise be unsatisfactory in some way. At the very least, you should make sure that the supplier of your product offers a reasonable return period so that you do not end up losing money in case your light doesn't do the job you needed it to.
As long as you ask yourself each of these six questions, and compare your answers to your product of choice, you should end up with an outdoor motion-activated light that you will be happy with. It should accomplish the job that you need it to – assuming that you have checked all of the features and ensured that they are compatible with the intended usage.
Conclusion
Hopefully we have helped you to make a wise purchasing decision regarding an outdoor motion-activated light. Whether you are intending to improve the safety or security of your home, if you follow our guide you are sure to achieve the results you need. Each type of outdoor light has its ideal place and situation for deployment – after reading this article, you should have a little more knowledge in this arena.
If you purchase a product on our list, or decide to go with something else, be sure to ask yourself the six questions mentioned above. If you answer those, you will know whether your new motion-activated light will be the best fit for your situation. So, get out there and start looking! Your new light awaits.
Our Picks:
Best Quality: RAB Lighting STL360H Super Stealth
Best Value: URPOWER 20 LED Outdoor Solar Motion Sensor Lights
Easiest Installation: Sengled Smartsense LED Security Floodlight w/ Built-In Motion Detector
Best Overall: Hallomall Waterproof Solar Powered Outdoor Motion Sensor Lights