Note that the products discussed on our site are independently selected by our editors. Your purchases through our recommendations may earn us a commission at no extra cost to you.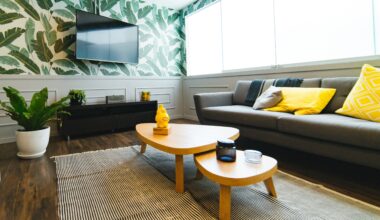 Nesting tables are fast becoming a must-have purchase for any modern home. These highly versatile pieces of furniture offer homeowners a multitude of options without necessarily taking up a large footprint of your house.
Every home is need of extra surface-space. Space to put everyday objects like cups, plates, magazines and tablets. But in addition to practical space, nesting tables can be used to showcase pieces or artwork, floral displays or other decorative accent pieces.
Although they are predominantly found in the living room, nesting tables can be used in virtually any room in the house. We've searched through the hundreds of nesting tables available on Amazon and picked out what we believe to be the current best buys in twelve popular categories. After we've highlighted the current best buys we've provided a helpful buyers guide and answered some Frequently Asked Questions. By the end of this article you'll be ready to purchase a set of nesting tables that will be a functional and stylish addition to your home.
Best Nesting Tables Reviews
Here are our best picks for some of the great nesting tables you can buy right now —
Coaster Home Furnishings 2-piece Round Nesting Tables – Best Round
Highlights:
Made from solid wood
Beautifully crafted design
Sturdy design
Finished in a warm amber varnish
No assembly required
Buy on Amazon
Our first recommendation for the best round nesting table comes from Coaster Home Furnishings. This traditionally styled two-piece table set is made from solid wood. It's finished to an incredibly high standard and the beautifully crafted scalloped bun feet and a burl inlayed top add a classic feel.
The two tables are finished in a homely warm amber finish, making these tables perfect to compliment traditional décor. Coaster Home Furnishings take extra care when packaging their products so you can be extra confident that everything arrives at your home as it should. This two piece set needs no assembly. One sign of this sets' quality is in its weight. The tables need to be lifted over each other to stack.
If you are looking for a set of round nesting tables to complement your traditional decor, then these 2-piece round nesting tables from Coaster Home Furnishings are the perfect buys for you.
The Good
No assembly required
Traditional design
Crafted feet and top
Extra sturdy build
Carefully packaged
Not So Good
Due to their weight, you might not find it easy to move the tables from one place to another.
Adeco FT0124 Round Nesting Tables – Another great round nesting table set
Highlights:
Beautiful brushed gold design
Made from metal and glass
Stylish and functional
Eye-catching oval design on the sides
No assembly is required
Buy on Amazon
Our second recommendation for best round nesting tables are Adeco's two gold end tables. This pair of nesting tables offer a touch of chic glamour and quality to the home and are sure a fire conversation starter.
Made from metal and tempered glass, the larger of the two tables is 18 inches high. The brushed gold finish gives an added sense of quality, and the oval patterning on the sides draws the eye and adds an area of interest.
These tables will make a luxurious and chic accent feature in any room and would be perfect for both display and function. The tables could be arranged separately or stacked to save on taking up lots of floor space.
The Good
Made from quality materials
Stackable
Oval designs add design accent
Gold finish adds sense of high quality
Functional and stylish
Not So Good
The glass top may break if heavy pressure is applied
New Geometric Glass Nesting Coffee Tables – Best Gold
** This product is currently not available.**
Do you want to add a stunning accent feature to your existing room decor? The New Geometric Glass Nesting Tables' unique geometric design will instantly draw attention to themselves. These units are stunningly perfect for showcasing your favourite or most precious wares. The design wonderfully unites a modern design with a classic gold finish. Not only do these tables add a sense of style and class, they are also ultra-easy to put together. The ¼ inch thick tempered glass top simply fixes to the frame by using the suction cups provided. These units don't stack on top of each other but can be placed close to each other to add yet another layer of interest to the room.

The Good
Unique geometric design
Brushed gold finish
Thick tempered glass top
Super easy assembly
Eye-catching addition to the home
Round design make it easy to walk around
Not So Good
Tables don't stack – look at some other products if that's what you want.
HOMY CASA Modern Coffee Table Set – Best With Wheels
Highlights:
Features feet pads to stop any unwanted marks on the floor
Large surface area on the top
Simple but functional design
Can be used separately or together
Buy on Amazon
The Homy Casa Table takes first place for our Best Buy for Best With Wheels category. These tables have an impressively large surface area and the second table has an additional shelf beneath it to allow you even more storage space. The smaller of the two tables comes on wheels making it extra-easy to move around to wherever you need to position it in your room. The wheels are even fitted with tiny pads to stop any unwanted marks being made on floors. Homy Casa are producers of simple and functional furniture and the nesting coffee table set does not disappoint on any level. The tables are finishes in a warm dark brown which adds a homely but contemporary feel to the tables.
The Good
Wheels on smaller tables make it easy to move
Pads on feet prevents marks on the floor
Finished in a modern and warm dark brown
Contemporary design
Simple and functional
Not So Good
The dimensions are a bit bigger (29″ bigger, 25″ smaller) than usual for small spaces
Convenience Concepts American Heritage Nesting Tables – Best White
Highlights:
Sleek design with clear lines
Set of two tables
Comes from a quality manufacturer
Comes with everything you need to assemble them
Available in multiple finishes
Buy on Amazon
There are lots of fantastic white stacking tables available but we had no doubt when choosing the Convenience Concepts American Heritage as our best choice in this category. This ultra-modern set of two tables slide smoothly underneath each other when they are not being individually used. Their simple and sleek design works perfectly and the tables come in a choice of three finishes – white, espresso and a more traditional mahogany.
Whatever your existing home styling is, these tables will match perfectly. As usual, Convenience Concepts live up to the reputation for quality products and provide everything you need (even an Allen Wrench!) to put the tables together. These tables are also very sturdy and are guaranteed to last many years in even the most active of households.

The Good
Ultra-modern design
Choice of three finishes
Easy to put together
Set of two tables
Super sturdy
Not So Good
Not as high as some other tables
Glass Nest Tables by Fab Glass and Mirror – Best Glass Nesting Tables
Highlights:
Robust tables
Comes from a leading manufacturer
Minimalistic and modern design
Built with thick molded glass
Buy on Amazon
There could only be one choice for the best glass tables and those were provided by Fab Glass and Mirror, a leading manufacturer of high-quality modern glass furniture products. Their nest of three tables are beautifully moulded with curved corners so there are no sharp edges in sight. The tables have a slightly futuristic feel. Not only that, the glass is extremely thick, 3/8 inch to be exact.
The three tables together weigh and impressive 85 pounds so there can be little doubt that this is a robust stacking table set. One extra benefit is that glass tables increase the sense of space in a room so they work especially well in smaller spaces. Fab Glass and Mirror are known for their extra care when packaging their products and individually wrap each table you will receive.

The Good
Made from thick moulded glass
Each table is individually packaged
Sturdy and robust
Modern design
No sharp edges
Not So Good
Probably not suitable for homes with small children
Simpli Home AXCMNT-06 Monet Modern Nesting Tables – Best Black
Highlights:
Removable tops
Highly functional
Comes with a year-long guarantee
Features urban industrial design
Handcrafted with care using premium solid metal
Buy on Amazon
Our choice for the best black nesting table set is the Simpli Home Two-piece Nesting Tables which have a modern industrial design and are a part of the Monet Metal Collection. This set would especially complement homes which have contemporary furniture styling. As well as looking great the tables are also highly functional.
Highlights of this set include the lipped edge to the tables which, as well as being a nice design feature also prevents anything accidentally rolling off the table. The tops of these tables are also removable meaning they can double up as trays if you are wanting to eat a sneaky meal in front of the TV! These tables also come fully assembled and have a year-long guarantee. There's really nothing to not like about these highly functional nesting tables.

The Good
Made from solid metal
Features lip edge
Part of the Monet Metal Collection
Removable tops
Comes with one year warranty
Not So Good
These tables could seem too simple in design to some people
3-piece Nesting Table Set by Coaster Home Furnishings – Best Wooden Stacking Tables
Highlights:
Finished in a traditional warm brown
Only little assembly required
Made from solid wood
Made by a reputable seller
Features beautiful design
Buy on Amazon
Coaster Home Furnishing have created a simply beautiful 3-piece set of nesting tables that are easily our first choice for best wood set of tables. This set of tables are finished in a traditional warm brown and are part of the Mission Style range. The larger of the three tables is also higher than many nesting tables at 22.5 inches high. This would make the taller table suitable for resting a laptop on.
The Mission Style is reminiscent of sophistication and good taste which makes these tables the perfect choice if you want a set of tables that will look good and be functional within your home. This set does require some assembly so some basic DIY skills are necessary. There's nothing too difficult though and the only tool you'll need is a screwdriver!

The Good
Made from solid wood
Part of Mission Style collection
Finished in a warm brown
Made by a reputable company
Suitable for laptop use
Easy to put together
Not So Good
Some basic assembly may be needed to put the tables together
Hillsdale Furniture Monaco End Table – Best Marble Top Nesting Tables
Highlights:
Made of metal and quality faux marble
A set of three tables
Would match a large range of decors
Suitable for both display and function
Tables can be used together or separately
Buy on Amazon
The Monaco End Tables, produced by Hillside Furniture are a beautiful set of three nesting tables. These luxurious pieces of furniture are made from strong metal and high quality faux marble. These stylish tables will add a touch of elegance to any room in the house. The smallest table benefits from an additional bar across the base. This adds an extra level of support and strength to the already-super sturdy base.
The bases are finished in a tasteful matte espresso which will compliment a range of color palates in your room of choice. The tallest table is an impressive 22.5 inches high making it suitable for a range of functions as well as being an ideal height for display purposes.

The Good
Great quality faux marble top
Espresso finished base
Elegant design
Extra sturdy build
Easy to assemble
Not So Good
The overall quality may seem little poor to some
Contemporary Nesting Coffee Table Set by Fairview Game Rooms – Best With Drawer
Highlights:
Finished to an exceptional standard
Drawer for extra storage space
Bottom table on wheels
Tables can be used seperately
Buy on Amazon
Fairview Game Rooms make a range of products for game rooms, but this nesting coffee table set of theirs would work well in most rooms of the house. This piece, made from MDF and finished with a beautiful chestnut wood veneer is only one of two best buys to feature a helpful drawer where you can store those odds and ends that can make surfaces untidy. The legs and brackets on the tables are made from solid wood and the bottom table comes on castors so you can literally roll the smaller table under the larger one. If you want to expand your Fairview Collection further there is even a matching accent table available to compliment the nesting tables set further.
If you are looking for a nesting table with drawers, then this table set is definitely a great buy.
The Good
Finished in chestnut wood veneer
Legs and brackets are made from solid wood
This table set if part of the Fairview Collection
Easy to match with other décor in the house
Features beautiful design
Not So Good
The top table may be heavy to move often
HOMFA Large Nesting Coffee Tables – Best Nesting Table For Living Room
** This product is currently not available.**
The Best For Living Room category was a tough category to choose a best buy for as there are so many beautiful and versatile tables to choose from. Our number one choice though has to be the ground-breaking designed HOMFA Large Nesting Tables. These tables have a clear and unique drop-shaped design. The two stackable tables are inspired by Nordic minimalistic design and have stunning white lacquered white tops with natural bamboo legs. The tables are ultra-lightweight which means moving them around for different uses is no problem at all. As is putting them together – the legs simply need screwing on – a simple task for even a DIY novice. These tables are perfect for both display and for everyday use which made them our first choice for Best Buy for best lounge stacking table.

The Good
Beautiful Nordic minimalist design
Wipeable tops
Suitable for display and everyday use
Easy to assembly
Lightweight
Not So Good
Might not work with more traditional decor 
Tangkula Nesting Coffee End Tables – Best For Storage
Highlights:
Lots of storage space
Features unique design
Offers plastic leg pads, protecting your floor from scratches
Works best in living rooms, and bedrooms
Buy on Amazon
The Tangkula Nesting Coffee End Tables is a uniquely designed set that provides you with that extra bit of storage should you need it. The set splits apart to form two separate units. The top unit has a full size internal drawer to store all those "out of sight" small items. The second unit has a glass top and benefits from a bottom shelf to place books, magazines or whatever else you may want close at hand. The tempered glass top has a slight green tint to it to add that extra bit of interest and the whole piece is finished in a homely walnut.
The unit even comes with protective plastic feet pads to ensure there is no scratching to your floor when you move the tables around. If you are looking for a set of tables that can offer you that extra bit of storage capacity, the Tangkula are a great and unique option.
The Good
Unique design
Extra storage capacity
Features warm walnut finish
Comes with plastic feet pads to protect your floor
The glass-top is made of tempered glass, ensuring safety in case the glass breaks
Not So Good
Glass top lifts away from the table
Round Stackable Coffee Table Set – Another great gold nesting table set
** This product is currently not available.**
Our second recommendation for best gold nesting table is this beautiful Round Stackable Coffee Table Set by Nordic Stacking Décor Furniture. These tables come in a choice of two sizes so you can choose the set that works best with your available space.
The larger of the set of tables is 45 inches high.
What makes these tables stand out above the rest is their stunning real marble tops which ooze a sense of quality and class. Their unique c-shaped designed base means that the smaller table can easily slip under the other when it is not being used. We have no doubt that these tables make for stunning accent pieces in any room as well as being a functional addition. The marble and gold materials excellently mixture classic and modern design elements.
The Good
Beautiful gold-finished base
Real marble tops
Unique c-shaped base
Perfect as accent pieces
Choice of two sizes
Not So Good
These tables are higher than some other stacking tables
Buy on Amazon
Things to consider when buying nesting tables
Buying a set of nesting tables may seem a pretty straightforward task but there are some important things to consider to ensure you get everything you want from your purchase. Read through our handy buyers guide to pick up some top tips so you get the best buy possible.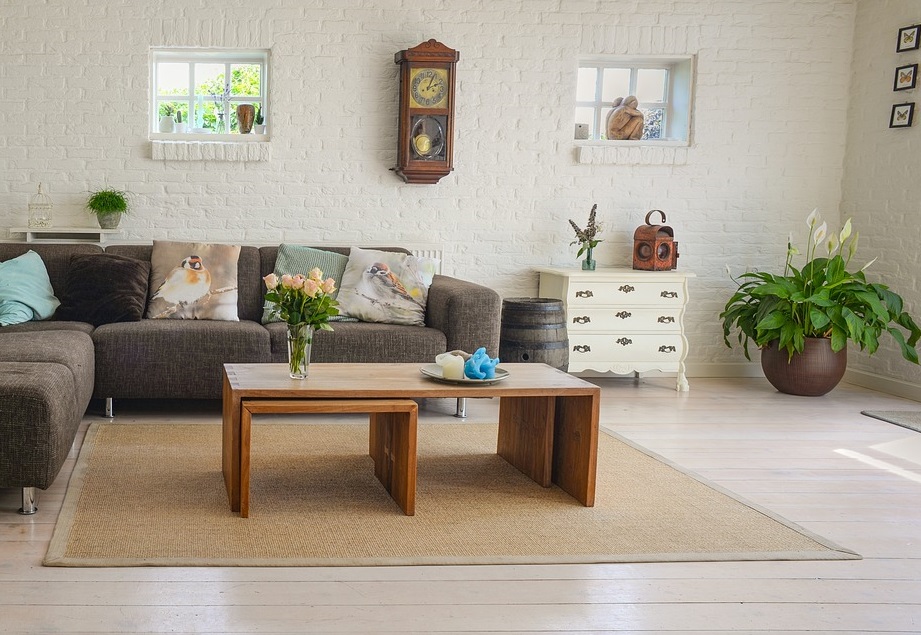 How often will you use it?
How often you use your nesting tables will make a big difference on what choice will be best for you. Some nesting tables are heavier or easier to move than others. Some slide in and out of position easily, others need to be lifted above the other table or tables. It's worth checking how much your tables weigh and also how they stack (or if they stack). If you are likely to be un-stacking the tables often, you will be better looking at one of our lighter best buys and possibly ones that slide rather than lift off each other.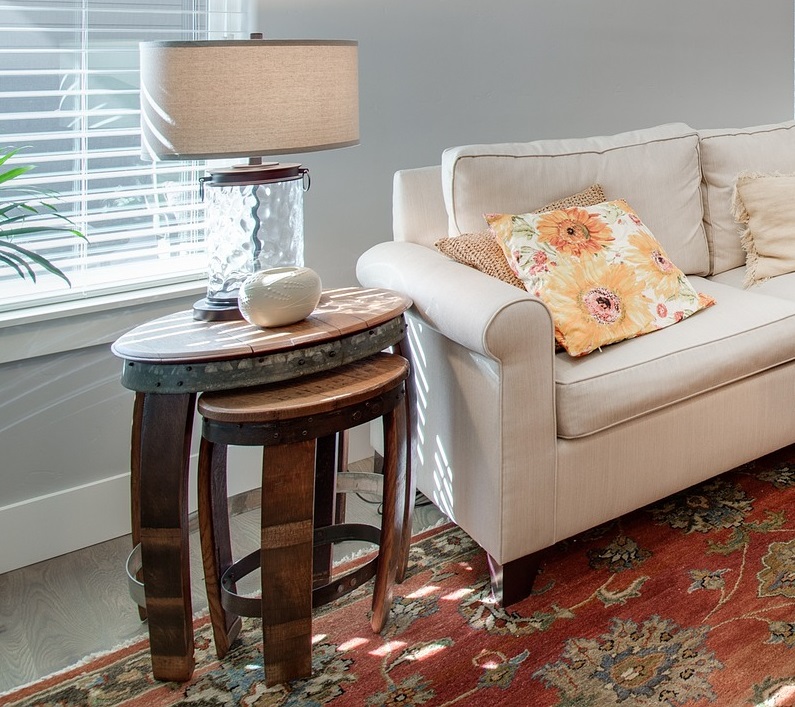 What will be the main purpose of your tables?
One of the best aspects of nesting tables is that they are multi-functional. They can be used purely to add a design accent to a room, to put everyday items on (such as drinks or nibbles) or a mixture of both. When choosing a set of nesting tables, think what will be the main purpose of your tables? If they will be mainly functional, choose a set that are made of materials that suit that function. For example, if your nesting tables will be used primarily for putting drinks on, choose tables that can easily be wiped clean. If the primary function will be for display, have a look at some of our more stylish best buys (for example the glass tables or those with marble tops).
Will you be using it to rest a laptop on?
People often use nesting tables to rest a laptop on. If you think you will use your nesting table for that, it's important that you make sure that it's several inches taller than your sofa or loveseat. All the Best Buys we've recommended have their heights listed on Amazon so you can check before you buy that your table is the height you need.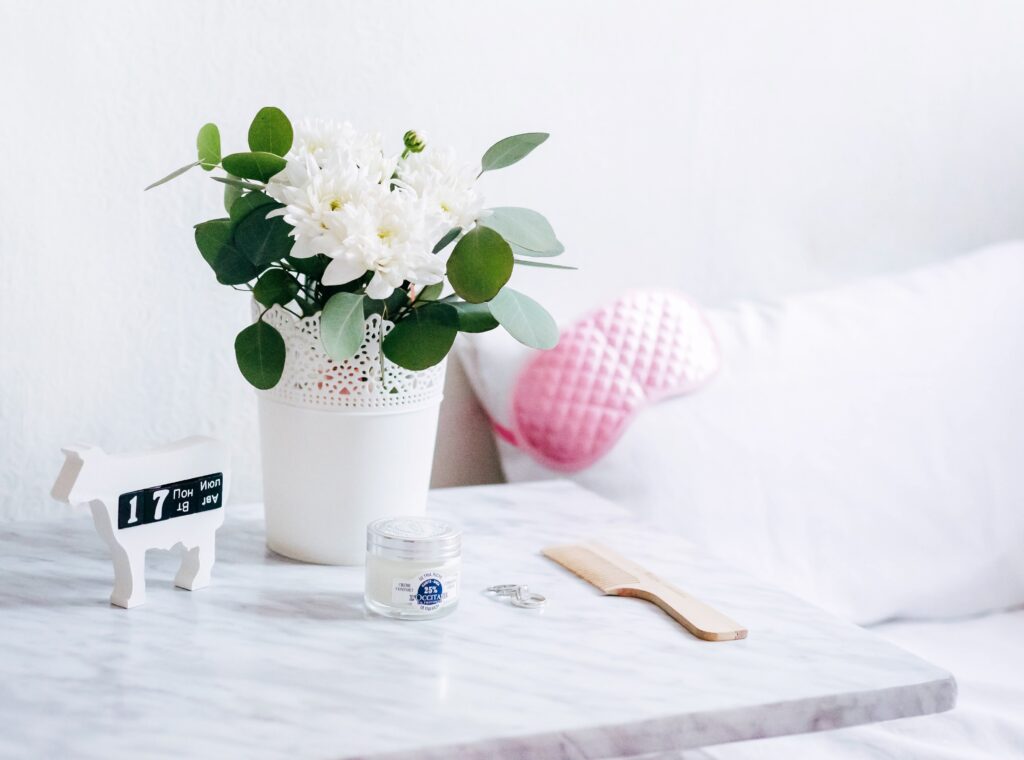 Your existing décor
As we said at the start of this article, you can use a set of nesting tables in virtually any room in the house. What room in the house wouldn't enjoy a little extra surface space? When you are choosing your nesting table, take some time to look at how your existing décor will relate to the nesting tables you're considering buying. If you want to add an accent piece to a room, it should still fit within the overall style of that room. For example, if you have a minimalistic home and placed a traditional nesting table set in the room, although the set would stand out, stylistically, the table set wouldn't work.
So, when adding an accent piece, you want to keep with your general style, but add something a little different. For example, the same style but with a different colored top or finish than most of your furniture. That way you create an accent piece that complements rather than clashes with the rest of your décor.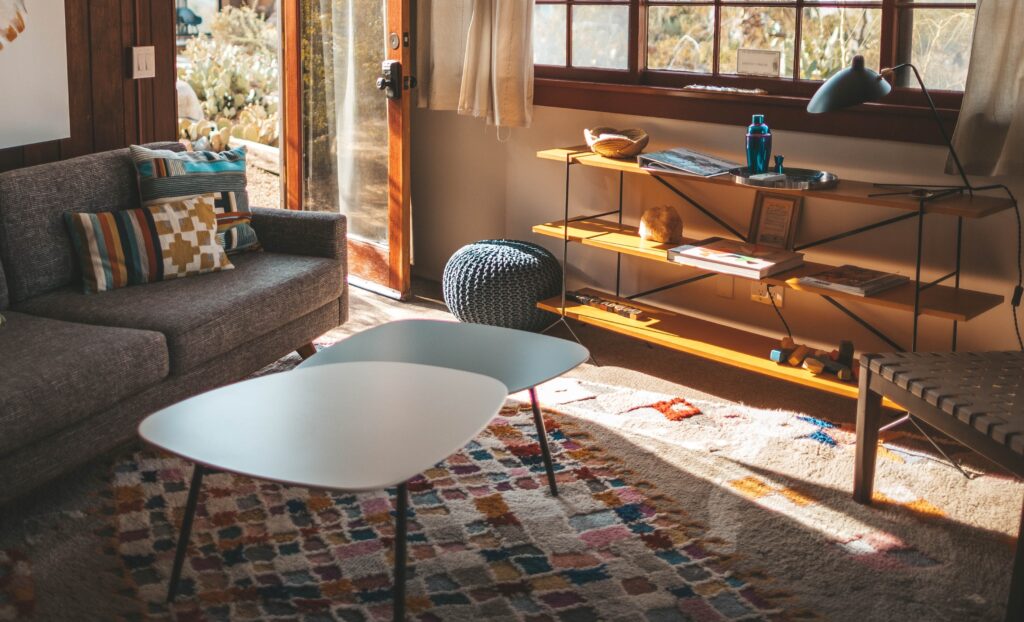 Together or apart?
Nesting tables are the ultimate in space-saving furniture but for those with more space available, nesting tables can be arranged in limitless ways to create an eye-catching area within your room. Equally, nesting tables can be scattered throughout your home and used in different rooms if needed. One of the great things about nesting tables is their versatility and usability in different living spaces.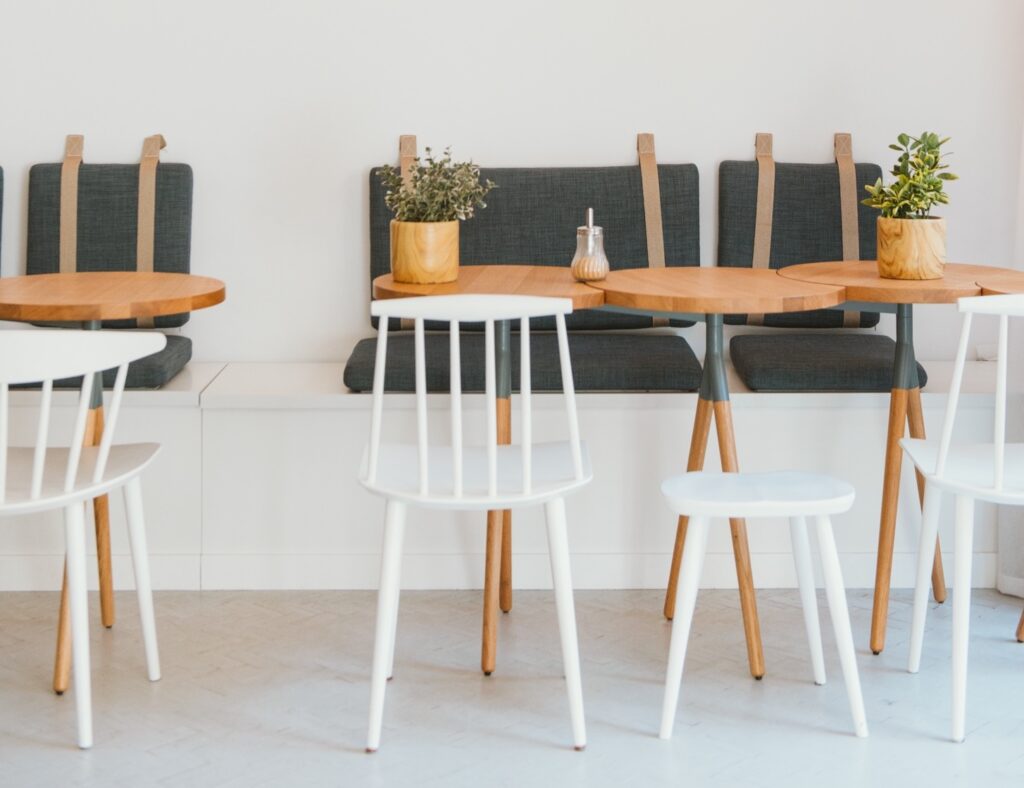 Styling
If you use your nesting tables for display, it's essential to style them well. As most nesting tables have a fairly small top surface area, simplicity is key. If you are looking to create an accent feature in your room, adding a splash of colour always works well. You could do this through a vase of colorful flowers or even an ornamental piece that contrasts with the surface colour of your table.
You can choose to use your stacking table to make a statement about yourself. For example, you could display a few of your winning prizes or arrange a pile of books in height order from large to small. All create a visual impact, attract the eye and create an instant talking point for visitors to the home. You can, of course, change these throughout the year to reflect the changing seasons and keep the styling of your room ever changing and dynamic.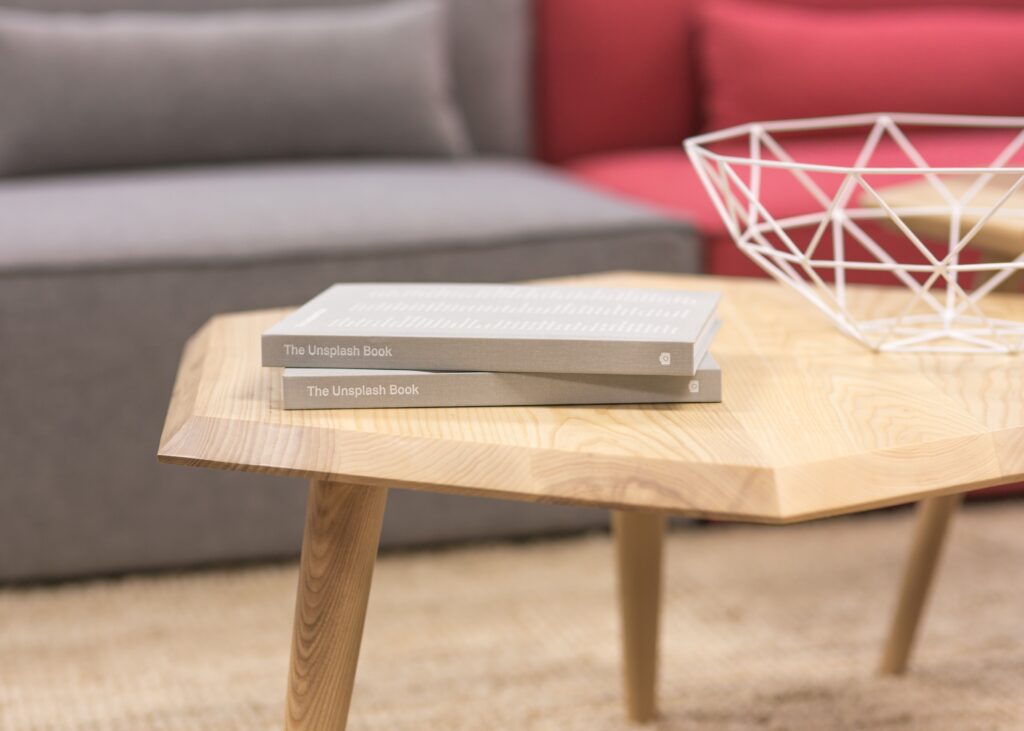 Nesting Tables: Frequently Asked Questions
At this point, it's as good a time as any to have some frequently asked questions about nesting tables answered. Here follow some —
What Are Nesting Tables?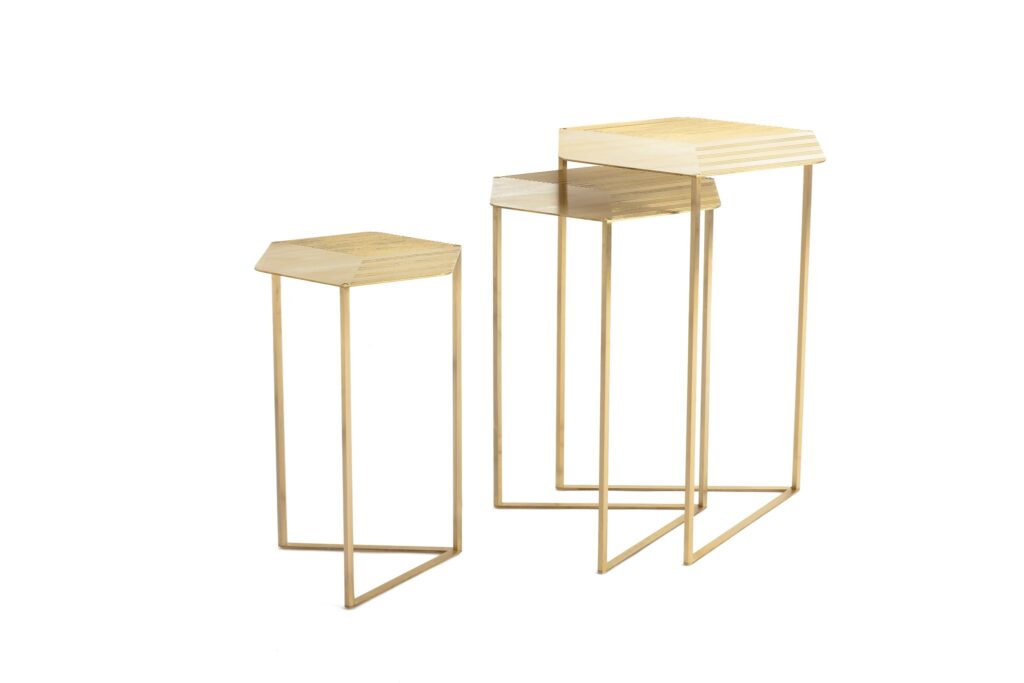 Nesting tables are a set of tables designed to sit either very close or stack on top of one another. Tables in a set usually vary in size from the smallest to the largest. Due to their great aesthetic value, they are to be seen mostly in living rooms.
The first set of nesting tables were designed in the 18th Century by Thomas Sherraton who produced a set of four tables that were for use to play chequers on or needlepoint. Nowadays, the use of the nesting tables has expanded greatly. Although most nesting tables are able to be "stacked" on top of each other, some use the term to indicate tables that are designed to be placed very closely next to the other table.
How do you decorate a nesting table?
As the top surface of nesting table tends to be small, we generally say "less is more." Avoid over-cluttering the space. Often just one object, even a tasteful vase of flowers looks better than lots of decorative objects. If you are putting several objects, make sure that you have a variety of heights on your table to draw the eye. Also use a range of colours (and a different color than that of your table) which will also draw attention.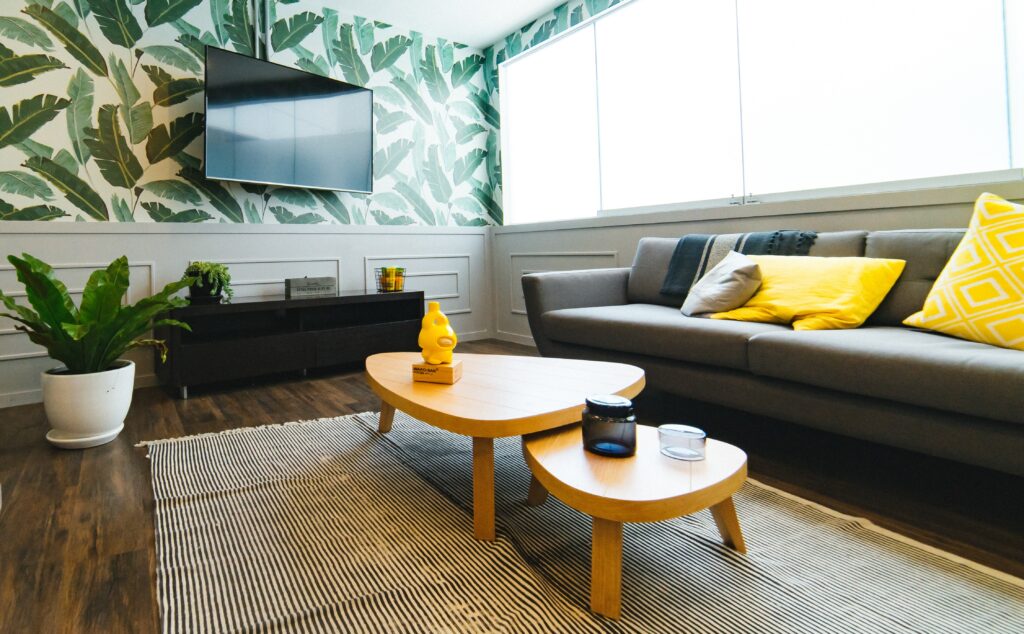 What are nesting tables used for?
Basically, anything you want! Many people use nesting tables as coffee tables but their uses go way beyond that. They can be used to place any object on, from a decorative set of flowers or small plants to a laptop for work. Nesting tables are also used as a design feature and to add a point of interest in a room. They can be decorated with minimal items or clustered together to create an accent area within a room.
Wrapping up
We've looked at an astounding array of table sets that are currently available on Amazon to find some the best nesting tables. No matter what your décor, budget, or needs are, there is no doubt that nesting tables are a must-have addition to the home these days. We hope you've been inspired by what you've seen and will soon be enjoying your own set of tables that you've carefully chosen to compliment your living space.
Next up