Note that the products discussed on our site are independently selected by our editors. Your purchases through our recommendations may earn us a commission at no extra cost to you.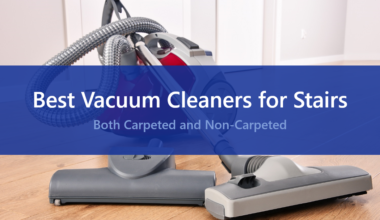 Do you find cleaning your stairs hectic and time-consuming? If so, then you must be searching for the best vacuum for cleaning stairs. Vacuum cleaners make cleaning fast, easy, and less of a hassle. However, not every vacuum cleaner is effective, and not every vacuum cleaner will match your cleaning needs. That is why choosing an ideal vacuum cleaner is essential. Understanding what to look for in a vacuum cleaner will make it easy to identify the most suitable cleaner for your stairs.
Here is our comprehensive review of the best vacuums for stairs that we have compiled after hours of research and sorting through countless options out there. We have also highlighted and discussed each vacuum in detail. To help you understand the features and make an informed buying, we have included a detailed buying guide. We have also answered frequently asked questions about vacuum cleaners. With all these details in one article, this review is an ultimate script and guide for vacuum cleaners.
Top 10 Vacuum Cleaners for Your Stairs – Both Carpeted and Non-Carpeted
And here follow our selected products with their respective reviews —
Shark Rocket Ultra-Light Hand Vacuum – Best Overall
This product is a super powerful vacuum cleaner with strong suction. It is portable and weighs 3.7 pounds, which makes it super light to move it around as you clean. It is not only ideal for cleaning your stairs but also vacuuming carpets, floor surfaces, car interiors, and quick general pickups.
There follows list of highlights for this vacuum:
Enhanced Suction Technology: The Shark Rocket vacuum does not lose suction power. Thanks to the 400W motor that this vacuum cleaner has. It cleans powerfully from the start of your cleaning until you finish. The power combines with excellent accessories that come with this vacuum to provide you with an unbeatable level of cleaning.
TruePet Motorized Brush accessory: The Truepet brush is very effective in deep cleaning your carpeted stairs. It easily picks up any loose debris and even the smallest pet hair leaving your staircase perfectly clean.
Lightweight and Portable: The vacuum is extremely lightweight and easily portable. This makes it very comfortable and easy to maneuver your stairs as you clean. It also makes it effortless to vacuum areas that are challenging to reach
Washable Filters: The vacuum does not cost you any maintenance costs. You just wash the filters and reuse them. This saves you from the hassle of replacing the filters, which is disappointing and hectic.
The Pros
Light and easily portable
No maintenance costs since you can wash the filters
Big dust cup that is very easy to empty
Shark APEX Upright Vacuum – Most Powerful
The Shark APEX upright vacuum delivers optimum cleaning experience just as its name sounds. With its whopping 1350W motor, the shark AZ1002 is the most powerful vacuum cleaner you can buy. The vacuum also comes with powerful features, including Duoclean technology and noise reduction technology, which make it one of the quietest vacuums you can ever use.
There follows list of highlights for this vacuum:
LED Lights: The APEX AZ1002 features LED lights on the handle and the floor nozzle for enhanced visibility. The lights enable you to see hidden debris, pet hair and lights the dark spaces for visibility.
Noise Reduction Technology: One of the most irritating things with vacuum cleaners is the noise level. However, that is not the case with APEX AZ1002. It utilizes Noise reduction technology that makes quiet and comfortable to use.
DuoClean Technology: This technology is exclusive to Shark cleaners. It consists of a soft roller and a standard brusher roller combined on the same head of the vacuum cleaner. This super technology enables the vacuum cleaner to engage hard stairs floors directly. It also enables it to pick both large and minute particles easily. The technology simply makes this cleaner unbeatable workhorse.
Zero-M Technology: The zero-m stands for zero maintenance. The feature ensures that no pet hair remains trapped in the brush. You will not have to disassemble or waste your time trying to remove the dirt after cleaning.
Lift-away Technology: The vacuum cleaner is detachable. If you want to reach over your stairs, you can easily switch from upright to the lift-away mode by detaching the canister.
The Pros
Very powerful suction even when the bin is almost full
LED lights for enhanced visibility
Excellent filtration
The Cons
Weighs 16lb which makes it very heavy
Dyson V7 Trigger Handheld Vacuum Cleaner – Best Handheld
The Dyson V7 Trigger is an ideal vacuum for people who love handheld vacuum deep clean for stairs. The vacuum is Cord-free, which saves users the hassle of unravelling, plugging, and dragging long cords around. You can effortlessly clean anywhere you want to vacuum clean since it does not restrict your reach. Aside from easy handling, the cleaner has a powerful suction that will leave your stairs sparklingly clean.
The Dyson V7 has the following features:
Fade-free Suction: The vacuum features lithium batteries that take only three and a half hours to charge and can run for 30 minutes without fading. The suction starts at a high note and stays consistent until you finish cleaning.
Hygienic Dirt Ejector: After vigorous cleaning, you will have lots of dirt that are not pleasing to touch. Thanks to the dirt ejector of this vacuum that enables you to get rid of trapped dirt hygienically in a single action without touching.
Dyson Digital Motor V7: The Dyson V7 has the most powerful motor compared to other handheld vacuum cleaners. The V7 digital motor can spin at 110,000 rpm, which is much better than other cordless cleaners that often work at 25,000 rpm. The result of this remarkable speed is powerful and consistent suction.
The Pros
Excellent suction power
Hygienic and easy to empty bin
Strong mini-motorized tool
The Cons
Short run time of 30 minutes
Bissell 1400B Multi-Purpose Portable Vacuum – Best Canister
If you have many stairs in your home, the Bissell 1400B is your perfect match. Canister vacuum cleaners are excellent in flexibility and versatility. The Bissell 1400B is not exceptional as it does the best job, especially in cleaning tiled, wooden and carpet staircase. It is compact, quiet, lightweight, and ideal for cleaning stains and spills.
It has the following features:
Lightweight and Portable: The Bissell 1400B cleaner weighs just 9.6lb, which makes it very portable. Portable cleaners are very effective in deep cleaning the stairs since they remove stains and dirt faster.
Eco-friendly: The cleaner features an environmentally friendly design with 50% recyclable plastics. It is entirely free from PVC, which makes it suitable for use in your home.
15-foot Power Cord: The Bissell 1400B eliminates the need to stop frequently while cleaning to unplug the power cord. The power cord is 15 feet long, so it will not easily restrict your reach. You can also extend the hose up to 4 feet for further reach.
Suction Power: The cleaner has a suction power of 3-amp, which enables it to clean and dries floors very fast. It also easily suctions stubborn stains and spills.
The Pros
Lightweight and compact
Easy to fill and empty the canister
Long power cord and extendable hose
The Cons
Not suitable for long cleaning hours
BISSELL Pet Hair Eraser Hand Vacuum – Best Lightweight
Are you on the lookout for the best lightweight vacuum cleaner that you can effortlessly use to clean your stairs? If you are, then the Bissell cordless will exceed your expectations. The vacuum is not only lightweight but also cordless with triple filtration action for improved cleaning performance. It also comes in handy with specialized cleaning pet tools, including an upholstery tool, motorized brush, and crevice tool.
Highlighted features:
Cordless and Lightweight: The vacuum cleaner provides you with enhanced flexibility and mobility. It weighs just 4 pounds, which makes it one of the lightest vacuums in the market. It eliminates the restriction brought by power cords, and since it is very lightweight, you can easily move it on your stairs. It is also even much more suitable for people with wrist injuries or weak hands.
Large Dirt Bin: The Bissell eraser has a large dirt bin with a capacity of 0.7l for holding more pet hair and debris. The bin is very easy to empty when it is full.
Triple Level Filtration: The most exciting feature of this vacuum cleaner is the three-level of filtration for enhanced cleaning. Any dirt particle will easily get trapped and locked.
Power: The vacuum features a14V lithium battery for powerful suctioning, and it can run for an extended time.
The Pros
Cleans for considerable time on a single charge
Compact and lightweight
Cordless
Bissell Cleanview Deluxe Handheld Vacuum – Best Budget Vacuum
If you are on a tight budget and on the lookout for a powerful vacuum, then Bissell CleanView 47R51 is here for you. It features a flexible nozzle made of rubber, which is ideal for grabbing dust and pet hairs in the stairs. It weighs about 4.7 pounds making it compact and lightweight. The compactness makes it very easy to maneuver as you clean and easy to clean small spaces between walls of stairs.
The vacuum cleaner has the following features:
18 Foot Power Cord: The Bissell 47R51 comes with an extensive 18-foot power cord and cord wrap system. It also has 2 feet long hose that adds up with power cord length to give you a total reach of 20 feet. You will not have to stop in the process of cleaning to unplug the cord and switch the power sources.
Powerful Motor: The cleaner has a 4Amp motor, which combines with a cyclonic cleaning system to provide you ultimate cleaning. With such a powerful motor, you will get quick, easy, and optimal cleaning.
Dirt Container: The vacuum comes with a dirt container with a capacity of 0.78l. This capacity is big enough to hold up dirt until you finish the entire cleaning. There is no stopping in the middle of cleaning to empty the container. It is also bagless and very easy to empty.
The Pros
Long power cord and nozzle
Compact and lightweight
Large dirt container
Shark Rocket HV302 Corded Vacuum – Best Stick
This product makes cleaning very exciting and effortless. It is ultra-light at below 8 pounds, sleek and slim. The most likable feature of this cleaner is the swivel steering that is much enhanced. The swivel works in tandem with the powerful suction of giving you versatility and control to maneuver the stairs. It is specifically ideal at cleaning the sharp edges between your staircase and furniture.
Highlighted features:
Swivel Steering: The cleaner features prominent steering that makes it easy to control the cleaner as you maneuver around your stairs, appliances, and furniture.
Extensive Power Cord: The product has a 30-inch cord, which is 10 inches long, the normal vacuum cleaners. This gives the privilege of maneuvering around your stairs and floors cleaning without having to switch sockets frequently.
Dual Storage: The vacuum features easy storage and space saving by offering you two ways of storing the cleaner. You can hang it on the wall mount or fix the hand vacuum to the wand.
Check out more options on corded stick vacuums.
The Pros
Dual storage
Washable filter
Incredible 2-speed power suctions
The Cons
Small dust cup with 0.118 gallons capacity
Dyson V11 Torque Drive Cordless Vacuum – Best Premium
If you are looking for the best premium vacuum cleaner for your stairs, then the Dyson V11 is your ultimate option. The Dyson V11 boasts of excellent features that put its competitors to shame. The cleaner features unbeatable versatility, intimidating suction power, well-distributed weight, and HEPA filter, among other outstanding features. With all these features in place, the Dyson V11 presents unmatched cleaning capabilities.
Lcd Screen Display Screen: If you thought you had experienced ultimate vacuuming, Dyson V11 is here to surprise you more. It features a clear and easy to read LCD screen that allows you to monitor your cleaning. It shows selected power mode, maintenance reminders, remaining run time, and current performance and blockage reports.
Unique Battery Power System: The Dyson V11 has powerful 7-cell lithium-ion batteries that can power the cleaner for 66, 74, and 81 minutes depending on the power mode you choose. This suction power remains consistent throughout your cleaning without fading.
Incredible Suction Power: The cleaner bully other handheld vacuum cleaners with unmatched Suction power. You can control this suction power with three settings that include auto mode, boost mode, and Eco mode to clean your stairs.
Washable HEPA Filter: HEPA filters are the best premium standard of filters you can find in vacuum cleaners. They can pick up to 99.97% of microscopic particles and dust that are as tiny as 0.3 microns.
Transformable: The most exciting feature of the Dyson V7 is the ability to transform from vacuum to handheld for enhanced cleaning. This ensures that you can reach under the furniture and sharp spaces between your stairs.
The Pros
Unbeatable suction power
LCD screen that enables you to monitor the cleaning process
Transformable from vacuum to handheld
The Cons
It takes a long time to charge fully
Dibea F20MAX 25KPa Stick Vacuum – Best With Light
The Dibea stairs vacuum cleaner is a premium and a very powerful vacuum cleaner with four sets of LED lights on the front of its head. Just as its name suggests, the vacuum is incredibly powerful, with a suction power of up to 25,000pa. The vacuum is simply a workhorse that is multipurpose and highly advanced.
It has the following highlighted features:
Self-Driven Head: The Dibea 25kpa features a big Self-drive roller head that moves forward when you turn on the cleaner. It moves forward with a light push, which makes cleaning effortless. This head also has four sets of LED lights that provide clear visibility for cleaning dark spots and crevices. It also features a big motorized brush that does not tangle.
Transformable: The cleaner easily converts into a portable handheld vacuum for cleaning furniture, ceiling, cars, and tight places. Since it comes with multifunctional attachments, this 2 in 1 cleaner is effective for cleaning hard-to-reach areas.
Filtration System Plus High-Efficiency Cyclone: The Dibea 25KPa generates high-speed airflow that rotates to eliminate any particulates from the air. Combining this cyclone system with the high-density filtration, which eliminates up to 99.97% of microparticles that are as small as 0.3 microns, the cleaner provides excellent cleaning.
Big Dust Cup: The vacuum has a large dust cup with a capacity of 17oz. With such capacity, you can clean your stairs several times before it is full. The dust is also hygienic and easy to empty.
The Pros
LED lights for visibility
Excellent suction power
Removable battery with an impressive run time
The Cons
The filtration system is HEPA certified
ORFELD RB666 Cordless Vacuum – Best Battery Life
Are you looking for a stair vacuum cleaner with remarkable battery life? If you are, then your search has ended with the ORFELD cordless vacuum cleaner. The vacuum features a 2200Mah 6-Cell battery that can run for up to 40 minutes on low power and about 25 minutes on high power. In simple terms, the cleaner's single charge is twice the runtime of other common vacuum cleaners.
The cleaner has the following key features:
Powerful Motor: The ORFELD cordless vacuum has a 120-watt motor that provides very powerful suction. It easily grabs crumbs, dust, pet hairs, and debris. The suction power also works well on all kinds of floors, carpets, cars, and furniture.
Lightweight and Portable: The vacuum weighs about nine pounds makes it lightweight and easily portable. The vacuum is also cordless, so it gives the freedom of moving around with no restriction. It also features ergonomics that make it easy to handle and operate.
Space-Saving and Easy Storage: The vacuum has a foldable handle that makes it easy to store. Since it is compact with a small dimension of 66cm by 28cm, it saves a lot of storage space in the house.
Maneuverable: The vacuum features a foldable handle up to 180°. It freely rotates to clean under the furniture and swivels sideways for maximum cleaning. The handle can also move 90° up and down to clean ridges and corners effectively.
The Pros
Foldable design for optimal cleaning
Excellent battery life
Lightweight and portable
The Cons
The filtration system is not HEPA certified
Types of Vacuum Cleaners for Stairs
There are several types of vacuum cleaners for stairs in the market. Each type comes with different capabilities, features, and designs. Before purchasing a cleaner, you have to understand what type of vacuum cleaner will suit your needs, the type of floor you have, and your budget.
1. Upright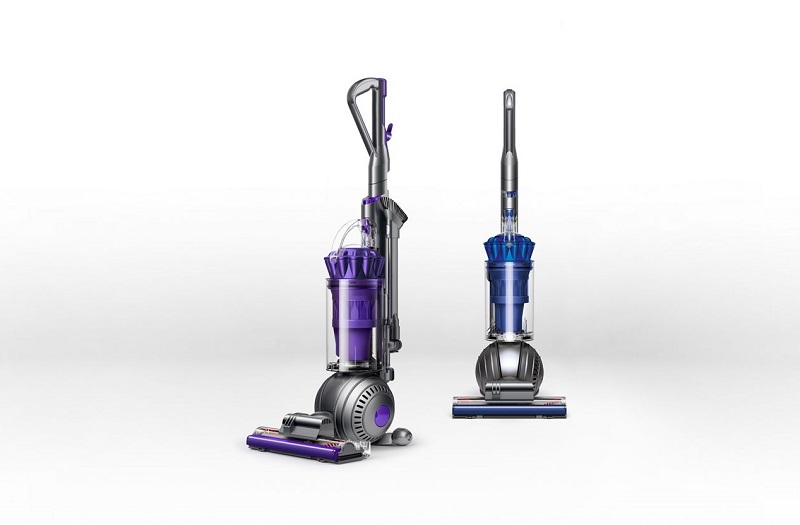 Upright vacuum cleaners are workhorses in cleaning large carpeted houses. They are highly popular for featuring wide floor heads and powerful suction that can clean a wide area with one pass. What makes them ideal vacuums for carpeted floors is their ability to penetrate deeply into carpet fibers. The deep penetration ensures that it completely extracts dander, debris, and dirt that embed strongly in the carpet fibers.
They come in bagless and bagged designs that hold dustbins and motors on the upright parts. This explains why upright vacuum cleaners are heavier than other types. It also explains why you have push or pull them as you clean your floors. They do not require you to bend as you vacuum clean, which makes them very suitable for extensive surface cleaning.
The upright vacuum models feature easy storage since they can stand on their own. They take up minimal storage, which makes them very convenient even for people with small spaces in their houses. Moreover, most of the upright models are cordless, which enables you to reach any point of your users easily. They also eliminate the hectic hassle of dealing with wires
Aside from their heavyweight, another downside of upright vacuums is lack of flexibility. Since they are upright, it is hard to reach and maneuver in small spaces like between the walls and appliances.
The upright vacuum cleaners come in two types:
Multiple motors: This type of upright vacuum cleaner has two or three different motors. It is powerful and has more suction power that is ideal for carpet cleaning.
Single motor: This type of vacuum cleaner has a single motor. It has lesser suction and power. It is ideal for light surface cleaning and pick up.
Pros of Upright Vacuums
Wide-angle for cleaning and swathing than compared to other models
Very effective for carpets and surfaces
Very easy to handle and store
Cons of Upright Vacuums
Some of the upright models are very heavy
Not very flexible
2. Stick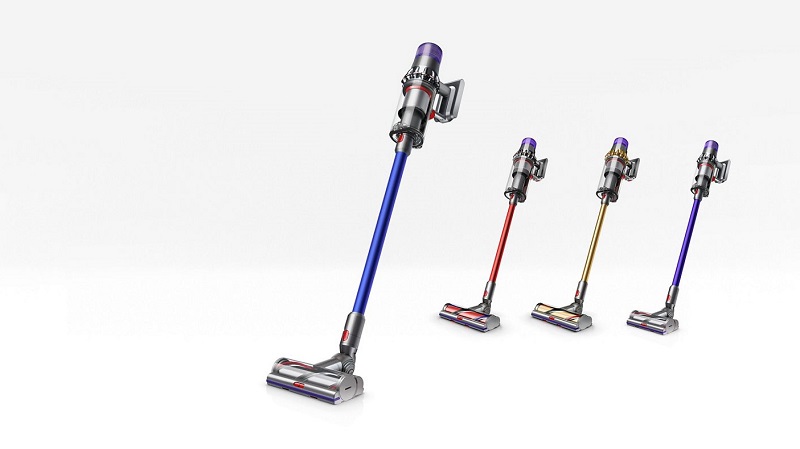 The second type of vacuum cleaners is the stick model. They come with power heads, tall handles, and tall bodies. They are lightweight, compact, and very portable, which makes them ideal for cleaning anywhere in your house. Most of them are battery-powered, with some featuring detachable batteries and some inbuilt batteries. The batteries are rechargeable, and they can run for a long time.
Cordless sticks vacuums are taking over the market, so gone are the times of struggling with power cords. They allow you to reach any point in your house easily without restriction. They are highly suitable for cleaning stairs, upholstery, soft floors, and cars. They are also very flexible, so you can easily maneuver the floors and stairs as you clean.
They have powerful suction power that is effective for quick pickups. Although they are not as effective as the canister and other complete vacuums, they perform relatively well. They are not as ideal for carpet cleaning as the upright cleaners.
Pros of Stick Vacuums
Lightweight and easily portable
Ideal for cleaning cars, soft floors, and upholstery
Flexible
Cons of Stick Vacuums
Low suction power compared to other models like upright cleaners
Takes some time to fully charge the batteries
3. Canister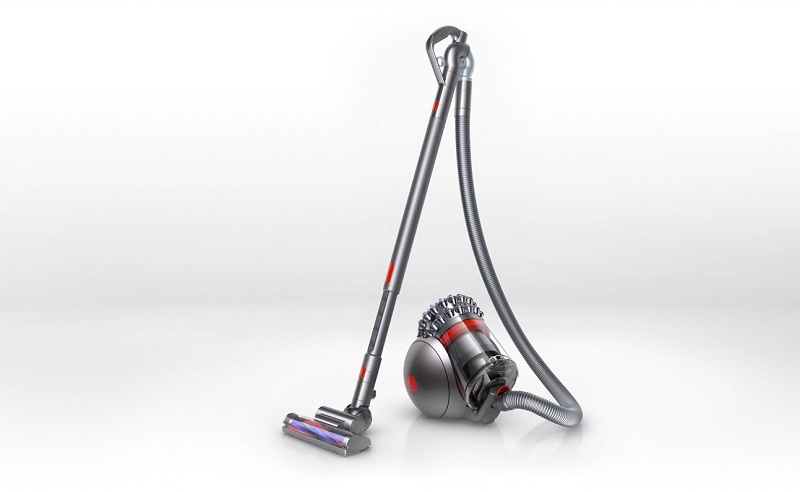 Canister vacuum cleaners have flexible heads that reach tight spaces under your furniture and higher heights. They have canister bodies that house the dust cups and the motor connected to the nozzle by the hose. The heads are detachable, which makes them light and very convenient.
The biggest selling point of canister vacuums is the ability of the canister to sit still while you use the floor head to clean. This feature makes cleaning around less hectic than if you had to carry the whole vacuum around. You can easily move the canister by wheeling around or carrying it using the handle. In addition, they are ideal for cleaning stairs and higher heights because of the long nozzle.
The downsides of the canister are the fact it consumes a lot of space. The comparatively big canister body and a long hose will take up some space. This presents a challenge if you have a small space available in your house. Moreover, they have smaller dust cups, and they are quite noisy. The major downside is the fact that they are not suitable for deep cleaning; they are good for surface litter pickups.
Pros of Canister Vacuums
Ideal for cleaning drapes, upholstery, and floors.
They are easy to maneuver up and down the stairs
Cons of Canister Vacuums
Heavy and bulky which makes maneuvering hard
Less suction power compared to upright models.
4. Handheld vacuums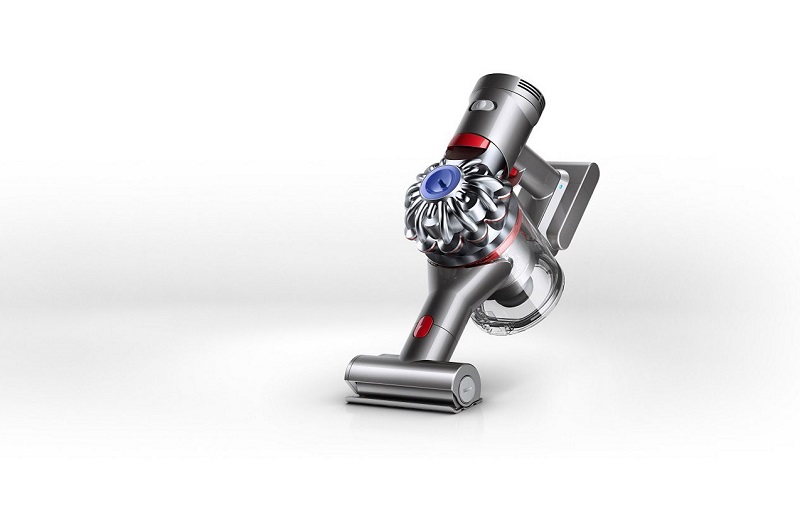 Handheld vacuum cleaners are lightweight, portable, and they come with incredible suction power. While they are not suited for large area cleaning, they are very effective at deep cleaning. They are mostly battery-powered with considerable runtime ability. Some feature detachable batteries while some have inbuilt batteries. They also feature sizable dust cups that are easy to empty and clean.
The most exciting feature of the handheld vacuum is cordless nature. They save you from the hustle of switching power sources as you clean one stair to another. Moreover, since they are battery powered, you can use them for cleaning during power outages. This is so impressive, unlike corded vacuums, which you will have to wait for power to continue cleaning if you do not have a generator.
Pros of Handheld Vacuums
Lightweight and easily portable
Ideal for cleaning car interiors and upholstery
Very effective
Cons of Handheld Vacuums
Some have batteries with short run time
The Reason Handheld Vacuums Are the Best for Stairs
They're lightweight
Handheld vacuum cleaners weigh less than 5 pounds, which makes them conveniently light to carry them up and down the stairs. This makes cleaning your stairs effortless and easy. Moreover, it makes them very suitable vacuums for the elderly and young children since they cannot handle heavy weights just to clean the stairs.
They're small and compact
The greatest advantage of using a handheld vacuum to clean the stairs is the fact that they can reach tight and small spaces between your stairs. You will not have to struggle to remove dirt from small crevices, either. To top up, it is easy, fast, and fun to maneuver your stairs with a small vacuum while you clean. More exciting, storing the handheld vacuum is easy because it is small and mostly foldable.
They're flexible
Since cleaning the stairs will require a lot of maneuvering from one stair to another and between the stairs, flexible vacuums are ideal. Handheld vacuums can be flexibly controlled and manipulated by hand to reach the desired spots. They are also cordless, which gives you maximum reach around the stairs. Unlike corded versions, it does not limit your moves to the length of the cord.
They have powerful suction
Handheld vacuum cleaners are powerful and effective. They suction even the smallest pet hair, debris, and dust. They are not only suitable for carpeted stairs but also wooden and tiled stairs. Most of these handheld cleaners also feature motorized brush that makes them ideal for cleaning any surface.
Most handled vacuums are consistent with suction power, unlike other kinds of cleaners. They do not lose suction when the cups are almost full or fade the power after using it for a while. You clean your stairs with high suction power from start to finish.
They are easy to use
Handheld vacuum cleaners are very easy to use on the staircase. They are cordless, and they do not come with a hose. This makes them simple and effortless to use as you clean a stair after another. They are suitable to use by everyone in the family, even the elderly and people with hand problems. They also have big dirt cups that are easy to empty and clean.
They come with specialized attachments
Handheld vacuum cleaners come with specialized tools for easy cleaning of all types of floors and carpets. The popular tool is the crevice tool that enables you to reach challenging areas like crevices, ridges, and edges of your stairs. This tool leaves your stars perfectly clean.
Moreover, they also come with a motorized brush that is ideal for deep cleaning the carpeted stairs. They also come with additional tools for cleaning pet hair and micro particles.
Features to Consider when Looking out For the Best Vacuum Cleaner for Stairs
Aside from selecting the type of vacuum to buy, there are several features to consider when you set out to purchase a vacuum cleaner. These features are essential for you to enjoy easy, comfortable, and optimal stair cleaning. Combining the best of these features in one vacuum cleaner will ensure you end up with spotless stairs.
Corded vs. Cordless
Corded vacuums use power cords plugged into the socket. They provide optimal cleaning since they have strong suction power. They are suitable for large homes and carpet cleaning. However, they are heavy, not very flexible, and not easily portable. Considering that most stairs do not have sockets, it is a challenge to clean stairs with corded vacuums unless it has a very long cord.
On the other hand, a Cordless vacuum does not have cords. They are lightweight, flexible, and grant you the freedom of cleaning with no cord restriction. Moreover, they come with additional accessories that make cleaning even much easier. They are also easy to store since they have a compact size and they are mostly foldable. However, since they use batteries, you will have to keep time so that the charge does not run out while you are still cleaning.
When it comes to choosing an ideal vacuum for your stairs, flexible, light, and portable vacuum will be more effective and easy to use. This makes the cordless vacuum a better choice. Most stairs do not feature sockets for switching your power cords so that you can reach all the stairs for cleaning. Therefore, if you choose to buy a corded vacuum for your stars, ensure you go for the vacuum with the longest cord.
Battery Life
The battery is the heart of the vacuum cleaner. If the battery has a shorter life, you will not be able to finish cleaning your stairs with a single charge. This will cost you time since you will have to stop in the middle of cleaning to charge the battery. On the other hand, long battery life will see you through the entire cleaning session, which saves you time.
Most of the vacuum cleaners feature lithium-ion batteries because they have long battery life. Ensure the vacuum cleaner you purchase can run for at least 60 minutes before it runs off battery. The batteries should also take considerable time to charge fully. Avoid vacuums that come with batteries that take forever to charge and few minutes to discharge.
Some vacuums also come with detachable batteries. Such vacuums are ideal since you can easily replace the batteries. You can also choose to have spare batteries to use when the ones you have run out in the middle of cleaning. While inbuilt batteries are also not a bad idea, it is hectic to replace.
LED Light
Led lights on the head of the vacuum cleaner provide visibility. This enhances cleaning in the dark sports that you cannot easily notice. Some vacuum cleaners come with one LED light while others have several sets of lights. Some vacuums do have the lights at all. Choosing the Vacuum with LED lights will ensure that you end up with perfectly clean stairs with no dark spots left.
Weight
Weight is a key feature in every vacuum cleaner. A light vacuum is easy to carry and maneuver up and down the stairs. It also is suitable for use by all family members, including the elderly. They are also faster in cleaning since they do not require a lot of effort. They are very flexible to access even the tightest spaces between your stairs.
On the other hand, heavy vacuums will exert a lot of weight on your shoulders as you move from one staircase to another. In as much as most of the heavy vacuums have powerful suction, they are not easy to handle. Moreover, in case you have a hand or wrist injury, you will not be able to use heavy cleaners to clean stairs.
Additional Attachments
Vacuum cleaners are not just for cleaning stairs and floors. They should be versatile so that you can use them for other deep cleaning purposes. Most of the vacuums come with standard accessories like upholstery tool and crevice. Such tools enable you to easily remove trapped dirt and clean areas that are hard to reach.
One of the major attachments that you should not miss is the brush. Ideally, go for a motorized brush because it has enhanced power that provides optimal cleaning. Brush attachment will come in handy for deep cleaning carpets and car interiors. They are excellent and penetrating deeply into carpet fibers and removing dirt particles. Moreover, some vacuums come with a detachable brush that you can remove and fix it back while others will have fixed ones.
Moreover, some models have specialized attachments like Bissell Eraser that comes with pet cleaning tools. The specialized pet tools are very helpful in removing pet hair and debris on your carpet and floors.
When purchasing a staircase vacuum cleaner, go for the model that comes with a maximum number of attachments. Such models provide you with versatile and enhanced cleaning.
Works on carpets on not
If you have a full-carpeted house and staircase, it is crucial to go for a vacuum that can work on the carpet. Vacuums that are specialized for cleaning carpets can penetrate deeply into the fibers to extract trapped dirt. If you use vacuums that are not ideal for cleaning carpets, you will end up with a dirty house no matter how vigorous you try to clean. Many stains, spills, and dust that are deep in the carped will remain untouched.
On the other hand, using vacuum cleaners that feature optimal carpet cleaning will leave your house and stairs very clean. Since stairs experience heavy foot traffic, a vacuum with a motorized brush will be a great idea. Combining the motorized brush with a powerful suction power will leave your stairs as clean as possible.
Ideally, vacuums that can work on carpets are very versatile. They can effectively clean furniture, cars, and hard floors as well. It is impossible to go wrong with any vacuum cleaner that can work on the carpet.
Suction power
The number one factor to consider when purchasing a vacuum is suction power. Regardless of how light, portable, well designed a vacuum is it is pointless if it does not have sufficient power to suction dirt. High suction power enables your vacuum to grab even the tiniest particle, remove stains and spillage with a single pass.
However, suction power varies from one type of vacuum cleaner to another. Whichever type you decide to buy, ensure the model you choose has the highest suction power in that series. Ensure you check on the suction power before any other feature.
You should also consider suction power loss. Some vacuum cleaners fade power when their dirt cups are almost full. Other models lose suction power after using it for a while. Worst of all, some vacuums lose suction power significantly after a short period. It is crucial to go through the reviews from other people who have used the model you want to purchase to ensure it does not lose power.
Filtration System
Vacuum cleaners feature two types of filtration systems; the HEPA and the standard filters. The HEPA filters are very suitable for people with allergies since they can clean without inhaling allergens. They are also very effective at picking up to 99.9% of microscopic particles that you cannot even see with your eyes. This makes them ideal for a family set up with kids and pets that may be very sensitive to allergens because they leave your carpets very clean.
Moreover, other vacuum cleaners have reusable filters that you can wash with water and reuse them. These kinds of vacuums are very easy to maintain since it does not cause you. While HEPA filters are premium and unbeatable, reusable filters are not a bad idea.
Some vacuum cleaners come with no filters at all, and you should even consider buying such vacuums. Some also come with multiple that will require replacements after a while. It is also advisable to avoid such vacuums since finding replacements and replacing filters is not a walk in a park.
Maneuverability
The maneuverable vacuum allows you to access different cleaning areas with a lot of ease. Going for a flexible vacuum cleaner is an added advantage. You will not strain to clean higher heights, tight places, and under your furniture. The last thing you want is to keep moving every appliance, furniture, and electronics in your house just to clean. A good vacuum cleaner should easily navigate even the smallest to spaces without even requiring you to bend.
FAQs About Vacuums for Stairs
Q1. How to find the best vacuum cleaner for carpeted stairs?
The best vacuum cleaners for carpeted stairs should have high suction power. This ensures that it penetrates deep into the fabrics of a carpet to extract stubbornly embedded dirt. High suction power also enables a vacuum cleaner to perfectly clean stairs with a single pass. Regardless of whether you have flat or higher carpet, the high suction power will easily pick up deep and surface dirt.
Moreover, it should be light, portable, and flexible enough so that you can easily navigate each stair while cleaning every part. This ensures that you can effectively clean ridges and corners of the stairs without straining.
Q2. What is the best way to clean carpeted stairs?
Remove any stuff on your stairs: Before you begin working on your stairs, remove any objects like flower vases and keep them in a different place. Such objects will hinder complete cleaning even if you decide to keep switching them from one stair to another.
Clear large objects from your stairs: Use a broom or brush to sweep off the large debris that might impair vacuuming cleaning. Start sweeping from the top of the stairs and swept to the bottom of the stairs. Ensure you sweep the corners and edges properly.
Vacuum clean the stairs: Use your handheld or any other vacuum cleaner with a good brush to clean the stairs. The brush of the vacuum will easily suction the dirt you loosened while sweeping.
Apply your favorite shampoo: Apply your favorite shampoo on the carpet and scrub with a brush until you are sure the shampoo has penetrated deep into the fibers. Ensure you scrub the edges and corners of each staircase while paying close attention to stained arrears.
Get rid of excess water: As you apply the shampoo, make sure you use a vacuum to remove excess water from each staircase you have finished cleaning. If your vacuum cleaner does not feature drying, use an absorbent material to remove the water. Ensure you dry the stairs well to avoid contamination due to moisture.
Dry and vacuum clean the stairs again: allow the stairs to dry for several hours and then vacuum clean again with a brush attachment for enhanced cleaning.
Q3. How often should you vacuum your stairs?
Stairs experience heavy foot traffic than any other part of the house. Leaving the stairs for a long time without cleaning will not only be a pinch of pain to clean but will also contribute to the easy wear and tear of your carpet. This wear worsens when heavy dirt builds up on your carpet and eventually grounds deeply into the fibers of the carpet. It is advisable to vacuum clean your stairs daily and shampoo it once in a month to avoid dirt build-up.
More on it on themvacuums.
Bottom Line
Best rated vacuum cleaners for stairs make cleaning your stairs exciting and effortless. However, if you purchase the vacuum that does not match your needs, you will be utterly disappointed. While vacuums in the market are confusing and overwhelming, this review has sampled everything you need to understand. All the products we have included in this review are of the best quality as evident on customer reviews. We hope that the information has given you a deeper insight into vacuums.
Happy buying!