Note that the products discussed on our site are independently selected by our editors. Your purchases through our recommendations may earn us a commission at no extra cost to you.
Fences are not a spur of the moment or inexpensive purchase to make. Before you settle on which fence to buy, spend more time researching and shopping around your options. Mostly, you may want to start by prioritizing your needs and wants. Which factors are the most important ones to you- longevity, color, style, cost, or durability? After which you can browse the available materials like wood, vinyl, chain link, aluminum, and review their pros and cons. To get you started, in this guide, we have highlighted some of the factors you need to consider.
1. Wood Fences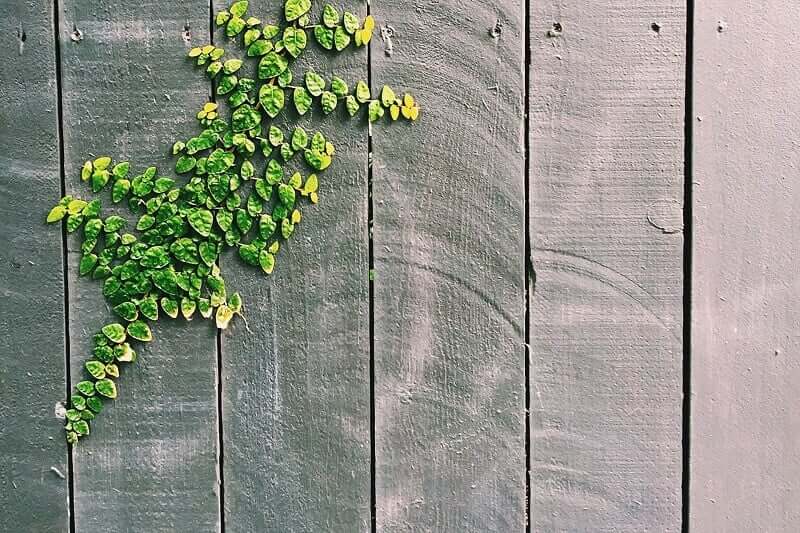 Style and elegance are what a wood fence brings to your yard. Mostly, it is associated with an ideal home. For a good reason, a wood fence is one of the long-lasting options for your landscaping. Nonetheless, before you begin your wood fence installation, there are different things you should know.
Privacy is one of the priorities for homeowners, and wood fences can deter strangers from glancing into your yard. When deciding the best fencing options, here are some of the pros and cons of wood fencing that you need to consider.
Pros
Durability: While the lifespan of wood fences range from 5 to 10 years, it can be extended with proper care. Moreover, if precautions are taken, such as the use of sealants, this type of fencing can last for decades. Additionally, compared to other materials, it has the ability to resist impact.
Environmentally Friendly: As most people become aware of carbon footprint, many are settling or switching to wood fencing. More wood fences are being made with an environmentally friendly stabilizers and preservatives. Besides, wood fencing is much easier to decompose and dispose of than metal fencing; meaning, it has less impact on the environment.
Adaptable Look: If you are looking for a fencing material that will add flair to your home, then wood fencing probably fits your situation. In addition, wood fencing offers customization and flexibility. Besides, it is not limited to a particular setting. Also, you can stain the fence with the color you desire. With different heights and colors available for you to choose from, your wood fence can be made as unique as you may require.
Versatile: From suburban homes to government offices wood fencing is unique due to its versatility. No matter whether you are looking for privacy or decorating your home, wood fencing provides you with the timeless and classic look that fits in any setting, contrary to others.
Despite the numerous benefits however, wood fences equally have shortfalls.
Cons
Cost: While the initial upfront cost of acquiring a wood fence may be low, it may not be sustainable in the long run. This is because it requires re-staining and painting at least once a year. Besides that, compared to other options, the running cost is higher.
Susceptible to Infection: Wood fences are susceptible to infection by termites. Besides, they easily rot if they are not well taken care of. They require a homeowner to do checks every time to ensure that everything is in perfect shape.
Just in case you haven't checked already, we have a whole separate article on how to care for your wooden fence and protect it from damage. Read it here: 12 Outstanding Ways To Protect Your Wooden Fence From Damage
Maintenance: Wood fences require maintenance and painting on regular basis.
2. Vinyl Fences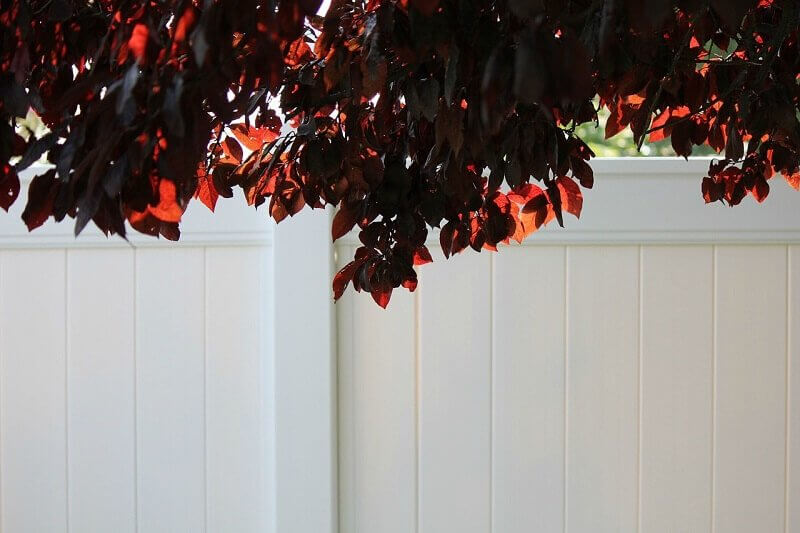 Whether you are looking to add a bit of decorative flair into your yard or you need additional security, vinyl fencing might be the solution you are looking for. Vinyl fences are attractive and require low maintenance. The materials used require an occasional rinsing. However, they are not subject to fading, rot or any other effect of time or weather. Notably, vinyl fencing is available in similar looks like wood panel fencing.
Solid vinyl panels can create privacy and boundaries, while shadowbox allow free air circulation and do not block the view completely.
On the other hand, picket vinyl panels add a decorative and beautiful look. They work well for boundaries containing pets. Additionally, the vinyl rail fencing has the look of wooden boards and is a good choice for defining boundaries. Typically, most panels are 4 to 6 feet wide and 8 to 16 feet long for vinyl rails.
Some of the merits and demerits of vinyl fencing are herein discussed.
Pros
Solid: No matter the situation they face, vinyl fences are very strong. They do not rot, allow growth of fungus, blister, or be worried about cracking or splitting due to old age or weather. Additionally, vinyl fences are resistant to fire and are impenetrable to pests. Moreover, vinyl fences do not splinter; thus, making it children-friendly.
Effortless and Low Maintenance required: Unlike wood fencing which is demanding by requiring painting and staining, vinyl fences do not ask much from the owners. Although it may require you to hose it off from time to time, it will still remain durable and attractive without much attention from you.
Simple Installation: Vinyl fences do not require much knowledge to install. With the right tools, measurements, and right instructions, you can easily install vinyl fence. Once the rails are slid on the post, you simply secure the post into the ground.
Cons
Cost: Vinyl fences cost more money up front. It is more expensive than chain link and wood. However, in the long run, they end up being cheaper. It comes with little or no repairs, painting, or replacements. Over time, you will spend less compared to other materials.
Difficult to repair: If any part of your fence endure damage, it may be difficult for you to replace the damaged area. Mostly, a professional will be required to replace the damaged post even if it is a small section.
3. Aluminum Fences
Aluminum fences are known for their low maintenance, durability, and versatility. That is why most business and homeowners depend on it to secure their property in a secure manner. Aluminum fences provide many options for high quality and affordable ornamental iron fencing. Besides, it is strong, rust proof, long lasting, and visually diverse.
If you are looking for straight line and modern architecture, then aluminum fencing is an ideal choice for you. Discussed below are some of the things you need to know about aluminum fences.
Different Grades
Aluminum fences come in different grades. For instance, residential grade aluminum are secure and durable, though light enough and versatile. Also, they come in different colors, styles, and decorative options. The installation process for this type of fence is simple and practical for common residential uses such as keeping in pets and yard enclosure.
On the other hand, commercial grades are heavy duty and designed specially to offer maximum quality and security. Commercial grade aluminum fences are heavier than their counterparts. They can stand up to both intruders and natures worst situations.
Style and Variety
Aluminum fences are accessorized and customizable. Additionally, they come in different assortment of colors that you can choose from; thus, you don't need to stick to the boring grey color. Whatever the aesthetic you are looking for, with aluminum fences you can achieve it effortlessly.
Maintenance
Although these types of fences are known for their low maintenance cost, there are preventive measures you can take to ensure that you are getting the highest quality of performance of your fence. The first process to achieve this, is by keeping it clean. You can achieve this through using a pressure washer.
With all the other options available in the market, choosing the best fencing materials is a daunting task. While they all have different benefits they also have a set of cons. Highlighted below are some of the pros and cons of aluminum fences.
Pros
Cost: Aluminum fences are strong and reliable, yet less expensive. Besides, the cost of installation and maintenance over the years are lower than other options; thus, making your overall investment smaller.
Low Maintenance: Aluminum fence require minimum maintenance. This is due to the fact that aluminum does not rust like other iron, since it is a ferric metal. Besides, it is not susceptible to the moisture damage as wood and iron. It does not oxidize or rot.
Rack-ability: Not all landscapes are the same. Many feature slopes and hills that require accommodation while installing a new fence. Notably, most high quality aluminum panels are rack-able and are adjustable to fit the terrain.
Cons
Security and Privacy: These type of fence is ideal for locations whose security needs are moderate. If you fear loss of privacy, then aluminum fence is not ideal for you since it is a see-through type of fence.
Installation: The installation process for this type of fence takes a long duration than other types. It requires its posts to be anchored in concrete and bolstered using brackets.
4. Chain Links
If you are harboring thoughts of installing a fence, whether it is at your back yard, as boundary between your rural land businesses, probably you are thinking of chain links. Chain links are the most popular type of fencing known to most people. But what's behind their popularity? Highlighted below are some of the pros and cons of chain link that you should consider before choosing your fencing type.
Pros
Low cost: Out of other options, chain links are the most cost effective to install. Most homeowners use chain links fencing as a cost saving measure. Their upfront cost is not as high as aluminum or steel fences.
Durable: Chain link fences are incredibly durable. Since strong winds passes through the open links, they are not susceptible to both storm and snow damage. Mostly, they are made of steel and are incredibly strong. If properly installed, chain links can last for decades.
Little Maintenance: Due to its incredible durability, if installed well, chain links do not require significant maintenance. The only maintenance that is required is trimming of plants that might grow along the fence links.
Variety: Chain link fences come in several varieties. There are the usual silver steel ones and the color coated chain links that are preferred by most people, since they are appealing. Also, you have the leverage to choose the style and gauge of the fencing material.
If you have a limited space, then a chain link with a sliding entrance is ideal for you, especially in a place where a swinging gate might not fit.
Cons
Climbable: Most chain links are climbable making them not to offer maximum security. In order to overcome this, you can add some barbed wire on top, however, this might not be ideal for all applications.
Aesthetics: Although they come in different colors, they do not offer the same feel and prettier look like their wood counterparts.
5. Steel Fence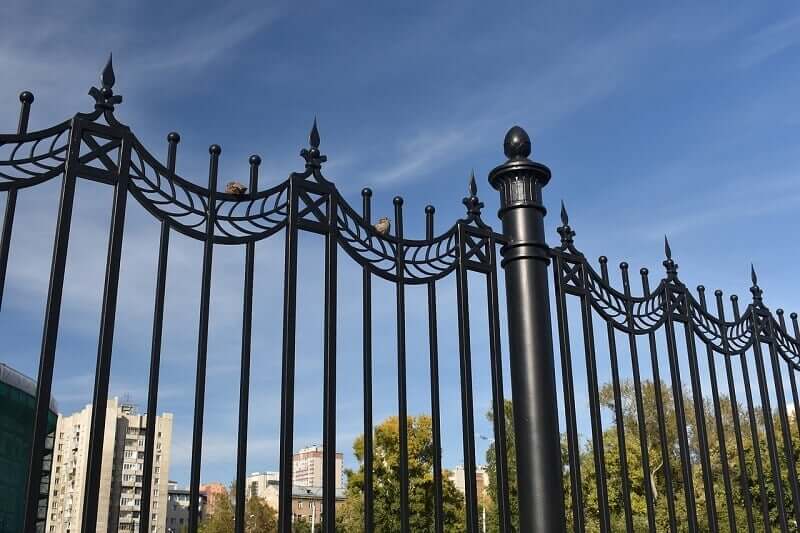 If you are in the market to purchase a new fence, perhaps the questions lingering in your mind is why steel fence over other materials. There are a number of reasons to this. If security is your key factor, then fencing your property using steel is the ideal option for you. It helps keep trespassers away and keep your property safe. Highlighted below are some of reasons why you should choose steel over other options.
Pros
Durability: Steel fences are incredibly durable and hard. Often, they are coated with a layer of zinc and galvanized in order to keep them last longer for decades. Most people desire fencing materials that will stand the test of time; with less durable materials, chances are they will become damaged with time; thus, allowing unauthorized access to the property.
High Security: With steel fence in place, you are guaranteed that your home or business property is kept much safer. If used in conjunction with electric gates, you can control the movement within your property. However, in most case, the simple installation is enough to deter unauthorized personnel from getting into your property.
Impact Resistant: Steel fences have an impact resistance. Any blunt damage to the fence does no raise an alarm because of its stronger impact resistance. Its ideal usage is in high risk-prone environments.
Low Maintenance: Aside from the high overhead upfront cost, steel fences are low to maintain. This is because of their durable nature since they cannot easily be damaged.
Cons
Difficult to install: Steel fence installation is more complex than aluminum. This is due to its rugged nature.
Cost: Right alongside installation duration, steel fences are more expensive. Meaning you will have to invest a lot of money by choosing steel as your ideal fence solution.
Final Thoughts
While wood fences have dominated the market for a long time due to their environmental and beautification nature, they do not last long. Thus, our pick will be aluminum fences. They are durable, cost effective and require less maintenance. Nonetheless, if you are shopping for fencing options for your home yard or business, you should always look for durable materials, cost of acquisition and the ease of installation.