Note that the products discussed on our site are independently selected by our editors. Your purchases through our recommendations may earn us a commission at no extra cost to you.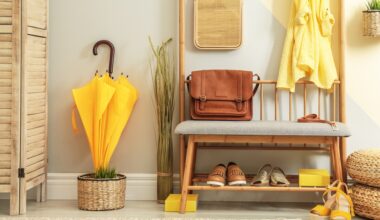 There are sandals, stilettos, and sneakers lying outside your living room – thanks to the quaint (read: rich) Ícarpet spread on the floor that religiously caters to a no-shoe zone. With so many shoes scattered outside your home, we think that you're a few pairs away from starting your own shoe store! While this scattered mess might reduce the curb appeal of your home, especially if they're lying on the patio, we think you need to immediately address the situation before it gets out of hand. Your guests are liable to trip over the dispersed shoes and if anything, might injure themselves by breaking a toe or two.
So, what do you do?
While donating the shoes you don't wear is a great idea, we think you need one of those aesthetically designed shoe storage benches for housing your woes away. You can place them either inside in your lounge or outside on the patio where everyone can house their shoes and join the party indoors in full swing. To help you make a choice further, we have mentioned 7 best shoe storage benches that we think are not only minimalistic, but ideal for putting the shoe mess away!
Related read: outdoor storage benches
The Best Shoe Storage Benches
Winsome 94841 Dayton Bench
Highlights:
Can be placed indoors as well as outdoors
Composed of composite wood
Can support anything within a 250-pound weight capacity
Ideal for storing a large number of collectibles such as shoes, books, VHS cassettes, DVDs etc.
Its sleek design and rich walnut appearance goes well with both outdoor and indoor decorations
Its parts come in a box and will take up to 25 - 45 minutes for betty homeowners to put it together
8 large screws for shelf alignment and assembly purposes
Buy on Amazon
Images from Amazon Product Advertising API / Affiliate links / Last update on 2021-01-22
With its cumbersome design and shiny, walnut upholstery, the Winsome Dayton Bench is probably giving a new meaning to the proverb, 'You Win Some, You Lose Some'. However, here, you'd probably lose the holy gathering of shoes by placing them in any of its three-shelved compartment. So, practically, you're actually winning! Also, the Winsome Dayton Bench has a capacity to hold three times as more shoes as compartmentalized storage benches, giving you more reason to go all out and get this masterpiece right away.
The Winsome Dayton Bench allows you to sit down while you're on-the-go and slip into your shoes after taking them out of the compartment. If you've guests over, you can simply ask them to keep their shoes inside the bench's storage shelves before popping inside. Moreover, thanks to its 250-pound weight capacity, the Winsome Dayton Bench can easily support your TV atop the shelves, providing you with another reason for placing it inside your home.
The Good
Easy to assemble and put together
Sturdy, durable, and weather resistant
Can be cleaned without any extra effort
Deep pocket housing makes it easy to put shoes away, giving a clutter-free appearance
Can seat at least three people altogether
Can support a TV within the given weight capacity, making it a dual-storage bench
Not So Good
Comes in only one color, that is, walnut
Can be wobbly at times
Might appear to be cherry-red or espresso instead of its walnut appearance.
Might not go with light-colored, funky, or retro furniture
VASAGLE Cubbie Shoe Cabinet Storage Bench
Highlights:
Has a weight capacity of 440 pounds
Ideal for seating two adult people at the same time
The bench is cushioned with a sponge for providing utmost comfort
The shelves on either side are adjustable for housing boots or stacking items
Its sleek design and black upholstery give a contemporary yet minimal touch to dark furniture
Buy on Amazon
Images from Amazon Product Advertising API / Affiliate links / Last update on 2021-01-22
The VASAGLE Cubbie Shoe Cabinet Storage Bench serves a dual-purpose that is, one as a shoe cabinet and two, as a parking meter for seating you as well. It can hold a maximum of 10 shoes, thanks to its deep pocket storage compartments. The Cubbie Shoe Cabinet has 10 shelves, 4 of which are higher than the others and can be adjusted to 3 sizes for providing utmost support and balance to knee or hip length boots. The center shelves, however, are fixed and sturdy for the placement of sneakers, sandals or even high heels.
You can keep this Cubbie Shoe Cabinet Storage Bench in your living room or lounge if you plan on placing it indoors, or simply out on the porch below a lit LED light for providing assistance to others. The cubbie storage cabinet bench comes with a sponge on top of its upholstery so that you can sit comfortably while putting your shoes on your feet. The shoe bench can support two adults at a given time as it has a weight endurance capacity of 440 pounds.
The Good
Comprises of both fixed and adjustable shelves
Can seat two adult people at once
Comes with a cushion for providing maximum support and comfort 
Sturdy, weather-resistant, and highly durable
Easy to assemble (minimum time – 15 minutes) and manage
It's affordable and flexible
Not So Good
Comes only in black 
Its sponge cushion is only ideal for seating people as it cannot support heavy accessories such as a TV or vase of any kind
Prepac 24 Pair Shoe Storage Cubby Bench
Highlights:
Consists of 24 cubbies for placing shoes, accessories, or items for home décor
Comes with a 5-year warranty
Composed of non-toxic, composite wood
Comes in four colors that are laminated to provide a shiny appearance
Ideal for placing in corridors or utility rooms
Can support two adults at a given time
Weighs 66 pounds
Remarkably easy and simple to assemble
Buy on Amazon
Images from Amazon Product Advertising API / Affiliate links / Last update on 2021-01-22
With four revving colors to choose from including espresso, drifted gray, black, and white, and a 60-inch width, the Prepac Pair Shoe Storage Bench is all set to store all of the shoes lying aimlessly at your home. With 24 deep compartmentalized and widely spaced cubicles, the Prepac Shoe Storage is perhaps a human centipede's dream. With the capacity to house a variety of sized shoes – the maximum being a 13 in men's size – each cubby is spacious and sturdy enough.
The Prepac Shoe Storage Cubby Bench comes with a 5-year warranty and serves as a great rendition to your living room décor or an addition to your storage or utility room. You can place the Cubby Bench on your porch or patio so that your family can put their shoes inside any of its cubbies before coming indoors. With a comfortable seat up top, you can either sit down and wear your shoes or place any other accessory or an item from your home décor for adding an elegant touch to your foyer.
The Good
Ideal for families with a large number of people or places that hold events, occasions, or parties quite often
Can store 24 pairs of shoes
Comes in four colors and complements any given setting
Highly durable, weather-resistant, versatile, and resilient
Not So Good
Since its dimensions are too wide, (60 inches wide), it might not be appropriate for placing it in the living room or lounge
Better for placement in utility rooms or corridors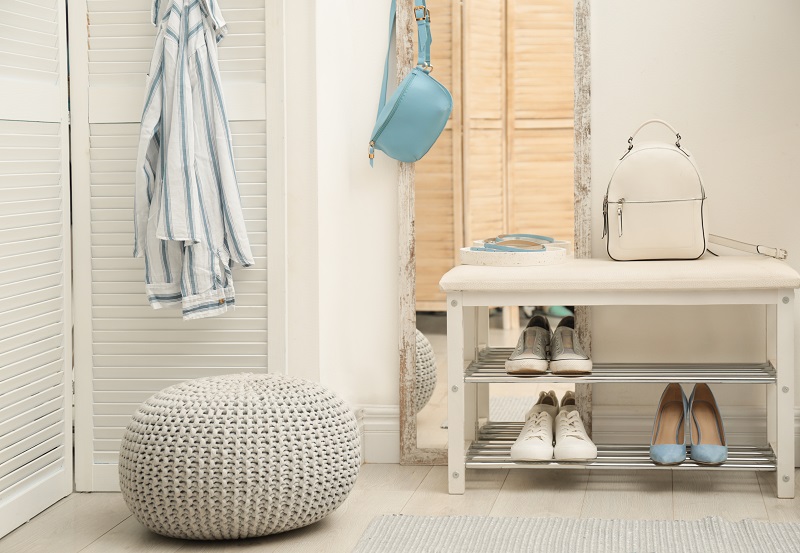 Seville Classics 9-Bin Foldable Tufted Bench
Highlights:
Its design is quite elegant and of dual-purpose nature
It can endure a weight capacity of 440 pounds
It comprises of 9 shelves, allowing you to put away your sandals and sneakers
Ideal for placing in the bedroom and living room
Comprises of two styles – the cube style and the end-of-bed bench style
Comprises of a top-hinged lid or a button-tufted padded cushion on the top that on account of being detachable helps to make the
compartments more accessible
Buy on Amazon
Images from Amazon Product Advertising API / Affiliate links / Last update on 2021-01-22
The Seville Classics Foldable Tufted Shoe Storage Ottoman is perhaps, present on every home owner's ultimate wish list – we know it is ours. It's one of the best shoe storage benches you can find out there. The Ottoman comprises of 9 shelves, three on each of its tier, with a capacity to house any of your personal items, such as shoes, jewelry, and accessories. However, each cubby has a capacity of 5 lbs each so that it can withstand shoes without posing a dent in the furniture.
The Ottoman is tufted throughout its upholstery, making it ideal for people to sit down, relax, and talk at the same time. Due its 400-pound weight capacity, the Ottoman is not only sturdy and resilient, but also quite resistant to a large amount of weight. Place the Ottoman at the edge of your bed in your bedroom or at the corner of your living room for additional aesthetic appeal. It's soft and non-woven fabric is made up of synthetic material, making it easier for you to clean and comfortable for you to park yourself.
The Good
Its synthetic, non-woven fabric is resilient to wear and tear
Comes with a button-tufted, padded cushion
Its cube-style is perfect for housing toys, stationery, or magazines
Can serve as a coffee table without posing any fear of acquiring growth since removal of stains is easier
Comes in 6 other fabrics including white and black quilted fabric, black faux leather, and midnight blue synthetic fabric.
Quite sturdy and resilient to weight
Not So Good
Not ideal for placing outdoors
Can only house 9 pairs of shoes at a time
Prepac Shoe Storage Cubbie Bench
Highlights:
Capacity to house 18 pairs of shoes
Capacity to withhold 200 pounds of storage including weight
Composed of composite wood finished with a black laminate
Remarkably easy to assemble and align
Available in Espresso and White laminate finishes as well
Buy on Amazon
Images from Amazon Product Advertising API / Affiliate links / Last update on 2021-01-22
The Prepac Shoe Storage Cubbie might be exactly what you need to organize your poor assortment of shoes. Instead of leaving your shoes in your coat or broom closet, consider opting for an 18-cubbie shoe storage bench that is not only versatile but serves a dual purpose. If you're looking for a place to sit down while you tie the buckles or laces of your stilettos or shoes, then the Prepace Shoe Storage Cubbie Bench is here to put an end to your endless yet tiresome worries.
The Prepac Cubbie Bench can very tactfully store a maximum of 18 shoes along with a couple of adults at the same time, provided you don't exceed its 220-pound weight endurance capacity. The Cubbie Storage Bench can be placed in the entryway or even in the middle of your living room with a TV on the top.
The Good
Ideal for placing outdoors on the porch or the patio, or indoors in the entryway, living room, or the lounge
Sleek and elegant in design
Comprises of 18 deep shelved compartments
Can seat two adults at the same time
Complements vintage and minimalistic furniture 
Can fit two pairs of shoes in one cubby at the same time as well
Resilient to weather changes 
Not So Good
Its white and black finishes make it hard for it to adjust to its surrounding furniture
Its backing and shelving might be slightly wobbly and flimsy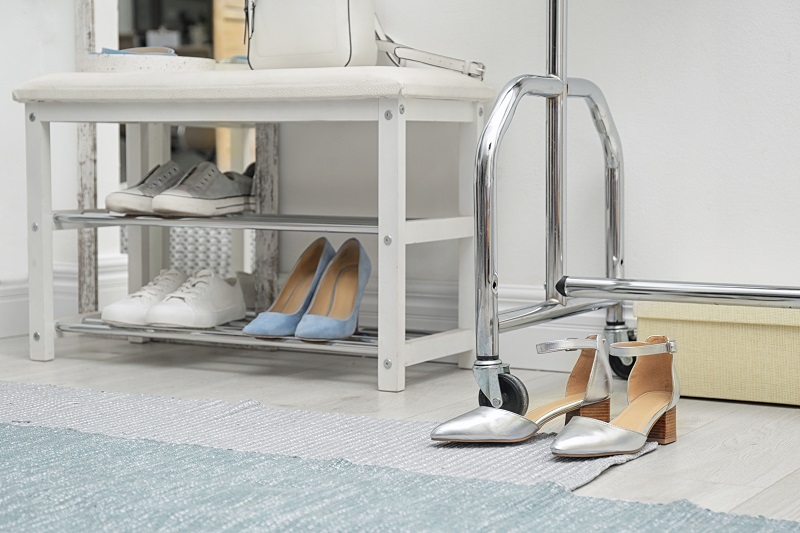 Tribesigns Entryway Shoe Bench
Highlights:
The Roman stool is carved in the middle by hand, making it a sheer amalgamation of technology, design, and elegance
Comprises of a leather tufted cushion along with cortical buckles
Composed of solid wood
Despite its highly sophisticated design, the Roman stool is remarkably simple to assemble
Buy on Amazon
Images from Amazon Product Advertising API / Affiliate links / Last update on 2021-01-22
Tribesigns vintage Roman stool is manufactured with sheer excellence to withhold its antiquated approach towards elegance. And it is a great fit as the best storage benches for shoes. The Roman stool is accentuated with a tufted leather cushion, allowing you to sit down while waiting in the hallway for tying your shoelaces or buckling your heels. The Roman stool has quite an urban touch to it, making it the perfect rendition to indoor suburb housing. The Roman stool has abolished the use of sharp corners by making the edges round so that they're not only safe for placing in a household of children, but also quite comfortable for sitting down.
The Roman stool is sturdy and resilient to wear and tear, especially to dents, scratches, or chipped corners due to adequacy in polish and furnished finesse. The Roman stool can house up to 6 to 8 pairs of shoes, and is an ideal addition to a home that takes pride in preserving its aesthetic appeal.
The Good
Highly durable, firm, and resilient to wear and tear
Solid wood is resistant to early ageing
The rounded corners provide utmost safety and protection
Can provide entry to a maximum of 10 shoes, provided you stack one atop the other
Ideal to provide charm in auctions or high-society parties
Not So Good
Only ideal for placement in modernistic hallways, especially those that comprise of wooden or antique furniture
Lacks compartmentalization or cubicles
VASAGLE 3-Tier Industrial Shoe Bench
Highlights:
Embarks of a high-end, engineered industrial framework complete with both metal and wood
Complements indoor and outdoor furniture
Requires only 10 minutes for prompt assembly and usage
Can withstand 198 pounds of weight
Can house 6 – 8 pairs of shoes evenly
Buy on Amazon
Images from Amazon Product Advertising API / Affiliate links / Last update on 2021-01-22
Complete with a metal frame and meshwork for housing your dirty pile of shoes off the ground, the Vasagle Industrial Shoe Bench is cordially designed as a modest rack for the modern household. The Industrial Shoe Bench is covered by a rustic plank of wood to provide accent to the room and also, to assist you while you struggle to put your shoes on your feet.
The Valsagle Shoe Bench and Store Organizer is dual-purpose, and therefore, gives a tribute to industrial furniture by combining a metal framework complete with a thoroughly engineered wooden plank on top. All you need to do is tighten the screws that come along with your bench equipment, and put it to use before you trip over your shoes and regret the opportunity one day.
The Good
Reminiscent of a minimal yet modernistic approach to furniture
Allows you to sit down in ease while wearing your shoes
Top wooden shelf can also support your coat, handbag, or backpack, allowing you to drop them off when coming home from work and eventually grab them in a hurry while leaving
Can easily give room to 6-8 pairs of shoes without seeming stuffy
Can be placed outdoors on the front porch, on the patio, or in the backyard
Not So Good
Lacks compartments or cubicles
The metal meshwork might be a wee bit old-fashioned
Doesn't support wheels as it isn't sturdy enough to support them
Final Words
We hope that you've enjoyed our selection of the best shoe storage benches. So what are you waiting for now. Go ahead and get the one you like, and let your living space meet its new crew.
Next read