Note that the products discussed on our site are independently selected by our editors. Your purchases through our recommendations may earn us a commission at no extra cost to you.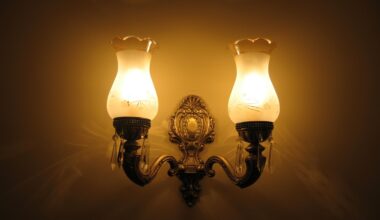 Do you even know what a wall sconce is? The first time I heard the term, I thought it sounded like something Grammy would keep her porcelain figurines on. Even the word 'sconce' seems old… I was so wrong, but also partly right…
More commonly known as wall lights, wall sconces are lights that fix to the walls in your home, often with hidden brackets or screws, so the fixture appears to be stuck to the wall. Sconces used to be little shelves mounted on a wall to hold candles, used to illuminate rooms and passageways after dark. It may even go so far back as stone-age man putting a burning stick onto a rock so he can concentrate on the cooking!
Nowadays, they usually are hard-wired directly into your house's electrical circuit, or can be plugged in with a cable from the light to the socket. If hard-wired, they will be operated by a light switch on the wall, but if retro-fitted there can be a switch on the unit itself. Picture lights mounted over works of art are often operated like this. They can also be battery operated which makes retro-fitting easier and better as it removes the need for a visible cable – and they still work in a power cut!
Because they are so popular, they are available in many different design styles, from simple olde-worlde wood to contemporary chrome and white metals, basic pared-back design to multi-bulb French chandelier effect. You can even get industrial bulkhead light fittings to set a contemporary industrial design feel to a room.
They can also be used indoors or outdoors; they can direct light up, down or at an angle. They can accept many types of bulbs, from small LED to large exposed filament Edison bulbs. They are very, very versatile.
Related article: Outdoor Motion Sensor Lights
Are Wall Sconces Outdated?
OK, so I was half right, the word sconce is a very old word. The word comes from the Latin word 'sconsa' meaning 'to hide' and probably originates in the 14th century, referring to a portable lantern or candle, but since then things have only ever got better and brighter for sconces. They are now at the leading edge of home decor design – and the right lighting can even affect the way we feel.
Theo Richardson of Rich Brilliant Willing, the Brooklyn based design studio, says:
"Light is a powerful thing. The right light lifts the mood, inspires productivity and motivates us. At home, light enlivens the little things — our morning routines, or the moments we spend with friends."

Theo Richardson, Rich Brilliant Willing
With work and commuting stress causing us daily woe, health and wellbeing and striving for some peace and calm in our lives is of ever-growing importance to us. So coming home to the warm glow of a well-lit living space, with the right lighting in the right places, will only increase our quality of life. And who doesn't want a better life?
Almost all interior designers seem to agree that more than one source of light in a room is the preferred option. A boring ceiling light in the middle of the room is no longer considered sufficient.
"Over the years, we've found that one of the biggest mistakes is made with overhead lighting,"

says Robert Highsmith, a principal at Workstead, another Brooklyn design firm.
"Often it can be excessive, generating spots and unwanted shadows."
There is a vast range of table lamps and floor standing lights to add mood lighting or purposed lighting to a room. Think cool, designer anglepoise lamp over your reading chair, or an ethnic, carved wooden base table lamp adding style to a bookcase.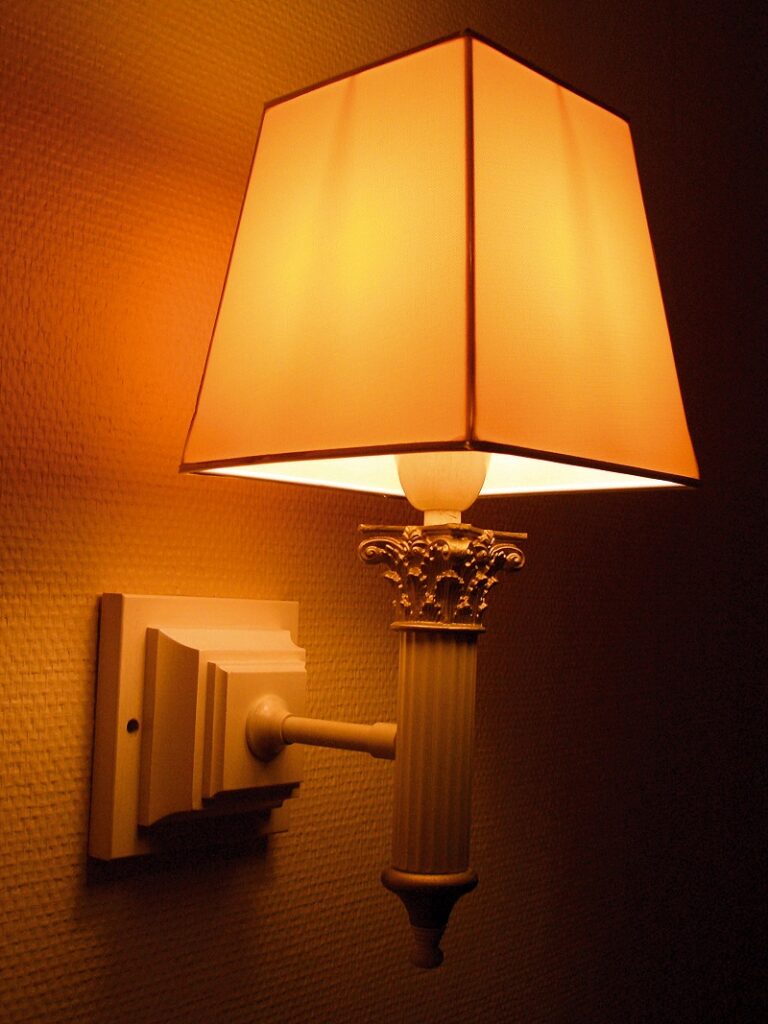 So we have our floor lamps, our table lamps, and our ceiling lights, but we are missing out on two-thirds of our surface area of the room – the walls. Filling the gap between floor and ceiling, wall sconces are ideal for tapping into the 'layered lighting' trend. Layered lighting helps highlight the various features of a room (mirrors, fireplaces, furniture, alcoves) and helps set the mood. Add a dimmer switch to the system, and you can quickly change from a brightly lit social occasion to a mellow, low lit romantic atmosphere.
So are wall sconces outdated?
The answer is a resounding NO! They are not outdated. Maybe the term 'sconce' is considered old in some circles, but wall lighting as a home decor category is as big as ever.
Looking on some large lighting retailer websites, I can see that wall lighting comes near the top of their lighting categories, and the number of wall lamps on sale is greater than ever. They are even available to buy with smart LED bulb fittings and can be Alexa controlled – this is as modern as it gets!
Reasons to Install Wall Sconces
Here are few quick reasons to consider installing wall lights to your house.
1. Spruce up boring walls
Wall sconces are a great way to add design and feature to boring walls or corners, highlighting your framed artworks, pot plants, or shelf of porcelain figurines!
2. Illuminate dark spots
Illuminate dark corridors, stairs or passageways inside or outside the house. Weatherproof wall sconces can bring light and security to outside areas. They can be activated by PIR detectors to come on automatically when you walk up a path or drive into your yard and can turn off by timer, saving you energy.
3. Ease with reading
Keep bedside tables clean and clear by installing extending reading lights above the bed, at just the right angle to highlight your latest thriller. These can be pulled out away from the wall for use, and then pushed back when finished with.
4. They don't get in the way
Wall sconces do not get in the way. Floor lamps have to be moved when cleaning and vacuuming, table lamps can be knocked over and can take up valuable space. We never walk very close to the walls so sconces are not bumped into and as they are often smaller, they need less cleaning!
5. For the outdoors
An outdoor seating area, back porch or deck can be transformed by the addition of some wall lights, adding ambience and extending the party into the night. Mounted onto garden walls or posts, they can make a feature of plants and shrubs, or highlight pathways.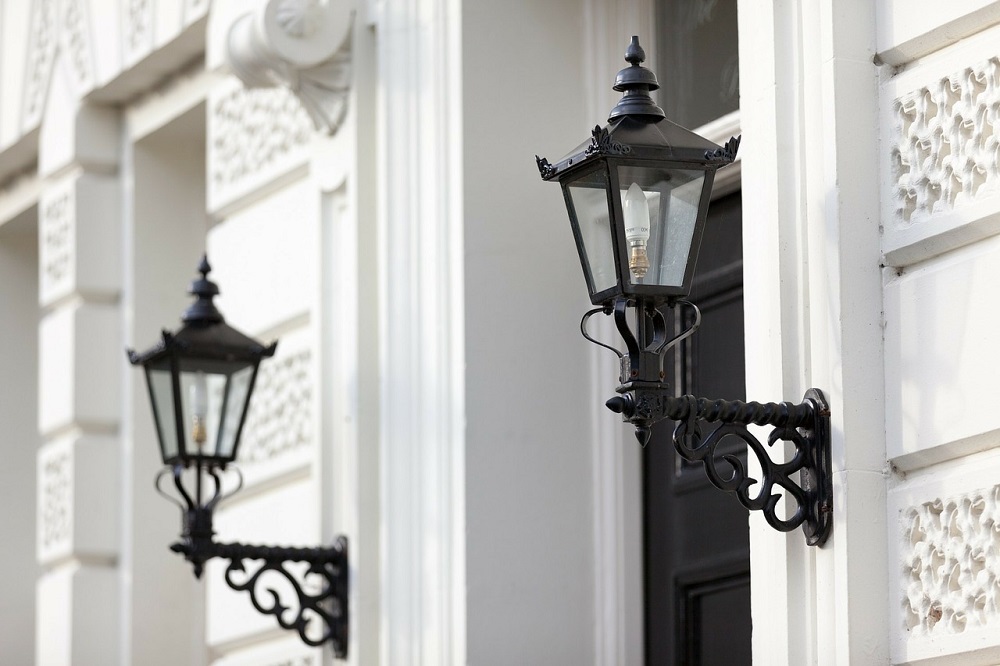 Wrapping up
Lighting designers all agree that light is a very important feature of any home decor design, and that it is often overlooked and undervalued. When redecorating we spend the budget on furniture, carpets and art. We spend hours agonising over paint colours or wallpaper, but then chuck a basic, harsh ceiling light in the middle of the room, leaving our artworks and beautiful walls in the shade. With the simple addition of some wall sconces, we can bring our new room to life and set any mood we wish for. When they are so easy to fit and operate, there is no reason why we can't start making this important addition to our homes right now.
So while the term 'wall sconce' may sound old, wall lights definitely are not. They have been around for hundreds of years in one form or another, but like any classic decor item, they move with the times. The wall sconce rides the tides of fashion with ease, thanks to an ever-changing variety of designs. Indoor/outdoor, antique/contemporary, ethnic or Americana, there is a design to suit your home and improve your mood.