Lighting is an essential part of houses. How you install your lights and the types of lights you use can tell people a lot about the type of person you are. There are outdoor lights, indoor lights, multicolor lights, and the list goes on. But what about wall sconces? The fancy sibling in the lighting world, it easily stands apart from its brethren. But what exactly is it?
Wall sconce is a fancy word for "wall lights". They are basically a type of lighting fixture that hangs from the walls. They do not require any table to sit on nor do they take up any space from the ceiling. They usually add great value to the decor of the rooms they are installed in.
Seems easy, doesn't it?
However, buying a great wall sconce that won't disappoint you could be difficult. You have to take many aspects into consideration when buying one. For example — the direction of the lights, usage rating, style, cost, materials, etc. Add all of that together, and it becomes a pretty daunting job to find a great fixture, especially when you don't have adequate knowledge. And that's why we have this —
Best Wall Sconces
Upon analysing numerous products on amazon, we have a compiled a list of the best wall sconces you can get right now. Plus, we'll have a buying guide at the end of the article so that you can make an even better choice when choosing one.
Related read: are wall sconces outdated
With all of that, here are the top rated wall sconces you can get right now —
HYLOON Mason Jar Sconce – Best Wall Sconce For Gifting
Images from Amazon Product Advertising API / Affiliate links / Last update on 2021-01-21
The HYLOON sconce can be put in bedrooms, kitchens, farms, and outdoors. It contains a smart remote control, so you can activate it from a distance. You can control the sconce from up to 15 meters. It also contains 8 different modes with LED lights. You can choose between 2, 4, 6, or 8 hours timer setting, so don't worry about turning it off. It'll shut off on its own. There is also 8 different kinds of lighting and brightness modes. The customization is near endless.
The sconces come in pack of two and are made out of natural materials. The entire package contains 2 Mason jars, 2 wooden boards, 2 hydrangeas, 2 LED strip lights, and 2 remote controls. The natural materials are paired with handmade artwork to ensure a rustic feel. It runs on batteries, so no question of it being hardwired or plug-in.
KingSo 3 Light Wall Sconce – Best Wall Sconce As Main Light
Images from Amazon Product Advertising API / Affiliate links / Last update on 2021-01-21
The KingSo wall sconce is a 3-light indoor wall fixture that at the same time is rustic and modern. The lamp holder is made of heat resistant phenolic resin, while the lampshade is anti-deformation ferroalloy. This means that you can handle the lamp holder without causing your fingers to be burnt. And the lampshade itself won't be deformed or twisted from the constant heat. The sconce requires three 60-watt maximum incandescent bulbs to operate.
It gives very bright lighting as it uses three 60-watt bulbs. So if you want to use it as the main source of light in a room, it won't disappoint you.
This hardwired wall sconce is a perfect fit for bathrooms, kitchens, powder rooms, dining rooms, mirror cabinets, living rooms, and hallways etc.
The package includes 3-light wire cage wall sconce, accessories package, and a user manual.
Aipsun Modern Rectangular LED Wall Sconce – Best Modern Wall Sconce
Images from Amazon Product Advertising API / Affiliate links / Last update on 2021-01-21
The Aipsun wall sconce is more high-tech than others on the list. It features up and down lighting and is good for indoor hallways, bedrooms, restaurants, hotels, and more. It isn't waterproof, however, so it's only good indoors.
The luxury horizontal design is meant to be contemporary rather than rustic, and it's easy to tell. The sconce is very durable as it is made of advanced aluminum casting shell, ensuring that it is secure and is anti-scratch. It also is anti-rust. The sconce is easy to clean as well.
The sconce is easy to install, as it has a USA standard installation backplate.
The LED chips are high quality material, so they save energy and are long lasting. The LEDs give 3000k warm white light to be exact. This sconce features a lot of variations to choose from at checkout.
It's not dimmable however, so if you are looking for dimmability feature, continue reading to find one from our list.
ChangeM Modern LED Wall Sconce Lighting Fixture
Images from Amazon Product Advertising API / Affiliate links / Last update on 2021-01-21
This sconce can be used in a multitude of rooms, including the bedrooms and hallways. The light isn't bright enough to be used as a main light, but the 2700K warm white light is a good choice for a night light. The modern and simple design will add a touch of flourish to your house. The sconce has new LED technology and doesn't flicker or strobe. And if you aren't a fan of the light that comes with the sconce, it's easy to change the wattage and color of the light.
The lamp itself is made entirely of plaster. This gypsum material is made from real natural pollution-free materials. This helps the light gain a softer feel to it.
It is also smooth, durable, and anti-rust. You don't need to be an expert installer to put this sconce together, as it's easy to install. It can be set up vertically or horizontally. All you have to do is make holes in the wall, put the screws in, connect the wires to an electrical outlet, and put the lamp in the lamp socket.
ChangM Modern Wall Sconce 12W – Best White Wall Sconce
Images from Amazon Product Advertising API / Affiliate links / Last update on 2021-01-21
The ChangM wall sconce is made of acrylic and pure aluminum. This provides stability and durability. The light itself is meant to be comfortable and soft on the eyes. The light is bright enough to light up the entire room but is dim enough to not harm one's eyes.
The high-quality LEDs make sure that the light is nice and soft. There is no flash or dazzle, so your eyes are protected. And when the light is off, the sconce itself is a good decorating piece for your house. It's a perfect source of ambient lighting especially when reading books.
The LED lights are long-lasting, with a life of up to 30,000 hours. This is based on a normal usage of the lights and will most likely meet your daily needs. The wall light is low consumption, ensuring that energy is saved and the environment is protected. What's really great is that the product comes in a set of two. So, you can put a sconce on one wall and put the other on the accompanying wall.
And the sconce itself is easy to install, although it's recommended you have an expert put it together.
360 Lighting Wray Modern Industrial Up Down Swing Arm Wall Lights
Images from Amazon Product Advertising API / Affiliate links / Last update on 2021-01-21
The Wray wall sconce comes in a set of two lamps. Made to look industrial, it fits in perfectly with a farmhouse style setting. It also goes well with bedrooms, dens, reading rooms, and living rooms.
The wall lamp has a rich bronze finish, making it striking. Each sconce uses one maximum 40-watt standard-medium base bulb. But keep note that the lights are not included in the box.
The sconce shines the light directly downward and it has a vertical up-down adjustment. It can not swing left or right. There's a dimmer switch on the backplate, so you can change how bright the light is. These sconces are plug-ins, and the cords are included.
Globe Electric Belmont 1-Light Wall Sconce – Best Wall Sconce For Reading
Images from Amazon Product Advertising API / Affiliate links / Last update on 2021-01-21
The Globe Electric Belmont wall sconce is a beautiful piece of design. It's shaped to emulate industrial luxury, with a satin black finish. Gold accents plus a hourglass design help elevate it to luxury. The design allows the light to shine through from the bottom (the top cover is closed). And if the light is too bright for your eyes, the sconce is fully dimmable. It comes with a compatible dimmer switch to customize the light levels. The wall sconce has a 360-degree swivel, so you can pivot the head to whichever direction you want.
The wall sconce is easy to install, as all mounting hardware is included. What isn't included is the bulb. It's hardwired design means you won't see long cords hanging from beneath it, if that bothers you.
Even though it's dimmable, there's no on/off switch on the light fixture itself. You have to use a regular wall switch for it to turn on/off. So take note of that before buying wall sconce.
Pauwer Industrial Wall Sconces (Vintage edition) – Best Unique Wall Sconce
Images from Amazon Product Advertising API / Affiliate links / Last update on 2021-01-21
The Pauwer wall sconce is an updated size. The back size is now 5.12'', which will cover your electrical box. And the light fixture is now 17.32''. What's cool is that a test bulb is included to make sure everything is running smoothly.
The sconce is made to be industrial, and the black wire cage is impressive. The material is high-quality steel and rust-proof, so it's very durable. The bulbs used in this fixture are unique and impressive as they are long and visible.
The chic black finish ties the design together, ensuring a wall sconce that illuminates and decorates at the same time. And there are two sconces in the set.
The vintage fixture is meant to work with multiple types of styles. It can add some flair to the top of the fireplace, dining rooms, hotels, etc. It can only be used indoors, so take note of that. Assembly is required, but all the mounting hardware is included, so it's easy to install.
YISURO Rustic Wall Light – Best Rustic Wall Sconce
Images from Amazon Product Advertising API / Affiliate links / Last update on 2021-01-21
This vintage wall sconce is unique in that it has a 2-in-1 design. You can use the fixture in two different ways. You can choose between hardwired and quick plug. And you can easily switch between the two depending on the situation and location.
The fixture is dimmable when you use compatible dimmable bulbs. You can put in incandescent, LED, CFL, or halogen bulbs in the fixture. The lightbulbs aren't included though.
The fixture is supposed to emulate a vintage style, which it absolutely does. The body is light and oil rubbed bronze in color. The retro lamp design helps the fixture fit in many decors. It can easily be put in a bedroom, living room, restaurant, study, and more. And the aesthetic makes the fixture a focal decorative piece.
Kira Home Cambridge 13″ Swing Arm Wall Lamp – Best Wall Sconce For Bedrooms
Images from Amazon Product Advertising API / Affiliate links / Last update on 2021-01-21
This Kira Home wall sconce is meant to have a transitional style. The wall lamp has an adjustable swing arm, a white fabric shade, and a satin nickel finish. The sconce can be either hardwired or plugged in. If you do use plugs, 4 12'' cord covers are included. It's also smart plug compatible, as well as 3-way bulb compatible. This is so you can adjust the brightness.
The fabric shade helps emit light in every direction. This is perfect for large areas or areas with a lot of people. You can either mount or plug the sconce in a variety of places. It's recommended that it goes in the living room, hallway, foyer, bedroom, study, or office.
The sconce is best used in dry locations.
You can use LED, CFL, or traditional incandescent bulbs with this fixture. The bulbs are not included in the box though. The fabric texture will make the outcoming light very soft, making the light ideal for night readings.
The fixture has a lot of variations to choose from at checkout. Kira Home is confident in their product quality, so they are providing their customers with one year of warranty with this fixture.
Buy on Amazon
LEONLITE 12W LED Square Wall Sconce
Images from Amazon Product Advertising API / Affiliate links / Last update on 2021-01-21
LEONLITE's sconce is 12W and produces ambient lighting. It is equivalent to 50W halogen lights. It has 600lm ultra high brightness and a 6000K pure white glow. It is safe to operate as it is ETL listed, which speaks to the high quality and safe operation of the fixture.
This sconce is energy saving and can help you save up to 76% on your electric bill. And the frosted lampshades help reduce the light and create a soft atmosphere. The frosted lampshade goes well with its minimalist design, with its white body being a nice decorative piece in your rooms.
But the white-colored fixture is actually quite strong. It's made of rugged aluminum, which causes corrosion resistance and heat dissipation. That makes it quite easy to handle.
It is also very simple to assemble, with it only taking 3 steps. Designed to work with a standard U.S. J-box, you only have to attach the fixture to the J-box and connect the wires.
Possini Euro Aluno Plug-in Style Wall Lamp – Best Swing Arm Wall Sconce
Images from Amazon Product Advertising API / Affiliate links / Last update on 2021-01-21
Possini's sconce is a swing-arm wall lamp. It extends from the wall, so you can maneuver the fixture till you have it in the right position. And a full range dimmer switch is present on the backplate which makes it very convenient to adjust the brightness of the light.
The fixture has a brushed steel finish, showcasing its modern design. And the linen shade offers subtle texture.
The fixture is plug-in wall sconce, so no electrical wiring is needed. That makes installation incredibly easy as you can simply plug the cord into a regular wall socket and you'll be good to go. The cord comes with the fixture in the box while there's no cord cover in the box. If you don't want to see any cord or cord cover hanging from beneath it, you could simply hire an electrician to hardwire it to the wall.
The recommended bulb type to be used with this unit is an incandescent, halogen, or LED light bulb.
The lampshade can be replaced with a better once, in case you want that. Its beautiful design is sure to fit in your bedrooms, living rooms, study rooms, etc. very nicely.
Rosslyn Swing Arm Wall Lights
Images from Amazon Product Advertising API / Affiliate links / Last update on 2021-01-21
The Rosslyn wall sconces come in a set of two, so you get your money's worth. The French country style wall sconce is meant to be a good addition to bedrooms and studies. The bronze finish and faux leather shades make the product a good decorative piece. You can marvel at the light and the design.
The sconces have a swing-arm design, so you can move it around to light up different areas. The maximum arm extension is 21''.
You can put in an incandescent, LED, or halogen light bulb to the fixture. But the light isn't dimmable unless you buy a compatible dimmable bulb. The sconce itself is pretty easy to install, as they are plug-ins. You just have to attach the lamps to a wall and plug it in. The lamps have a 6-foot cord, so you don't have to attach them close to the port.
Danya B Antique-Style Metal Sconce – Best Candle Sconce
Images from Amazon Product Advertising API / Affiliate links / Last update on 2021-01-21
This candle sconce is a great wall sconce from Dayna B. It features sleek contemporary design while being simple yet elegant in look. The use of candles, brushed iron, and glass gives a medieval feel when you look at it.
As it does not use electricity as its power sources, it's ideal for both indoor and outdoor use. For the same reason, it's easy to mount as well. It sits flush to the walls, so you won't see any ugly empty space behind it.
It's a perfect fit for any areas of the house including bedrooms, bathrooms, living rooms, dining rooms, entryways, etc. With its sleek metallic brown finish, it's sure to spruce up the decor in any of these areas of your home.
Speaking of the light source, you can use either a pillar candle or a flameless LED candle. This is the best candle wall sconce in our opinion.
15

Deco 79 Rustic Fleur-de-Lis-Designed Metal Candle Sconce
The second wall candle sconce on our list, the Fleur-de-Lis-Designed Metal Candle Sconce from Deco 79's is inspired by the old world. The fixture is made up of metal and glass with a burnished bronze finish.
The fixture holds a pillar candle or a flameless remote candle in the clear glass candle holder. The sconce is designed with an arched ball finial, riveted detail, and a ring holder. This allows it to hang from a scrolled wall mounted hook. The fixture works best in a traditional indoor setting, with the style complementing the surrounding area.
The unique design of the sconce and the use of candles will bring in rustic feelings to any area where you install this fixture including bedrooms, living rooms, study rooms, dining rooms, hallways, porches etc.
Things to Consider When Buying a Wall Sconce
Wall sconces are some of the most varying products. That can make choosing one a difficult task. There are many variables that need to be looked at. Luckily, below are the attributes that should be considered when buying a wall sconce.
Light Direction
There are up-lighting sconces and down-lighting sconces. You can either buy one that is designed to do one or the other, or install a sconce a certain way after you buy one. You can even find wall sconces that offer both upwards and downwards lighting.
Up-lighting sconces are good if you want the room to appear bigger. The sconce will illuminate the ceiling. Down-lighting sconces are used to make a room feel more grounded. The light will focus on the floor, which will help any space that needs more focused illumination.
Usage rating – indoor or outdoor
You have to choose where you want to put the wall sconce. If you want to put the fixture inside, then choose one that will operate better in a house or business. The same goes for outdoor sconces. Many sconces are not waterproof, so they will be useless if you put it outside. So, choose one that won't be impacted by the weather elements. They have to be more durable to deal with changing weather.
What's also important is how bright they are. Outdoor sconces need to be brighter so they can illuminate more. The outdoors is much larger than a room, so it needs to be able to reach the far edges. If you want to brighten the outdoors, be sure you choose a fixture that is designed to be used outdoors.
Style
Wall sconces are meant to be both practical and decorative. Therefore, the style of the sconce is an important aspect to consider when buying one. Choose one that will match with your house's design. Styles include rustic, retro, modern, industrial, and contemporary. Evaluate your décor and pick a sconce that will compliment it.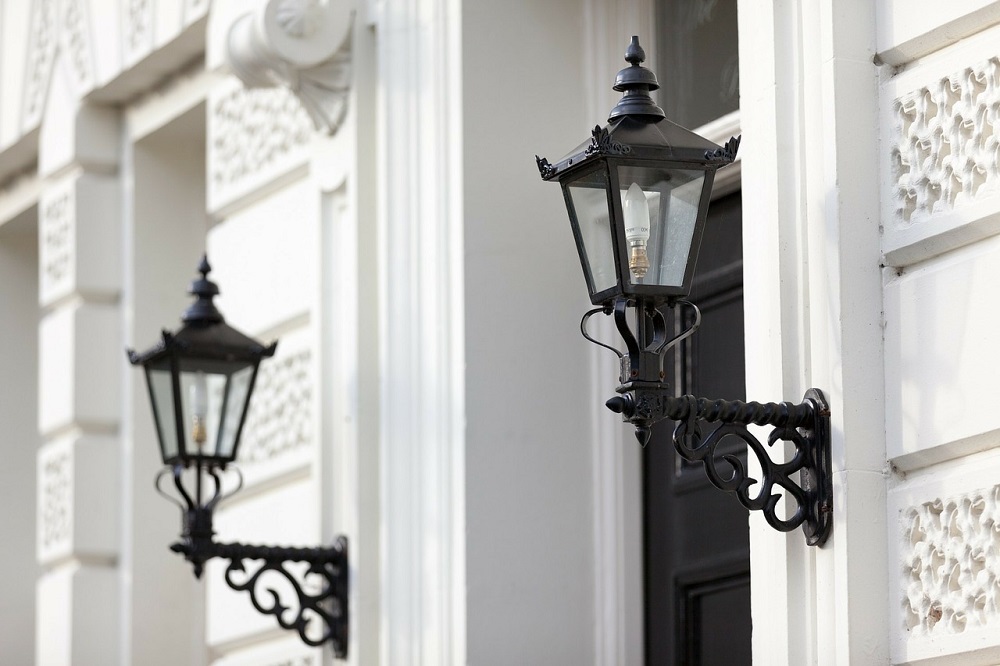 Cost
Depending on what sconce you get, the cost will be high or low. Some affordable ones are only around $20-$30. And ones that use better materials can cost a lot more. So, choose between affordability and design. What should also be considered is how much it will cost to install the sconce. Some are easier to install than others. As a result, you want to find a fixture that is in your price range and easy to install.
Materials
Materials can impact how a sconce looks, feels, and works. Some materials that can be found in sconces are brass, wood, and iron. These provide more durability and anti-corrosion. Sconces won't get a lot of wear and tear, but it might be worth it to buy a sconce with material that will increase its longevity. It'll save you from having to replace it in the future. And don't forget about wall sconce shades. Glass, plastic, and fabric are all good choices. But they will all impact the light, so choose based on how bright or diluted you want your light.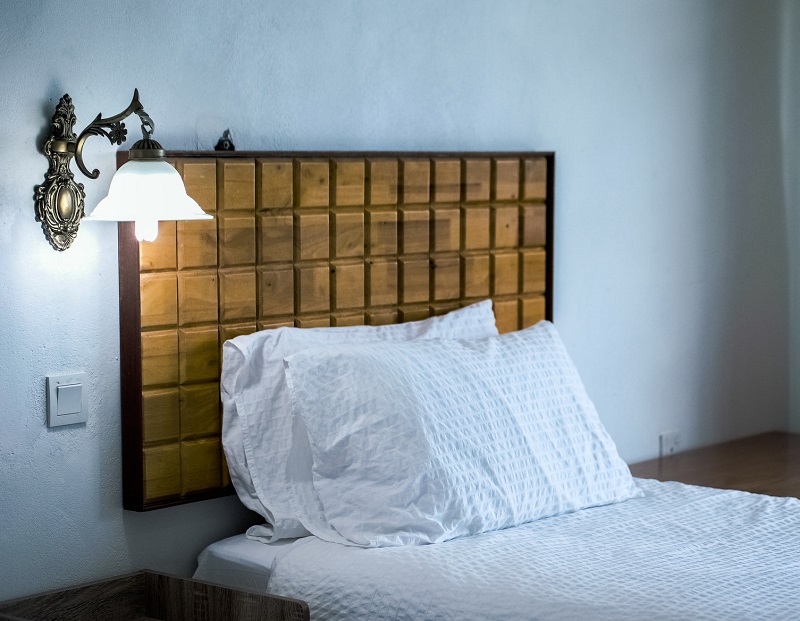 Conclusion
Wall sconces might be one of the oldest light fixtures, but that doesn't mean they are outdated. There are so many options to choose from, with many things to consider. The 15 sconces on the list are some of the best chosen, but be sure to still do your research. Decide on what you want before you go out and buy one, so the sconce can accomplish everything you want it to. And you'll be happy with your purchase.