Note that the products discussed on our site are independently selected by our editors. Your purchases through our recommendations may earn us a commission at no extra cost to you.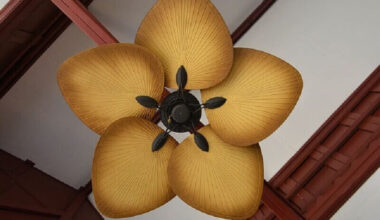 Have you been combing the internet looking for tips on buying a new ceiling fan? Most of us do plenty of research before purchasing something as permanent as a new fan so you're not alone, but it's not always easy to find relevant information. You'll need to make sure you get the proper size for your new fan. Luckily, we've gathered all the information you may need on how to measure ceiling fan size before heading into a showroom.
Read on to find out.
If you would want to see 9 of the best ceiling fans available for purchase, see this post
Why Do I Need a Sized Ceiling Fan?
Whether you're looking to improve the air circulation in your home or looking to make an impressive design statement, there are plenty of reasons to install a ceiling fan. Fans have been used for ages to help reduce the stuffiness of homes, the constant circulation helping to make your home air that much more breathable. For the eco-conscious, you'll notice ceiling fans can make a fantastic addition to your home in the summer. When you set your fans to turn counterclockwise during the hot summer months, your fan will create a downward flow of cool air, working to cool the room as well as circulate the air. As for the fashion-forward folks, fans are available in an endless amount of styles and colors. Whether you want to install a barely noticeable fan or you'd like to have your fan be the centerpiece of your room, there's a fan style that will fit your unique taste.
Looking to find more benefits of owning a ceiling fan? Check out this article by the experts!
Choosing the Right Ceiling Fan
With trends changing by the day, the options for ceiling fans are about as endless as your imagination. It can be hard to know what ceiling fan will be best for your situation, which is why we're here to help. Before you head into a showroom, there are a few things you can ask yourself to make sure you find the options that are best for you.
1. What style are you looking for?
Within recent years, larger fans have become a popular option. While styles used to only be available up to 52-inch blades, fan blades are now being made over 60-inches.
2. What color scheme works best?
Ceiling fans are built to last and you may not replace your unit for years to come. It's important to choose a color scheme for your fan that fits best into your home. For those who are in need a large fan but would like it to be less noticeable, try matching the color of the fan blades to the color of your ceiling.
3. What size fan do you need?
While most will realize a big room needs a big fan, it's not always as simple when you're face to face with a showroom of sizes. Need help figuring out which size is best for you? Follow our basic "How To" below.
How To Measure Your Ceiling Fan
Now comes the easy part! Once you've decided what features you want and the style you need, all that's left is some simple math to calculate the size you need. For those looking for in-depth guides, there are a few poking around the internet. Want to stick with a simplified version? We've got a fantastic, simplified, 3-step guide below:
Step 1: Calculate blade size based on room size. As smaller rooms will need smaller fans, you'll have to calculate the square footage of the room before you calculate the blade size needed. For rooms under 75 square feet, you'll want a blade span between 29 and 36 inches. For rooms 76-144 square feet, you'll need a 36-44-inch blade span; 144 to 225 square foot rooms will need 44-54-inch blade spans and finally, 225 to 400 square foot rooms will need a blade span between 50 and 72 inches. For anything larger than that, you'll need to invest in more than one ceiling fan.
Step 2: Hang your fan according to ceiling height. The last thing you need is for a friend to injure themselves on your too-low ceiling fan. Remember that when choosing your ceiling fan, you'll need to have it hang a minimum of 7 feet above your floor; otherwise, you may suffer poor air circulation. For ceilings under 8 feet, consider investing in a low-profile ceiling fan instead of fans with a downrod.
Step 3: Determine the size of your downrod. Downrods are vital to make sure you get proper air circulation in your room. For rooms 9 feet tall and over, you'll most likely need a downrod. For ceiling heights of nine feet, you'll want a rod of six inches; for a ceiling height of ten feet, you'll need a rod of about twelve inches long. For taller ceilings, check out our list below:
Eleven feet needs a pole length of 18 inches
Twelve feet needs a pole length of 24 inches
Thirteen feet needs a pole length of 36 inches
For ceilings over 13 feet tall, check out this article for further information.
Things to Consider
While our tips listed above are fantastic guidelines, it's important to remember that every case will be different. You'll have to take into account a few different aspects of your home when you're shopping for a new ceiling fan. For instance:
1. Are there any obstacles in the way?
Whether it's a fixture on your ceiling or a sloping ceiling, you'll need to take obstacles into consideration when calculating your downrod length. You may need to add another inch or two to your downrod to make sure it fits your room perfectly.
2. Will you need a light kit?
For those who want to save space and include a light in their ceiling fan, you'll need to have a bit more depth than you initially planned. In general, you'll need to have a higher ceiling if you want a fan with a light kit. To make your installation as seamless as possible, try to find a fan with a light kit already included.
3. What kind of support will you need?
Ceiling fans vary in weight. Whether you're looking for a large fan with a light attachment or simply a small ceiling fan, you'll need to make sure your ceiling can support your new fixture. When you purchase a new fan, typically a manual will be included that will have the recommended supports listed.
Final Thoughts
Buying a new ceiling fan can sometimes feel overwhelming, but with the right help, you'll go in feeling confident and prepared. When you choose a ceiling fan that fits your room size and ceiling height, you're going to add an eye-catching statement piece to your rooms. Make sure you keep your room dimensions, style expectations, and possible obstacles in your room in mind when you go in the showroom, and you'll be well on your way to finding the perfect addition to your home.