Note that the products discussed on our site are independently selected by our editors. Your purchases through our recommendations may earn us a commission at no extra cost to you.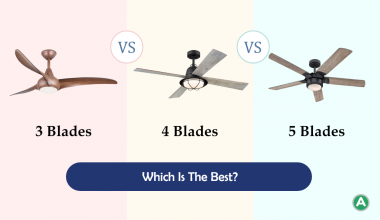 When you consider the plethora of benefits of ceiling fans, it becomes clear why more homeowners are being interested to install ceiling fans in their homes than ever before. They are a cheaper alternative to ACs, and when used in conjunction with ACs, they can prove very effective at cooling our homes while also saving electric bills.
But as with everything, buying the right ceiling fan is not easy. There are a lot of factors that you need to consider when making your purchase. One such aspect is the blade count, i.e the number of blades a ceiling fan has. A lot of people tend to have great confusion about this subject, and rightly so. If you take a look into the current ceiling fan market, you will find ceiling fans with all sorts of blade options. You'll find fans with 2, 3, 4, or 5 blades. Take a deeper look, and you will find 6, 7, 8, or more bladed fans. Heck, you will even find 1-blade fans! Yes, that's true!
So, a person easily gets confused and asks, "how many blades should a ceiling fan have?".
Today, with this article, we are rolling up our sleeves to solve this riddle by giving you our own opinion mixed with the opinions of experts that have been in the industry since the advent of ceiling fans.
Sounds good? Great! Grab a cup of coffee and continue reading. We're solving this riddle today.
"More Blades Mean More Airflow" – Really?
When you see a ceiling fan with three blades and another with five blades, you instinctively tend to think that the five-bladed one puts out more air. However, that's just not true. This is rather a popular misconception about ceiling fans.
Ideally, more blades should mean more airflow. But, the performance of a ceiling fan is not solely dependent on the number of blades, rather a lot of other things play a huge role here; such as blade size, shape, pitch, and motor strength, among other things.
And because of this, realistically speaking, you can outperform a 5-blade ceiling fan with a 3-blade one if you can make a better balance of all these aspects with the latter one. And modern ceiling fans are very good at making this balance. So, more blades nowadays do not necessarily mean more airflow anymore. On the contrary, sometimes the opposite might prove true for some ceiling fans. Today, the difference in the number of blades on a ceiling fan has more to do with aesthetics than with performance, thanks to the huge amount of R&D that continually goes on behind perfecting these machines.
The truth is that the ceiling fan market is a very competitive one. And the popular saying, "Competition is good for customers" has proven very true in this industry. More and more competition has forced ceiling fan brands to push themselves to their limits. The result is that all good ceiling fans are able to deliver satisfactory performance regardless of blade count. So, as long as you get your ceiling fan from a reputable brand, rest assured that it will perform just fine no matter the number of blades.
Here, we'll quote a few experts in the ceiling fan industry and show you what they have to say about this subject:
Energy Star, the American official body that promotes energy efficiency for consumer products says this:
"In the past, ceiling fans were largely designed with 5 blades; however, today manufacturers are offering more efficient designs with 2, 3, and 5+ fan blades."

Energy Star
On another note, they said,
"Ceiling fans may have three, four, or five blades; but contrary to what you might expect, more blades do not move more air…"

Energy Star
Hunter Fan Company, the famous brand that's been producing ceiling fans for the past 135 years says this,
"Blades can affect both the look and operation of a fan; however, that doesn't necessarily mean that a 5-blade ceiling fan will perform better than a 3-blade ceiling fan."

Hunter Fan Company
DelmarFans, the famous retailer that's been selling quality fans and lighting for the past 20 years, says this,
"The difference between performance and noise level between ceiling fans with any number of blades is negligible… it is more of an aesthetic choice."

DelmarFans
We hope all these sources have proven our point.
3 Blade vs 5 Blade Ceiling Fan – How Do They Compare?
Now that we have proven that blade count has little to no effect on performance when it comes to ceiling fans, let's see some real-life examples in the table below.
| Model | Number of Blades | Blade Span | Wattage | CFM | Efficiency | EnergyStar Rating? |
| --- | --- | --- | --- | --- | --- | --- |
| Minka-Aire Sleek – LED 60″ Smart Ceiling Fan | 3 | 60 inches | 17 | 3478 | 205 CFM/W | Yes |
| Minka-Aire Watt – 60″ Ceiling Fan | 5 | 60 Inches | 21 | 4407 | 206 CFM/W | Yes |
| Modern Forms WYND 52" Smart Ceiling Fan | 5 | 52 Inches | 21 | 4286 | 207 CFM/W | Yes |
| Modern Forms Vortex 60" Smart Ceiling Fan | 3 | 60 Inches | 23 | 4642 | 202 CFM/W | Yes |
| Westinghouse Morris 52" | 5 | 52 Inches | 38 | 3316 | 88 CFM/W | No |
| Westinghouse Alta Vista 52" Ceiling Fan | 3 | 52 Inches | 40 | 3334 | 84 CFM/W | No |
| Kichler Link 54" 2 Blade Ceiling Fan | 2 | 54 Inches | 21 | 3926 | 184 CFM/W | Yes |
| Progress Lighting P2570-143 56" Ceiling Fan | 2 | 56 Inches | 21 | 4497 | 215 CFM/W | Unknown |
Comparing different ceiling fan blade options
*All figures in the columns Wattage, CFM, and Efficiency are based on typical use, excluding lights, and are provided by the respective manufacturers.
These fans have a different number of blades, yet the performance difference between them is very minimal (check CFM and Efficiency columns, no significant difference).
However, though the number of blades rarely affects performance, it does not mean the same does not make any difference at all. In fact, there are quite a few differences between 3-blade ceiling fans and 5-blade ceiling fans in areas other than performance. A summary of that is given below:
| 3 Blade Ceiling Fan | 5 Blade Ceiling Fan |
| --- | --- |
| Tends to be cheaper | Tends to be more expensive |
| Fewer parts, lesser maintenance | More parts, more maintenance |
| Less heavy, less drag on the motor | Heavier, more drag on the motor |
| Tends to use less energy | Tends to use more energy |
| More trendy/modern looks | More traditional looks |
| Tends to be a little noisier | Tends to be quieter |
| Airflow is more in a gushing form | More gentle breeze |
3 blade vs. 5 blade ceiling fans
As you can see, generally, today's 3-blade ceiling fans tend to be a better option than the 5-blade ones.
As for 4 blade ceiling fans, it's perhaps safe to say that they stand somewhere between these two options.
When to Choose Which Type?
I think, at this point, it will be helpful to give you a general idea of when to choose which type of ceiling fan:
Choose a 5-blade ceiling fan if you like more of a traditional style and gentle breeze, and don't mind the extra weight and perhaps price of this type of fan. Such a fan will embellish your rustic décors gracefully.
Choose a 3-blade ceiling fan if you like more of a simple and sleek design, and don't mind a little bit of gushing airflow (not always the case though). Such a fan will beautifully spruce up your modern décors.
Choose a 4-blade ceiling fan if you want to stand a middle ground between these two options.
Which Is More Popular – 3 Blade Fans or 5 Blade Fans?
This question can be put in different ways. If you, for example, ask, "Which is more beautiful?". Well, it depends on you. Whatever looks beautiful to you is indeed beautiful. Remember the saying, "Beauty is in the eye of the beholder"?
But if you ask, which is more popular? 3 blade fans or 5 blade ones?
Well, while a 5-blade fan is traditionally thought to be more like the standard of a ceiling fan, an analysis of the current ceiling fan market clearly shows a different picture. People nowadays are moving towards simple and sleek design trends. So, naturally, 3-blade ceiling fans are on the rise, leaving behind their 4 and 5-bladed counterparts.
I will show you two graphs to prove this.
The first one:
This is the Google Trends graph of the terms "3 blade ceiling fan" "4 blade ceiling fan", and "5 blade ceiling fan" in the US between 2004 and October 2022. Just in case you didn't know, Google Trends shows the popularity of a term based on the number of searches that term receives from users on Google Search. This picture clearly shows that though all three options were competing with one another evenly around 2010, 3-blade ones are clearly on the rise now in 2022.
Take a look at another picture: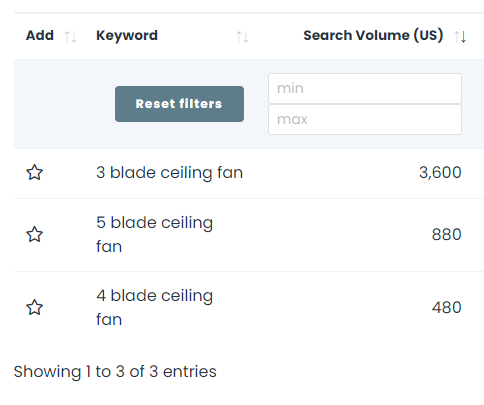 This is a screenshot of the KeywordsEverywhere tool showing the search volumes (in the US) of the same terms. If you didn't know already, Search Volume is the average number of searches a term receives per month in a given period (the last 12 months in this case). This graph, too, shows that the trend for ceiling fans is certainly heading toward the 3-blade ones.
CFM: The Magic To Ensure Great Airflow When Buying A New Fan
As we have stated earlier that a lot of things affect the performance of a ceiling fan such as blade size, shape, pitch, and motor strength. You will get the best airflow when you have the best balance between all these aspects. But how do you know if your ceiling fan has this balance or not?
Well, CFM! The magic number that tells you how good or bad the performance of a ceiling fan is. CFM, also known as Cubic Feet Per Minute, is the measurement of how much air a ceiling fan puts out every minute, and is usually measured on its highest setting. Then you divide the number by the watts the fan uses, and you now have the CFM/W measurement. The more the CFM/W, the more efficient the fan is.
EnergyStar requires that a standard 36-78-inch ceiling fan's CFM/W has to pass this formula (2.63*D – 26.83), where D is the blade span in inches, in order to be considered efficient. So, a typical 52-inch ceiling fan should be able to produce a minimum of 110 CFM/W airflow or more. Generally speaking, a good energy-efficient ceiling fan will have a much higher CFM/W than this.
So, when you go shopping for your next ceiling fan, ensure this number is a competitive one. You, as a general consumer don't need to fret much about blade shape, pitch, motor strength, and all these technical jargon. All you need to know is the CFM/W. Ensure a good number here, and you will have great airflow with your fan, regardless of the number of blades.
User Feedbacks
In this section, we will list some 2 and 3-blade ceiling fans and show you what real users say about their performance, to prove that all good ceiling fans have great airflow, regardless of how many blades each has.
1. Here's the 2-bladed Minka Aire F846-DRF, Wave II 60″ model: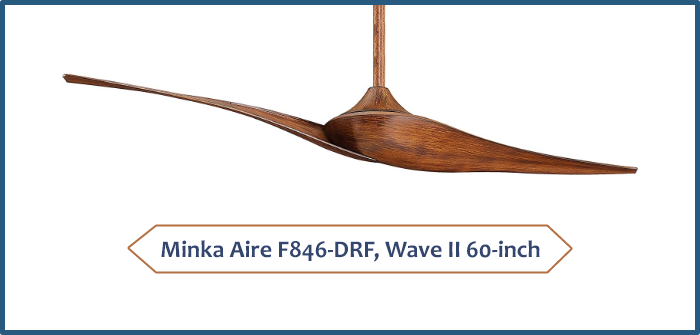 And here's what real users say about its airflow:
"…it moves a TON of air…"
"…It moves just enough air on the first setting that we don't need to turn it up…"
"Am very happy with the product- works quietly, moves a lot of air…"
2. And this is the Progress Lighting P2570-143 56" model: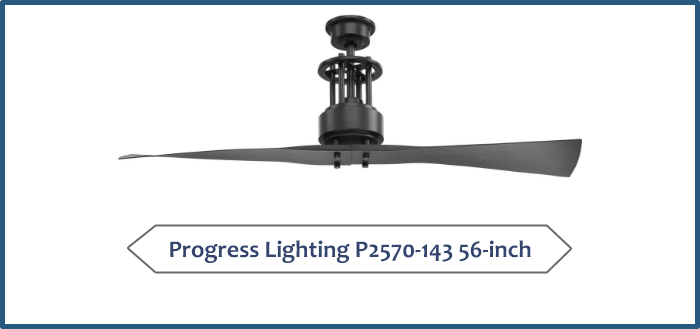 And here are some of the customer reviews:
"…moves a lot of air and has many speed settings to use."
"Unique and really moves the air"
"Fantastic. These fans really move the air and are extremely quiet."
3. Here's a 3-bladed fan, the Minka-Aire Light Wave 52″ model: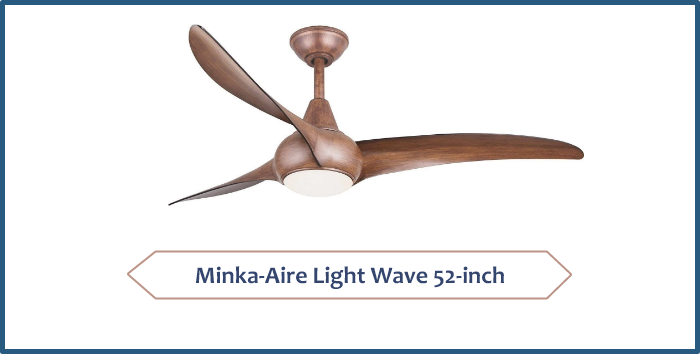 And here's what real buyers say about its performance:
"…Moves a lot of air and is seriously nearly SILENT on high speed!"
"…It does move air well."
"Very stylish fan that generates significant air movement even on low setting"
Check out our full review dedicated to this fan here.
4. And last but not least, here's the Hunter Symphony Indoor 54" model: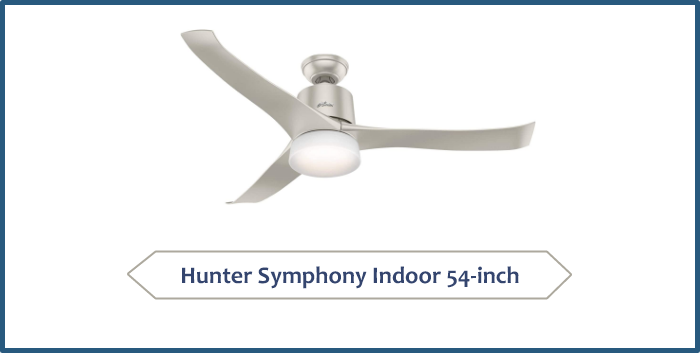 And here's what real customers say about its performance:
"It moves enough air at the lowest speed, so I don't see why you would need to crank it up…"
"Very quiet. Lots of air…"
"the amount of air that it moves is staggering!.."
"Moves the air better than the 5-blade fan that was removed."
P.S These feedbacks are taken from Amazon at the time of writing this article. So, you can go there and verify them if you want.
So, do 3 blade ceiling fans work well?
Of course, they do!
So, How Many Blades Should a Ceiling Fan Have?
To conclude, we say, if performance is all you are concerned about, then all fans are good as long as you buy them from a reputable brand. Just make sure the CFM/W rating is satisfactory. And if you are concerned about looks, whatever looks good to your eyes is the best. The current market is moving toward the 3-blade option though; take this as a side note. Two-blade ceiling fans are also quite popular, to be honest.
However, if you have a traditional style house, a 5-blade fan of the same design language would perhaps be a better option in your case, adding an antique vibe to your décor. In the end, it all depends on your particular situation. There is no one size that fits all.
What's Next?
Wondering if ceiling fans are dangerous? Here's about that. Did you know that ceiling fans can be used in the winter too? Use ceiling fan reverse direction to do that. Here are the pros and cons of ceiling fans. Remember we said you should get your ceiling fans from reputable brands? Here is some great ceiling fan recommendation from Hunter, Minka-Aire, Kichler, Quorum International, Honeywell, Harbor Breeze, Emerson, Prominence Home, and Craftmade.
Since you are looking for ceiling fans, you probably want to replace the old ones, right? Here's how you take them down, and then clean them off with a few swipes.