Note that the products discussed on our site are independently selected by our editors. Your purchases through our recommendations may earn us a commission at no extra cost to you.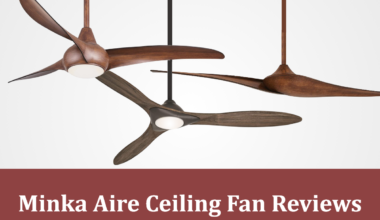 Minka Aire manufactures some of the world's most popular ceiling fans. The California-based company is known for its bold shapes and unusual, almost artistic designs. Minka Aire ceiling fans are striking without being gaudy. They demonstrate an optimum blend of form and function which is evident in the way the manufacturer can elegantly incorporate a fan's blades into its motor housing.
Minka Aire's ceiling fans are also known for their ability to improve airflow and ventilation and increase the comfort of interior spaces. While they can be a little pricier than rival brands, the extra cost is justified as they offer excellent airflow, quiet motor functions and low energy consumption. When shopping for Minka Aire fans, you'll notice the brand isn't afraid to experiment with visual concepts that may not have been seen before.
Best Minka Aire Ceiling Fan Reviews in 2023
Minka Aire Light Wave 52″ Ceiling Fan
** This product is currently not available.**
Minka aire Light Wave ceiling fan is barely recognizable as a ceiling fan when spotted from a distance. It's deliberately designed to look ambiguous and could easily be mistaken for a modernist light fixture. If you want the functionality of a ceiling fan – and its benefits of airflow and ventilation – but you don't like the utilitarian look of most products, this one would be perfect for you.
It includes three fan blades finished to look like koa wood, a highly sought-after wood that's native to Hawaii. With three speed settings, a full range of light dimming capabilities and a remote control, the focus here is on ease of use. Just like its simple, elegant design, the Light Wave never wastes time or energy.
It's suitable for use in medium to large-sized rooms and can positively affect ventilation and airflow within a few minutes of being switched on even when a space feels stale. The fan's uniquely shaped blades are ergonomically designed for maximum efficiency. No part of them is superfluous to requirements. They're slim, sleek and ultimately very powerful.
Minka aire Light Wave's integrated LED lights are dimmable so users can enjoy variable illumination as the day progresses. The product comes with a 6" downrod as standard. However, Minka Aire encourages customers with tall ceilings to mail this downrod to the company and get a longer replacement for free.
We have reviewed this fan in more details in a separate article. Do check that out – Minka Aire Light Wave review. Furthermore, if you are interested in this kind of unique ceiling fan designs, you should definitely check out the Minka Aire Artemis model as well, as it has got a very unique design as well.
Note: if you like the design of this ceiling fan, you might want to check out Quorum ceiling fans as well. They have some masterpieces like this one in their collection.
The Pros
Resembles highly sought after koa wood
Very stylish, minimalist design (barely looks like a fan at all)
Almost completely silent (even on high)
The Cons
Can't reverse the direction with the remote (manual only)
Minka Aire F868L-ORB Sleek 60″ Smart Fan
** This product is currently not available.**
Minka Aire's F868L ORB Ceiling Fan is even more luxurious than the 844-DK Light Wave model. It's even more minimalistic too. Hopefully, you're starting to spot a pattern already. Minka's ceiling fans are all about understated opulence. The ORB has three thin blades made from oil rubbed bronze. This fan is one of Minka Aire's modern "Smart" ceiling fans.
This means the ORB is WiFi enabled and can be powered and controlled via your mobile phone, Google Home or Alexa. While you do need to download the right software to activate these remote functions, there are clear instructions. It should take no longer than twenty minutes. When set up, you can turn the ceiling fan on using just your voice.
If you've got other smart devices in your home, additional software may be used to achieve integration and increase hands off control. One potential downside is, unlike a lot of similar products, the ORB fan comes with only two speed settings (low and high). It's a little noisier than the Light Wave, but users get truly excellent airflow in exchange.
In medium to large rooms, it has a noticeable effect on ambient temperatures within a few minutes of use, particularly in hot and stuffy conditions. On the high setting, you can feel the fan moving the air around. Lots of people like this because it creates a discernible breeze on hot days. Others may find it a little distracting.
Overall this fan can be a great fit for your living room or bedroom like many other bedroom ceiling fan models that we've reviewed earlier.
The Pros
Can be controlled manually/via remote, smart devices, and your voice
Elegant, minimalist design with a subtle profile
Remote control comes preprogrammed
The Cons
Only has two speed settings (instead of the usual three)
Minka Aire Concept II Ceiling Fan
** This product is currently not available.**
The Minka Aire Concept II Ceiling Fan is an interesting product because it competes with the Light Wave and ORB models for simplicity, but it manages to be very different at the same time. The Concept II comes in variable sizes, so regardless the size of your room, this fan will fit your ceilings fine.
It's also different because it sits closer to the ceiling. This fan has a flush mount design with three blades at a fourteen inch pitch and a decent size motor (153 x 155mm). It's not going to make a huge impact in a large dining room with tall ceilings. However, when you choose the appropriate size for your room, it transitions seamlessly between circulating cool air and trapping warm air (when ambient temperatures are lower than desired).
According to the Manufacturer website, the annual cost of operating Minka Aire Concept II ceiling fan is around $8 (depends of use though), making it one of the most energy efficient products we've ever reviewed. For a ceiling fan capable of moving 2,629 CFM of air per minute, it's surprisingly efficient. It also comes with an integrated downlight made from white opal glass. The light is not intended to replace your regular lighting though. So anybody expecting strong, focused illumination may be disappointed.
Customer reviews call it 'easy to install' and highlight the blade's 'snap in' ends. They make cleaning quick and simple. If you prefer not to have the white opal light fixture, detach and replace it with the accompanying cap. Some users reported a slight whirring sound when the ceiling fan was on high though it's unlikely to disturb sleep.
Check out our more detailed review of this fan here.
The Pros
Very powerful fan
Good airflow for minimal energy usage
Extremely easy to install with 'snap in' blades
The Cons
The light is not meant to replace your existing lighting
Minka Aire Spacesaver 26″ Ceiling Fan – Best Small
** This product is currently not available.**
Minka Aire's F520L-WH Spacesaver Ceiling Fan is the smallest model on our list. Its small size at only 26 inch in diameter has forced us to include it in our Minka Aire fan reviews, for those looking for a small Minka Aire ceiling fan. Significantly smaller than the ORB and Light Wave models and smaller than the compact Concept II as well, it's made for rooms with limited space and low ceilings. You'll notice its blades are shorter and fatter than usual. This enables them to be space saving while still retaining enough in the body to move air efficiently.
Like many Minka Aire fans, its design is simple with no fussy adornments. The etched opal glass globe is neat and clean. Its light isn't the brightest you'll see, but it turned out to be ideal for reading after dark. The only problem is this particular model doesn't come with a remote. So, settle for switching it off manually before bed or buy one separately.
For the price of this spacesaver fan, it's a little disappointing to find there's no remote, but we still loved its soft, diffused illumination, cute dimensions and ability to fill a room with fresh air within a few minutes. This is the best ceiling fan you can find for your small rooms from Minka Aire. It's small size makes it a perfect fan for your narrow ceilings such as the corridor and pantry. We also recommend its use in small bathrooms as it helps to ventilate the space quickly and prevent condensation and mildew. Simply put, if you are looking for a small minka aire ceiling fan, this is the fan you are looking for.
Relevant read: Top Rated Ceiling Fans for Small Rooms
The Pros
Ideal for rooms lacking space and ceiling clearance
Blades designed to maximize efficiency AND space
Soft, diffused illumination is perfect 'mood' lighting
The Cons
Only useful for small, compact spaces
No remote control included
Minka Aire F566-WH Flush Mount Fan – Best Budget
** This product is currently not available.**
The Minka Aire F566-WH Flush Mount Ceiling Fan is one of the most traditional models reviewed in this article. It's one of the most classic looking products because, unlike the Light Wave and the ORB, it's got five blades this time (as is typical) with a familiar oblong shape. They're longer and less tapered with a uniform thickness. This is quite different to the Light Wave's blades which are curved and thinner at the ends.
It has a notable impact on the fan's airflow capabilities. This model is much better suited to medium and large interiors. It affixes with a flush mount base, so it isn't compatible with angled ceilings. The F566-WH is also the first fan on our list to have a pull chain. Again, this is quite classic and surprisingly traditional from Minka Aire.
The ceiling fan has three adjustable speed settings, but it doesn't come with a light fixture. Illumination must be bought seperately as a Light Kit accessory. These are widely available or you can, of course, leave it without a light and just enjoy reversible airflow. It's not a silent device. On medium and high settings, the fan emits a slight hum.
One of the most appealing things about this model is its low price. Minka Aire is known for producing high quality luxury ceiling fans. Most of their fan models (with fewer blades) start at over a few hundred bucks. The F566-WH is priced much lower than this, so it's an affordable way to grab a little opulence from this popular brand. If you are looking for a budget fan from Minka Aire, this is the fan you are looking for.
The Pros
Easy installation (hang while you wire)
Plates/connections padded with rubber for noise control
Very low price (a budget option from Minka Aire)
The Cons
A little old fashioned looking
Minka Aire Java 54″ Outdoor Ceiling Fan
** This product is currently not available.**
Unlike the F566-WH, Minka Aire's Java Ceiling Fan is suitable for outdoor use in all weather conditions. It can be installed on a partially covered or uncovered deck. It's good for sheds, verandahs, patios and any other outdoor space that is exposed to weather elements. It's significantly more expensive than some of the others on our list for this reason.
To ensure it withstands rain, wind and harsh sunlight, the Java fan's blades are made from brushed nickel. There are three blades and they taper to a thinner width at the ends. This enables them to cut through the air efficiently even when it's very hot, humid and stuffy out. There's only two settings (high and low) which means a little less precision. However, both are very good at optimizing the atmosphere around users.
This is one of our favorite Minka Aire outdoor fans. Fortunately, it offers users a lot of value for that sizable price tag. Not only can you use it outdoors, it's exceptionally stylish, made from high quality metal and fully "smart" compatible. It's even more useful when you consider the fact, traditionally, outdoor fans could only be operated manually which isn't always practical in an outdoor setting. The fan may be installed on a very high surface, damp from rain or condensation or just far away enough from your seating area for manual controls to be a bit annoying. However, with the Java model, you can download software to integrate the device with Alexa and Google Home controls.
The Pros
Fully suitable for use outdoors (all weather)
Smart compatible (download software for voice control)
Strong and sturdy (made from brushed nickel)
The Cons
One of the most expensive models
Minka Aire Wave II 60″ Unique Ceiling Fan
** This product is currently not available.**
There's no denying of the beauty of the Wave II's minimalist design. Quite unusually, it only features two rotating blades. Like those on the Light Wave model, they're decorated with a Hawaiian koa wood finish which is artfully distressed and elegantly rustic. If you think this fan looks more like a boat's propeller than a room fan, we agree with you.
Again, it's barely distinguishable as a ceiling fan from a distance which will delight those searching for a subtle aesthetics. Customer reviews are full of comments about how many compliments this fan receives. While it's not always true that the number of fan blades determines how powerful a fan is, some efficiency is exchanged for aesthetics here.
It's still a powerful product, but we noticed the relative thinness of its blades prevents it from competing with more efficient air movers such as the Minka Aire F844-DK Light Wave model. On the plus side, it operates very quietly even on the highest speed. Users have pointed out that, although the Wave II is commonly advertised as having two speeds (high and low), these are split into three high speeds and three low . So, it's more like six variable speed settings.
The fan is compatible with Minka Aire's light kits, so you can add illumination. Due to the unique design and shape of the model though, you're limited to a fairly small spotlight. It may be a problem for some homes but, for others, the extremely low operating cost will easily make up for the fact. Of all the ceiling fans in our review, the Wave II is among the cheapest to operate.
The Pros
Design makes this a functioning piece of art
Koa wood finish provides a luxury aesthetic
Among the cheapest to run (constantly)
The Cons
Only two blades, so not as powerful as rival fans
Minka Aire F548-ORB/EX Contractor Collection Fan
** This product is currently not available.**
Minka's Aire F548-ORB/EX model from Contractor collection very closely resembles their F566-WH flush mount white ceiling fan. They're the same size with the same shaped blades and the same number of rotating fan blades. Therefore, its performance is also very similar. We like this one's oil rubbed bronze finish a little more because it has more personality. This is just personal preference, however, and many may opt for the clean white ORB flush mount over this one.
This weathered pine ceiling fan also comes with a pull chain, five oblong blades and the beautiful illumination of the uniquely patterned light globe. It has three speed settings and can move around 4800 cubic feet of air per minute. One big difference between this model and Minka Aire's white ORB fan is the type of mount.
The white ORB has a flush mount frame designed to nestle right against the ceiling, whereas the Contractor model comes with a downrod mount. For this reason, the white ORB is better suited to interiors with low ceilings. The Contractor ceiling fan is a good option for those with high ceilings and no space issues. Other than this, the two products are very similar and even have the same twelve degree blade pitch.
If we temporarily disregard the difference in mounts, the only significant difference between these fans is aesthetic. So, if you're not short on space, opt for the one that suits your style preferences. The white ORB is more of simple white shade, but the Contractor fan benefits from a touch of elegance due to those brown blades and the beautiful light globe featuring the unique pattern. If you are skimming through Minka Aire ceiling fan reviews to find a fan with a good looking light kit, this is the fan you are looking for.
The Pros
Almost identical to F566-WH but better looking
Highly efficient (five blades to move lots of air)
Great at generating a breeze on stuffy days
The Cons
Can be noisy on its highest setting
Minka Aire F568-BCW Belcaro Walnut Finished Fan
** This product is currently not available.**
Minka Aire's F568-BCW Belcaro Walnut model is similar to the F548-ORB Contractor ceiling fan but there are significant differences. The general style and aesthetic is the same. Both models have similarly shaped five blades and a pull chain. However, though the Belcaro Walnut has a 44″ and a 52″ version, it also has a shorter version at only 32″ which is not available with the contractor model. This short version would be a good choice for ventilating narrow spaces.
The fan comes with a drop downrod mount just as the Contractor model does. For extremely low ceilings, a flush mount model would be a more sensible choice than this. So, the optimal environment for this Supra ceiling fan is not a low ceilinged space but a high one such as your living rooms or bedrooms.
Some users report a slight wobble when the Belcaro Walnut ceiling fan is used on its highest speed setting. However, if it's installed correctly, it shouldn't buzz or produce any unwanted noises beyond the low whir of the blades when on full power. On full power, it is advertised to move around 5995 cubic feet of air per minute.
It doesn't come with an integrated light fixture, but it is compatible with Minka Aire's light conversion kits. The bronze cap in the centre can be replaced with a small spotlight. The spotlight may not be very effective in large rooms. Though it can add interest and a diffused, warm glow to indoor walkways.
The Pros
Option for rooms/indoor walkways
Equally efficient clockwise as counter clockwise
Maple blades are lightweight and stylish
The Cons
Some reports of slight wobble on the highest setting
Minka Aire F738-WHF, Pancake, 52″ Fan
** This product is currently not available.**
This Minka Aire F788-DK Pancake, 52″ fan is the most expensive product on our list. It's almost eight times the price of the cheapest Minka Aire fan we've reviewed here. So, does it earn its price tag? There's no doubting the quality of its design. It's one of our favourites as it employs the blade aesthetic Minka Aire is so fond of and makes it more functional, more striking and more efficient.
The distressed koa finish almost gives it the feel of a vintage wooden toy. There are four tapered fan blades that get thinner towards their ends. These elegant blades rotate at three speeds and are capable of moving around 5405 cubic feet of air per minute. It has one of the longest download mounts we've seen on a Minka Aire ceiling fan. When installed on a high ceiling, the effect can be quite grand.
If you don't have the tallest ceilings, you can send the included downrod back and request a shorter mount. The Pancake 52″ is also one of few Minka Aire models to come without a light or compatibility for one. There is no option to attach a light fixture. Instead, the central housing is kept simple and traditional. Look and style are the priority here as Minka Aire attempts to manufacture a fan that could be mistaken for a piece of art.
Relevant read: Best ceiling fans that come without lights
The Pros
Beautiful, elegant design (like a piece of art)
Five angled blades cut easily through stuffy air
Ideal for tall ceilings lacking personality/warmth
The Cons
One of Minka Aire's most expensive models
Minka Aire F786-SL Simple – 44″ Ceiling Fan
** This product is currently not available.**
The aptly named Minka Aire Simple Ceiling Fan is a three blade outdoor fan with a contemporary design. Its strong, clean lines and impressive airflow performance make the model a stylish and energy efficient way to stay comfortable indoors or outdoors. The Simple ceiling fan is wet rated, so it is safe for use outdoors.
You can install it almost anywhere, even in areas that are partially uncovered and exposed to the elements. When installed correctly, it tolerates wind exceptionally well. Even in gusty conditions, you won't notice anything more than a barely perceptible wobble. What's more, on calm days, the fan was exceptionally quiet. It is equipped with noise reducing technology that guarantees its suitability for any space.
Although it only has three blades, the motor on the Simple ceiling fan is powerful and easily keeps fresh air circulating even in large rooms. It doesn't come with an integrated light, but it is compatible with Minka Aire's light kits. Users can add a single bright spotlight to the centre housing and turn this model into a multifunctional piece of decor. It comes with a lengthy downrod mount but this can be exchanged for a shorter one if your room lacks height.
The Pros
Beautiful, minimalist design (contemporary)
Suitable for use in wet and windy conditions
Comes with six variable speed settings
The Cons
May be a little loud when first turned on, but gets quieter over time
What to Expect from Minka Aire Ceiling Fans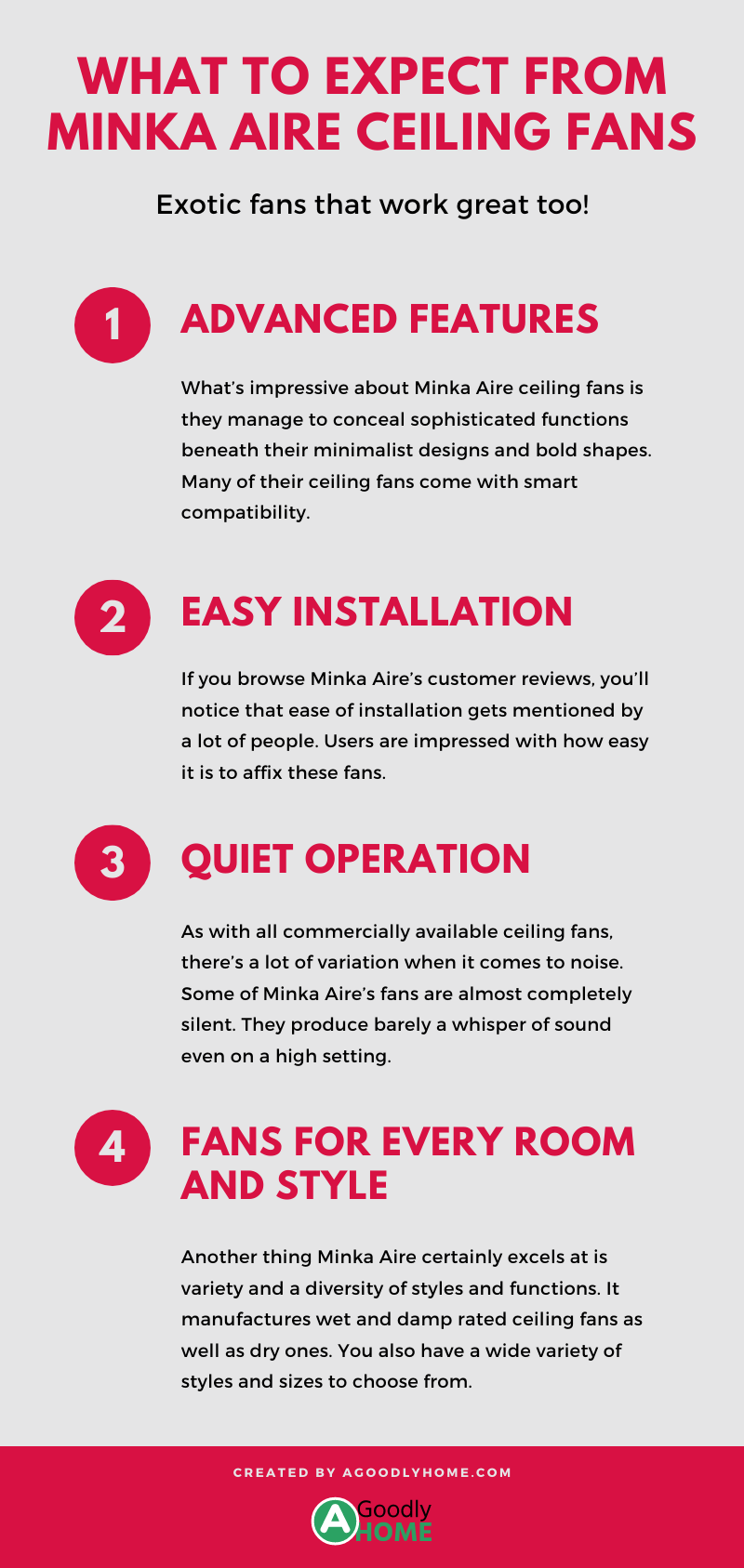 Minka Aire makes ceiling fans that can easily be mistaken for minimalist art pieces. They're often exceptionally unique and go beyond pure functionality. They are more similar to Honeywell ceiling fans in this regard. For this reason, the brand's products don't appeal to everybody. If you want a very plain fan with a traditional shape, you may want to look at other ceiling fan brands such as Hunter, Harbor Breeze, Prominence Home, Hampton Bay, Emerson, or Craftmade.
However, if you love bold styles and enjoy the thought of installing a ceiling fan friends will marvel at, there are some beautiful models on the market. The Light Wave, Wave II and F868L-ORB ceiling fans reviewed in this article are among the most striking ones.
Advanced features

What's even more impressive about Minka Aire ceiling fans is they manage to conceal sophisticated functions beneath their minimalist designs and bold shapes, as can be seen in our Minka Aire fan reviews. Many of the manufacturer's models (and most of its newly released fans) come with smart features compatibility. If the user downloads the necessary software, they can turn their fan into a smart device that responds to voice controls.
Related: ceiling fan direction guide.
This opens up a variety of control options such as activation via voice commands and the management of speed settings through mobile apps and devices like Google Home. The usefulness of this feature can vary depending on where you install the fan. In a bedroom, for example, it enables you to switch the ceiling fan off without direct contact. Add an integrated light fixture and you can read and stay comfortable after dark.
Though not all Minka Aire ceiling fans come with a remote control, almost all of them are compatible with remote technology. In some cases, you'll need to purchase the remote separately. Where there is no remote option, fans are activated with a pull chain and/or wall switch.
Easy installation
If you browse Minka Aire's customer reviews, you'll notice that ease of installation gets mentioned by a lot of people. Users are impressed with how easy it is to affix these fans. It's partly because they come with a 'hook and tuck' design that allows for their temporary suspension (on the ceiling) while the wiring work is being carried out.
The exception is when it comes to adding remote compatibility. In some instances, but not all, the ceiling fan's housing must be temporarily removed to integrate remote control functions. If there's any danger of this with the model you're considering, we recommend purchasing a remote at the same time you buy your ceiling fan. Unless you're on a tight budget, it's going to be a useful upgrade.
Quiet operation
As with all commercially available ceiling fans, there's a lot of variation when it comes to noise. Some of Minka Aire's fans are almost completely silent. They produce barely a whisper of sound even on a high setting. The majority of the brand's ceiling fans produce a small amount of perceptible noise. They're quiet but you can hear a slight buzz or gentle hum as the blades rotate and cut through stagnant air.
We can count on one hand the number of Minka Aire ceiling fans that could be deemed too noisy for use in a private space like a bedroom. The humming sounds produced by even its moderately loud fans are rarely distracting and sound more like white noise.
Fans for every room and style
One thing Minka Aire certainly offers is variety and a diversity of styles and functions, which is evident throughout our Minka Aire fan reviews. It manufacturers wet and damp ceiling fans as well as dry ones. Wet and damp models are suitable for use outdoors, though damp fans can only be installed in covered spaces. Wet models are safe to use in any outdoor space and can tolerate all weather conditions.
It should be noted that, while Minka Aire is known for making luxurious, pricey products, the company does offer more affordable ceiling fans too. The Minka Aire F566-WH Flush Mount Ceiling Fan is a fraction of the price of its most popular models, but it offers similar levels of ventilation, airflow and energy efficiency. So, you don't need to have a big budget to enjoy products from this unique brand.
So, Are Minka Aire Fans Any Good?
We've considered a wide variety of Minka Aire ceiling fans and attempted to sample the brand's contemporary and more traditional designs. It is evident in our Minka Aire fan reviews that the manufacturer excels at creating exciting shapes, striking visual concepts and 'art-come-technology' marriages of functionality and inventiveness.
We're pleased to say, in most cases, their fans' circulation and ventilation capabilities are impressive, and follow the standard of the best rated ceiling fans. You can trust in the reliability of these products. The only downside to buying Minka Aire ceiling fans is their price. Unless you're opting for one of the few plain and unadorned models, you're going to need to splash the cash to get one for your home or office.