Note that the products discussed on our site are independently selected by our editors. Your purchases through our recommendations may earn us a commission at no extra cost to you.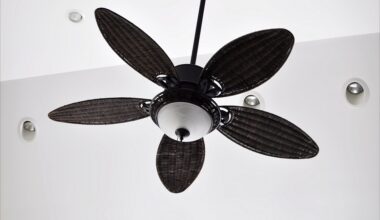 Ceiling fans tend not to get the attention they deserve. If you live in a cooler climate or already have air conditioning they probably aren't even on your radar, but for those who live in the hotter parts of the world they can be a very important part of your homes cooling system and should bring a certain style to your decor.
With temperatures rising around the world there has never been a better time to look at buying a ceiling fan. Low energy and way more stylish than air conditioning, they are becoming very popular in households around the world. From large to small, with lights or without, indoor or outdoor, and with styles from ornate and old fashioned to cool and contemporary, there is a fan out there that will look great in your home.
In this article we are going to have a look at the best ceiling fans out there and review them to show you what's currently available in this ever expanding market.
Related read: Top rated ceiling fans for bedrooms
Best Ceiling Fans in 2022
Hunter Nautical 54 inch Key Biscayne
** This product is currently not available.**
Hunter have been making ceiling fans in Tennessee since 1886 so they really know their stuff when it comes to fans. We have a few of their fans in this article but this Key Biscayne model is a great place to start.
This is an Indoor/Outdoor model that works well inside the home but is really designed to be used in a covered porch or sunroom, preferable somewhere near the beach! The wooden fan blades are reminiscent of beach driftwood and the light unit looks like a lantern, so this fan has a very nautical look to it. Weathered zinc finishing touches and stainless steel fittings complete the effect, letting this fan fit really well into any seaside or maritime decor theme.
The Whisper Wind motor is designed to be fast, efficient and above all quiet so will keep you cool and won't disturb your conversation. It is also reversible so can help with heating in winter as well as cooling in summer.
The light unit is really useful as it brings illumination to often poorly lit outside areas, allowing eating, drinking and chatting to go on into the night.
The three position mounting system permits standard, low or angled mounting so you can get this installed exactly the way you want it, and reviews show that it can be installed by any reasonably competent handyman.
Check out our more detailed review of the Key Biscayne here.
Minka-Aire Light Wave 52 inch Ceiling Fan
** This product is currently not available.**
Minka pride themselves on being a market leading lighting company, and Minka Aire is their range of ceiling fans. Most, but not all, come with light kits.
This three bladed fan is smart, sleek and effective. The three curved and gently twisted blades in distressed Koa wood finish look really smart and contemporary but because they are made of a natural material it also looks quite traditional and so would fit easily into many different room designs. With down rods from 3.5 to 60 inches long the fan will fit well into rooms with low or high ceilings.
A handheld remote control allows you to operate the motor from the comfort of your armchair. On Slow the blades produce an airflow of 1491 CFM (cubic feet per minute) but increase to Fast speed and this zooms up to 4531 CFM which should be enough to keep any room cool. Just note that for those who often reverse the direction of their fan the switch for this is on the fan unit itself and not on the remote control.
The LED light unit may be a little bright for some on full but it is dimmable to a nicer glow and does work well to highlight the fans good looks.
Learn more about this fan in our detailed review here.
If you like this model's unique shape, you should check out the Minka Aire Artemis ceiling fans as well. They have got similar designs as this one.
Honeywell Sabal Palm 52-Inch Tropical Ceiling Fan
** This product is currently not available.**
This fan from Honeywell is one of the best tropical ceiling fans money can buy. The tropical effect of the fan is definitely an eye-catcher! The five blades are hand carved from basswood to resemble sabal palm leaves – it's so easy to lie back and feel as though you are being cooled by the tropical breeze on a jungle island!
But not only does this great fan have amazing style, it is also very effective. The energy efficient motor is quiet and runs at three speeds, as well as reverse. The 52" span of the blades make this fan suitable for average rooms up to 18ft x 18ft, and to be honest, mounting this fan in too large a room would mean that its great looks would not be so easy to see and you really should make the tropical effect easy to see and so enjoy it to the max. Just bear in mind that the fan is not damp rated and so should only be used indoors.
Simple ornate pull chains operate the on and off, although it is worth checking with the retailer as it should be compatible with Honeywell remote controls, but these would have to be bought separately.
A simple sand glass bowl with three 40 watt bulbs inside fits under the fan unit and completes the tropical look of this fan, adding light to the room and drawing the eye to this stylish ceiling fan.
Hunter Builder Plus 52 inch Ceiling Fan
** This product is currently not available.**
This classic fan from Hunter has a silvery, brushed nickel main housing and five dark Brazilian cherry wood blades which give it a classic, traditional look that would not be out of place in any room or office. The excellent Whisper Wind motor gives a wobble free, quiet and smooth operation that wouldn't interfere with your favourite TV show or an important business meeting. Just don't let it blow all your important papers away!
Three speed settings and a reversible function to aid heating in winter is fairly standard on ceiling fans nowadays, as is the three position mounting system, but nanotechnology is rarely seen anywhere by the average homeowner, let alone on a ceiling fan. But this fan uses the latest technology to help prevent dust build up on the blades which many fans can suffer from, so you won't have to get the duster out so often.
Three swirled marble glass lamp shades house 60 watt candelabra incandescent bulbs, giving a total of 180 watts of lighting power that should be enough for most large rooms so if the fan is replacing a light fitting you should not suffer any loss in illumination.
This is a great looking fan that would suit many different decors, comes with the latest Hunter technology and all for under $120 !
Hunter Builder Deluxe 52 inch Ceiling Fan
** This product is currently not available.**
This model 53091 fan from Hunter is a simple, traditional good looking fan that would complement most home decor styles. Dark cherry wood blades and a silvery black housing unit sporting the classy Hunter logo add to the effect – this is a good looking fan that should make it onto everyone's shortlist.
As with all Hunter fans you get the Whisper Wind motor on this model which provides energy efficient and quiet operation at all speeds and should remain wobble free for years to come.
A simple pull chain enables the on/off and speed control operation of the three speed motor, but the reverse fan function for helping with heating the room when its colder is operated by a switch on the unit itself.
A bonus with this fan is that light bulbs are included, saving you the hassle of working out what bulbs are required and a trip out to buy them. It will take standard incandescent bulbs but will also take LED bulbs to save you some money on the energy bills.
The two bulbs are housed in an elegant toffee glass bowl underneath the fan and should provide sufficient main lighting for most small to medium rooms, and the light will show this great looking fan off to great advantage.
To find a more detailed review of this fan, check out our Hunter Builder Deluxe review article.
Hunter Anslee 46 inch Low Profile Ceiling Fan
** This product is currently not available.**
This low profile design from Hunter is one of the best ceiling fans on the market now. Its 46 inch span and low hanging height makes it very suitable for smaller bedrooms, kitchens, offices and bathrooms. The white colouring gives it a clean, clinical look but the blades can be reversed if you tire of the white and fancy a change a natural wood effect can be on show.
The rounded design that narrows slightly towards the top of the housing is intended to give a refreshing 'water drop' effect that works well with the white colour and would really suit a bathroom location.
The Whisper Wind motor common to the Hunter range of fans gives the efficient air movement and low noise that we have come to expect from Hunter, as is the reversible motor that works for cooling in the heat and aids warming in the cold. Hunter prides itself on being a class-leading fan manufacturer that exceeds industry standards so you can be confident that any fan bearing its name will be of high quality.
The pull chain enables the operation of the fan but this can be upgraded to remote control after installation if preferred.
Two fluorescent bulbs are included and sit under the white dome shade providing decent ambient light for a small room, so this fan would be ideal for students in bedsits or small flats.
Hunter Aker 36 inch Fan
** This product is currently not available.**
Mr John Hunter of Hunter Fans is quoted as saying his fans 'become a fan for life' and you are sure to love this little wonder. Three blades in the shorter 36" span and a bright clean white colour make this fan look crisp and efficient. Drawing on Scandinavian design elements Hunter have created a simple, contemporary fan that is very practical.
But if the fresh white colour doesn't suit your room the blades can be reversed to show a natural wood finish which may be more to your liking.
The Whisper Wind motor provides powerful air movement with minimal sound, and it is reversible which increases the fans versatility, cooling in summer while drawing up heated air in the winter to circulate it around the room to eliminate cold spots.
Its really annoying when you receive a product but find you have to go out and buy parts for it to make it work properly, so it's nice to see that 2 LED light bulbs are included with this fan so it can get up and running without delay. Being LED they will also save you money on electricity in the long run. The bulbs are housed in a white glass dome under the fan which is easily removed for bulb replacement when required.
Don't let its small size put you off, this neat little fan delivers a powerful performance and is well priced compared to other similar fans.
Hunter Sentinel 52 inch Ceiling Fan
** This product is currently not available.**
The Sentinel fan from Hunter manages to blur the lines between big and small. While its long, straight edged blades span 52 inches and can move a lot of air, there are only three of them which gives the fan a sleek, minimalist look. The light grey oak blades are reversible with a slightly browner/grey walnut on the other side. The long grain pattern of the different woods really adds to the modern, minimalist look.
Such a large fan is best suited to large rooms such as bedrooms and living or dining rooms, and is really well suited to the un-cluttered, open plan, simple decor that is so on trend at the moment.
Any fan in a large room is likely to be placed high up, so it's a good thing this fan comes with full remote control operation of fan and lights as you would need some pretty long pull chains! The Whisper Wind motor is three speed and reversible and the two 9 watt LED bulbs (included, hooray!) in the integrated white glass lamp shade are dimmable so there will be a setting for every occasion and can be effortlessly controlled from the comfort of your chair, without even a break in the conversation.
Emerson CF765BQ 60-Inch Fan
** This product is currently not available.**
This monster of a fan from Emerson really has the wow factor and in the right location will leave guests slack mouthed in awe. A huge 62 inch span and three jet black twisted airfoil blades give it a bold, industrial look. Indeed, it could have come straight off an aeroplane!
The airfoil blades are very efficient and generate an impressive airflow of 6916 CFM so even the largest rooms will feel the cooling effect of this fan. The well designed fan, helped by not having any lights to power, is so energy efficient it gets an Energy Star rating.
It comes with a wall mounted 4 speed controller that is customisable so you can set your own desired fan speeds, and a hand held remote control system is sold separately if you want more flexibility over the controls.
This fan would be perfect in large rooms up to 400 square feet. Loft conversions, open plan warehouse flats and large, covered outdoor spaces would show this fan off to its best and would really compliment a modern industrial decor. There should be no problem with fitting it as it comes with a downrod and a sloped ceiling kit for roofs sloping up to 45 degrees, so if you've got the space, this is the fan for you.
Also read: Ceiling fan pros and cons
Key Considerations when Buying for The Best Ceiling Fans
As with buying any product that is going to use up some of your hard earned cash you want to make sure you get the right one first time. It may be easier to return items nowadays than it was in the past but it is still time and bother and sometimes costs us extra, so it's always worthwhile to put some thought into the buying process and do some research.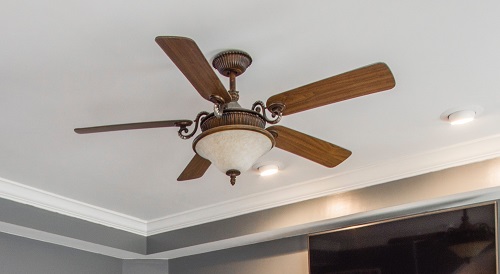 You may fall in love with a ceiling fan at first sight. We have seen that there are some awesome fans out there that look great and if they are on offer they may be hard to resist, but there is a lot more to take into account than you may first think. Is it the right size for your room? Is it going inside or outside? Does it suit your interior design?
Let's have a look at some of the things we need to think about before we splash the cash…
Is it the right size?
There is a ceiling fan out there to suit every room, but that doesn't mean every fan will suit your room. Size is all important. There is no point is buying a small three bladed fan for a huge open plan warehouse flat – it would have about the same effect on airflow as a butterfly flitting about looking for a daisy. And you wouldn't want a giant 60 inch five bladed fan in a small apartment room – you would be in danger of getting more than a haircut! 
Calculate the size of your room and then look up what airflow you would need to get adequate cooling, and then check your preferred fans to make sure you are getting the right amount of air movement (measured in cubic feet per minute, or CFM) Generally speaking, the bigger the fan, the greater the airflow, but some smaller fans are better designed and more efficient at this than other, larger fans, so do some homework!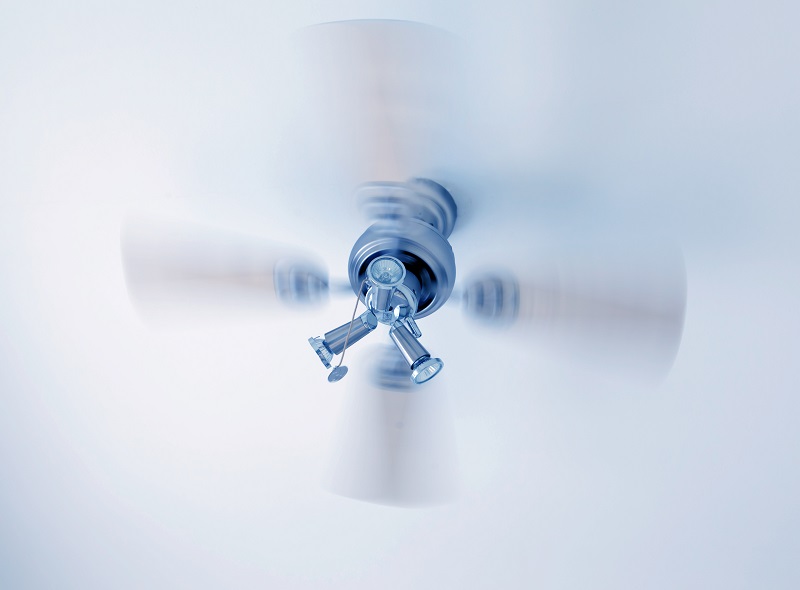 Fixings
Make sure the fan has the right type of fixings for where you intend to place your fan. Check the ceiling height and at what height you want to place your fan. You will need to make sure the fan has the right length of down rod to locate the fan at the right height. Sloping roofs are no problem to installation as long as the fan comes with angled brackets. You may need to check the angle of the slope and make sure the fans fitting kit allows for it.
Features
Most fans have the same kind of features but you can be caught out, so it's worth taking the time to check what you want and what the fan offers. Do you want the illumination from a light under the fan or would you prefer the sleek, minimal lines of just the fan itself? Do you need a reversible motor to help circulate heated air around the room in winter, or will you be using the fan for cooling only? Think about features such as remote control or pull chain, five blades or three, number of light bulbs and the amount of illumination offered. Do you want to be able to dim the lights? Is the fan going to be located inside or outside, or in a bathroom? Check the damp rating on the fan and make sure it's suitable for the location.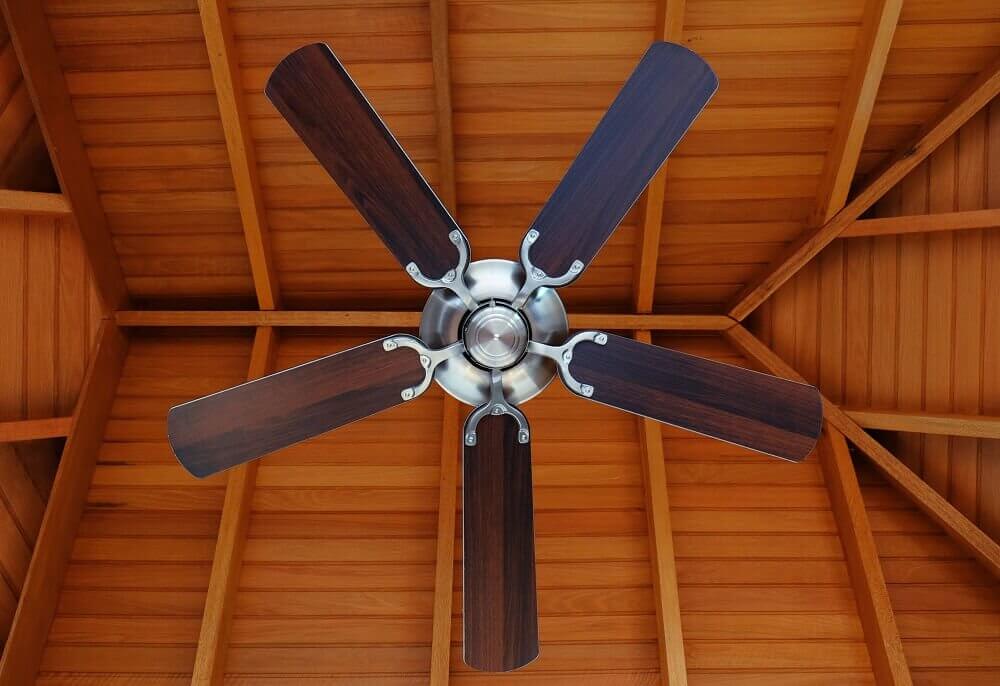 Build Quality and Warranty
A reputable fan manufacturing company will make good quality fans that should stand the test of time, and they should back this up with a long warranty period. Lets face it, a fan gets installed and then operated according to its controls, so we can't treat in in a manner is wasn't designed for. It's not like we are going to take it to the beach or play football with it! So the manufacturer should be able to put a long warranty on the fan and fix or replace it in the event of failure. Check the warranty period and limitations before you buy.
In the same way, the build quality should be good enough for a long period of trouble free operation. The fan should be quiet and smooth running with no wobbling or annoying buzzing or clicking. Light shades should fit securely and safely into place and should be easily removable so bulb changes should be hassle free.
Price
Of course, this is the one part of the research that we all do, almost without thinking. We shouldn't be looking at $500 fans if we can only afford to spend under $100. But oftentimes, you get what you pay for. It may be worth spending a little more on a well built fan from a well known fan manufacturer that comes with high quality parts, meets industry standards and has a long warranty, rather than a cheap import that has limited guarantees.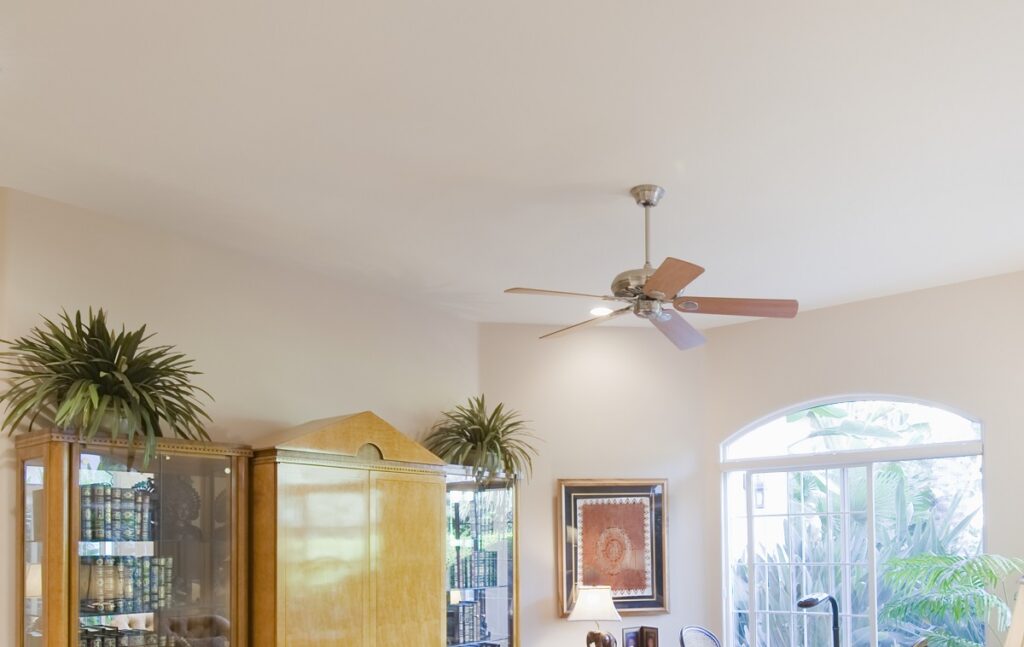 Most fans are easily installed but you may need some degree of handyman skills. If you need to get someone in to fit the fan for you you should budget for this when buying the fan.
Final Words
To a first time buyer a ceiling fan probably looks like any old ceiling fan but hopefully this guide has shown you that there are a whole lot of different fans out there, that they have many different features and that some will perform better than others in the chosen location. The Best Fans listed above are the top picks from a huge range of products out there and any one of them should provide a cooling breeze in your home on a hot day, and bring a new element of style to the room.
Next read
Will ceiling fans keep mosquitoes at bay?