Note that the products discussed on our site are independently selected by our editors. Your purchases through our recommendations may earn us a commission at no extra cost to you.
Ceiling fans are essential household accessories. They are great in facilitating a cool fresh 'breeze' wherever they are placed. Today, ceiling fans have redefined comfort and luxury in our various living spaces. They serve more than just cooling houses as they suffice as sources of light, and statement interior design pieces that resonate with the owner's style, affluence and taste.
From its intriguing shape, robust features and distressed bronze finish, the Minka Aire Artemis is a wondrous piece of art. This fan is made up of 5 blades of seamless wood-like finishing that vary in blade pitch giving it its signature 'uneven' contemporary look.
Minka Aire Artemis Review – Quick Look
Table could not be displayed.
Specifications:
| | |
| --- | --- |
| Light supported | Dimmable LED |
| Blades diameter | 58 and 62 inch |
| Recommended use | Indoors |
| Operating Voltage | 120 |
| Control options | Remote, Wall |
| Special feature | Reversible motor |
Styles and Sizes
There are other variations of this ceiling fan which are equally beautiful and effective. This ceiling fan comes in at least three different color variations –
Distressed Koa
Silver
or White
This ceiling fan is for indoor use and minimum ceiling height must be 9ft. It has two size variations –
The 62" model is ideal for wider rooms due to its length. For smaller rooms, the model Minka Aire F803-DK, Artemis Distressed Koa 58″ will be sufficient. It is a smaller 3 blade variation of shorter blade length and width, though the difference is only of 4 inches.
Both the fans can be installed in ceilings of 9 ft. or more high, as optional downrods can be used to install them.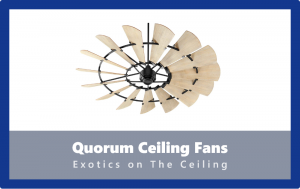 Things to Like About the Minka Aire Artemis Ceiling Fan
1. LED Light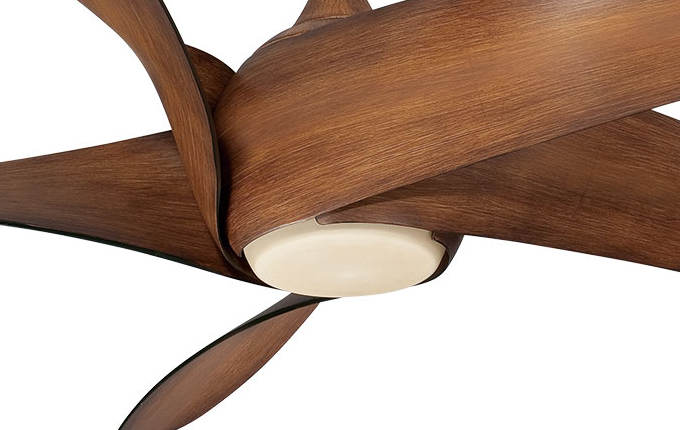 This ceiling fan has an integrated 17 watt LED downlight which has a tinted glass cover over it. The LED light is remote controlled giving you maximum control over the light intensity with ease. Using the remote dimmer control, you can dim and brighten the light to your preferred intensity.
The dimmer varies the light between a very faint and dull intensity to a soft white shine, when placed on its lowest or highest light intensity respectively. For those accustomed to overhead lights, the light emanated from the fan might be insufficient as it is not meant for primary lighting in a room. However, for ceiling light, the various light intensities are sufficient.
2. 6-Speed Remote Control
The Minka Aire Artemis 62″ comes with a remote, which offers an ingenious cocktail of ease of access and control of the device. As opposed to wiring the fan to a wall switch, the remote control automation allows quick and effective change between its 6-speed settings. The fan is designed to seamlessly speed up or slow down once its setting is changed.
Additionally, this ceiling fan comes with a dexterous reverse feature. Unlike other ceiling fans that take so long to slow down, stop, adjust to the command, then begin to move in the opposite direction, the Minka Aire Artemis 62" slows down, stops and almost immediately begins its reverse rotation seamlessly.
Another great feature of this ceiling fan is its ability to move large volumes of air in all its speed settings, even its lowest setting (Speed 1). This means you may not need to 'crank up the volume' to have a fully aerated and cool house during the summer or in extremely hot temperatures. This ceiling fan is robust and gets the job done effortlessly.
3. Quiet Operation
Unlike average ceiling fans, the Minka Aire Artemis 62 is noiseless even on its highest speed setting. Transitions between speed settings, or the on, off and reverse command are inaudible. No incessant noise or crack-sounds are encountered. You can comfortably sleep, watch TV, make a phone call or hold a conversation with the fan being directly overhead or close nearby.
4. Very Unique and Modern Design
The distressed Kola finish makes it quite unconventional and impeccably stylish. Such a unique aesthetic appeal of this fan inspired us to do our Minka Aire Artemis review for you, our readers. Because it resonates with 'realism' and not standard perfection. The wave in the lengths of the blades as opposed to straight vanes also add to its appeal. It has a variable blade pitch, which is also another cool thing to look and marvel at.
Just by looking at the fan, you know that it would make a great addition to your living room or bedrooms. Such creative designs from reliable brands give us hope that ceiling fans are not going to be outdated soon, rather they will be a great accessory to have in modern homes for many more years to come.
Related: best ceiling fans for bedrooms.
5. Great Performance
This ceiling fan ensures great airflow capacity to up to an estimate of 4,820 – 8289 Cubic Feet per Minute. This varies based on the speed settings. It has minimal electricity consumption and an estimated yearly energy cost of approximately $7 when used for approximately 6 hours a day, as the company claims.
Check out our guide on how to calculate the cost of running ceiling fans.
Things to Keep in Mind Before Buying the Minka Aire Artemis Ceiling Fan
1. The blades are not real wood
Contrary to most people's expectation, the distressed Koa finish blades are made up of plastic. When mounted, the ceiling fan still looks like real wood. It can only be recognized to be made up of plastic upon close and careful inspection. However, with the cost of the fan, you would expect it to consist of a more valuable material than simple plastic.
2. Special mounting kit required if you want to install it on slanted ceiling
Unlike most conventional fans, the Minka Aire Artemis 62" cannot be directly installed on a slanted ceiling. You would need to acquire a mounting kit at an additional expense (separate from that of the fan) that would help you mount the ceiling fan. The greater misfortune is that this is not expressly stated in the manufacturer's guide.
3. This fan does not work if there is a dimmer mechanism on the same circuit.
This is also another intricate detail, the manufacturer left out. The circuit which the fan is connected to should not have a light with a dimmer. The presence of a dimmer will lead to the malfunction of the fan and in the worst scenarios, its complete non-performance.
Warranty Information
Minka Aire has a delightful warranty term of 1 year when purchased from Amazon. The warranty covers all malfunctioning of the ceiling fan and its components with the exclusion of theft, damage, loss, customer abuse and finish deterioration caused by UV rays and coastal exposure.
Additionally, there is a 30-day replacement parts return policy, where customers can request for any replacements where the original parts malfunctioned upon delivery. The company is praised for being quick to respond and cooperative in sending you the requisite replacement parts upon request and proof of malfunction.
How Does It Compare with Other Minka Aire Fans?
Here's a side by side comparison of this fan with other popular Minka Aire ceiling fans.
Who Should Buy It?
As is evident through our Minka Aire Artemis review, fans are quite luxurious and also pricey. They are ideal for the artsy in soul and those who enjoy high efficiency by having a multi-purpose piece of equipment. The high investment may be justified by its very unique appearance, high-end functionality and ease of control.
Those who are drawn to unique statement pieces for their home will find this unconventional piece worth the fortune. Both models are remote controlled and are great for those who desire maximum control with very little movement. However, the 58" model's remote is affixed to the wall. If you love the old-fashioned wall-socket mechanism – the one you need to get up and switch the fan on and off from the wall socket – this can be a great investment. However, if you like a standard remote control, you will have to dig into your pockets to purchase a standard remote control for the 58" model.
Table could not be displayed.
Our Verdict
In weighing both its pros and cons, we hope we were able to establish through our Minka Aire Artemis ceiling fan review, that this fan, though pricey, offers value for money for those looking for a statement piece cum ceiling fan, instead of a conventional one. This 3-in 1 ceiling fan not only ensures a cool comfortable living space but it also provides sufficient light powered by its LED light and is quite a show-stopping piece of great aesthetic addition to any room. It is stylish, functional and durable. Designed with a heavy and hardy appearance, it guarantees to be long-lasting. The fan moves a lot of air even on its lowest setting and is energy sufficient.
We can only hope that with such a great piece of invention the manufacturer will match it with sufficient information in their user guides to help customers avoid any unforeseen expense, waste of time and inconvenience while purchasing and installing the ceiling fan.
What's Next?
If you already have an old ceiling fan installed in place, check out how to remove a ceiling fan to be able to take it down, making room for the new one.
Check out how you can clean your ceiling fans, so you know to clean the old fan and install it somewhere in a less prominent area of your house.
Throughout the process, you may need to change the light kit on these fans, and wonder if they are interchangeable – we've got that covered too!
Since the Artemis fan is pretty large and heavy, wondering if it can fall on you? Here's to you – can ceiling fans fall?
If you like such ceiling fans that work great as statement pieces, check out Kichler ceiling fans. They made some pretty good stuff!