Note that the products discussed on our site are independently selected by our editors. Your purchases through our recommendations may earn us a commission at no extra cost to you.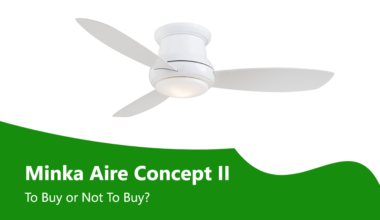 The renowned California-based company is lauded for manufacturing elite ceiling fans that tick all the checkboxes when it comes to integrating functionality along with modernism.
The artistic statement pieces are designed to mix contemporary style with futuristic innovations to provide you with a royally optimum experience.
Minka Aire promises premium quality and so it delivers with their Concept II ceiling fan that is built ingeniously using durable materials and a motor that is powerful but crafted specifically to cancel all noise. Possessing a sleek design this fan will surely appeal to any interior while the rich assortment of hues allows it to easily merge with all color palettes.
Available Styles and Sizes
The Minka Aire boasts impressive craftsmanship by blending simple design with ornate, low-profile style on the Concept II fan.
The sleek build paired with the neutral hues and decorative materials such as glass can immediately spruce up any interior while the iridescent polishes give you the lustrous gleam all rooms need.
To be frank, we had to face a lot of confusion when researching about this product. Because this particular Minka Aire model comes in a variety of different models. Fortunately though, we were able to distinguish between these models at the end. And here's what we found.
Many models. Confusing?
| Model No. | Bladespan | Light | Usage rating |
| --- | --- | --- | --- |
| Minka Aire Concept II F474 | 52 inches | Yes, non-light cap included | Outdoors (and indoors) |
| Minka Aire Concept II F518 | 44 inches | Yes, non-light cap included | Indoors only |
| Minka Aire Concept II F519 | 44 & 52 inches | Yes, non-light cap included | Indoors only |
Let's sort the doubt out…
Related read: outdoor vs indoor – the difference
Each of these models is also available in a range of luscious colors that are a dream to look at. From the basic white to vintage, classic shades such as:
Polished Nickel
Brushed Nickel
and Oil-rubbed bronze
So deck out your rooms with this Minka Aire decadence and indulge in the complete, royal experience with the concept II fan.
Minka Aire Concept II Review: The Specs
Specifications:
| | |
| --- | --- |
| Light supported | Yes |
| Blades diameter | 44 / 52 inch |
| Recommended use | Indoors & Outdoors |
| Wattage | 29W (*) |
| Control options | Remote, Smart WIFI |
| CFM | Up to 3783 CFM |
| Operating Voltage | 120V |
*Estimated based on typical use, excluding lights
Things to Like About It
Minka Aire fans are distinguished from other brands because of their adaptability. Not only is this company constantly dreaming and designing new, innovative functions but also consistently updating archaic integrations and making them more accessible.
The Concept II also flaunts desirable features and new innovations that are a symbol of Minka Aire quality. We shall include a few in our Minka Aire Concept II review below:
Dimmable LED
These ceiling fans arrive with state-of-the-art light fixtures that are as entrancing to humans as they are to moths. Yes seriously! Not only are they beautifully cased in the top-quality glass but are also skillfully placed in the core of the ceiling fan. The deal-maker however is their dimmable feature.
Concept II fans arrive integrated with a dimmable LED light to add a soft glow to your ambiance. Whether you need to illuminate your room after dark or require a slight fluorescence to read, these ceiling fans can be pre-set to provide the luminance you desire.
Choose the temperature of your light easily using the remote control and lower it or brighten it to your desire.
Remote control
Another highly sought after feature of Minka Aire fans is their control option using modern remotes. This quality allows you to not only switch between light intensity but also wind speed from the comfort of your couch. Accessibility at your fingertips!
The Concept II's 4-speed remote control gives you the choice to adjust the light temperature in your room as well as control of the fan speeds.
Variable downrods (flush mount applicable)
Regardless whether you have a high ceiling or a low ceiling, downrods of different lengths are available for you purchase. These rods are key elements to proper installation of the Concept II ceiling fan. Just choose the right length, and you will have you ceiling fan installed at the correct height.
Down-rods are available in 60, 48, 36, 24, 18, 12, 6, and 3.5 inches configurations. The 6″ one will come included in the box. If you need any of the others, you will need to purchase it separately.
Reverse function
Another useful feature of the Concept II ceiling fan is its coveted reverse function. The fan is built in such a way that allows it to support both clockwise and anticlockwise rotations. This option makes the fan effective for both warmer and colder seasons.
In summer, set the fan to rotate anti-clockwise, and it will push air down on your body which will make you feel cooler. But in winter, you do the opposite. Set the fan to rotate clockwise, and it will pull the colder damp air from the ground up towards the ceiling, and push the warmer air (warm air rises, remember?) from there towards the ground. This process makes your feel fresher in the winter. And this can also significantly reduce heating costs in those winter months.
This function gives you a double advantage while purchasing this Minka Aire creation.
Sleek contemporary look
The Concept II ceiling fans gives off an air of sophistication and adds a touch of rich elegance to your interiors. Whether that is by adding a dose of classic magnificence to a room with lustrous, polished blades or a touch of artistic lusciousness with its sleek, compact design.
Minka Aire fans not only excel in functionality but are also top-choice when it comes to immediately enhancing the overall aesthetic of any interior and adding a touch of elegant sophistication. The Concept II pulls this off with extreme elegance owing to its basic shape contrasted with the softly glowing, LED light kit that bathes your interiors in warm, amber light.
It truly is a sight to look at.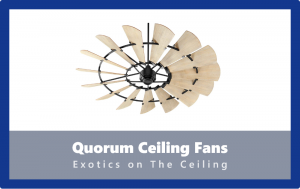 Wi-Fi compatible ceiling fan
Keeping in pace with this modern era, Minka Aire has introduced their most innovative and useful function which is Wi-Fi compatible ceiling fans. The Concept II comes with smart technology powered by Smart Bond and allows you to connect the fan with your device via Wi-Fi.
The set-up is fairly easy and quick. Buy a Smart Bond Device, and then install the Smart Bond app that is available for both IOS and Android. The hub then connects to your network and allows you to adjust the settings of the fan using your smart devices, such as Alexa Google Home.
The fan can also be activated and controlled to work just by using your voice.
Things to Keep in Mind Before Buying
There are a few things you might want to consider before making a purchase to ensure you get the most out of your product and are satisfied with the experience. Some notable complaints from Minka Aire Concept II purchasers are detailed below.
Sound from blades for some people
While doing research, we found a customer complaining, in addition to the steady whoosing sound of traditional fans, the blades of this fan makes a higher pitched whip-whip sound as they go by. This is not noticeable in low speed, but in medium and high speed, it is noticeable, especially if you have a low ceiling. It may not be bothersome in a large open room, but if you are planning to install it right above your bed on a low ceiling, you may find it annoying while sleeping.
A slight gap between the top collar and the ceiling
Installation of the Concept II fan is fairly easy however there are some instances where there is a very minor but noticeable space between the top collar and the ceiling because of how the body of the fan mounts to the fixture ring on the ceiling fan box.
Although it doesn't affect the fan's efficiency or the way it works but it does look slightly untidy after the installation. This should not be a problem for most people though.
Light does not dim very much, if that concerns you
Minka Aire fans offer intense luminance along with variable settings to control the temperature of light in your room however another issue with this ceiling fan is its inability to dim down a lot.
The Concept II ceiling fan can be softened to a certain degree after which it turns down and there are no more options to dim the light so if you don't like bright lights or prefer really dark rooms, this will be a concern for you. Their pre-installed lights disallow them to be lowered below their usual setting and so you will always have a partially-lit ambiance.
Warranty Information
Minka Aire ceiling fans are built with solid, sturdy materials and are known to be durable and long-lasting saving you from monthly, costly part-replacements and purchases. They warrant the fan to be defect free in terms of material and workmanship up to one whole year from the date of purchase. They also have a 30 day replacement parts policy to ensure you have a solid product.
This guarantee gives you a sense of security when you purchase a Minka Aire piece and you can be assured it will be a good investment.
How Does It Compare with Other Minka Aire Fans?
Following is a comparison between this fan and other popular Minka Aire ceiling fans.
*Estimated based on typical use, excluding lights.
Who Should Buy This?
These sophisticated, elegant ceiling fans are suitable for any and all interiors. Their versatility allows them to be available in a variety of colors and polishes that allow them to easily adapt to their surroundings and provide you with the ultimate experience.
You can purchase the Concept II ceiling fan if you have compact rooms and desire a simple yet modern looking ceiling fan to decorate the space with. This is also perfect for study rooms due to their integrated light system and dimmable lights.
Minka Aire Concept II: Our Verdict
Minka Aire fans are at the top of the ceiling fan industry and rightly so keeping in mind their innovative and creative features such as smart control options pre-installed in their Concept II ceiling fan.
These fans are constructed with reliable materials that eradicate any wobbling and sound and create a comfortable ambiance owing to their dimmable light fixtures while their reverse function allows them to be functional in colder weather too.
These fans are functional and beautiful and are definitely some of our top choice in ceiling fans.