Note that the products discussed on our site are independently selected by our editors. Your purchases through our recommendations may earn us a commission at no extra cost to you.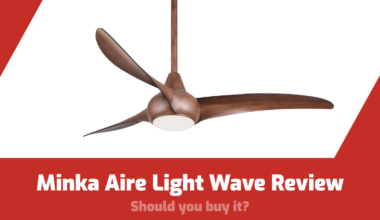 Your house is your personal haven that offers refuge in times of good and bad. It holds an oasis of comfort, and everything inside are chosen to enhance your quality of life. And since you live in your home, you must act and promote excellent airflow in your house. The good news is, the Minka-Aire F844-DK Light Wave ceiling fan is here to serve you. This is an elegant product that offers evaporative cooling, as well as enhance the beauty of a room. Additionally, this remarkable ceiling fan is equipped with a premium LED light fixture. Read on to find our review of the Minka Aire Light Wave ceiling fan.
Minka Aire Light Wave (F844-DK) Review – The Specs
** This product is currently not available.**
Specifications:
| | |
| --- | --- |
| Light supported | Yes (Dimmable LED) |
| Blades diameter | 52 inch |
| Recommended use | Indoors |
| Wattage | 10-64W / Low-High |
| Operating Voltage | 120V AC |
| Control options | Remote, Bond (Alexa, Google Home) |
| Speciality | Unique design and reversible motor |
Things to Like About the Minka-Aire Light Wave
The Minka Group has been providing homes with artistic and decorative ceiling fans over the years. They are able to perfectly blend style and functionality in their collection of high quality and sophisticated products. All the fan and lighting fixtures that this company created are done with meticulous precision and workmanship. And without a doubt, this brand has surpassed their superior artistry with the Minka-Aire Light Wave Ceiling Fan. This exceptional product is absolutely crafted with incredible features that will be perfect for almost any home. Let us explore all the favorable aspects of this ceiling fan in order to help you make your purchase decision.
1. Dimmable LED light and remote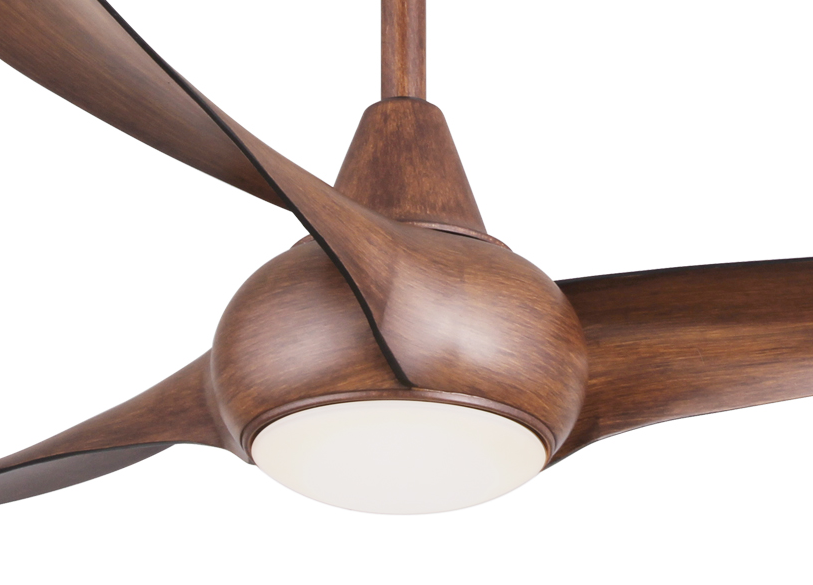 A dimmable LED light is certainly a great feature that you will love about this durable ceiling fan. There is an available remote control that allows you to change the intensity of your lighting, which is undeniably convenient. This is especially beneficial for you if you come home one night and suffer a terrible headache. You can dim the lights until you feel better. Also, the dimmable lights will be perfect for a romantic night with your special one.
It is indeed good to know that when you want to change your light setting, you can always do so with ease thanks to the remote control. And this is no ordinary remote. This hand-held tool is capable of three speed setting control for your ceiling fan, and full-range dimming of your light.
2. Google Home, Alexa compatible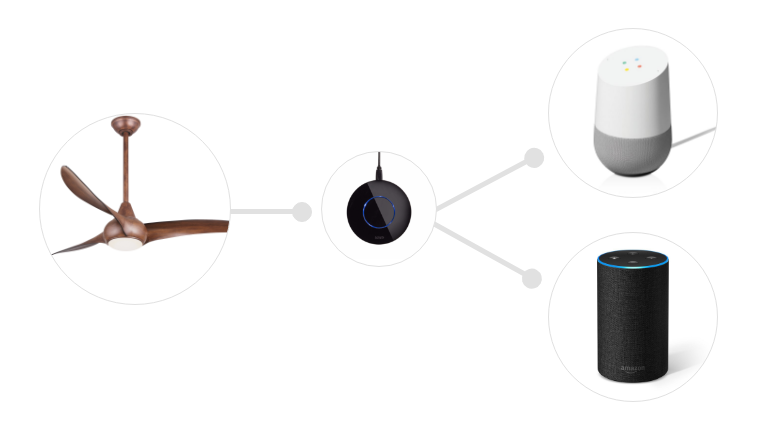 The technological world is evolving rapidly and the innovation immensely makes life more comfortable. And the good news is the Minka-Aire Light Wave ceiling fan is highly compatible with Google Home and Alexa, through the use of a device called Bond (purchased separately). So with the use of your mobile phone, you can easily and conveniently control your ceiling fan. Indeed, this feature is absolutely perfect especially after a tiring day at the office. Plus, the sophistication of your home technology is something that will surely awe your house guests.
3. Unique design featuring distressed Koa blades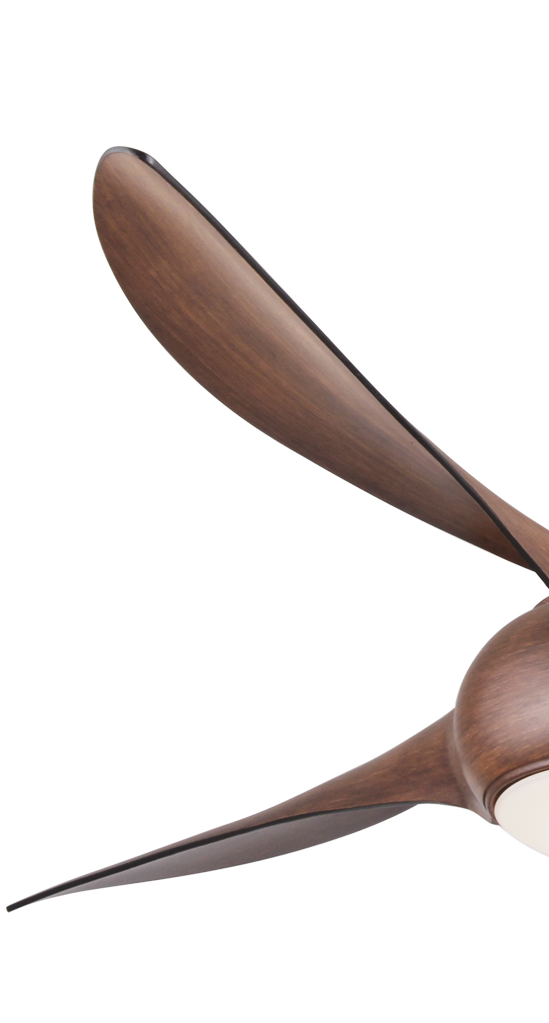 The chic and stylish Koa blades of this ceiling fan are enhanced in appearance by the beautiful distressed finish. The blades are elegantly styled and the decorative look is no doubt perfect for any room in your house. They are made from premium grade materials to produce superior strength and extreme durability. And the distressed design provides a timeless exquisiteness that creates an elegant atmosphere in your home. Plus, the distressed Koa finish allows you to clean your ceiling fan easily, and the maintenance is low. Your guests will definitely be mesmerized by the gorgeousness of your Minka-Aire Light Wave Ceiling Fan. And every time you come home, you are awed by the sheer beauty of your fan and light fixture.
In case you want to check other options for the blade finish, you can always visit Lumens and peruse the multiple options.
Also read: 3 blades vs. 5 blades in a ceiling fan, which is better?
4. Reverse function – use it all year round
The best ceiling fan is not only good during the summer, but is also perfect for winter. And this reverse functionality is offered by this brilliant ceiling fan from Minka-Aire. During the warm days, this product circulates the air downwards in order to keep the areas near your floor cooler. The moving air generated form the standard operation of the ceiling fan touches your skin and refreshes you.
And in the cold months, use the reverse function in order to draw the air in the room upwards. This is an effective method of drawing the warmer air up and bringing them down to the center of the room.
So no matter what season it is, you can always count on the functionality of this marvelous ceiling fan.
5. Optional downrods
A downrod for a ceiling fan is a metal pipe that safely connects the mounting hardware and fan motor housing. It ensures that the ceiling fan stays firmly in place, no matter how slow or fast the speed is of the fan. Thankfully, this product comes with a 6" downrod in the box. The size of this tool is designed for ceilings below 10 feet, and it is extremely strong and reliable.
However, if you need a larger downrod, you can buy one separately and use it on your new ceiling fan. Just make sure that you buy a downrod that is unequivocally compatible with the Minka-Aire ceiling fan brand. Better yet, purchase one from the same company to guarantee compatibility. The downrods are available up to 60" in length, so do not worry if you have a very tall ceiling.
6. Quiet operation
It is absolutely important to purchase a ceiling fan that has a quiet operation. You certainly don't want buzzing sounds or fan noises to disrupt your quality time at home. And that is why you would surely love the Minka-Aire Light Wave ceiling fan. The smooth operation of this product allows you to rest without distraction of noises. You can enjoy the tranquil environment of your home, and savor the high quality sound of your sound system. And when you have friends over, you can trust in the quiet mode of the ceiling fan while you all feel cool and fresh.
7. Energy Star Certified
This outstandingly sophisticated and practical ceiling fan has an Energy Star Certified badge. It means that this product has been strictly and thoroughly verified by a third party for superior energy efficiency. You can definitely save a lot of money on your electricity bill with this ceiling fan.
You can choose the speed of the fan, which is good for saving energy in days when the temperature is not too hot. The dimmable light plays a huge role in energy efficiency as well. And thanks to the smooth operation, you can certainly save on energy since this fan does not need to work harder to keep your room cooler and fresher.
For a low speed, this ceiling fan utilizes 10.21 watts only, and high speed uses 64.73 watts. So you do have an option on how much energy you want to save.
Things to Keep in Mind Before Buying
Up to this point in our Minka Aire Light Wave (F844-DK) review, we have talked only about the good aspects of this fans. However, while there is absolutely no question regarding the durability and elegance of the Minka-Aire Light Wave ceiling fan, like all other products in the market, this item does have some downsides. But the good news is the multitudes of positive features of this product greatly outweigh the challenges it faces.
As a consumer, you have the right to know what issues you might encounter in using this ceiling fan. And then you can make an informative decision.
1. Potential problems with the fan
This ceiling fan is a premium product that is worth every penny. But it can create potential problems due to some factors. Of course, you need to be aware of these possible issues so you can decide if the good can cover for the shortcomings.
It is not constructed using 100% pure wood, which is a turn-off for some homeowners. However, the plastic blades are extremely sturdy and efficient.
The LED light is too much for some people, but this issue is easily resolved by dimming the light using the remote.
This item comes with only one size of downrod. However, you can always buy another length separately to remedy the ceiling height issue.
2. No flush mount
Any ceiling that is low at less than 7 ½ feet requires a flush mount. Unfortunately, if you have a low ceiling this product is not right for you since it does not allow for a flush mount installation. But if you genuinely love this item but have a low ceiling, then you can consult a professional. A certified expert in ceiling fan installation can provide you with options on how to install your favored ceiling fan.
3. Reverse switch is on the fan, and not on the remote
Unfortunately, there is no option to take advantage of the reverse function using the remote. You would need to manually switch the reverse option on the fan's motor. Simply make sure that the ceiling fan is off before you do so, and you are standing on a reliable surface. But, since you need to change the fan operation setting about twice a year, the absence of easy reversibility is not really a big deal.
4. Possible humming noise, which can be fixed
It is true that this ceiling fan may have a loud humming noise, but this issue is easily fixed. According to the product manual, you simply need to leave your ceiling fan on for 24 hours to get rid of the noise. And indeed, many customers who bought the product testify to the effectiveness of this troubleshooting process.
And after the humming issue is completely resolved, you get to enjoy a quiet time at home while staying fresh and cool under the fan. But of course, this problem won't occur to everyone.
Warranty Information
The Minka-Aire Light Wave ceiling fan is backed with a lifetime limited warranty. You can talk easily with their accommodating customer service support, and inquire about anything regarding the product. The warranty of this item covers defect of the fan's parts. And the lifetime aspect ensures decades of exceptional performance.
Minka Aire Wave vs. Light Wave – The Differences?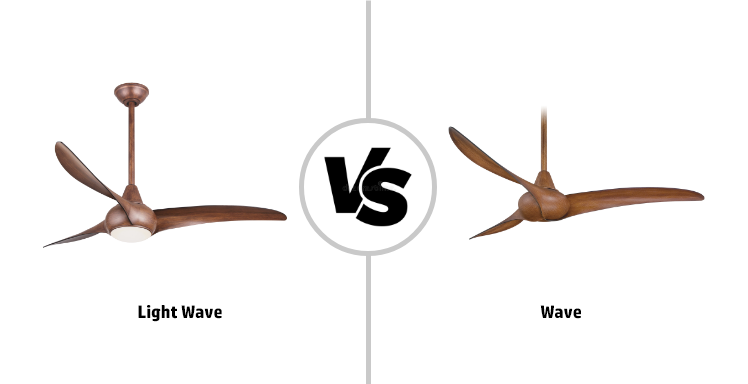 Minka-Aire created many types of ceiling fans, and two of their proudest products are the F844-DK Light Wave and F843-DK Wave models. These two are very similar, but they do have some differences that you need to know. It can get confusing sometimes, but knowing what they don't have in common helps you decide which one to buy.
The Wave model does not have a LED light, while the Light Wave has one. The latter is obviously designed to provide double features for fan and light. And the Wave item is more traditional with a fan use only.
The Wave version has a beautiful contemporary rustic design, while the Light Wave product leans more towards a chic and modern design.
How Does It Compare with Other Minka Aire Fans?
Here's a side by side comparison of this ceiling fan with other popular Minka Aire ceiling fan models.
Estimated based on typical use, excluding lights.
Who Should Buy the Minka-Aire Light Wave?
This product is absolutely strong and long-lasting, and will certainly improve the aesthetics of your home. You should buy this ceiling fan especially if you have a spacious ceiling. And also if you are looking for a room addition that greatly enhances the beauty of your room.
Aside from you, hundreds of people adore the functionality and alluring look of this product. Homeowners with a ceiling will want to buy this item, regardless of the home style or interior décor theme. Indeed, this ceiling fan is extremely versatile, and it is designed with superior craftsmanship for creating an elegant atmosphere.
** This product is currently not available.**
Our Verdict
The Minka-Aire F844-DK Light Wave ceiling fan is a versatile product with a beautiful finish, as we have made it evident in our Minka Aire Light Wave review. It is Energy Certified and compliant with American's with Disability Act (ADA). Plus it is very easy to install, and manufactured with high quality materials. The LED light also provides an even glow, and this high-tech fan and light fixture is unquestionably perfect for homes of modern times.
With all the excellent features, and even with the downsides, this ceiling fan is highly rated and recommended for you. So grab yours now and start your wonderful journey to superior home comfort and cool feeling.
What's Next?
Check out our review of other popular Minka Aire ceiling fan models.
Here are our top ceiling fan choices from all brands – best ceiling fan picks.
Check out our recommendations for ceiling fans that are especially well suited for bedrooms.
See here how little ceiling fans cost to run.
If you like such unique ceiling fan designs, you may want to check out Kichler ceiling fans. They made some great unique ceiling fans that work great as statement pieces!