Note that the products discussed on our site are independently selected by our editors. Your purchases through our recommendations may earn us a commission at no extra cost to you.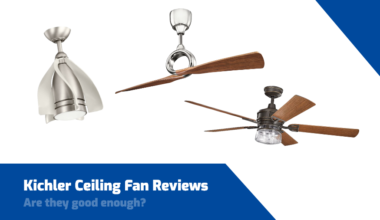 Purchasing ceiling fans while having no knowledge of the technical jargon can be a nightmare. However, we have simplified your hunt for you by compiling detailed descriptions of top, best-selling Kichler ceiling fans. We hope our Kichler ceiling fan reviews will help you find the right fan you have been looking for.
Kichler fans are top-tier purchases that guarantee the value of your money with efficient functionality. Not only are they created for modern spaces with a unique blend of rustic and elegant design but they also work flawlessly to provide you with gusts of chilled air in the scorching hot days.
Combining innovation and technology to create your top choice, they are available with decorative lighting options to give your room a warm, ambient look while their efficient, stable motors guarantee a quiet rotation. Integrated with smart technology, some of these can also sync to your devices and be controlled effortlessly.
Though Kichler ceiling fans are, for the most part, worth the cost, there are some minor factors that may not suit everyone's choices and demands. So you need to consider those before making your purchase. We have listed them here in this article. So read on to be able to make your decision while knowing what you're doing.
Kichler Ceiling Fan Reviews: Summary Table
Check out some of Kichler's top-rated fans that sell like hotcakes!
Kichler Sola 54″ Outdoor Hugger Ceiling Fan- Best Overall
** This product is currently not available.**
The Kichler Sola is an innovative game-changer when it comes to ceiling fans as it's unique build not only allows it to work very quietly but also accommodate large spaces. It's powerful motor cancels out any noise and produces cool air by the minute. Here follow some words about this fan:
Mechanism
This beast is a game-changer when it comes to ceiling fans. A dependable fixture in a contemporary design and lustrous finishes such as Old Bronze and Mat White. Built with a powerful motor, it softens any noise or racket from the blades and due to its unique airflow capacity, delivers up to a whopping 5000 cubic feet per minute.
Its build materials include metal, glass, and plastic, which will ensure long service life for this fan.
Aesthetics
The Kichler Sola comes in 32, 44, or 54 inches blade span and a unique globe-shaped motor housing space which creates a delightful interior. A vintage design mixed with the elegance of minimalism, it is sure to suit any colour palette with its iridescent pearl finishes.
The light fixture when turned on also enhances the ambience of a room and creates a soothing environment. Fitted with bright bulbs, it gives a soft, luminance to any room while its dark finish makes for a rich contrast to your interior or exterior.
Speciality
The slender, carved blades of the Sola allows the fan to be switched between 3 speeds and is even optimised for outdoor spaces such as patios and pergolas.
The Kichler Sola arrives with a 1 year warranty and a 30-day replacement parts policy ensuring you get the most out of your product.
Related read: outdoor vs indoor ceiling fan
Kichler Lyndon Patio 52″ Outdoor Ceiling Fan – Best Rated
** This product is currently not available.**
The Lyndon Patio fan is ace when it comes to the perfect fans to fit into outdoor spaces. Not only is it whisper quiet but also wobble-free as there is no rotational movement at the centre. It is also extremely durable because of the quality materials used and will definitely last a good while. Check out more details here:
Mechanism
An excellent addition to the Kichler ceiling fans, the Lyndon Patio collection is the best rated out of all. Built strategically to maximise airflow while its efficient motor conceals any noise.
This is your best bet for increased circulation and drafts of cold air.
The helpful Mounting design also helps to eliminate wobbling and provide stability to the fan while a well-diffused light system adds a cozy vibe to your interiors and exteriors.
Aesthetics
This 60" sleek beauty boasts a nautical design with transparent, seeded glass that adds a timeless perfection to any space. A rich, oaky finish with walnut blades enhance the classic richness while the sublime, dappled light quickly warms up the ambience.
Speciality
This fan arrives with speed settings which can be controlled by a handy wall remote. You can both control the fan light and motor speed as you desire.
It is also suitable for outdoor spaces and is a wonderful addition to any patio or garage.
Kichler Renew Premier 50″ Ceiling Fan
** This product is currently not available.**
This Kichler ceiling fan is one of their top-rated ceiling fans and for good reasons. Not only does it have 5 blades to maximise airflow but also an excellent light kit that is integrated at its core. It blends functionality with aesthetics to bring forth a true masterpiece.
Mechanism
This silent but powerful machine is the best purchase if you desire a well-balanced and quiet ceiling fan that also provides maximum airflow. With five sturdy blades and dual mounting it guarantees a quality experience.
The Kichler Renew Premier also boasts intense fluorescence with the integrated CFL light bulbs that are sure to bedazzle your place. To spruce up the fan's look, a frosted globe variety is also available instead of the standard fan.
Aesthetics
This tasteful symbol of modern minimalism combined with classic extravagance is something every house needs. The brushed nickel lustre along with fan blades that alternate between walnut and cherry wood finishes give off a rich and soothing vibe.
This fan is available in 4 unique shades: Matte White, Oil-rubber bronze, Tannery Bronze and White.
Special innovations
The distinguishing factor of the Kichler Renew Premier is the excellent quality 4 light kit that comes along with the product. It is also available with additional weights to balance the fan and reduce wobbling. Moreover it even has the option to reverse its direction.
The ceiling fan is also fixed with CFL bulbs that produce an intense luminance instead of the usual chandelier bulbs thus making for a truly innovative experience.
Kichler Link Polished Nickel 54″ Ceiling Fan – Best Statement Piece
** This product is currently not available.**
An interior designer's dream, this piece of art is not only functional but extremely beautiful too with its delicately carved link blades and the core design which resembles a chain link. It is your best bet if you want a modern machine that works equally well as the regular ones.
Mechanism
The Kichler Link Ceiling fan is quite literally art in motion. Combining a unique design along with good functionality, it is the best statement piece you can choose to frame your home with. Arriving with two sleek blades with a delicate metal body, it provides sufficient airflow while producing minimum noise.
Aesthetics
This modern two blade fan flaunts an elegantly carved design with a strong central focal point. The Kichler Link is a statement piece that is built specifically to appeal to the aesthetic of a room and bring pleasure to the sight.
Available in two polished, lustrous shades: Brushed Nickel and Polished Nickel, you can say that the Kichler Link effortlessly links functionality with beauty.
Special innovations
The Kichler Link's unique carved shape and shiny blades are innovation enough for true art-enthusiasts. Those exquisite blades produce maximum airflow with barely any noise.
Kichler Link is also covered by a limited lifetime warranty for those concerned about this.
Kichler Terna 3 Patio Ceiling Fan
** This product is currently not available.**
The Kichler Terna is a remarkable addition to ceiling fans, it's unique pinwheel shape along with small blades makes it a perfect ceiling fan for cramped spaces. It is the smallest recommended fan in our Kichler ceiling fan reviews guide. It will not only produce fresh air in the room but also light it up with its efficient, power-saving light bulbs.
Mechanism
This 15" Terna 3 is the most efficient, space-saving purchase ever. It boasts a small diameter making it perfect for cramped spaces such as above islands and tables.
Built using a powerful AC motor, the Terna provides sufficient airflow to cool down small spaces and circulate air evenly. The 5 slim blades also save space thanks to their compact yet sturdy design.
Aesthetics
A quirky addition to any modernist's living space, this functional machine is the best statement piece to adorn your kitchen islands. Flaunting polycarbonate blades with a lush champagne finish, it is a delight to look at.
Available in three luscious colours: Brushed Nickel, White and Oil-brushed bronze. The Terna 3 is your best bet if you're looking for something functional yet modern.
Special innovations
The best part of the Terna is its ability to work in small, cramped spaces, while maintaining a very unique shape. It's compact blades instantly freshen up the air without much noise while the pleasing light temperature just adds to the cozy vibe.
A handy remote is also included with this purchase.
Kichler Hatteras Bay 56″ Ceiling Fan – Best For Kitchen
** This product is currently not available.**
The Hatteras Bay is a top-seller that combines classic, vintage elegance with modern innovation. Not only is it built beautifully but works even better with its sturdy 5 blades and an AC motor that ensures you get optimum airflow minus the annoying noise.
Mechanism
A grand, modern antique with 5 blades that are reversible to provide the optimum experience. The Fresnel lens glass guarantees durability of the dimmable lights while the powerful AC motor muffles any sound while working.
It is the top pick for open spaces such as kitchens to not only provide cool air but also beams of fluorescent light to illuminate your midnight snack raids.
Aesthetics
A modern antique machine that adds a hint of rich royalty and luxury to any room. With a distinct oil-brushed finish and Fresnel Lens that boasts layered, gloss-white glass this is the ultimate, regal beauty.
It also flaunts impressive wooden blades that alternate between cherry and walnut while the core material is metal. The mixed materials not only enhance the overall aesthetic of this fan but also improve stability and durability.
This fan comes in 6 available styles:
Brushed stainless steel
Distressed black
Oil-rubbed bronze
Weathered copper powder coat
Tannery bronze powder coat
and Weathered zinc
Speciality
Perhaps the most striking aspect of this fan is the blend of antiquity with functionality, all while making it fit for modern spaces. This beautiful, heavy-duty ceiling fan also arrives with a remote and is the quietest ceiling fan out there. The light fixture can easily be switched from a subdued glow to an intense beam.
Kichler Ezra 52 Inch Ceiling Fan – Best Budget
** This product is currently not available.**
The Kichler Ezra is a standard and durable ceiling fan that is renowned for its clean rustic look. It boasts 5 blades which produce airflow that can easily accommodate large spaces. Designed with a basic structure in mind, this fan is sure to blend right in with your colour palette.
Mechanism
This 52" ceiling fan is a basic but beautiful ceiling fan to adorn your house with. It features blades pitched at 12 degrees and a powerful reversible powerful motor. It runs pretty quietly despite working at an excellent pace.
The Ezra also arrives with a delicate light fixture that you can easily control using a pull chain. It is also low-ceiling optimised.
Aesthetics
A lustrously natural satin finish along with elegant pull chains, frame any place with a classic richness while the LED lights cased in satin etched glass give a frosted effect and soften the harsh light temperature to a cool glow.
This ceiling fan will surely standout in any interior owing to its rich contrasting colours and stylish design.
Speciality
This ceiling fan combines new and innovative technology to provide maximum airflow. Having 5 reversible blades that alternate between nutmeg and espresso finishes, this fan boasts a pretty rustic look that will complement any traditional interior setting. It also has 1600 lumen light bulbs and a powerful induction motor.
Kichler Starkk 52″ Ceiling Fan
** This product is currently not available.**
This Kichler masterpiece is everything you dream of in a ceiling fan. Excellent quality, quiet motor, maximum airflow along with an eye-catching, aesthetic design this is the ultimate modern invention. Not only is it stable and wobble-free but also built using quality materials to help it last long.
Mechanism
A white wood finish ceiling fan with fitted halogen lights. This widespread machine blends excellent working power with a soundless motor all the while flaunting an impressive, elegant front. Built from durable materials such as metal and glass this is a safe option if you want a top-rated ceiling fan that will last long without replacements.
The unparalleled quality along with beautiful craftsmanship creates a truly stunning machine to adorn your house with and gives maximum airflow due to its powerful motor.
Aesthetics
A classical blend showing off a rich contrast with the dark blades and the polished centre. This piece is perfect for any living rooms or dining areas to triple the coziness of the ambiance. The satiny look of the blades also complement the halogen light fixture and the fluorescence turns to a beautiful, pearlescent glow.
The best part is how effortlessly it matches with any interior owing to the beautiful, versatile shade offered. Fix it anywhere and it will spruce up the look of any room instantly!
Speciality
Easy to use pull chains make it simple to turn the fan on and off while the detailed instructions further simplify installation. A quality build that integrates aesthetic appeal with long lasting functionality.
Another aspect that we like about this fan is that it comes in a lot of variations. From size, light bulb type, to color. It comes in 5 colors:
Old bronze
Matt white
Natural brass
Polished nickel
and Brushed nickel
As for size, it comes in three variations – 42, 52, and a 60 inch variation.
You can also choose between LED and halogen bulbs with your purchase.
What to Expect from Kichler
Unique masterpieces

Kichler is renowned for producing state-of-the-art machines that are diverse and unique in every aspect from their style to their working, as is evident in our Kichler ceiling fan reviews. They have covered everything under one roof.
Such an example is their top-rated bestseller Kichler Link Ceiling Fan. This is a stylish and modern innovation that combines elegant style with efficient machinery in a classic design. It is sure to spruce up any dull interiors instantly.
Another example of such is the Kichler Terna 3. This ceiling fan is a petite machine that produces adequate airflow to provide maximum coolness while its integrated light system adds soft warmth to any interior. The shape not only saves space but also does so elegantly due to its richly polished surface.
Designed to meet your needs & requirements
The aspect that sets Kichler fans a class apart from the rest is the versatility it flaunts. Kichler ceiling fans are excellent when it comes to providing a wide range of products in all assortments and will definitely aid you in purchasing the best according to your requirements.
Kichler's official website too flaunts their range and even in that you get a variety of options such as choosing size, colour, blade finish, light fixture and even the choice to change the casing of the light fixture.
Quiet air blowers
Though integrated with powerful AC motors, these fans are as silent as a west wind. Their sturdy build allows them to maximise airflow while their stability reduces any wobbling and thus making them very noise-efficient.
For the ultimate quietness, these fans are ace as they operate without the annoying clatter and racket that often comes with light-integrated fans. Their cleverly-planned design disallow the parts from moving too much and all you get from it is a rich & cool silence.
Reliable products
If you comprehensively review their website and checkout their specs, you'll see every ceiling fan is uniquely built using an assortment of sturdy materials. Sometimes the blades are polished wood while the centre is cased opal. Other times there are polycarbonate blades with metal centres.
Even their light fixtures are cased in strong etched glass so you can be sure that these machines last long and are reliable purchases. They also cover everything with a 1 year warranty along with part replacements.
Lack of smart features though
Remember we said at the beginning of the article that there are some factors that you need to know before you make your purchase? One such aspect to know is that, though Kichler fans are very quality products, however in this evolving era, you would expect your ceiling fan to be Smart Control Adaptable, which Kichler fans lack. These ceiling fans do not have WiFi control nor can they be synced with Google Home or Alexa which is a setback.
Minka Aire fans are ahead of the game when it comes to smart technology so if you're a tech-freak you should check out their ceiling fans.
So, Are Kichler Ceiling Fans Good?
Kichler ceiling fans have earned a reputation for putting out excellent quality into their long-lasting products that are functional and beautiful at the same time. Built using pliable materials such as steel and wood, these fans are also guaranteed to last a long while.
They also offer certifications to ensure that their products are optimized for outdoor use and are suitable for wet locations. This feature makes them ideal for patios and pergolas.
Their affordable statement pieces blend elegance along with quality and the finished product is a masterpiece that lasts long and does so effortlessly.
We hope our Kichler ceiling fan reviews has helped you find your choice. And if you're asking, yes! We definitely recommend their products.
What's Next?
Check out fans from other popular brands, such as Hunter, Emerson, Prominence Home, Quorum, and Craftmade.
Since you will be buying a new fan, here's how to take down the old one, and here's how to clean it.
And finally, here are our top ceiling fan recommendations from all brands.