Note that the products discussed on our site are independently selected by our editors. Your purchases through our recommendations may earn us a commission at no extra cost to you.
Ceiling fans are a crucial piece in any room, especially in areas where air conditioning is not standard in most houses or apartments. What is unclear for many people though is which ceiling fans will be the best possible ones that they can get for their money, and what do some ceiling fans offer that others don't? One thing that makes ceiling fans different is how many optional speed levels there are. While some have multiple options some come with only one set speed.
Another aspect that you must consider when buying ceiling fans is brand. A unit made by a reputable brand is going to be of much more quality than those cheap ones found in the downtown stores.
Speaking of brands, one famous brand that comes to my mind right now is Emerson. They make beautiful, functional, durable, and top-notch ceiling fans all the time. Here the some of the Emerson ceiling fan reviews to help you make a firm decision.
Best Emerson Ceiling Fan Reviews
Emerson CF712ORB Pro Series 50-Inch Fan
** This product is currently not available.**
This ceiling fan comes in a beautiful bronze color with five reversible spinning blades. On one side of each blade the color is dark cherry and on the other side of the blades the color is medium oak. The lights are concealed behind a frosted glass dome which hides three light bulbs. Each of these light bulbs is a candelabra style and 60 Watts.
The size of this ceiling fan measures up to be 50 x 50 x 50 inches and despite having two cords, where one controls the light and the other controls the fan's spinning, using these will not always be necessary as the manufacturers also sell a remote control so you can adjust the fan without needing to leave your seat.
When it comes to mounting the fan to your ceiling, your ceiling does not need to be perfectly flat. For anyone who is looking to mount this ceiling fan onto a sloped ceiling, this can be done with the additional purchase of a rod extension. In the event however that you are not sure how to mount a ceiling fan or simply don't wish to do it yourself, you are given the opportunity to purchase professional installation.
The overall rating for this ceiling fan is positive with an average rating of four out of five stars stretched among two hundred forty-seven posted reviews. If by chance the fan is not to your liking it comes with a limited lifetime warranty.
Emerson CF542ORB Veranda 42″ Ceiling Fan
** This product is currently not available.**
This ceiling fan was designed in a specifically unique way in that it allows installation in both indoor and outdoor settings. This little fact makes it a good choice for people that want to add a ceiling fan to their porch, so as to be able to still enjoy being outdoors despite the heat. Plus this ceiling fan weighs only a meager twenty pounds so lifting it for installation is simple. Given that it is primarily designed for outdoor use this fan does not come with a light fixture on it, however, it is light fixture adaptable meaning that one could be attached. If you choose to do this, this specific fan even comes with a light kit included in the box preventing you from needing to make additional purchases.
This ceiling fan is compatible with any of their separately sold remote controls and remote control receivers but even without this, you are still able to switch your ceiling fan on and off using either the pull cord or wall switch. It has five durable bronze blades that are designed to handle any weather conditions and measures to be 42 x 42 x 13.8 inches, so you can be confident in the strength that this ceiling fan has and the abilities of it to suit its purpose. In this way, you can feel confident that your ceiling fan will be safe but still cool you down significantly when it is installed on a porch or patio.
Emerson HF1160BQ 60″ Industrial Fan
** This product is currently not available.**
Much like the one previously listed this fan is designed with the intention of cutting through even the most stifling of heat. The key difference between the two, however, is that this ceiling fan was created solely for indoor use. This makes it the ideal candidate for use in places such as warehouses, where employees are constantly completing manual labor that makes them feel the need to cool down.
Unlike the others this fan also has three blades instead of the standard five blades, none of which are reversible so there is limited variety in which was the fan circulates the air. Another thing in terms of limited variety is the fact that this fan comes only in one set speed with no cords to make it speed up or slow down. Because it lacks these cords turning the fan on and off must instead be done via the wall control.
The diameter of this ceiling fan is sixty inches which makes it one of our larger fans, but in the case of its purpose, this is a good thing because the larger the blades are the more air circulation they will cause.
Another reason that this fan is so suited to the industrial environment is its durability. Each blade is made up of chemical-resistant material so that any harsh chemicals found in places such as manufacturing plants won't damage it. Even so, it is best to limit this fan to dry areas.
Emerson Midway Eco Fan
** This product is currently not available.**
Next up on the list is Emerson CF955LWW 54″ Midway ceiling Fan. This fans beautiful white look has easily pushed it to our Emerson ceiling fan reviews. Due to its contemporary look, it is also a great fan for bedrooms. What's unique about this fan is that while the others were designed to cool down larger, and typically very hot, spaces this one was made with more of a minimalistic vision. On the list so far the Midway fan is by far the most energy-efficient and that can largely be attributed to its small size. This ceiling fan measures to be only fifty-four inches in diameter and ways a mere twenty-five point seven pounds which also helps aid not only to its low power consumption but to how easy it is to install as well.
While the other larger sized ceiling fans typically take around fifty to sixty Watts of power to run efficiently this ceiling fan only takes a total of thirty Watts, around half the size of larger industrial-sized fans. It comes in a stunning white designed to closely replicate that of other household appliances and has an LED light equipped to it. This light is able to be controlled remotely with any of the manufacturer's purchased remote controls and remote control receivers.
The blades of this ceiling fan have been specially designed to tilt at a twenty-nine-degree angle. This allows the ceiling fan to work more efficiently by allowing the right amount of aerodynamics. This way the ceiling fan is able to push enough air throughout the room to cool it down but can also move at a fast enough speed that the temperature difference is noticeable.
We have covered this fan in a more detailed review. Check out here: Emerson Midway Eco review.
Emerson CF905ORB 52″ Prima Snugger
** This product is currently not available.**
Measuring out to be only fifty-two inches in size this ceiling fan was designed with the intention of producing a ceiling fan that was unique, stylish, discrete, and yet still very effective to its purpose. One key attribute that helps it reach the goal of being discrete is that it does not hang down as low into a room as many other ceiling fans. Instead, the point from the base of the ceiling fan to the lowest hang point of the blades measures to be only seven inches long. This can be handy for people who wish to put a ceiling fan in their office, home library, or anywhere else that the blades could run the risk of hitting a bookshelf.
The color of the blades, which are reversible to personalize the amount of air circulation produced, are oil rubbed bronze and the ceiling fan's frame is bronze as well. This color set can make it a beautiful addition to rooms composed of many pieces of dark wood furniture because it will not draw away from the room's decor.
It measures to be only 52 x 52 x 52 inches and weighs seventeen point eight pounds. This ceiling fan does not come with a built-in light fixture but is another example where ceiling fans made by this brand are made to be quite adaptable. If you do find that you need it to have a light fixture you are able to purchase one.
Emerson CF621VNB 52″ Batalie Breeze Fan
** This product is currently not available.**
Created solely for outdoor use this fan has a unique design that allows it to not only fit into but also add something to any outdoor patio decor. Each of the ceiling fan's five Venetian bronze blades are shaped similarly to plant leaves and upon closer inspection, an intricate pattern is carved into each one that is very similar to a wicker basket.
Something that is unique about this particular fan is the options you have in terms of its controls. The first thing is that in terms of speed you have three levels so you can be sure to get just the right breeze when lounging around outside. Another thing is that the motor is reversible so you can control which way these blades rotate. Although this may not seem like a big deal the way the blades rotate play a larger part in how effective they are at cooler down a given space.
This ceiling fan seems to particularly be a favorite among consumers because out of the entire forty-one reviews it has received most people are singing its praises, giving it the resulting rating of four point seven out of five stars.
This outdoor fan does not have a light fixture but one can be purchased separately for it. One downside about this ceiling fan is that it does seem to take up a large amount of power using an entire seventy-five Watts but that is likely because it works so well.
Emerson CF500AP 56″ Euclid Pewter Fan
** This product is currently not available.**
A unique design choice with this ceiling fan is that given its colors it combines both antique and modern aesthetics. The five blades are designed to look like different shades of wood, the most common of which is a dark grey color, and the center of the base looks similar to a large metal gear that provides a unique look.
Something that is fairly notable about this particular ceiling fan is the fact that it does not have the typical two or three-speed settings. Instead, it has four different speed levels so you have more options in terms of how much air circulation you want. You can have anything from a very slight breeze to a strong gust that could cool you off even in the most severe of heatwaves. This ceiling fan has a total fan size of fifty-four inches and uses up a total of one hundred twenty volts in order to operate at its maximum capacity. The wattage of this fan is also equal to seventy watts.
While it does not come with a preinstalled light fixture it does instead come with a complimentary light fixture within the packaging that you can install yourself. If you aren't entirely sure how you attach the light to the ceiling fan you can pay extra during the ordering process to have a professional come out and install it for you. They'll also install the rest of the ceiling fan so you don't have to trouble yourself.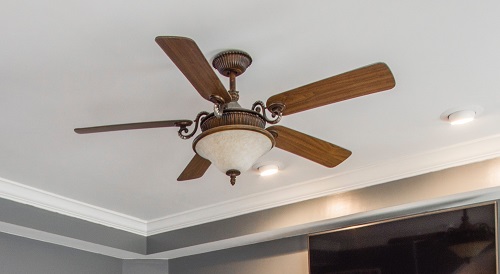 Are Emerson Ceiling Fans Good
Based on the variety that comes with each of the purchasing options for this particular brand, as well as the hundreds of positive reviews made by their consumers, I think it is safe to agree that Emerson is an overall good brand when it comes to purchasing a ceiling fan.
What to expect from Emerson
One thing that you can expect from this company is the consistent presence of both good quality items as well as excellent customer service. Via both their website and their individual listings on Amazon they offer numerous tips and pieces of information that better inform you not only how their ceiling fans work but what other options there are for their products. This way you know what you are really getting into each and every time you purchase one of their products.
Whether it be for your home, your office, or any other location by purchasing from this company you can feel safe knowing that with their expertise and willingness to help in order to satisfy their customers you are guaranteed to get your money's worth. Even though their products are a relatively decent price there is a constant sense that the money is being well spent because you are giving it to a company that prides itself on seeing that you receive the ceiling fan best suited to your needs.
While other companies may keep the information around their products generic so as to appeal to a wider audience, Emerson goes into detail to make sure you know exactly what you are buying. They specify ideal weather locations for each type of ceiling fan, various speed options, light fixtures, dimensions, and anything else that could make or break the decision as to whether or not the given ceiling fan is a good choice for both you and your setting.
You can see from our selected fans above that Emerson prides themselves in very clean yet good looking ceiling fans. They try to make ceiling fans that look very good without any unusual designs, unlike what Minka Aire does with their ceiling fans.
Final Words
We hope you liked our Emerson ceiling fan reviews. These fans are just a few to keep in mind when shopping for a ceiling fan that fits you, especially when it comes to this brand. Now you have a general idea what all this company has to offer you and can settle on one of the previously listed fans or perhaps even continue looking on your own for something you are more interested in. Either way, by seeing these ceiling fans you should have a clearer understanding and better idea just how different fans can be and why it is important to choose one that fits your needs perfectly.
If you want to try out other brands as well, check out our review of top rated ceiling fans from reputable brands such as Hunter, Harbor Breeze, Prominence Home, and Honeywell.