Note that the products discussed on our site are independently selected by our editors. Your purchases through our recommendations may earn us a commission at no extra cost to you.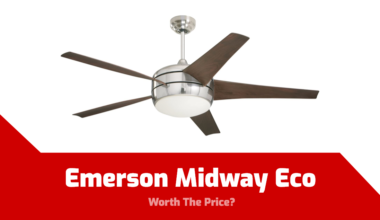 A quality ceiling fan is one of the most significant investments you can make as a homeowner. Such a device is fitted with many handy features that enable it to circulate the air inside your house evenly. In contrast, a low-quality fan could cost you more than you think. Worst still, you realize that your fan cannot circulate the air as you would like it to. This can be hair-raising, right? And now, with the ever-increasing brands in the market, it can be a challenge choosing a quality fan.
There are many ceiling fan brands in the market that make excellent products. Emerson is one of them. They make very highly energy efficient ceiling fans that cost three times less energy than other competing ceiling fans from other brands. This is possible due to a new type of motor that they have invented, namely Emerson EcoMotor.
Today we are going to review one of their fans that have this feature, namely Emerson Midway Eco model. So get ready!
Emerson Midway Eco Review: The Specs
** This product is currently not available.**
Specifications:
| | |
| --- | --- |
| Light supported | Yes |
| Blades diameter | 54 inch |
| Recommended use | Indoors |
| Wattage | 18W (Excluding lights) |
| CFM | 4290 – 6085 |
| Operating Voltage | 120V |
| Control options | Remote |
| Special feature | Highly energy efficient Emerson EcoMotor |
Why Emerson Midway Eco Fan
Emerson fans have been in the market for over 110 years now. The brand is popular for its expertise in producing home appliances that surpass their customer needs. Their fans have been rated as some of the best in the market today, and this model is not an exception.
Users who gave this fan a try were pleased by its performance, which was a great reason we settled on this model. However, there is no single fan out there with no flaws (we will mention in a minute), and the Emerson midway is not an exception. But its benefits certainly outweigh the cons ( cons?).
Now, let's delve into our Emerson Midway Eco fan review.
Styles and Sizes
One thing that makes the Emerson Eco model stand out from any other is its design. The elegantly designed fan boasts of its contemporary look and powerful motor, which is perfectly designed to withstand the test of time. The fan touts of its five sleek blades that span 54 inches in diameter, aerodynamically engineered for adequate air circulation throughout medium to large rooms.
Its brushed steel finish blends well with almost any décor, which improves your home aesthetics. That's not all. The fans come in different styles to choose from, which includes:
Appliance white
Brushed steel
and Oil-Rubbed Bronze
Such diversity in its color scheme ensures that this ceiling fan will fit any decor you may have in your house.
What We Love About Emerson Midway Eco Fan
This Emerson Midway Eco model should be your one of the go-to ceiling fan models. The fan possesses great features that surpass those of other brands of the same level, as you will see in our Emerson Midway Eco review. And below is a lowdown of some of the features that make it worth every penny.
A fan that is easy on the energy meter
As we have mentioned earlier that this ceiling fan makes use of a new kind of electric motor namely, Emerson EcoMotor. We have previously explained how little ceiling fans cost to operate. Almost pennies. And then you have this Midway Eco model that uses three times less energy than conventional ceiling fans at only 18 watts! The result? A ceiling fan that gives you chilling breeze almost for free. Perhaps this is the best selling point of this ceiling fan. Safer for the planet, easier on the wallet. ?
Simple and sleek, and modern
A quality fan doesn't need to be complicated, and that's what Emerson offers. The fan features a simple design, which makes its operation seamless even for beginners. That's not all, its sleek design adds a touch of luxury to your home.
Its contemporary look blends perfectly well with most furniture styles and decors, so you do not have to worry about unplanned makeovers.
Extra illumination
Integrated to this amazing fan is a light fixture that holds 13 watt GU24 fluorescent bulbs. Included in the package are four 13 watt fluorescent bulbs, so you do not have to worry about added expenditures. The fan is also designed to allow you to upgrade your bulbs with the same or less wattage for increased luminosity.
54-inch diameter fan for medium to large rooms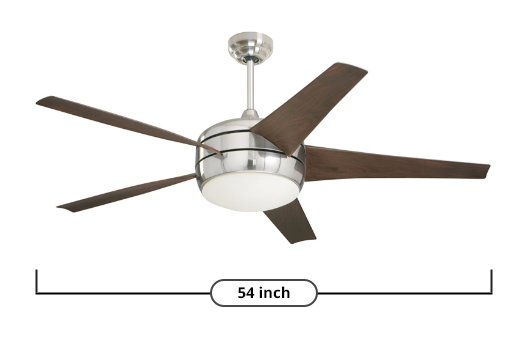 As you'd expect from such a high end ceiling fan, its blades span 54 inches in diameter, and are specially designed for medium to large rooms. The blades move air up to 40% more as compared to regular models.
The blades are housed inside a durable housing for a contemporary look that blends perfectly well with most decors.
Six-speeds remote control for precise airflow
Nobody wants to be limited to what they can do when operating their fan. And that's what this Emerson Midway eco fan offers. The fan provides a seamless control with the help of its handy remote. With a press of a button, you can operate your fan and regulate its speed, air direction, and brightness in six different options at the comfort of your seat.
Additional note: Many people find using a wall control more convenient than remotes. If you are one of them, you can buy a wall control for this ceiling fan here: 6 Speed Wall Control.
Dark or light – both available
This fan comes in both dark and light themes. So whether you want a light or a dark ceiling fan to complement your interior decor, this fan is sure to suit your needs.
Quiet performance
A noisy fan can disrupt your night's sleep. Worst still, it can pollute the environment and cause restlessness to young ones. But with this Emerson Midway fan, you will enjoy a serene environment.
The fan is designed to operate quietly, even when at its maximum speed, giving you peace of mind.
Things to Keep in Mind Before Buying Emerson Midway Eco Fan
Before jumping in and pull out your card, here are things you should keep in mind.
Only for the indoors
If you are looking forward to buying a fan for your outdoor use, this Emerson Midway fan isn't for you. The fan is not designed to withstand the harsh outdoor weather conditions like gusty winds, rain, scorch sun, and moisture.
However, for those looking for an indoor fan, this model will offer you versatility. It is ideal for installation anywhere in the house, be it in your kitchen, bedroom, or living room.
GU24-base bulbs may be hard to find if you need replacements
This fan features GU24 light bulb sockets. Even though the fan comes with four GU24 bulbs for you to get started, it can be hard to find the bulbs at local stores in your area when, and if you need replacements. So before you decide to settle on the fan, make sure you have such bulbs for sale in your area. You can also contact the manufacturer to see if there is a nearby store to get the bulbs.
However, this shouldn't be a deal-breaker as you can find GU24 bulbs in many online stores nowadays such as Here.
Uses CFL lights instead of LED
The fan uses CFL lights instead of LEDs. Though there are plenty of GU24 LED bulbs available, you will be required to buy them separately. But this shouldn't be a deal-breaker too as CFL bulbs are pretty efficient as well.
Warranty Information
Emerson not only provide quality products to their customers but also offer a friendly warranty policy, and this fan has not been left out. In their warranty policy, customers are given a lifetime cover for any materials and workmanship faults on the motor. Warranty for its components and other accessories are covered for one year from the date of purchase.
However, you should be the fan's legal buyer or owner for you to claim for compensation. Warranty cannot be transferred to another party in an event where you opt to sell the fan.
How Does It Compare with Other Emerson Fans?
Here's a side by side comparison between this fan and other great Emerson ceiling fans.
Who Should Buy This Fan?
Emerson Midway Eco fan is designed for homeowners looking for an energy-efficient fan with a stylish look. Its elegant design brings a touch of luxury to any room and blends well with most decors.
At only 18 watt of energy requirement, this fan will give you chilling breeze almost for free! And if simplicity is your thing, this fan won't disappoint you as it is designed to look very simple and clean, yet elegant.
** This product is currently not available.**
Our Verdict
After reading our Emerson Midway Eco review, you will agree that the fan is worth every penny. Though it costs more than many conventional ceiling fans upfront, the extra cost will be well worth it in the long run due to the much reduced electricity bill that you will be paying. From its design, performance, efficiency, and durability to its looks, the fan never disappoints. Its friendly warranty is there to ensure a safe buying experience for you should there be anything wrong with your unit.
What's Next?
Check out how ceiling fans compare with stand fans and tower fans.
Here are some other great ceiling fan brands that make great products too!
Are ceiling fans outdated? Hell no! Here's why.
Should your ceiling fan replace your chandelier? Maybe yes, maybe no. Check out: ceiling fan or chandelier?