Note that the products discussed on our site are independently selected by our editors. Your purchases through our recommendations may earn us a commission at no extra cost to you.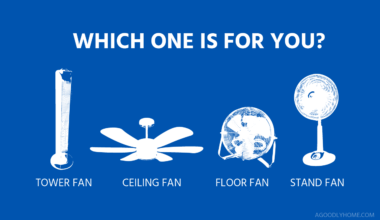 Decided to buy an electric fan?
Good decision!
Because a fan will serve a multitude of different purposes in your living space, be it your home or office. It will make your home the cozy place it should be.
Long gone are those days when a fan's only job was to produce some airflow in the room. Today's fans are, while being extremely aesthetically appealing, equipped with modern technologies that enable them to be very functional while being equally efficient. Today, we even have fans with NO BLADES that go beyond the age-old tradition of having blades.
However, when you DO decide to buy one, you could easily be confused as to what type of fan to buy as there are many different options out there. Not all fans are created for the same purpose. And this is why, to make the selection process easier for you, we came up with this detailed comparison between 4 major types of electric fans, namely ceiling fans, tower fans, stand fans, and floor fans.
We considered different factors such as their upfront price & operating cost, styles, applications, and durability, etc.
Without further ado, here you go…
Types of Fans
From an engineering perspective, there are two main types of fans; the axial and the centrifugal. While axial fans draw air through them, centrifugal varieties draw it into their center and then exhaust it at a 90-degree angle.
However, our classification aims at explaining the general kinds of fans that befit domestic users. We base our taxonomy on the design and application of different fans for home and office users. We highlight the kinds of fans found in offices, homes, and workplaces. These include ceiling fans, tower fans, pedestal fans, and floor fans.

Ceiling fans
Ceiling fans are suspended at the ceiling of a building. A standard ceiling fan has blades capable of rotating through 360 degrees. Mostly, they control the movement of air and heat from top to the bottom parts of the room and vice versa. Ceiling fans are the most popular types of fans in America. According to Opinion Dynamics Corporation, more than 19 million ceiling fans have been sold in the US every year since 1999.
Floor fan
The name tells it all- floor fans are the fans built for being placed on the ground. In most cases, they are portable and aim at improving ventilation at the floor level. Floor fans do not need any permanent installation as their construction is suited for the floor. The standard floor fan has an oscillation feature that allows it to rotate 180 degrees to provide broad coverage.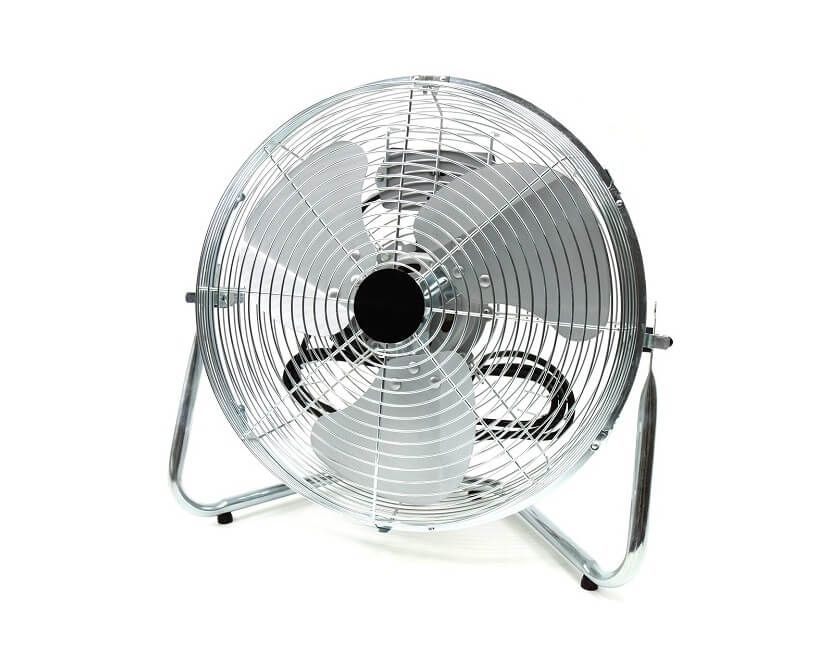 Pedestal fan or Stand Fan
A pedestal fan (oscillating fan) is an electric fan with an adjustable stand that supports it. The metal stand elevates the fan to about two to four feet from the ground. The pillar onto which the fan rotates gives it the name "standing fan." Some advanced fans have a head connected to the pedestal in a platform that can be angled up or down.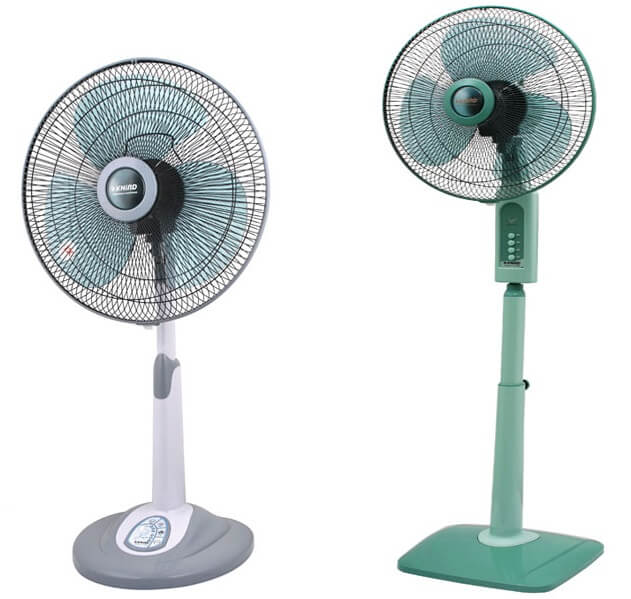 Tower fan
Tower fans are slender (just like a tower) appliances that have vertical blades which oscillate at the base. They can only blow out air at a 90 degrees angle. Because they are slim and compact, they are also portable and versatile. You can use them anywhere in your room. Although they are generally powerful, tower fans are quiet. Bladeless tower fans come with an Air-Multiplier Technology.
Summary table of the 4 types of home fans
–
Ceiling fans
Floor fans
Stand fans
Tower fans
Style
9.7*
8.5*
9.4*

9.0* for Traditional tower fan

9.6* for bladeless fan

Applications

– Commercial setting

– Blend with your home's style

– At the dining table

– Small workspaces

– Your computer table

– Study table

– Outdoors

– Large rooms

– Many guests

– Office

– Quiet enough for bedrooms

– Compact enough for a small house

Price range
$50-$750
$25-$350
$25-$250
$30- $480
Operation cost
$3.29 / month
$2.35 / month
$3.53 / month
$5.64 / month
Style – comparing styles of 4 major types of fans
Here, we'll compare fans in their respective styles. Find out which styles are suitable for you and how they make the fans different (and unique!).
Ceiling fans styles
There's a wide range of ceiling fans to choose from. The size, color, blade count, shape and technology level are the features that define a ceiling fan's style.
The downrod is one of the features that describe a fan's style. Downrod-type fans are ideal for high ceilings. It's crucial to understand that a downrod plays a vital role in ensuring that ceiling fans don't fall.
Then, the number of blades can tell what type of ceiling fan you have. Some have 2, 3, 4, 5 or even more blades. Quiet fans tend to have more blades.
Ceiling fans have different blade pitches. The pitch is the angle it forms with a 180-degree horizontal ceiling. The optimal pitch is about 12 to 15 degrees. The pitch dictates the amount of air the fan can circulate.
Lastly, you can choose to install fans with a light kit, or those without. The amount of light you need in your house, as well as the power costs, will guide you into making your decision.
In terms of elegance, ceiling fans are the most stylish fans, and that's why they earn a 9.6 (editorial) star rating. See our best ceiling fan review to experience the various styles you can find.
Additionally there are small room ceiling fans as well that are usually very small in size. Such fans are a great fit for narrow ceilings such as a bathroom, dryer room, or a corridor. They add great aesthetic value and circulate air efficiently, all at the cost of pennies!
Floor fan styles
As the name suggests, a floor fan is purposed for the floor. Floor fans have blades enclosed in a metallic box. The box is made of resistant plastic or steel mesh. Such a box is crucial in preventing any damage or injury caused by the rotating fans.

The fan's stand has two or more strips which serve as the supporting legs. They prevent the fans from tipping over.

Most floor fans work by pushing air from the back towards the front. Anything in the way of the moving air might feel a cool breeze. However, the fan doesn't actually cool you- it's the movement of the cold fresh air that does.

Some modern floor fans come with thermal systems which you can use to cool or provide heat. Such fans have thermostats which control how much temp, and the rotating blades distribute it around the room.

Floor fans come in a wide variety of styles. Vintage designs aficionados can choose grey, metallic floor fans. Dark color fans are suitable in a house that has traditional furniture and appliances. However, you can still choose other colors and designs depending on your preferences.

Because floor fans are primarily designed to sit at the floor, they aren't always made for elegance. But you can still make a good choice of color and design. We rate floor fans at 8.5/10.
Pedestal fan AKA Stand Fan styles
A pedestal fan is a fan head mounted on a stand. The stand has a broad base or spread-out strips for support. The fan head consists of the rotating blades (works quite similar to a ceiling fan in terms of the mechanics). Then, the blades are enclosed in a metallic wire mesh or PVC box.
The height of a standing fan can be between 12" to 6 feet. When the stand is short, the appliance is just referred to as a portable fan. Ideally, the best portable fans can run on rechargeable lithium-ion batteries.

The majority of pedestal fans have adjustable heights. Set yours to be high or low depending on the size of the room. Large rooms would need tall stands as this broadens the area that the fan can cover. When you're alone in a small room, you'd just need a medium height.

Due to their customizable features, pedestal fans are also referred to as personal fans. However, some personal fans are so small they can be held by hand. The standard small-sized pedestal fans can be placed at your office or study table. Others are huge and ideal for the large rooms in your house.

Many modern fans have remote control options. The settings include changing the speed, counter-rotation as well as the height of the stand.

Pedestal fans also come in a wide array of sizes. Noteworthy, the length of the blades determines the size of a fan. The blades of standing fans can be as small as 12 inches and as large as 30-inches.

In terms of elegance, pedestal fans come in different designs and colors. So, you get to choose what suits your home's style. If yours is modern, you can always go for the remote-controlled white or silver floor fans. You can also decide to pick the traditional gray, black or brown colored fans. In short, there's a design for every kind of home style that you need. Due to the wide variety of styles offered by pedestal fans, we rate it at 9.4/10.
Tower fan styles
Tower fans oscillate right and left to maximize air circulation. The fans come in a wide variety of styles and types — some sit at the windows, others on tables, floors, or even counter tables.

Many chefs love to use tower fans due to their exclusive cooling option. They are compact and lightweight. You can choose these sleek bladeless tower fans or the traditional varieties.

In terms of elegance, the bladeless units are cute and fit well in modern styled homes. We rate their style at 9.5 stars. The traditional tower fans also prove to be stylish and fitting for modern decor. If you have Alexa (Amazon Echo) or Google Home, you have an idea of how the fans will be like in your house. We rate tower fans at 9.0/10 elegance.
Applications/Functions of Electric fans
A fan is a crucial supplement for your HVAC systems. If you want the thermostat or Air Conditioner to be effective, you need a fan to distribute the air and heat around your room. A fan will also deal with smoke- if you live or work with smokers, you'll undoubtedly need a fan to handle that. Then, you can keep the humidity and temperature of your room in check using a fan. Plus, if you are thinking about making your home beautiful, fans could be your way to go.

However, there is a type of fan for each function. Below are the different situations that are suited for specific fans.

Applications of Ceiling fans
Ceiling fans are the best fans for commercial places because they are large and powerful. Further, ceiling fans have aesthetic qualities as you can blend them with your home's style. A ceiling fan fits in the traditional setting of a dining table. If you haven't installed a chandelier yet, you can still use a stylish fan. See our post on situations when ceiling fans are better than chandeliers.
There are ceiling fans that come without lights, and there are those that come with beautiful light kits as well. Such a ceiling fan with light kit can easily prove to be a great alternative to ceiling and wall lighting fixtures such as wall sconces, regular wall lights, and chandeliers.
Floor Fan Uses
If yours is a small workspace, then you need to get a floor fan. A fan that freshens the air near a floor is ideal for your computer table, closet, shared office space and any other personal place. If you're still in school and you have a study table at the corner of your room, a floor fan would ensure you get clean air so that you can concentrate on your studies.

Pedestal fan applications
A standing fan is the best deal when it comes to large rooms. If you have many guests and your ceiling fan seems to be needing some reinforcement, then the pedestal fan could come in handy. Normally, a standing fan works well in the study room.
Uses of Tower fans
Tower fans and bladeless fans are the best to use in your bedroom. They are quieter- yet more powerful – than the ordinary ceiling and floor fans. The best tower fans are also compact, and this saves space. If you live in a small house, then you might want to save more space; and, tower fans could do that for you.
Price Comparison for Electric Fans
Different fans have different buying, operation and maintenance costs. All these costs depend on the specific brand's power consumption per hour, its features as well as market value. If your fan has in-built lamps, for instance, it will be expensive to buy and operate.

Another factor that might affect the maintenance cost of a fan is the cost of power in your state that needs no explanation. In this section, we're going to calculate the cost of maintaining each kind of fan.

According to the US Energy Information Administration, the average price for a kilowatt-hour in America is 12.47 cents as of 2018 December.

Therefore, in all our calculations, we shall assume that the cost of electricity in the USA is 12.87 cents per kWh. We, however, urge you to find out the specific charges in your state. For instance, the price of a KWh is as high as 34.43 cents in Hawaii and as low as 9.02 cents in Arkansas.
Cost of buying, operating and maintaining a ceiling fan
Typically, ceiling fans are more expensive than portable pedestal fans. However, a modern ceiling fan consumes less power than a pedestal fan. The pedestal is smaller than a ceiling fan and thus has to spin faster than it to match its power. But, that's only the case when the ceiling fan does not include lamps.

A ceiling fan can be as cheap as $50-$60 and as expensive as $1000 or even more. For instance, at the time of writing this article, Haiku Home L Series 52″ costs $738, while Prominence Home 80092-01 Alvina Ceiling Fan goes for as low as $60.
A standard ceiling fan runs on 70 watts of power on average. So, here's the cost of operating a ceiling fan per hour, overnight, monthly and yearly.

Per hour= 70W x 1 hour x 12.87 cents/kWh = 0.9009 cents
Overnight = 70 W x 12 hours x 12.87 kWh = 10.8108 cents
Monthly = 70 W x 12 hours x 30 x 12.87 kWh = 328.86 cents (or $3.29)
Yearly = 70 W x 12 hours x 365 x 12.87 kWh = 3946.37 cents (or $39.5)
Cost of buying and operating a floor fan
A standard floor fan costs between $25 and 350 dollars. In most cases, floor fans are more powerful than pedestal fans. An example is the STANLEY 12 Inch Industrial High Velocity which runs on about 55 watts. Let's do calculations about how much it'd cost to run the floor fan.

Cost per hour = 1 hour * 50 * 12.87 kWh = 0.71 cents
Cost overnight = 0.71 cents * 12 hours= 8.52 cents
Cost per month= 8.52 cents * 30 days = 255.6 cents ($2.57)
Cost per year = 255.6 cents * 12 months = 3067.2 cents ($30.67)
Note: because you won't run the fan everyday of the year, the actual energy cost will be a lot less than that.
Cost of buying and operating a stand fan
How much a pedestal fan costs depends on its construction, features and technological level. A metallic, programmable and remote controlled pedestal fan is more expensive than a simple, plastic and manual fan.
For instance, at the time of writing this article, the Comfort Zone CZST161BTE goes for as low as $28, while the price of a Vornado CR1-0244-75 is about $250. Thus, the price of a pedestal fan usually ranges between $30 to over $400. Check out our best pedestal fan review for a better insight.
Operational cost of a Stand fans
Let's assume you have a Stand fan that consumes 75 watts of power while running. Thus, you will need to multiply 75 watts (1 hour) by 12.87 cents divided by a thousand.
Price of operating a pedestal fan per hour = (75W) x 1 hour x 12.87 cents/kwh = 0.9652 cents per hour.
Price of operating a pedestal fan overnight = 0.9652 cents per hour x 12 hours= 11.5830 cents
Per month= 30 x 0.9652 x 12 = 352.35 Cents ($3.53)
Cost of operating a pedestal fan per year =0.9652x 12 x 365= 4228.26 cents= $42.2826
How much does it cost to use a tower fan?
A traditional-styled tower fan goes for $25 to $100. However, advanced modern models such as the Dyson AM02 may go for up to $480. The high-end Dyson tower fan runs on about 65 to 120 watts. So, how much do you need to run the tower fan?

Cost per hour = 1.5444 cents
Cost overnight= 18.5328 cents
Cost per month= 563.77 cents ($5.64)
Cost per year= 6765.21 cents ($67.65)
Durability of fans
A fan's lifetime depends on its applications, design, and construction. Metallic fans last longer than plastic and synthetic structures.

Then, a compact ventilation device has a long life. A small machine has its features held together and, this means they don't dislocate or disintegrate in case of a shock.

ENERGY STAR kits outlast their counterparts. First, they are cheaper to maintain as they are power efficient. Second, such fans have a 30+ year's motor warranty.
Wrapping up
There you have it. We tried to compare the 4 major types of electric fans
used at homes and offices, namely, tower fans, ceiling fans, floor fans, and stand fans.
Now it's upon you to dig into your case and see which type of fan fulfills your needs the most.
Image Credit: tower fan and stand fans in the featured image were captured by Donald Trung Quoc Don and Khindmis, Wikipedia users, and are licensed under Attribution-Share Alike 4.0 International and Attribution-Share Alike 3.0 Unported respectively. Changes were made.