Note that the products discussed on our site are independently selected by our editors. Your purchases through our recommendations may earn us a commission at no extra cost to you.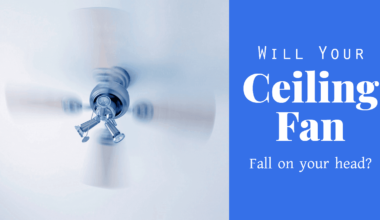 Have you ever stayed up wondering if the ceiling fan in your room can fall and injure you or your family members?
You're not alone! There's a lot of fuss about whether ceiling fans can fall. A lot of people have fear of their ceiling fan falling on them while sleeping and potentially crushing their heads, making them unable to wake up ever again.
During the energy crisis in the 1970s, the government of South Korea wanted to reduce energy consumption by the country's households. Consequently, they peddled propaganda that claimed "fan death" trolls were high. This propaganda was based on a 1927 article about how electric fans caused strange harm. Even today, most people in the country have such an attitude towards ceiling fans.
So, can ceiling fans fall and kill you? What is the probability of a fan injuring you?
In this post, we're going to dissect the safety of a ceiling fan. Further, we'll provide a comprehensive and actionable guide on how to stay safe.
But before that, let's understand how a ceiling fan works.
Related: here are a few hot selling ceiling fans on Amazon.
Images from Amazon Product Advertising API / Affiliate links / Last update on 2020-11-28
Components of a ceiling fan and their injury potential
To understand the safety of using a ceiling fan, it is important to pay attention to its components. The functionality of its components influences any defect of the fan. Below are the vital components of a ceiling fan.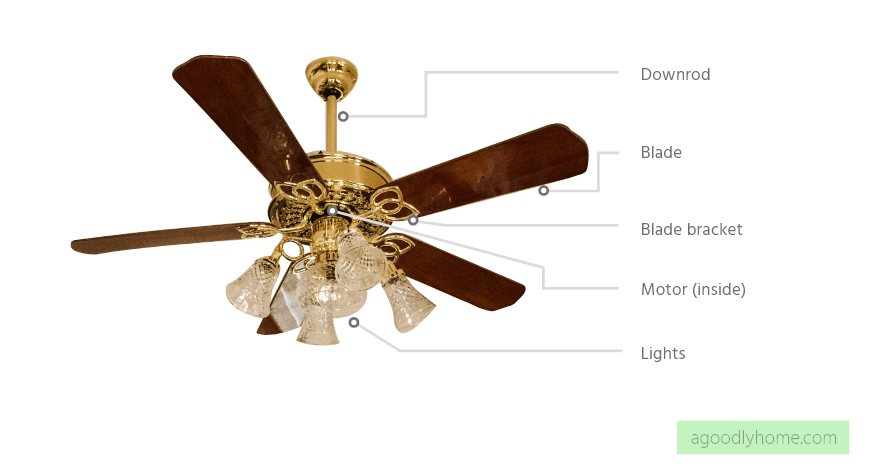 Down rod
The downrod is a metallic, wooden or plastic bar that suspends ceiling fans from high ceilings. The rod is crucial in the safety of a ceiling fan. A down rod's strength dictates whether it falls or not.
Electric Motor
The motor is the most crucial component of a fan. It converts electricity into motion. In short, electric current flows through the motor, and this makes it produce mechanical energy. It is the motor that rotates the blades.
Noteworthy, the motor is the weightiest part of the fan. It's mostly metallic, and the size varies with the application of the unit.
The Blade Brackets
The blade brackets connect the blades to the motor, and are usually made of metal.
The blades
Standard ceiling fans have two to six blades. Sized and weighted to precision, and are made from plastic, metal or wood. Typically, heavy models have fewer blades than lighter units. For instance, large industrial brands have two or three blades while home ceiling fans have four to six.
Lights
Modern fans feature light fixtures. They are either located above, inside or below the motor. The bulbs, like the motor, run on electricity, and are usually replaceable.
Common fan defects
A fan – like any other appliance – is vulnerable to defects now and then. Fan problems originate from the screws, fan components or the surrounding. If the screws are not well fitted, the fan may become imbalanced and wobble.
Unchecked electric current can damage the fan's inner components. This makes the ceiling fan to malfunction. A spoiled fan's electronic system could render the unit useless or ineffective.
The surrounding may also affect the functionality of a ceiling fan. For instance, if the material onto which the unit is mounted is not stable, the fan may wobble around. And if the fan is low and near the floor, it might be disturbed by furniture, lamps or other appliances. In severe cases, a low-placed fan may even shave people's scalps.
Wobbling
When the fan blades are imbalanced, the unit is likely to wobble. The imbalance may come about when one blade is heavier than the other.

Or, when the distance between the blades is not even, the fan may slant towards one side. This often produces an annoying noise.
If the fan is not well-mounted, or the screws are loose, wobbling could eventually lead to a fall. However, the chances of a wobbling fan falling are very low.
Faulty motor
Sometimes, electric current may burn out crucial components of your fan. The motor is the most vital of these components. As aforementioned, a motor is the central part of a fan as it rotates the blades. If a motor is burnt out, you should replace it. Usually, ceiling-fan motors are costly, and it's more efficient to replace the whole unit than to buy or repair the motor.
Fan falls
A fan falls when a part or the whole unit responds to gravity. Falling fans are very infrequent. Few fan falls have been recorded in the last ten years. Mainly, fans would not fall by themselves. They only collapse due to rotten wood, damaged ceilings or improper installation.
Fact checking: Can Ceiling fans fall and kill you?
How safe are ceiling fans, and can they fall? These are questions that only experts can answer- and that's why we're here! To explain this fully, we need to address four main issues:
how easy or hard it is for a fan to fall?
how much force a standard ceiling fan exerts on the ground if it acts on free fall?
How much weight is needed to crush a human's skill?
With facts from the findings above, we can easily tell if a ceiling fan can fall and kill an adult human. So, let's jump to the stats.
The possibility of a fan falling
Mathematically, 50% is the most straightforward answer to give. However, this assumes there are only two chances available- to fall or not to fall. But, the probability of a running ceiling fan to drop depends on several other factors. These include the motor's rotations per minute, the weight of the fan, the mass of the blades, and gravitational pull among others.
Also the mounting bracket and the down rod both need to be strong enough to hold the weight of the fan.
A good rule of thumb however, is that as long as no external factors are acting upon the fan, the probability of a fall is negligible.
Stats of adults decapitated by a ceiling fan
The number of injuries or deaths caused by fan falls every year is unknown. Simply put, it's too negligible to be recorded.
Maximum force exerted by a falling fan
The ordinary ceiling fan has a mass of about 15 to 35 pounds (6 to 15kg). If it is located 8 feet above the ground, such will exert a force of 60 to 150 newton. A standing adult will only get a little hurt, not killed. Below is why.
Amount of force needed to decapitate an adult
This may come as a surprise, but did you know that a human skull is stronger than steel (of the same mass)? Yes, you read that right!
According to experts, "the thinnest region of the skull bone is about two centimeters above and in front of the top of your ears. Sort of where your temples are. To fracture the skull there would require 500 kgf, or the force that 500 kilograms (1,100 pounds) would exert in standard gravity." End Quote.
So there you can see it, the force exerted by a free-falling ceiling fan is not enough to crack a human skull.
Fact checking verdict
Fan falls are extremely rare. The number of casualties resulting from ceiling fans is negligible. Domestic fans falling from an ordinary ceiling don't have enough force required to kill a healthy adult. In fact, according to research in Kuala Lumpur, fan accident-related head injuries can be fatal, but they are only caused by "ignorance and negligence."

How to prevent a ceiling fan from falling
Just because fan-related accidents are rare doesn't license people not to take precautions. If you fear that your ceiling fan will fall, here are some of the measures to save you.
Fix height issues and fan clearance
The height of a room is a significant factor when it comes to preventing accidents caused by ceiling fans. Fans that are close to the floor will often stay in the path of walking humans or other objects. Such disturbances may swing the fan, hit it, or even damage it. Fixing the height and clearance issues will prevent mechanical damage or forced fan falling.
The average human adult is 5.9 feet tall. Thus, the fan should be higher than that. The rule of the thumb is to mount your ceiling fan at least 8-10 feet from the floor. This allows tall adults to move freely around the house.
Again, the fans need to have enough clearance. Fan blades should be far from the wall. Ensure yours is at least 18 inches from the wall.
Tighten screws
Loose screws are one of the most significant causes of fan falls. As earlier stated, the chances of a fan falling are insignificant. However, you should step in and tighten screws as soon as you notice wobbling. The screws need to be tightened during the installation: but, you should make sure they are always close-fitting.
Tightening screws is a simple process that requires a screwdriver. You don't necessarily need special skills to fix your fan's screws. First, switch off and hold the fan tightly when working on the screws. Flip your electricity connection to ensure the fan doesn't start when someone turns it on by accident.
After cleaning the fan (if needed), check and tighten all the visible screws. A fan usually has a number of visible screws connecting its different components. Hand-tightening the screws is enough. But, you can use an electric screwdriver for large industrial fans. Then, switch the fan on, and check if the problem is fixed.
Regular maintenance
How often do you do maintenance of your ceiling fans? Keeping your fans in check after every six months is important to ensure a safe experience.
This ensures that you will be able to spot out any abnormalities regarding the functioning of your fans as soon as they start to creep in. You will be able to fix those problems before any fatal accidents happen.
Apart from that, regular maintenance will ensure the fans well being, and increase its longevity.
What follows are a few tips on how to do maintenance to your ceiling fans —
Cleaning, lubricating, straightening blades, and tightening screws are some of the maintenance activities that keep your ceiling fan functional.
You should clean the fan biannually (twice a year). Use a ladder or a stool to elevate yourself. Brush the blades and remove the sticky stains using a soapy dank cloth. Vacuum out the motor to remove the dust. Cleaning prevents rusting.
Lubricate the fan every two months if you do not use it 24 hours a day. Fill the oil until it flows over and then wipe out the excess oil with a cotton cloth. Lubricating the fan keeps the movable parts functional for long. It also prevents wearing out of crucial components.
Also, check the mechanics of the fan about once or twice a year. First, you need to tighten all screws- as we've already stated above. Then, make sure that the blades are balanced. A fan balance kit will help you with this. A balanced fan will not wobble… unless there is another problem.
Another important factor that you need to consider when it comes to ceiling fan maintenance is its direction. Modern ceiling fans offer a feature called reverse direction. What it means is that there should be a switch somewhere on the unit that, if you flip it, the fan will start rotating in the opposite direction to the normal anti-clockwise direction.
Although fans do not heat up or cool the air in a room, they speed up the diffusion of temperature. Fan blades move air around the room when they rotate. The direction of their rotation determines how air and heat are distributed throughout your house. Thus, a fan that turns the wrong way could have a reverse effect of what you expect.
Experts say that you should set your ceiling fans to rotate counterclockwise in the summer, and clockwise in the winter.
Hire professionals to install the fans
Although mounting fans on your ceiling sounds easy, it's quite a sophisticated task. You need to check the weight and length of your blades as well as the motor speed. All these factors determine the momentum or force that the blade exerts on the blades. The momentum created by blades and the construction's capability to hold it dictate whether the fan is safe or not. In short, of not well installed, a ceiling fan can indeed fall!
Hiring experts to install your ceiling fans may cost you a few dollars, but it will keep you safe. A fan installation technician is not only trained but also certified to do the work. Look for a fan company or interior installations agency. Such a company is responsible for the installation and will even provide a warranty.
In short, get a professional to install your fans for you, because apart from their skills, they are ready to be held accountable.
Buy the right fan
Not every ceiling fan that pleases your eyes is ideal for you. The efficiency of a fan depends on how the features are suited for the environment. For instance, if your house or office is in a wet or moist place, make sure to use special fans rated for such an area. Normally, a damp environment can cause the fan rust. This would reduce your fan's lifespan.
Notably, most fans are not designed for outdoor use. Humidity, heat UV light, and rust often damage ceiling fans. If you want outdoor or bathroom ceiling fans, be sure to buy fans rated as "WET." Such fans have sealed motors, UV-resistant blades, and non-rust material such as stainless steel. You can refer to this buying guide for more information about picking the right unit.
Further, ensure that you're buying high-quality fans. Get warranted units from companies that you can hold accountable. Remember, you can sue a fan manufacturer or installation firm for fan-related injuries.
Winding up…
It's normal to feel that a ceiling fan will fall and kill you in your sleep. However, it's the same as thinking that your desktop's monitor would blow up into your face someday, if you have already taken all measures to prevent accidental falls (such as proper installation, regular maintenance, etc.).
The point is: this feeling results from a psychological anxiety called Aanemistiraphobia. It is the fear of fans or simply fan-phobia.
By now, you already know if a ceiling fan can fall and hurt you. From reliable scientific studies, the chances of a ceiling fan falling do exist- but it is negligible. Thus, you shouldn't be too afraid.
Though, for staunch safety measures, make sure to buy a top quality fan and hire a professional to install it for you. Then, remember to maintain it regularly. Check for defaults, and fix wobbling as early as you notice it.
We have a comprehensive review of the safest, best ceiling fans to buy: check it out and let's hear your thoughts. Cheers!
Next Read
Ceiling Fans or Chandeliers? Learn When to Use a Fan or a Chandelier
Best Ceiling Fan Brands: 8 Brands That Offer The Most Value This Year
Are Ceiling Fans Outdated? Here Are 11 Reasons To Still Consider Them
How To Measure Ceiling Fan Size: Know These Tips Before Buying