Note that the products discussed on our site are independently selected by our editors. Your purchases through our recommendations may earn us a commission at no extra cost to you.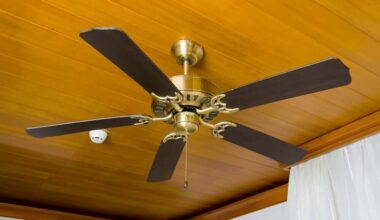 It's becoming increasingly hard to pick out a good ceiling fan due to the influx of ceiling fan brands. The ceiling fan industry is very competitive, and every year ceiling fan manufacturers try to outdo each other by making better fans.
It's no secret that investing in a reputable brand will be a cost saver in the long run. Low-quality ceiling fans will often have a low price tag but they are likely to increase your utility bills, have a short service life coupled with high maintenance costs. High-quality fans, on the other hand will cost more, are more energy efficient thus reducing your utility bills, and require little maintenance.
There are many premium brands on the market, and each of these brands manufactures ceiling fans of different sizes, quality, and performance. This is why it proves to be a daunting task to decide which brand to choose to get the most bang for the buck.
So we've put together this list of the best ceiling fan brands to help you decide where to put your money before it's too late.
Without further ado, let's jump right in…
1. Hunter – (Champion on the list!)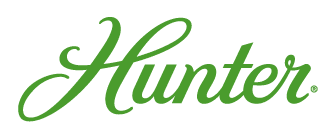 Hunter Fan Company has been around for 130+ years. For more than a century, the Hunter Fan Company has managed to outperform the rest by incorporating the latest technologies and trends into their fans. All their fans undergo rigorous tests to ensure they meet and surpass the established standards. Due to this, they have become the go-to brand for whisper-quiet ceiling fans, durability, and great performance.
Design

Ceiling fans are not your everyday appliance where you have to choose between style and efficiency. Hunter Fan Company creates high-performance ceiling fans which will add architectural interest and style to your home.
Their fans come in different styles, lighting choices, mounting options, blade finishes, and well-crafted housings. There is a ceiling fan for every living space.
Every ceiling fan is meticulously designed and has a unique story that explains its origin. The company hopes to create a fan that everyone connects with on a personal level, as they claim on their about page.

Made to Save

Hunter fans are equipped with top-of-the-line technology that increases their efficiency while delivering powerful airflow. Some of this amazing technology include the newest motor technology and smart ceiling fans that synchronize with your smart thermostats. Each fan is designed to offer high performance coupled with low energy use.

In addition, the fans are designed for use in all seasons. They can be used in summer and in winter when it's super cold. With the push of a button, you can reverse the direction of rotation of the fans.

Craftsmanship

Hunter Fan Company is renowned for their attention to detail. Each blade is weighed for perfect balance, the finishes are hand painted, and the metal blade arms are hand buffed to ensure that each fan meets Hunter standards.

Their technicians have come up with their own test protocols to verify that the fans meet the industry requirements. The goal is to create an efficient ceiling that is not only reliable, but also maintains the heritage of quality associated with well-crafted fans.

Hunter Original

The Hunter Original ceiling fan has been around for decades, and the best part is that not much has changed. Over the years, new technologies have cropped up, trends changed, but there is one thing that has remained constant — The Hunter Original. The company has managed to keep up with the changing trends and technologies by improving craftsmanship and efficiency. However, they have maintained the classic design and the popular features, which is a testament to how far Hunter Fan Company is willing to go to remain true to its brand.
2. Casablanca Fan Company – (1st Runner Up)

Founded by Burton A. Burton, the Casablanca Fan Company introduced its first fan in 1974. It didn't take long before the demand for home ceiling fans skyrocketed, and the company was in business. This was in the mid-70s when there was an energy crisis, and everyone was in search of a better cooling method.
Burton showcased his love of antiques by using brass finish and other classic designs which revolutionized the ceiling fan industry. He always viewed ceiling fans as the essential element of interior décor that every home needed.

Innovation

Casablanca Fan Company pride themselves in being the trendsetters and innovators. Not only do they innovate great technologies, but they also improve upon the existing ones. They are industry leaders in motor performance, air movement, and energy efficiency. Their dedication to always making the best ceiling fans has enabled Casablanca surpass industry standards in all possible ways.

Very few ceiling fan companies have an in-house Research and Development department, and Casablanca is one of these companies. Technicians and engineers collaborate with the development team to ensure all ideas are brought to life and tested.

Artistry

As mentioned earlier, the technicians and engineers work together to test for flaws, performance issues, and reliability. Each fan is rigorously tested for any issues that might impact user experience. This enables the design team to come up with new designs by exploring and pushing the limits of their creativity.

Craftsmanship

Since fans are made using the noblest of materials such as featherwood and copper, Casablanca strives to honor and maintain their essential nature. Creating the perfect fan involves sketching, cutting, curving, buffing and burnishing – all this is done by experienced hands. Before a fan goes into full-scale production, the prototype goes through in-house testing to ensure that everything is perfect.

Highest Quality

Casablanca is a company that puts a lot of time and effort into its products. Their attention to detail is unmatched. The materials used in the construction process include structurally reinforced resin, die-cast virgin zinc, and heavy-gauge deep-drawn steel. These are high-quality materials with high durability and impeccable performance.

With an in-house lab, the technicians are able to test for any quality, performance and reliability issues thus guaranteeing high-quality fans.
Casablanca technicians are known for their attention to detail, in fact, they are the brains behind the CFM test method — a rating used to measure cubic-feet-per-minute airflow.

3. Westinghouse – (2nd Runner Up)


When it comes to Westinghouse, we have a LOT to talk about. They have a very strong heritage of producing high quality tech products. Just take a look at their heritage page here, and you will know how much they have contributed to the quality life we live today.
Along with other factors, their impressive heritage has enabled them to take #3 spot in our list of the best ceiling fan brands, as they produce some of the best ceiling fans you fan find right now.
This electric company was founded in 1886, and they have for more than 100 years been the go-to company for cutting-edge technology. Although the company was founded in 1886, its history dates back to 1865 when George Westinghouse patented the rotary steam engine. George Westinghouse was responsible for many innovations, by the time he died he had 361 patents and founded 60 companies.
Quality

In the spirit of commitment and innovation, Westinghouse had for decades made high-quality products. It is a renowned brand that is synonymous with rock-solid performance.
Westinghouse Ceiling fans are designed to be a perfect fit for today's lifestyle trends. Their ceiling fans undergo various tests to ensure they meet and surpass the accepted standards for home, business, and office electric products.

Innovation

George Westinghouse is the father of some of the greatest innovations we have today. Even after his death, Westinghouse Electric Company continued with the culture of innovation. They have managed to develop new lighting technologies that have changed the way people light their homes and businesses.
Westinghouse is one of the most trusted brands for light bulbs, ceiling fans, light accessories, and lighting fixtures.
Since its inception, Westinghouse has maintained its commitment to offer ceiling fans and lighting products that meet emerging trends and the replacement market.

Craftsmanship

Being a renowned brand, Westinghouse has to set the trends and maintain high quality. Due to this, they employ the best craftsmanship to ensure every single detail of the ceiling fans is perfect. They have a broad collection of ceiling fans which have varying blade length, different designs, and varying technology. To achieve a high level of perfection, Westinghouse incorporates the use of advanced engineering technology to ensure their products are powerful, durable, and energy efficient.

4. Emerson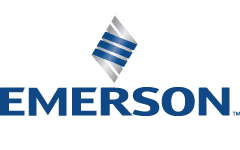 The history of Emerson dates back to 1890 when the company was founded in St. Louis by John W. Emerson. Since then the company has been at the forefront of the ceiling fan industry.
Emerson makes fans that are suitable for both outdoor and indoor use. Each fan features hand-carved blades, exceptional motors, and hand-polished plated finishes which ensures that your ceiling fans last for long.
There is also an option of building your own fan in case the available designs do not fit your taste. With 100+ years of experience in innovation and technology, Emerson continues to dominate the ceiling fan market while upholding the standards set by J.W. Emerson.

Efficiency

One of the biggest concern that ceiling fan users have is energy efficiency which Emerson has addressed by reducing the energy consumption by close to 40%. This reduces your utility bills especially if you are running an EcoMotor Ceiling fan whose operation cost is less than a penny, such as the Midway Eco model.
Ceiling fans made by Emerson are said to have one of the highest average ratings in the industry. In addition to the reduced operating cost, energy efficiency also impacts the lifespan of the fan. Emerson has incorporated the use of unique engineering in the production of its motors, which allows the motors to run cooler compared to similar size motors. Generating less heat increases the lifespan of the motor thus keeping the blades spinning for longer.
Power
Emerson has proven that reducing energy consumption does not have to compromise power. To make this principle a reality, Emerson had to build an EcoMotor that uses a charged magnetic field which increases its capacity to move air using 5x less energy than a standard fan motor.

Quiet Operation & Longevity

Few brands can rival the quiet operation exhibited by Emerson products. This can be attributed to the DC EcoMotor which lacks wave noise associated with AC motors.
In addition, the EcoMotor features a compact construction that allows quiet operation such that noise is almost non-existent.

5. Monte Carlo


For more than 2 decades, Monte Carlo has been producing some of the most unique ceiling fans. Monte Carlo fans are known for their sleek and modern design.
Since its inception in 1996, Monte Carlo has been able to establish itself as a leading brand in electrical wholesale, lighting, building industries, home décor, and home improvement. It specializes in fashion-forward ceiling fans that are inspired by emerging trends. Although ceiling fans have evolved, Monte Carlo's commitment to providing quality fans and unprecedented customer service has not changed.
Fashionable Design

The Monte Carlo product line consists of trend-inspired ceiling fans, and a few classic designs for antique lovers. Monte Carlo ceiling fans are designed to inspire and accessorize any living space. From traditional designs to decorative designs that are influenced by nature or fashion trends, there is a fan for any décor.

Monte Carlo has exceptional manufacturing standards. However, it's the attention to both design and detail that seems to capture the hearts of many. The design team is very meticulous, and considers each part of the fan as a black canvas where the elements are carefully integrated into the design.

Performance

The Monte Carlo Company dedicates most of its time in designing aesthetically appealing fans that are efficient, and engineered such that all elements work as part of a whole. This ensures that all the elements contribute to the exceptional performance which in turn reduces energy costs.
Each fan is equipped with a powerful energy efficient motor and good-looking blades that facilitate optimal air movement.
6. Fanimation

It all began about 30 years ago, when Tom Frampton designed The Punkah (the first Fanimation fan) in Pasadena, California. The Punkah had a unique design combined with an innovative approach, it was the beginning of what is today known as Fanimation. Today the company has a presence in 23 countries, and is available in 1500+ showrooms.

As a company, Fanimation is committed to making sure that every product meets the industry standards. Each fan is designed with high-quality materials that are worth engraving the Fanimation name. The business is dedicated to only making and selling fans, which gives them time to immerse themselves in the art of making fans. Here, every detail of the design and functionality is well thought of. The end product is a perfect fusion of technological advancements and an age-old craft.

Perfect Fit

Every aspect of the fans is carefully studied to ensure that the fans satisfy the client's needs. Each part is designed to perfection from motor size to sweep, and blade pitch. The fans are engineered for optimal air movement.

Performance

At Fanimation, everything is fine-tuned – from rotor skew angle, lamination stack height, capacitors, and copper wire diameter – to ensure that its performance is seamless. With the increased advancements in technology that are integrated into the design process, customers can now enjoy more convenience and control.

Distinctive designs

Fanimation prides itself in having the most distinctive designs. They are able to transform what was once viewed as a fitting into a design element which not only makes a statement, but also inspires creativity in home décor. With Fanimation, your options are endless, from the materials used, overall look and style to the shape and size of the blade.

My Fanimation

At Fanimation, you can build a fan by choosing from the available options of motors, glass, fitters, and blades — thanks to my fanimation. You also get a rubber boot that's positioned between the top support and the down rod to minimize motor vibration.

7. Kichler


With so many options and styles available, Kichler makes it easy to choose by bringing popular trends to you. It's their belief that every home deserves ceiling fans and fixtures that deliver the quality of light needed to bring a room to life.
Kichler has been around for a while but it wasn't until recently that they added ceiling fans to their product line. They are now among the top brands for unique styles and high-quality fans. They've gained a lot of popularity due to their ability to match existing lighting fixtures with popular Kichler styles.

Distinctive Quality

Since 1938, Kichler has produced distinctively beautiful home products that won hearts of many. Every product they make is backed by award-winning craftsmanship, exquisite style, superior service, and unparalleled quality.
Kichler's main goal is to provide you with a wide array of solutions that satisfy your needs, preferences and reflect your personality. Their belief is that every product you choose should be more than just a piece of hardware. Instead, think of ceiling fans as a way to transform your living spaces into inspiring settings. Not only do you get unique finishes, but you also get fresh and exciting colors that fit your style.
We have recently published our recommendations on Kichler ceiling fans. Check it out here.
8. Minka Aire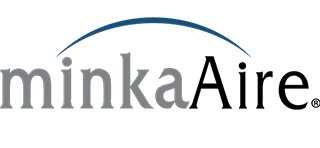 Minka Group is a top brand in the decorative lighting industry. It's the brand behind Minka Aire, which specializes in ceiling fans. Their products are available in many styles from traditional and contemporary styles to modern styles inspired by current trends. They also have several blade designs but perhaps the most popular is the 3-blade design.
Minka Aire's product line comprises of both outdoor and indoor options but their selling point is the 'mini' fans. These small fans are perfect for small sized rooms. The goal of this brand is to perfect the 'art of air management'.
Craftsmanship

Minka is a global brand with a presence in two continents, therefore quality and craftsmanship are of utmost importance. Their designs are seen as works of art due to the level of perfection and attention to detail. A good example is the George Kovacs collection, which is a testament to Minka Aire's ability to make high-quality fans.
Style
Minka keeps up with the latest trends on the market, and produces fans based on the current trends. They have a vast collection of ceiling fans to fit any lifestyle. Pick a lifestyle, space, or setting, and they've got a fan that meets your needs and preferences.
Some of their popular ceiling fan models are the Light Wave, Artemis, and Concept II.
[Bonus] Thriving Ceiling Fan Brands

The brands under this category are also great brands but they are not as popular as the other 8 brands mentioned above. They too have been making some great fans for the last few years, which is why they could make it to our list of the best ceiling fan brands. You may want to check them out too in your selection process.
1. Savoy House


For more than 50 years, Savoy House has been assembling lighting fixtures, and selling electrical supplies. It wasn't until later on when they decided to venture into ceiling fans.
Their fans had a Southern traditional identity, but as years went by, the design evolved to cater for new styles such as nostalgic restoration looks, urban structural, and soft contemporary. This has made Savoy House a household brand especially among design-conscious professionals.
Savoy House also carries works of top designers such as Karyl Pierce Paxton, Raymond Waites, and Tracy Porter. In Savoy House, you are sure to get all your ceiling fan and lighting needs sorted out from the wide collection of modern designs to the elegant traditional styles.
2. Modern Fan Co.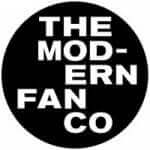 The Modern Fan is said to be the pioneer for contemporary ceiling fan designs. Their original design forged the path that started the evolution of the ceiling fan designs. 30 years later, the original design is still celebrated for its timeless originality and sophistication.
Today, Modern Fan is known for producing one of the most complete and modern ceiling fan collection available. Their products are designed through mechanical simplification, contemporary finishes, and geometric forms. This ensures that the culture of setting trends and being ahead of fashion continues by offering products that are artfully appealing and functional.
3. Modern Forms

As the name suggests, Modern Forms features breakthrough technology that creates the most efficient "smart fans". Each of these fans goes through rigorous testing by the technicians to ensure it meets industry standards. In addition to that, Modern Forms has invested heavily in research and development.
They have also come up with an app designed with cloud-based smart controls for multiple home integrations.
Every piece is designed to have a minimalist aesthetic combined with a sophisticated perspective and a seductive shape.
Final Words

Brands in the ceiling fan industry have continued to increase and evolve in the last few decades to keep up with the changing trends. This has created stiff competition among the top brands with some opting to focus on innovation, while others focus on specific purposes. Due to this, the variety of fans has increased significantly, making it hard to settle for a particular brand.
However, you should not spend too much time trying to find the "right" brand for you. Because at the end of the day, all brands have their pros and cons. Just make sure it's a reputable brand, and when buying, make sure to choose a fan based on design, efficiency, airflow, motor, and last but not least, one that meets your taste.
Next Read
Best Ceiling Fans For Bedroom: 9 Fans To Consider
Are Ceiling Fans Outdated? Here Are 11 Reasons To Still Consider Them