Note that the products discussed on our site are independently selected by our editors. Your purchases through our recommendations may earn us a commission at no extra cost to you.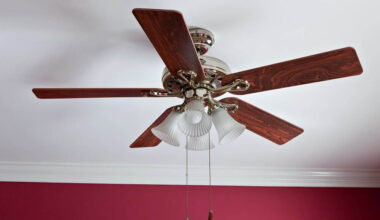 The answer to the question whether ceiling fans are outdated or not depends on whom you ask. Ceiling fans have been around for decades and will be around for much longer due to their high efficiency. Aside from their efficiency, ceiling fans take up less space making them ideal for cramped up spaces. These simple reasons have enabled them withstand the test of time.
Despite their popularity, in the last few years there has been a sharp decline in the installation of ceiling fans. Does this mean that they are becoming outdated?
Yes!
Well, kind of…
Because they are not completely out of style yet. Every year new fans of different types and shapes are made, most of these fans are more efficient and take up less space than air conditioners. This enables many homeowners consider ceiling fans into their living spaces.
Do interior designers recommend using ceiling fans?
Although most interior designers shun ceiling fans, they have not run out of style, not yet at least.
We have many examples of famous design specialists recommending ceiling fans. Like the following:
As manufacturers got smarter, interior environmental scientists weighed in on functionality and designers influenced style, so now ceiling fans have become a functional, hard-working, fashion piece of home.

Jeff Dross, a corporate director at Kichler
Note: check out our recently published recommendations of Kichler ceiling fans.
This has created designs that match every decorating trend, whether it's ultra-contemporary, vintage industrial or cottage.
Whatever your preferred style is, there is a design option for you. A typical fan has 3-5 blades, nowadays there fans with 8 blades and others with single blade designs. You can further customize your ceiling fan by changing the finish or choosing a decorative blade.
Related: here are a few hot selling ceiling fans on Amazon.
Images from Amazon Product Advertising API / Affiliate links / Last update on 2021-01-21
It gets even better, there is a fan for all areas of your home. For example, do you want a ceiling fan for your patio? A stylish outdoor fan that's wet rated and can withstand the elements should work just fine.
According to Rebecca West, an interior designer, "If you choose your ceiling fan carefully, it can add aesthetic appeal to a room by enhancing the design. They work especially well, for instance, in spaces with industrial, tropical or mid-century modern styles."
And with that, let's look at a few reasons why installing ceiling fans is not yet a too bad idea.
11 Reasons why you should consider installing ceiling fans
Back in the 90s and early 2000s, ceiling fans were considered to be the standard fan in most homes. Gradually, ceiling fans are being phased out of modern homes due to many reasons. However, all is not lost for ceiling fans as newer and aesthetically pleasing styles emerge. Home owners are starting to realize the importance of having a ceiling fan, which include:
1. Wide Angle Lighting
Most homes have very poor lighting especially if the home owner did most of interior designing. Fortunately, there is a 'cure' to the poor lighting problem. Simply install a multi-function ceiling fan that comes with a bright, broad lighting. It should be enough to light a poorly lit room. Some multi-function fans can accommodate up to 4 bulbs thus providing sufficient brightness at half the energy.
This rids you of the need to install high priced wall sconces, chandeliers, or pendant lights.
2. The constant breeze
Ceiling fans help create that steady breeze necessary for a home perfect temperature. They function better when paired with air conditioning units that help distribute warm or cool air throughout the house.
3. Efficiency
Like earlier mentioned, ceiling fans have a higher efficiency than most fans. A ceiling fan will move more amounts of air (otherwise referred to as cubic feet per minute). This creates a cool breeze that reduces ambient temperatures by up to 8 degrees. Which in turn saves you close to 40% in air conditioning bills.
4. Comfort
During winter, the temperatures are always too low to use a fan to create a breeze. However, there is a way you can use your ceiling fan to heat a room. This is done by reversing fan rotation from counterclockwise to clockwise. Instead of blowing cold air downward, the fan will blow warm air towards the ceiling and down the room.
5. Super Quiet
Ceiling fans are loathed due to the loud buzz they produce as they rotate. Luckily, manufacturers have figured out a way to eliminate the buzz by making ceiling fans with timber blades. Such fans are super quiet, making them ideal for bedrooms and libraries.
6. Customization
As interior designs continue to change, there is a need to have ceiling fans that match the different styles. Due to this, manufacturers have resulted to making different finishes, blade colors and sizes. With such options, you will be sure find the right ceiling fan to match your design brief.
7. Ceiling fans add beauty
Ceiling fan varieties have continued to increase as the manufacturers continue to produce more designs to match the fast changing home styles. Unlike a while back when ceiling fan were termed as ugly, nowadays the designs are so many and personalized that it's unlikely that you will not find a fan to match your style. For instance, you can tweak the blade design, color, and material to match the room it's intended for.
If you want a beautiful ceiling fan for your bedroom, living room, kitchen, or even bathroom, you will surely find a perfect fit in the current market as the choices are almost endless nowadays.
8. Remote option
Some ceiling fans have a remote control option, which gives you control over the fan speed and light with the push of a button. The remote control option offers more convenience than the conventional option of using wires to control fan speed or light.
9. Pest control
In the right place, a ceiling fan can act as a good deterrent to pests commonly found in summer and spring. They include gnats, mosquitoes, and flies. These insects especially flies can be very annoying during a family gathering or barbeque. Installing a ceiling fan in your patio will ensure that there is constant circulation of air, thus deterring even the smallest and most annoying pests from ruining your party.
Here's how to use your ceiling fan to keep mosquitoes away!
10. Space saving
Ceiling fans are much better than air conditioners as they do not occupy a lot of space. They are installed on a ceiling thus leaving sufficient room especially in cramped apartments where space is a luxury.
A top rated small room ceiling fan will prove to be very useful in narrow areas such as a bathroom, a dryer room, or even an ironing area. The small ceiling fans can be as small as only 20 inches in blade length.
11. Ceiling are environmentally friendly
If you are environmentally conscious, using a fan made of plastic, recycled steel or ethically sourced wood is the way to go. You will be enjoying the cool or breeze of a normal fan with the added advantage that it is environmentally friendly.
Conclusion
If your are convinced, based on the above, that ceiling fans are still worth the money, then before you head on to the market to purchase one, you need to understand the following crucially important fact.
Which is that ceiling fans will only serve the intended purpose if they are installed on a ceiling that is 7ft. or higher. If the ceiling is lower than 7 feet, the fan will look gigantic and will not have sufficient space to work as required. The ideal placement height of a ceiling fan is 7-9 ft. above the floor. It should also be installed 10-12" below the ceiling to allow sufficient space to effectively impact the air.
Next read

Best Ceiling Fans For Bedroom: 9 Fans To Consider
How To Measure Ceiling Fan Size: Know These Tips Before Buying
How to Install a Ceiling Fan: A Step-by-Step Installation Guide