Note that the products discussed on our site are independently selected by our editors. Your purchases through our recommendations may earn us a commission at no extra cost to you.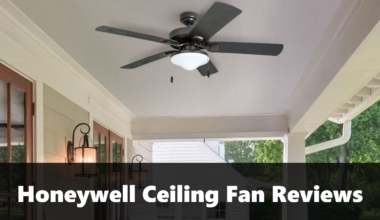 Contemporary ceiling fans are valuable additions to a home or office because they're multifunctional and more energy-efficient than air conditioning units. With a top-quality Honeywell fan, little to no maintenance is required and installation is quick and simple. Whether you need to stay cool or get a little toasty, Honeywell's ceiling fans can keep you comfortable.
Unlike air conditioning systems, ceiling fans don't actively cause the air in a room to get any cooler. Instead, they affect conditions around the room's occupants by disrupting stale (unmoving) layers of air surrounding their physical bodies. This makes room for fresher air and, as a result, an increased ability to emit excess heat into the environment and cool the body more quickly.
Plus, they're stylish accompaniments to a home. Modern ceiling fans come in an endless variety of styles from art deco to ultra-modern, minimalistic, luxe, rustic and even novelty designs. There's a ceiling fan to suit every interior, so let's take a closer look at some Honeywell ceiling fan reviews.
Reviews of Top Rated Honeywell Ceiling Fans of 2023
Honeywell Glen Alden 52″ Hugger Ceiling Fan
** This product is currently not available.**
Honeywell's 'Glen Alden' Ceiling Fan boasts a classic design that combines wood with brushed nickel to create a stylish centerpiece for your lounge, bedroom or office. It's a purposefully simple product with an affordable price tag for those who want energy-efficient temperature control.
Its three speed reversible motor is powerful but runs quietly. You'll barely notice it in the summer even on its highest setting. At a moderate 52", the Glen Alden is best suited to a medium or large space. When installed, the distance from the ceiling to its base (or lowest hanging point) is just under eight inches.
The fan comes with a plastic pull chain for easy use. If you've got high ceilings, the chain's length might fall a little short. Some of our smaller testers had trouble reaching the cord in taller rooms, but it's a minor gripe. Nothing stop users from attaching a longer pull chain or extending the existing one.
When you consider the low price of the Glen Alden ceiling fan, it's a superficial problem. The fan isn't as powerful or impactful as a high powered air conditioner, but it isn't designed to compete with HVAC technologies. It's very effective at generating a cooling breeze and ensuring any stagnant air keeps circulating.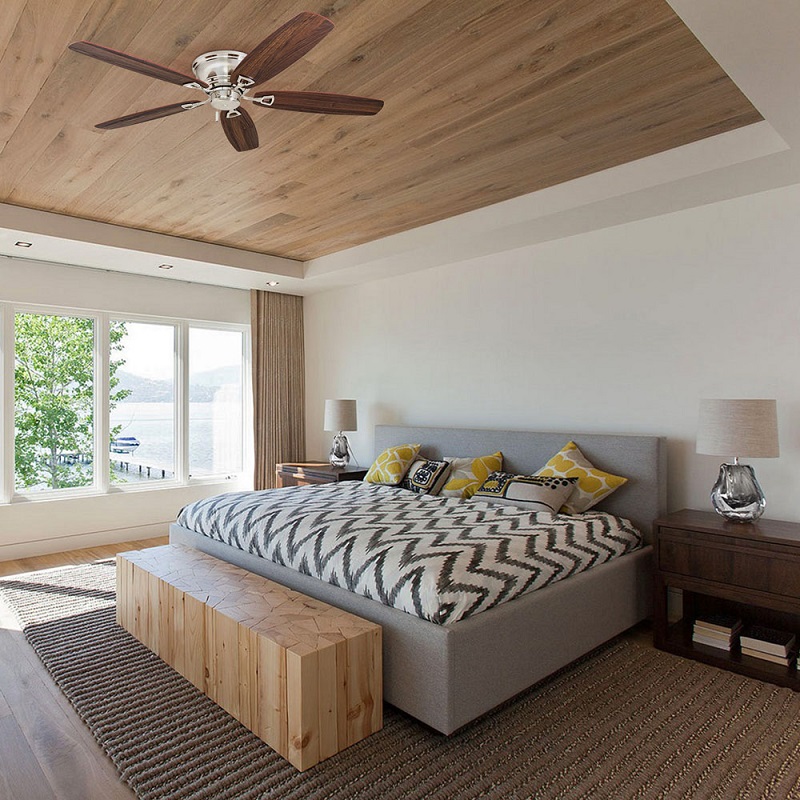 The Pros
Adjustable speeds (3 settings)
Medium sized (big enough for larger rooms)
Relatively quiet when operating
The Cons
Pull chain is a little short (on taller ceilings)
Honeywell Belmar 52″ Outdoor Ceiling Fan
** This product is currently not available.**
Honeywell's 'Belmar' Ceiling Fan has five ETL rated blades and three speed settings. The standout thing about this product is it can be installed indoors and outdoors provided the exterior space is covered. It can tolerate a moderate degree of damp and humidity which makes it ideal for use as a patio or deck fan.
Also read: outdoor vs indoor ceiling fans
The ABS blades are fully weatherproof and, though they look like wood, they're constructed from a textured plastic. Minimal maintenance is required and the fan's blades won't erode over time even if exposed to the rain. Like Honeywell's Glen Alden model, the Belmar is best suited to medium or moderately large interior spaces.
The fan comes with a downward-facing light fixture. However, this can be removed and replaced with a conversion cap that transforms it into a 'fan only' device. Keep the bulb in place to enjoy a frosted illumination that looks particularly charming at dusk. One of our favorite features of this ceiling fan is its tri mount base. It can be installed at an angle, flush with the ceiling or hanging on a down rod.
As for the aesthetic of the Honeywell Belmar ceiling fan, it's got a very simple design. The product comes in classic white (blades, base, pull chain and all) and is subtle enough to complement almost any type of décor.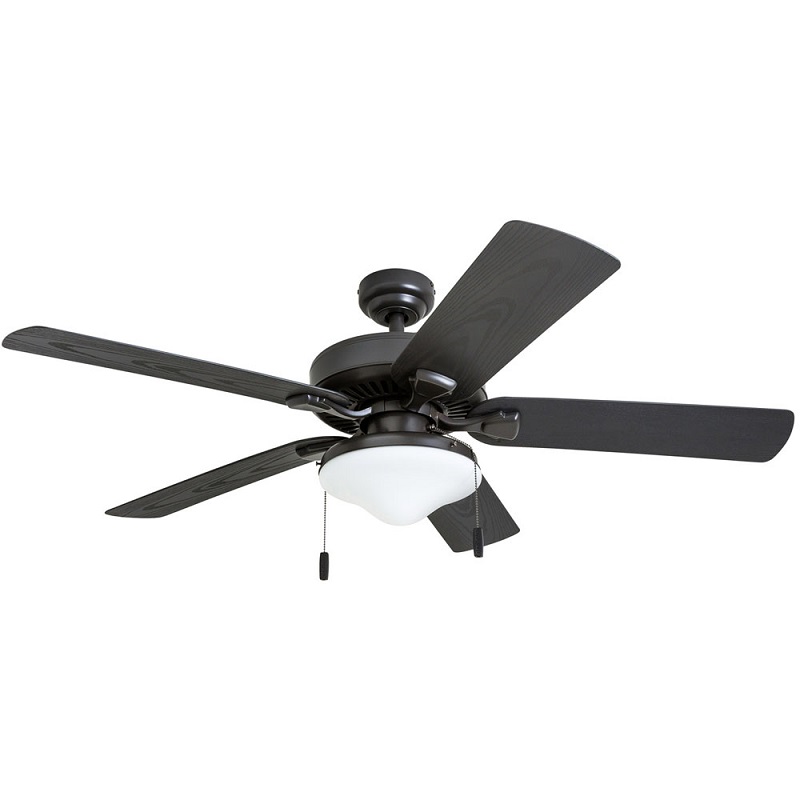 The Pros
Classic white color suits all interiors
Adjustable speeds (3 settings)
Safe for use on a covered patio or deck
The Cons
Noisier than some of the other fans
Honeywell Ocean Breeze 30-inch Small Fan
** This product is currently not available.**
This Ocean Breeze ceiling fan from Honeywell is smaller than the Glen Alden and Belmar models. At just 30", it's more of a compact fixture and better suited to smaller lounges, bedrooms and dining rooms. It has fewer blades – just three this time – and they have an angular, contemporary look. If you want to see more options for small ceiling fans, check out our review of the best small ceiling fans.
Honeywell's Ocean Breeze Ceiling Fan comes with three speed settings and, interestingly, two different modes. Users can switch between downdraft and updraft modes which is especially useful when the fan is being used to disturb sticky, hot air in occupied rooms. Another big selling point is its delightfully quiet motor. Certainly, the Belmar fan emits more noise than this elegant and compact fixture.
One feature we don't see very often is the flippable fan blades. With the Ocean Breeze fan, there's a black finish on the top sides and a more classic wood style finish on the bottom of the blades. It sounds like a redundant feature until you realize they're made to be flipped around. You can change the whole look of the ceiling fan by removing, rotating and replacing the blades.
This makes it ideal for improving the comfort of small bedrooms. The motor is quiet so it can be operated without causing any disturbances. Unlike some other ceiling fans, it doesn't judder or vibrate loudly. Plus, it comes with a frosted globe that creates a soft, diffused light. It's one of the more stylish fans on our list although it's likely too small for large, open plan interiors.
The Pros
Two tone (flippable) fan blades
Very quiet motor (good for bedrooms)
Two modes (downdraft and updraft)
The Cons
Too small/dim for larger rooms
Honeywell Sabal Palm 52-inch Leaf Fan
** This product is currently not available.**
If you are skimming through Honeywell ceiling fan reviews to find a good palm-leaf ceiling fan, then Honeywell's Sabal Palm ceiling fan would be your best bet. Like the Belmar Outdoor Ceiling Fan, it has a tri mount system. This means it can be mounted flush with the ceiling, positioned as a dropped (hanging) fan or angled slightly to one side. Unlike the Belmar, it has a very unique design. It's ideal for homeowners who like their fixtures to be a little flashy because the blades are carved from basswood.
The Sabal fan has four artisanal wooden blades shaped like leaves. To complement them, there's an exquisite Tuscan sand bulb holder. This design is topped off with elegant brass highlights and a gold-tipped pull chain. The ceiling bracket is partially concealed by the fan's blades for maximum style and sophistication.
While it's bigger than the Ocean Breeze model, it only has a moderately powered motor. It performs most efficiently in small to medium spaces. It comes with the typical three speed settings and a light cap that can be used to replace the bulb holder. If you don't want illumination, just unhook the glass holder and attach the cap in its place. That way, the fan doesn't look incomplete without it.
Considering the modest price tag, the Sabal Palm is one of the most beautiful ceiling fans we've tested. It won't suit everybody's taste, but it has an almost tropical aesthetic that wouldn't look out of place installed in a vacation lodge or cabin.
If unique ceiling fan designs such as this one attract you, then check out Minka Aire Artemis model. It's definitely worth checking out.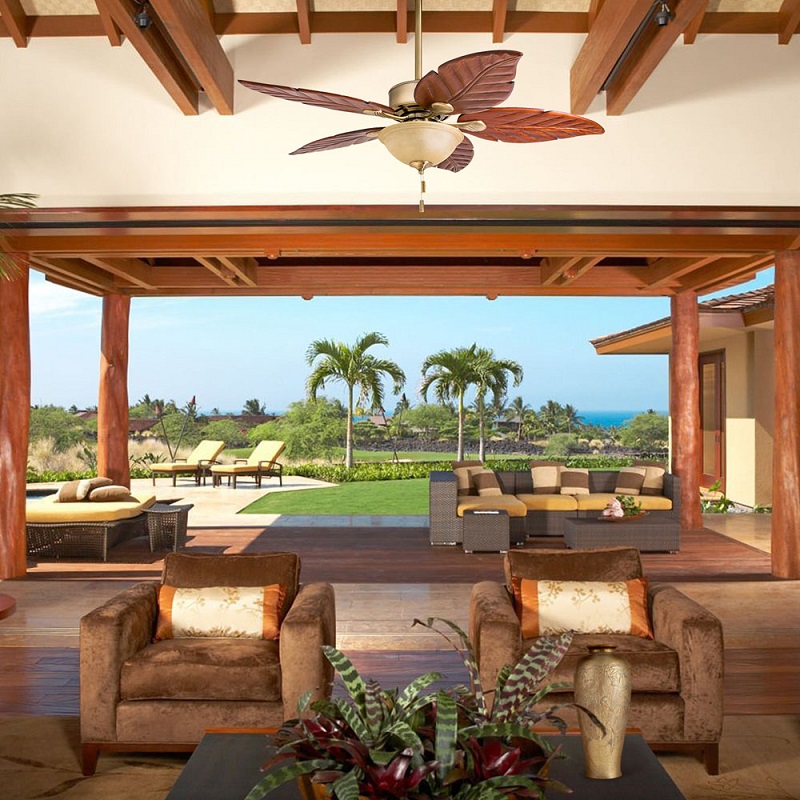 The Pros
Beautifully carved wood blades
Tri mount for angled/flush positioning
Comes with an elegant brass tipped bulb holder
The Cons
Bulb holder doesn't emit much light
Honeywell Carnegie 52″ Rustic Ceiling Fan
** This product is currently not available.**
Honeywell's Carnegie Ceiling Fan is one of our favorite fans for a standout reason. It is compatible with Amazon's Alexa. This enables users to control it with voice commands. Sounds neat, right? When it's working well, it's very impressive. You'll notice there's no pull chain on this Carnegie fan. There is a remote control, so any issues you have connecting it to your home's internet won't stop it from operating.
This is an important point because many users say the voice activated set up is tricky and confusing. When operational, it allows the fan to be turned on, turned off, sped up and slowed down without contact. You can also set a 'Walk Away Light Delay' that turns on, then automatically switches the light off after a predetermined time.
The fan has three speed settings (high, medium, low), all of which can be adjusted with commands or the remote control. While we didn't use the voice function as often as we expected, it was very handy in the bedroom. Being able to switch off the ceiling fan from bed was a handy perk.
The aesthetic of the fan is very unique. It combines a classic distressed wood style with a contemporary black bronze housing. Together, the two styles create an interesting sense of industrial chic. It's the type of ceiling fan you'd want in a sleek loft or barn conversion as it demonstrates both modernity and rustic, old world charm.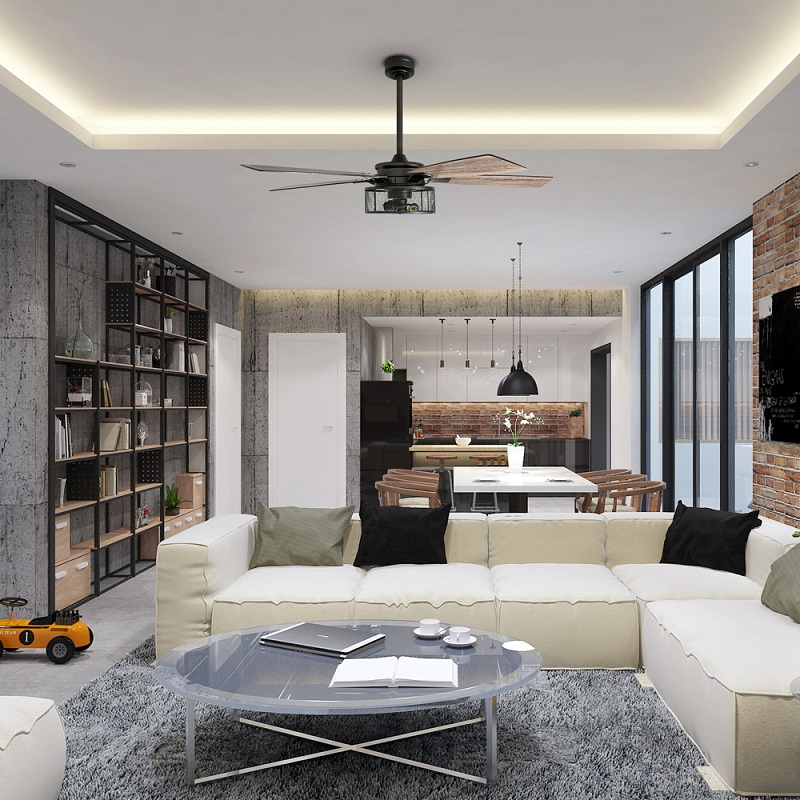 The Pros
Unique and interesting design
Voice activated controls (link to Alexa)
Comes with remote control as standard
The Cons
Voice activation is tricky to set up
Honeywell Ventnor 52″ Farmhouse Ceiling Fan
** This product is currently not available.**
Honeywell's Ventnor Farmhouse Ceiling Fan has a similar design to the Carnegie. Both products boast 'distressed-style' blades in wood rather than textured plastic. Like the Carnegie, it also has five long rotor blades and two pull chains. However, the Ventnor has a more open center and a brighter, more central bulb holder.
This big, bright bulb allows it to emit more light. In fact, Ventnor's light can be precision-controlled via remote control. Users may set the brightness within increments of 10%. It's possible to enjoy 20%, 60% or 80% brightness (for example) depending on how you're intending to use the space.
This feature is particularly useful in dual-function spaces like bedrooms and lounges. With espresso colored pine blades, bronze effect highlights and a frosted glass holder, this Ventnor fan is stylish without being ostentatious.
It has one of the quietest motors we tested, so it is appropriate for use in a bedroom. The super quiet motor and the dimmable bulb make it one of the best ceiling fans on our list for non-noisy night time use. The Ventnor comes with a tri mount fixture and can be installed flush with the ceiling, tilted to one side or suspended by a short rod.
The Pros
Extremely quiet motor (good for night time use)
Dimmable bulb (in 10% increments)
Reverse airflow system changes direction fast
The Cons
Remote control must be purchased separately
Honeywell Glencrest 52-inch Ceiling Fan Fan
** This product is currently not available.**
Honeywell's Glencrest Ceiling Fan is a little more traditional than some of the other fans reviewed here. It's designed to look like an older style candelabra light. This time, the bulb holder is completely clear rather than frosted. You can see the bulbs inside in a three tiered faux candelabra.
This vintage design, with its clear bulb, dark wood blades and oil rubbed bronze finish is majestic. It might not suit a very contemporary space but it's perfect for wooden decks, verandas and elegant dining rooms. It can be installed both indoors and outside provided outdoor locations are covered.
Weather conditions (particularly rain and humidity) should not affect the fan's performance because it's ETL damp rated. The teak and walnut rotor blades have been carefully damp-proofed. With three speed settings and a reversible motor that is moderately quiet –not as noisy as the Belmar – the Glencrest ceiling fan best suits medium to large interior spaces.
Our favorite feature is the fan's central bulb holder. It's not often the holder on a Honeywell ceiling fan is transparent. There are three bulbs inside which means a lot of illumination (450 lumens). The fan's beam angle delivers an impressive 360% coverage. It's capable of lighting up your evenings whether on the patio, in an office or hung over the dining room table.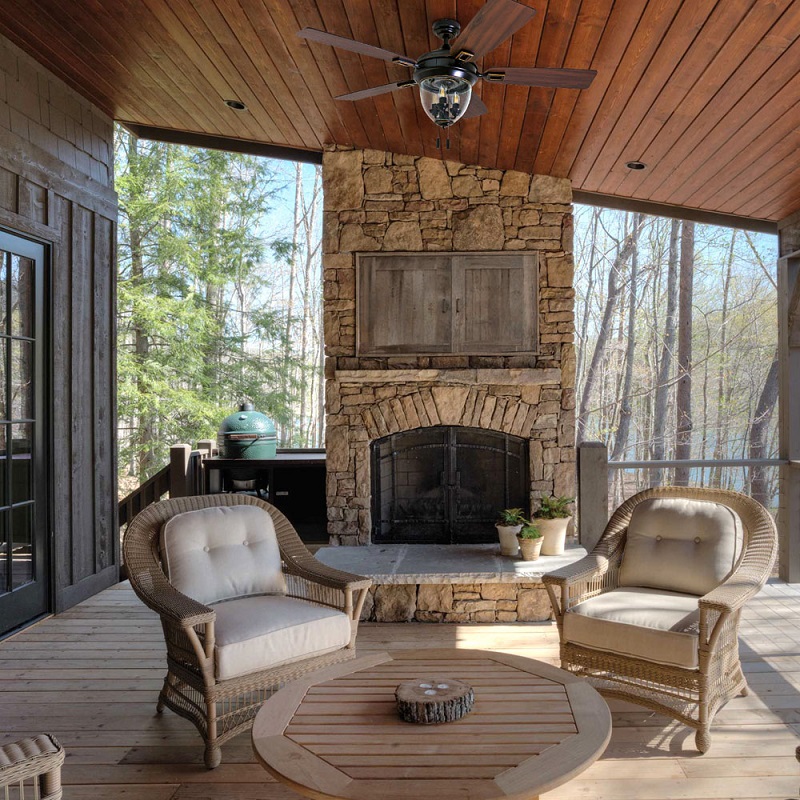 The Pros
Big, clear bulb holder for 360% coverage
Vintage style aesthetic is warm and elegant
Resistant to rain, wind and even snow
The Cons
Switch for reversing directions tricky to reach
Honeywell Duvall 52″ Tropical Ceiling Fan
** This product is currently not available.**
The Honeywell Duvall Tropical Ceiling Fan is a 52" fan with five ETL damp rated blades made from weatherproofed wicker. Unlike the other ceiling fans in our review, the Duvall provides four speed settings as opposed to just three. It is suitable for use in medium to large rooms and is probably the best product on our list for very large spaces.
While the motor has been called 'noisy' by some users, it's less of an issue when the fan is used outdoors. We're particularly fond of its faux tropical aesthetic. The design of this fan mimics the classic holiday vacation fan you might find in a tropical lodge or resort cabana. It has five broad, rounded blades with a rattan-like texture for maximum airflow and efficiency.
It doesn't have an integrated light fixture, but a bulb holder can be purchased separately. Instead, it features a single chain pull and a sleek black motor housing. It's a fairly simple design and one that looks neat and stylishly utilitarian. One detail that keeps cropping up among users is the motor housing's small canopy size.
Related: top rated ceiling fans without lights
It means replacing an old fan with this Duvall fan may require a little extra DIY work. It's something to think about when considering whether the fan's installation is as 'easy as the manufacturer claims. During testing, we affixed it to the ceiling quickly enough but found the integrated remote system a little tricky. With this Honeywell fan, you can buy a separate remote control but it must be installed along with the fan (or after your existing Duvall fan has been taken off the ceiling).
Honeywell Xerxes 62-inch Large Ceiling Fan
** This product is currently not available.**
Honeywell's Xerxes Ceiling Fan is a large, visually striking eight blade ceiling fan for use in the biggest, roomiest interior spaces. The Xerxes has a distinct aesthetic that won't be to everybody's taste but will thrill those with an eye for unusual designs. The blades are significantly longer than is typical for a ceiling fan (longer than any of the other fans on our list). Its bronze highlights give a contemporary edge to the traditional finish.
The Xerxes indoor ceiling fan comes with an integrated LED light fixture that is both energy-efficient and capable of emitting a soft, dimmable glow that's ideal for evening use. This Honeywell fan can help users save money on energy and lighting, while also providing impressive airflow and circulation.
Despite its majestic dimensions, this ceiling fan is easy to install and can be controlled via remote. It boasts three adjustable speeds, the highest of which is much noisier than the other two settings. However, it isn't the noisiest product on our list and, besides, we felt the most powerful setting was probably the least useful.
The other two settings (low and medium) were powerful enough to quickly ventilate and improve comfort levels in large rooms. Being a much bigger fan than the Glen Alden or the Glencrest models, it's no surprise this product comes with a much heftier price tag. It's almost twice the price but the powerful circulation it provides makes it a worthwhile investment.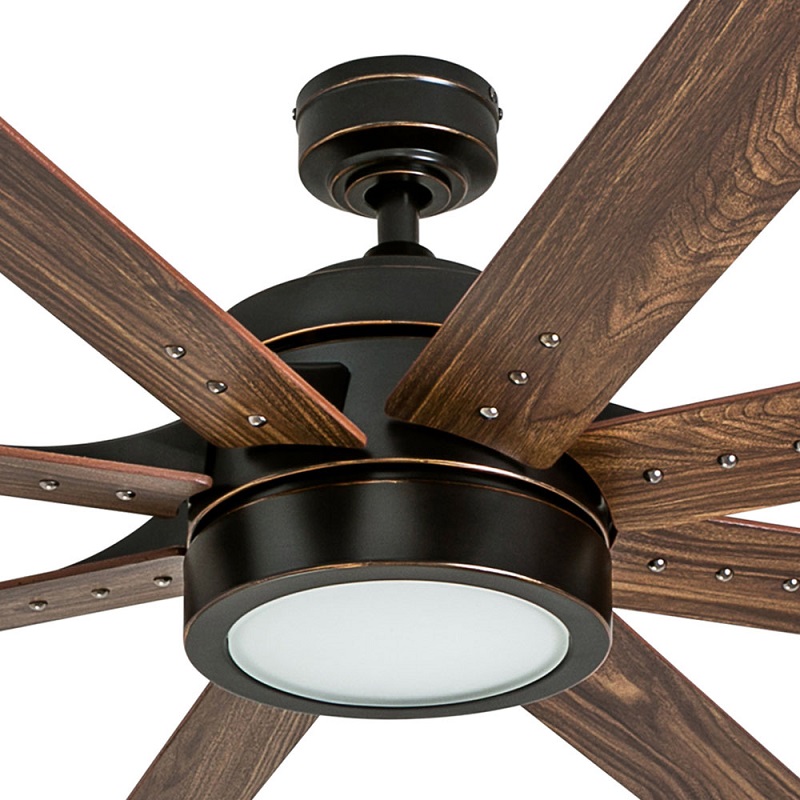 The Pros
Huge size, very long rotor blades
Unique, striking design (a statement fixture)
Powerful motor (improves airflow in around 7 mins)
The Cons
Oil rubbed bronze finish is not fully 'authentic'
How Good Are Honeywell's Ceiling Fans?
By reading our Honeywell ceiling fan reviews above, you should by now realize that Honeywell's ceiling fans come in such a variety of styles and sizes that some variation in quality is to be expected. Generally, the brand's products are well received and reviewed favorably. These fans are regularly praised for their attractive designs and quiet, non-intrusive motors. They're also loved for their affordable prices.
Two common complaints are with remote controls and ceiling canopies (or brackets). Some users say installation can be tricky and, with smaller fans, a compact bracket can mean replacing an old fixture turns into a DIY project with patching and plastering required. We agree that more Honeywell fans should come with a remote control as standard.
At the moment, most Honeywell products do not include a remote control. It has to be purchased separately. This is something you may want to take note of.
Things to Look for When Buying Honeywell Ceiling Fans
Blade Number, Size and Style
Interestingly, technological advances have made the number of fan blades on a ceiling fan less important than they were. These days, it's all about the power of the motor. Number of blades may have a small influence on efficiency but, more often, it's a question of style and preference. When considering power and efficiency, look at the motor and not the blades.
These days, two blade fans can be just as impactful as four blade designs. Longer blades (such as those on Honeywell's Xerxes Ceiling Fan) on the other hand, are still a useful indicator of how fast one of these products can ventilate a room. Though it's not a rule, fans with fewer blades tend to look more contemporary.
Indoor or Outdoor Ratings
There are three 'environmental' ratings used to manufacture ceiling fans. These products come in dry, damp or wet compatible models. Dry ceiling fans cannot be used outdoors as they do not have weatherproofed features. Damp rated ceiling fans can be installed outside but only in a covered location where they will not get saturated by rain or be pressured by strong winds.
Finally, wet rated products are suitable for all conditions. Their blades have been fully weatherproofed and can resist even snowy conditions. Make sure you pick the right rating when shopping for ceiling fans. Installing a ceiling fan in an unsuitable location will void its warranty. You may not eligible for a replacement if you place a damp rated ceiling fan in an uncovered outdoor spot and it breaks.
Low Profile or Not?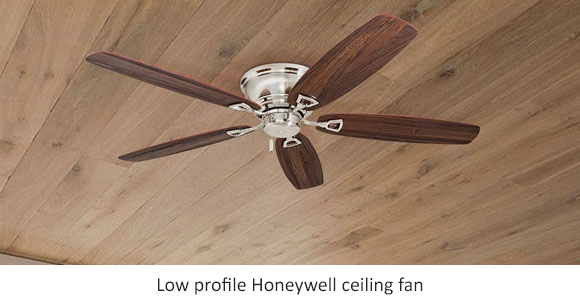 Low profile ceiling fans are categorized as ceiling fans that hang no further than 15" from a ceiling mount. This includes the length of the down rod extension, but the pull chain is not usually included. The benefits of low profile fans are obvious for particularly small rooms. They're recommended for interior spaces with ceilings lower than eight feet as a larger hanging design could be obstructive.
The difference in efficiency between low profile and full-sized ceiling fans is negligible. It's primarily a question of space and style. Low profile products can look a little neater and normally appear slightly more clean, crisp and contemporary.
Controllers
The majority of Honeywell's ceiling fans come with the option to add a complementary remote control. In many cases, the control must be bought separately. Be aware of this when shopping. It's worth considering the addition of a remote control even if you don't purchase one because some Honeywell fans have to be removed to add a control element later.
If this is something you'd rather avoid, read the product description carefully. Make sure to pick a model that's easy (and comfortable) to use without the additional controls. We recommend the purchase of a remote control if your ceiling fan will be installed in a bedroom. It's useful to have a 'hands-off' option in the evening.
Final Words
When considering the affordable prices and array of unique and interesting designs, as shown in our Honeywell ceiling fan reviews above, it's obvious Honeywell is a good choice for ceiling fans. Many of their models are ideal for use in medium to large indoor spaces and others can be installed outdoors too. In fact, there's a Honeywell fan to suit every environment and type of décor.
Just make sure to read any product specifications carefully so you understand exactly what you're getting. For instance, consider the purchase of a remote control system at the earliest opportunity. Not every home needs one, but it may be hard to add it as an additional feature later. If efficiency is your concern, focus on the motor rather than the number of blades.
Anyways, this has been our review of the best Honeywell ceiling fans. If you would rather consider other ceiling fan brands, then check out our reviews of the best Hunter, Harbor Breeze, Craftmade, Prominence Home, Hampton Bay, Minka Aire, Quorum, and Emerson ceiling fans. Or you can also check out our review of the best ceiling fans from all brands here and here. And here is our comparison between the major types of electric fans.