Note that the products discussed on our site are independently selected by our editors. Your purchases through our recommendations may earn us a commission at no extra cost to you.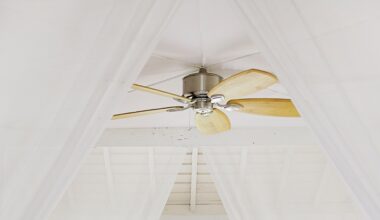 Ceiling fans can be a great addition to your home. The first ceiling fan was invented by Philip Diehl in 1882. Since then ceiling fans have become a widely used household appliance across the world. Ceiling fans are multipurpose home appliances, that some would argue are a must-have. They can be a beautiful finishing touch to a room, help to reduce your energy bill and of course, are very functional.
If you have a ceiling fan that adds ambiance or a much-needed breeze on a hot summer's day, the last thing you want is dust or dirt to ruin the mood. There a few ways you can keep your ceiling fan sparking clean.
Without further ado, here follow some great tips on how to clean ceiling fan blades.
Related read: best ceiling fans
Method 1: Use a Pillowcase
*This method works best with fans on a standard ceiling, a standard ceiling is 8-10 feet.
For this method you'll need:
A pillowcase
Step ladder
Face mask/Bandana (optional)
Louisville 6' Fiberglass Step Ladder
WORK BECOMES EASIER: Molded Top With Handyman's Tool Slots
STURDY AND STRONG: With its 300-Pound capacity, elegant design and smooth finish, you won't find a more durable, reliable ladder.
DESIGNED FOR YOUR NEEDS: Molded top with recessed tray, nonconductive structural molded top
PROTECTED: Inside spreader braces keep your ladder protected while in transport as well as provide as safe and stable ladder
300-POUND LOAD CAPACITY, includes weight of user and tools
L&M 12Pcs Bandanas 100% Cotton Paisley Print Head Wrap Scarf...
✅Material: 100% Soft Cotton
✅Size: 22 x 22 inches
✅Unisex. Double-Sided Printed Paisley Bandana, Featuring an Old West design; Perfect for all ages and occasions, camping, indoor & outdoor activity, party and etc
✅Could be used as face/hair covering, headband and necktie. For Multi-Color option, 12 random colors will be shipped out. Colors and Patterns may vary.
✅Notes: New Bandana will touch STIFF & THIN. Please wash it by hand with cold water before using and it will turn soft.
Images from Amazon Product Advertising API / Affiliate links / Last update on 2021-01-21
Instructions –
The first step you should take is to make sure you're safe by turning the ceiling fan off.
If you're choosing to use a face mask or bandana put this on now, making sure your nose and mouth are covered. This will prevent you from inhaling any dirt or dust. If you have dust allergies or just want to be extra safe, this is a useful precaution to take.
Carefully position your step ladder under the ceiling fan and climb the step ladder. Once you have got to a point on the ladder where you can easily reach the fan, cover the fan blades completely with the pillowcase.
Apply some pressure and slowly pull the pillowcase back. Take your time when pulling the pillowcase back to keep the dust and dirt inside it.
Repeat the process in step 4, on the remaining ceiling fan blades.
Once step 5 is completed double-check the blades to see if all the excess dirt or dust has been removed. If there is any remaining dirt, use a cloth to wipe it off.
Shake the pillowcase to remove the dust, it's best to do this either directly into the trash or outside. This should reduce the need for extra cleaning.
Wash your pillowcase in warm water or put it in the washing machine.
Great read: top rated ceiling fans without lights
Method 2: Use a Ceiling Fan Duster
*This method works best with fans on a high ceiling. A high ceiling is usually 10 ft or higher.
For this method you'll need:
Old sheet
Long Duster – with an extended arm (see below)
Bandana/Face mask
Sale
Ettore 32001 Microfiber Ceiling Fan Duster with Extension Pole,...
Contour shape to fit standard ceiling fan blades with super soft microfiber bristles for easier removable of dust or lint
Ergonomic handle and machine washable removable sleeve which makes it easier to maintain
Extension pole included; extends to desire length for high reach cleaning
Lint free microfiber material; use regularly to prevent dust build up
Images from Amazon Product Advertising API / Affiliate links / Last update on 2021-01-21
Instructions –
Firstly, make sure the fan is switched off. Then you will need to place the sheet on the floor below the ceiling fan. This should help to catch any dust that falls as you're cleaning the blades.
Place your bandana or face mask directly over your face, making sure your face and nose are completely covered. We recommend you do use a bandana or face mask with this method as the dust will be swept directly into the air.
Place the duster at the top of the fan, begin to dust downwards. You might want to also dust the motor housing. Make sure you do this carefully, dust away from yourself to avoid being covered in dust.
Continue to use the duster to dust the top of the fan blades. Once the top of all the blades has been dusted, repeat the process of the bottom of all the fan blades.
Carefully pick up the sheet that you placed under the fan and shake the dust into the trash can or outside.
Wash the old sheet in warm water or put directly into the washing machine.
Also read: ceiling fans for bedrooms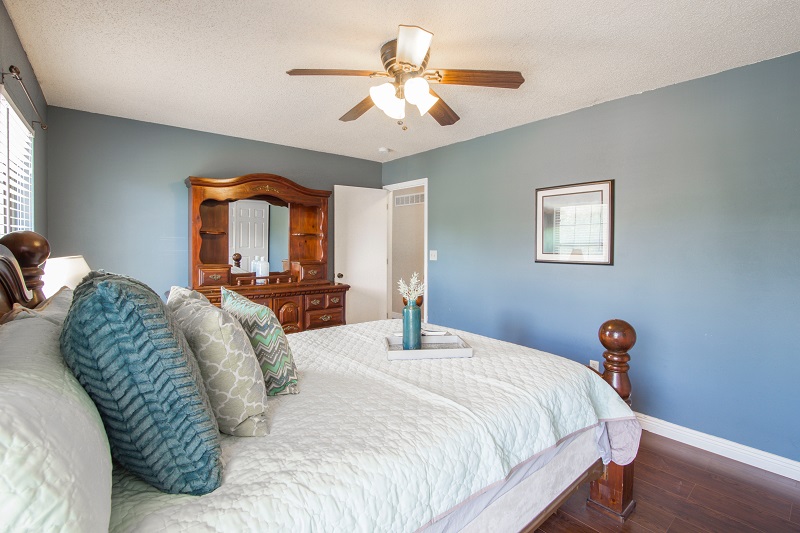 Method 3: Use Baby Wipes
* This method is best for fan blades that are dirty or greasy
For this method you'll need:
Baby wipes/Cloth
Old sheet
Face mask/ Bandana (optional)
Step ladder
Degreaser or mineral spirit (odourless mineral spirit is best)
Sale
Easy-Off Professional Oven & Grill Cleaner, 144 oz (6 Cans x 24...
Heavy Duty Oven & Grill Cleaner cleans tough baked-on spills quickly.
The advanced grease-cutting formula is effective against burned-on grease and grime.
Spot cleans in 5 minutes.
Great for everyday spot cleaning!
Ideal for cleaning: ovens, broilers, and barbecue grills.
Images from Amazon Product Advertising API / Affiliate links / Last update on 2021-01-21
Instructions –
Make sure the fan is switched off, to ensure you're being safe. If you're opting to wear a bandana or face mask put it on now. You will need to completely cover your nose and mouth to avoid breathing in dust or dirt.
Place an old sheet on the floor underneath the fan to collect the excess dirt.
Put the step ladder in a place that makes it easy for you to reach the ceiling fan.
Climb the ladder, if the fan is dirty but not greasy simply use a baby wipe to wipe down the blades. This will remove any dirt, make sure you remember to clean the top and bottom of the blades.
If your ceiling fan is greasy, pour a small amount of mineral spirt or degreaser onto a baby wipe or a cloth. The cloth or baby wipe should be damp, it shouldn't be soaked. Wipe down the fan blades, make sure to wipe the top and bottom and watch the grease disappear!
Dispose of the dirty baby wipes or clean the cloth, pick up the sheet and shake the dirt in the trash or outside. Once the dirt has been removed, clean the sheet in warm water.
Related read: standard height for ceiling
Method 4: Use a Vacuum Attachment
*This method is great if you don't have a spare pillowcase or a duster with an extended arm
For this method you'll need:
Instructions –
Turn the fan off, place the step ladder under the fan so you can easily reach it.
Attach the extended attachment to the vacuum, turn the vacuum cleaner on. Climb the ladder until you reach the fan height.
Use the vacuum attachment to carefully pick up the dust from the fan blades. Make sure you run the attachment along the blade in a straight line to avoid making a mess.
Repeat this process until all the fan blades are clean.
Use the vacuum cleaner to clean up any dust or dirt that has fallen on the floor.
Final words
We hope you liked our tips on how to clean ceiling fan blades.
Hopefully, by now you know how useful ceiling fans can be and how easy it is to clean them. It's important to make sure you keep your ceiling fan clean to keep the air in your home clean and ensure your fan has a long life. Now you have our simple guide on how to clean a ceiling fan. No more excuses, it's team to get that ceiling fan perfectly clean.