Note that the products discussed on our site are independently selected by our editors. Your purchases through our recommendations may earn us a commission at no extra cost to you.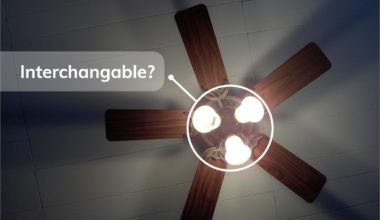 Ceiling fans have been popular for years and years and show no sign of going out of fashion. If anything, with temperatures rising around the world and air conditioning not suiting a low carbon lifestyle, ceiling fans may be entering a new era of popularity. And when you consider the huge range of different designs and styles there will always be one that is perfect for your room. With many new designs coming out every year many of us may be thinking about changing our fan for a newer, energy efficient type, or at least changing the light kit to a different style to suit our new decor. But can we just swap out the light kit for another? Is it really that easy? Let's find out…
Are Ceiling Fan Light Kits Interchangeable?
The simple answer is both yes and no. There are many different fans and many different light kits out there of many different types and sizes and not all will be compatible with the fan you already have, you have to rather find out a compatible light kit for your fan.
Many manufacturers produce matching light kits for a series of fans. You have to match the model/series number to find a light kit that will fit your fan exactly.
See the following video to better understand what I mean.
Do you have a Hunter fan? Or a Casablanca? Is it a small fan or a large one? Does it have a housing cap with a centre hole? You see what I mean? You have to be a little bit careful to make sure your are not returning light kits over and over again until you get the right one.
How To Find a Compatible Light Kit For Your Fan.
So how do we find the right light kit for our fan? Firstly, let's find out the make and model of the fan. If its a Hunter or a Casablanca then we can look at the range of light kits that these manufacturers supply as they will be compatible with our fan. These are available direct from the companies themselves or through distributors like Home Depot. Other manufacturers may also supply their own range of light kits so it's worth checking these out first. It's worth checking the model numbers of the fan and light unit as some brands make it easy by having matching numbers in the codes so you can see the compatibility.
If we don't know our make of fan, or if we want to find a different style that will fit, we need to have a look at the existing light kit on the fan and make sure we get a new one with the same sort of housing. Many kits have a circular base with a few screws that screw in from the outside into the fan unit holding the light kit in place. Check the diameter of the base and the screw positions and then search for similar ones.
If you have a fan without a light kit and are looking to add the lights make sure the fan has a housing unit under the fan. This may be hidden under a decorative bowl or cowl that can be removed to be replaced with a light kit.
The chances are we will be limited to the type of light kit that fits exactly onto our fan as there is no such thing as truly 'universal' light kits. Some light kit manufacturers may market their kits as 'universal' but this may well mean they are only universal across their own range of fans. Others will be universal but only across all fans that have a, say, 6" diameter base unit.
If you don't know the make or model of your fan, or if you aren't sure it will take a light kit, it is probably a good idea to buy a new complete fan and light unit, at least this way you can choose the overall look and design in one easy go.
A few More Things to Consider
Once we have found a light kit that will fit we still need to check a few other things before we buy. Do the electrical requirements of the light kit suit the capacity of the fan? Check you have the right voltage supply. If your fan is still fairly new it may still be under warranty and it would be worth checking the conditions to make sure you don't invalidate it.
Does the light kit have enough bulbs for your requirements and will it supply enough illumination to your room? The introduction of highly energy efficient LED light bulbs over the last few years can be confusing to those of us who still think in terms of 40 watt or 60 watt bulbs. LED bulbs are so efficient that they will now be around the 4 watt to 6 watt range and still produce the same amount of light as the old bulbs. And this amount of light produced is measured in lumens. If replacing an old 40w bulb look for a bulb that produces about 400 to 450 lumens. Brighter bulbs can be up around 800 lumens.
Oh, and just to help clear up another area of confusion, we can also choose the colour of the light produced by the LED bulbs. This colour varies from an orangey warm glow colour to the harsh bright white colour and is measured in degrees Kelvin. Basically the higher the number, the brighter white the light. So 2700-3000 kelvin is warm white, 3100-4500 kelvin is cool white and above this is considered like a daylight white. The warm white is considered best for ambient, decorative light, cool white better for specific tasks like a reading lamp or to illuminate a specific area like a workbench.
If your fan is outside or in a damp environment you will need to take this into account. Light kits are available in three different 'wet' ratings: dry, damp and wet. Dry is for indoor only and must not be exposed to moisture so is suitable for bedrooms, living rooms etc. Damp rated fans can handle more moisture so could be used in bathrooms, covered porches and patios not exposed to direct rain. Wet rated fans are suitable for full outdoor use, like open patios, decking, roof gardens etc.
Finally, think about the style of your fan, the look you are going for and try to find a light kit to suit. It would not be a good idea to fit a vintage, retro style light kit onto an ultra modern contemporary design fan, and vice versa. Choose one that will suit your fan and your room's decor.
Conclusion
So, like most things in life, nothing is ever as easy as you first think. Unless you're just plain lucky of course! But it's really not as difficult as it might sound – doing a little work before going shopping can make the job a whole lot easier.
If shopping on the internet it can be very hard to find the information needed to work out if the light kit will fit our fan. Pictures alone cannot be trusted and rarely are the diameter of the housing or the screw positions detailed. Make sure to check all the information given for the kit and have a look at the reviews, other buyers will often say how it fitted and what sort of fan it fitted to. This can be a useful guide as to whether it will fit yours. Sometimes there is a helpline or the stores telephone number that can be called to get the right advice.
It could save a lot of time and bother if you take the measurements of your fans light fitting unit and maybe a photo or two, to your local home improvement centre, to help make sure you get the right one. Maybe a store employee would be able to offer advice and help you get the right one.
Either way, there is no time like the present to swap out your old light kit for a new, energy efficient kit that can supply more light for less power and improve the decor of your room at the same time!