Note that the products discussed on our site are independently selected by our editors. Your purchases through our recommendations may earn us a commission at no extra cost to you.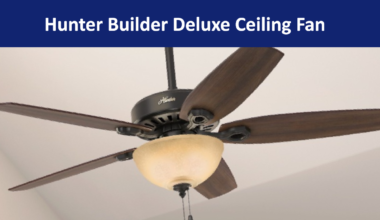 A ceiling fan is a crucial component of your household that you can place in your house in vantage positions. The fan helps in the circulation of air, which helps cool the room and keep off odors. It is also an aesthetic statement to your house, where it shows your level of sophistication. And when you know how they cost literally pennies to run, compared to other HVAC systems, it becomes a no brainer to install them in the house.
When looking for an ideal fan for your house, the Hunter Builder deluxe ceiling fan proves to be an excellent choice. It comes in a unique design that will do justice to your space. Aside from the beauty factor, it also guarantees an excellent job in circulating fresh air, hence you can say goodbye to a stuffy and humid house.
Below is our Hunter Builder Deluxe 53091 Review, showing you what to expect when you install it in your house.
Hunter Builder Deluxe 53091 Review
** This product is currently not available.**
Specifications:
| | |
| --- | --- |
| Light supported | Yes (Dimmable LED) |
| Blades diameter | 52 inch |
| Recommended use | Indoors |
| Wattage | 64W |
| Operating Voltage | 120V |
| Control options | Pull chain |
| Special feature | WhisperWind motor with reversibility feature |
Styles and Sizes
One captivating aspect of the Hunter Builder deluxe fan is its classic style. The blades have a woody accent, which possesses a nostalgic feeling to it. The overall style is vintage-inspired, making the ceiling fan a suitable household addition if you love such inspirations.
The Hunter Builder Deluxe was made for medium to large rooms, hence the 52 inch blade span. Check out our top ceiling fan picks for small rooms if you want one of those.
You can install the Hunter Builder Deluxe 53091 in a central place like in your living room or dining room, to accentuate your space. It comes in three different styles that you can choose from –
Brushed Nickel
New Bronze
and White
Things to Like About Hunter Builder Deluxe Fan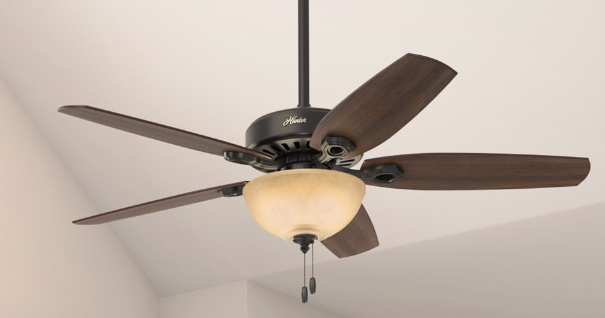 As you will see in our Hunter Builder Deluxe 53091 review that this fan has got a lot of things to love it for. Here are a few —
1. Dark or White – It's Got Both
When getting a ceiling fan, it is vital that you look at the color, especially if you want it as an aesthetic component. The Hunter Builder Deluxe ceiling fan is available in both dark and white shades, making it versatile, depending on your house's paint scheme.
If your house has a dark tone, you can go for the white variety and vice versa. Here, you want the contrasting color shades to highlight the elegance of the ceiling fan in your space.
2. Reverse Mode Available
The reverse mode is a key selling point for this fan as it guarantees you your preferred airflow mode. The reversible 3-speed motor that the fan runs on delivers ultra-powerful air movement that ensures you have a constant supply of fresh air.
The reverse setting allows you to tweak the airflow direction between downdraft and updraft modes. You can use the former mode during summers to cool your surroundings and the latter in cold winters for better warm air circulation.
Reversibility feature has become a pretty standard feature of modern ceiling fans, and the Hunter Builder Deluxe won't disappoint you here.
3. Whisper-Quiet Performance
The Deluxe 53091 fan attempts to avoid another common problem of ceiling fans — noise, by making use of a WhisperWind motor. Some ceiling fan models produce a rattling or whistling sound when they run, which can be pretty annoying, when the only thing you want is a silent room to take a good night's sleep in, for example. The Hunter Builder Deluxe model will allow you to enjoy a moment of peace as it brings fresh air into your home, without the noise you don't' want.
4. Dimmable LED light
While the fan has a vintage accent, it also has a futuristic look, where it features an LED bowl lighting kit. So the fan sorts out two issues at ago, which are air circulation and lighting. The LED lights are energy-efficient and won't spike up your electricity bill too high.
The bulbs are also dimmable, allowing you to have their brightness under your control to achieve the perfect ambiance in your internal surroundings. The light bulbs have a longer life and will serve you longer compared to the traditional ones.
The LED bowl plays a role in the dispersion of light, meaning it will evenly provide lighting for your entire room.
5. Pull Chain Control
The user-friendliness essence of the deluxe fan comes to play courtesy of its pull chain control mechanism. The pull chain comes from the fan to a point you can easily access. By pulling on the chain, you can turn the fan on or off, and even tweak the speed settings to your desired rate.
There is also another chain for lighting control. With this mechanism, you do not have to stress yourself when it comes to regulating airflow and lighting in your house. Additionally, the two pull chains have clear labeling. Hence, you can easily distinguish the one for the lighting from one for the fan.
6. Use With or Without Lights
Another hit at its user-friendliness is that you have the option to use it with or without lights. The main point is that you use the fan as you prefer. This can come handy if you already have enough lighting in your room and don't want additional lighting, or you just simply don't like to have lighting on this fan.
7. Ceiling Height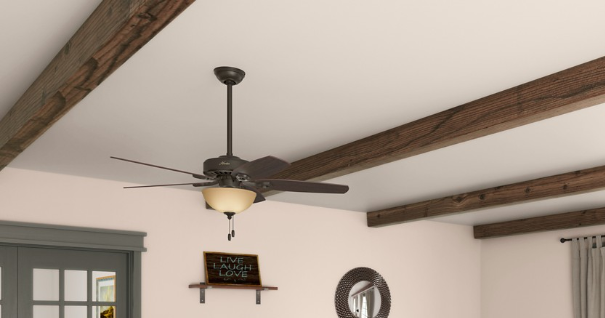 The ceiling height is a vital area to look at when installing your fan. You need to determine the ideal height for installation for proper airflow and warmth regulation.
The Hunter Builder deluxe model comes with two downrods to ensure the right distance from the ceiling. They are three and 2-inches, which you may consider as the right blade height when fixing the fan. If you want longer downrods, they can be purchased separately.
The deluxe fan is ideal for ceiling heights of 8 feet and higher.
8. The Mounting System
This fan's mounting system shows you how versatile it is as it has three position mounting system. You can pick from standard, low, or angled mounting depending on how you desire it.
9. The Blades
The blades have a diameter of 52-inches, which is an ample length that will promote excellent circulation when they move. They are very stable on their mounting base, which beats wobbliness that can be a safety risk.
The five blades have a 13-degree pitch for optimized performance that is important for a serene environment when the fan is on.
10. Durability
When getting any household utility, paying attention to durability is essential as it saves you on repair and replacement costs. The deluxe ceiling fan has a sturdy structure, with most parts crafted from metal. This translates to its long service life.
11. Reliability of Hunter Fan Company
When getting a fan, you also need to look at the model's company. A reputable company will provide you with an excellent utility that will serve you well. In this case, Hunter is the company to look at.
There are several factors to focus on when determining if the company is the best. The quality of their products is one of the factors.
Focusing on quality, Hunter produces some of the best household items, such as fans, lights, and many more. All of them are known to be of excellent quality, showing you how reliable the company is. Also, pay attention to pricing and warranty, all of which are reasonable.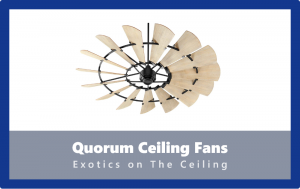 Things to Keep in Mind Before Buying Hunter Builder Deluxe 53091
Above are some of the features that make the Hunter Builder Deluxe ceiling fan an excellent home utility. Flipping the coin, we look at some of the things to keep in mind before purchasing the fan for you to make the best decision when out shopping.
1. Bugs in The Globe
House lights attract bugs, and this fan's lighting seems to attract more of them. While the blades may send some insects away, many will find their way to the light globe as the globe's top is left opened by design. Here is where they become a nuisance, as cleaning the globe is strenuous.
The process of climbing a ladder, uninstalling the globe and cleaning, then putting it back may be too much, especially when you consider the bugs do find their way back.
Pro Tip:
A cleaning tip you can bank on is to use an air blower to get rid of the bugs. Also, use an insecticide to prevent the entry of insects. See how to clean the blades here.
2. Not Suitable for Outdoors
The Hunter Deluxe 53091 ceiling fan is versatile when you look at the area of use, where you can have it in your living room, kitchen, or bedroom. The downside, however, is that you can only use it indoors.
If you wanted a fan on your gazebo or balcony, the Deluxe fan is not a suitable option. The outside weather elements may negatively affect this fan, resulting in wear and tear and even permanent damage to it. If you want a Hunter fan for your outdoors, the Hunter Key Biscayne would be a good option for you.
3. Lighting May Seem a Little Dim for Some
The lighting system may be dim for your liking. While you can adjust the settings, you need to understand that the energy-saving bulbs that come with it in the box do not produce enough light for you to use it as your primary source of light in the room. In this case, you can use the fan's bulbs as secondary lighting for your house.
If you want to improve its brightness, you need to continually clean the light globe to clear dirt, which may block it.
Another issue with the lighting is the shadows, which creates a dark spot in sections of your room. The shadows come due to the configuration of the bulbs, which face upwards. The dark spot may be more pronounced when the fan is not running.
4. No Remote in The Box
Another con to expect with this product is the lack of a remote control device in its packaging. With remote control, you do not have to move when turning on the fan or adjusting the modes.
However, without one, you will make the extra effort of moving to the pull chain to get the desired settings. If you can't live without a remote control for your fan, you can purchase one separately.
Warranty Information
The Hunter Builder Deluxe ceiling fan has a friendly warranty policy. According to its policy, should any part of the motor become faulty due to manufacturing or workmanship flaws, you can get a replacement free of charge. It is a lifetime warranty policy that covers you the entire time you have the fan.
In case there is no replacement part, you will get a full refund. If the fan fails at any time during one year from your purchase due to defective workmanship or inferior materials, you will get free labor to repair it. More about warranty here.
How Does It Compare with Other Hunter Fans?
Here's a side by side comparison of this fan with other popular Hunter ceiling fans.
* As advertised on Hunter website. Estimated based on typical use, excluding lights.
Who Should Buy This Fan?
This fan is an ideal choice if you pay attention to interior décor. It can uphold a vintage or classic look of your house. It is an elegant complement to vintage accessories such as cupboards and curtains with a similar vintage style.
It is an excellent household utility for you if you reside in humid areas, which can be very stuffy. You should also get this fan if you want a noiseless operation that gives you peace when resting.
** This product is currently not available.**
Our Verdict
At this point, it becomes evident through our Hunter Builder Deluxe 53091 ceiling fan review that it is one of the best household ceiling fan installations you may land your hands on. It comes with plenty of features such as noiseless operation, unique design, and the reverse mode, making it user-friendly.
It has a friendly warranty policy that comes to your aid if the fan develops any fault. Get this ceiling fan to feel its excellence when it comes to aerating your house.