Note that the products discussed on our site are independently selected by our editors. Your purchases through our recommendations may earn us a commission at no extra cost to you.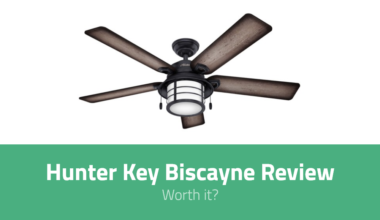 As the year turns from frosty dawns to scorching noons, one might think of investing in a good quality ceiling fan that ticks all boxes when it comes to functionality all the while maintaining an impeccable standard. Hunter's Key Biscayne fan exceeds all these expectations with sturdy blades to keep you super fresh in both the seasons. There's also an integrated light kit that is guaranteed to light up the darkest of nights.
Not only is it available in two beautiful, rustic designs but is also built to produce as less noise as possible while operating. Being ETL Damp-rated, this machine is even optimised for outdoor spaces such as porches and patios.
Versatility being a forte, this fan also allows multiple angles, and room for adjustments resulting in a fluid mounting system. Scroll up to read more!
Hunter Key Biscayne Review – The Specs
** This product is currently not available.**
Specifications:
| | |
| --- | --- |
| Light supported | Yes |
| Blades diameter | 54 inch |
| Recommended use | Outdoors / Indoors |
| Wattage | 46W * |
| CFM | 4170 * |
| Operating Voltage | 120V |
| Control options | Pull chain |
| Special feature | WhisperWind motor with reversibility feature |
* As advertised on Hunter website. Estimated based on typical use, excluding lights.
Interesting read: Check out how little ceiling fans cost here.
Available Styles and Sizes
Being a modern invention, this fan is available in two styles:
Weathered Zinc: A timeless vintage imitation with sturdy blades flaunting a wood finish and a solid black core.
Onyx Bengal: A classic favourite with polished, fawn coloured blades and a rich brown core.
Being 54 x 54 x 7.83 inches in dimension and 54 inches in diameter it can fit anywhere!
Things to Like About The Hunter Key Biscayne
Delving into the many advantages of this purchase, let's highlight the good factors first.
1. Beautiful rustic look
A standout feature of this fan is its unique carved design that can blend well with the colour palette of any interior. With subtle and soft neutral colours this machine will add a dose of vintage beauty to your rooms.
With sturdy blades that have been imprinted with a carved woodwork design to provide that rich, oaky elegance to your interior and a sophisticated centre bracket to cradle the light bulbs, this is the epitome of elegant machinery. And it is this elegance that, along with other features, has inspired us to write this Hunter Key Biscayne review for you, our readers.
Available in two beautiful, unique designs, it is sure to be a delight on the eyes!
2. WhisperWind motor
Engineered skilfully, this fan is fitted with efficient WhisperWind motor that provides cool air without the noisy racket that comes hand in hand with fans. Without compromising on quality, these motors manipulate airflow and provide chilled air without any noise!
Air as soft as a whisper and yet chilled as winter winds, these make sure for a truly lush experience!
3. Reversible function
With an impressive built-in reversible function, this fan has modes that can be switched according to the season. A downdraft mode for the summer to rotate the fan blades counterclockwise and provide cooler air. A treat for the summers!
Also an Updraft mode for the winter that will force the warm air from the ceiling down to the bottom of the room and circulate it to keep you nice and toasty. This versatility allows fans of this type to be top sellers amongst other fans!
4. Works on outdoors too!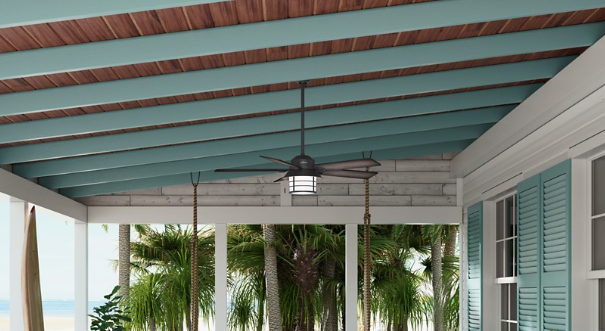 Again with praiseworthy versatility, these blades are not only suitable for indoors but also work efficiently outdoors. To enjoy a nice cup of tea on your porch surrounded by whisper-soft, chilled wind is no more a dream!
Having an ETL damp rating, it can even be fixed in garages, bathrooms and pergolas. With quality, good wattage bulbs they can even light up a good portion of your outdoors making it suitable for parties and outdoor events.
Related: Small ceiling fans for bathrooms
5. Triple mounting options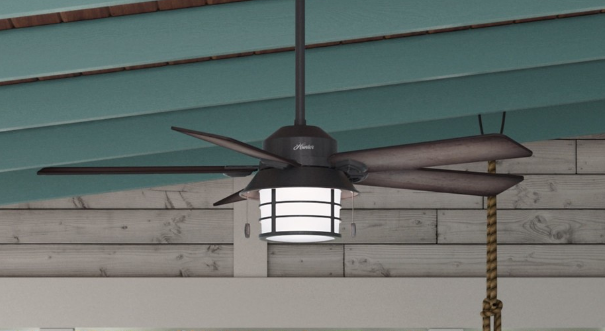 Choose the direction and angle you want your fan in with these three excellent, installer's choice positions. It can be mounted in any way you like to provide the ultimate cooling experience. The angle choices are:
Standard Mounting
Low Mounting
and Angled Mounting, if you want to install it in slanted ceilings.
Fix it whichever way you please and if you are not satisfied you can change it with the same ease! Voila!
6. Labeled pull chain control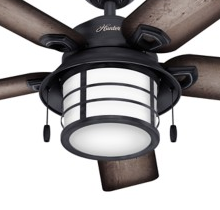 Pre-packaged with pull chains to control fan settings is a bonus. Turn the fan on or off and you can even adjust the speed of the fan blades. This accessory also allows you to switch on the lights fixed at the core of the machine.
For your ease, these chains are pre-labelled to eliminate any confusion and are fixed at a high degree to prevent people from being annoyed by chains in their faces. They are built at a considerable distance from the floor however are easily within reach.
7. Hunter's energy efficiency bulbs come included
Included in fan parts are ready to install, Hunter's energy saving light bulbs. Fixed in a wood bracket at the centre are two 14W standard CFL bulb cases in white glass. The perfect combination of deliciously cool air and warm light.
This not only makes installation easier but also quicker as you don't have to purchase bulbs for the light kit. Their wattage is optimised for lighting up interiors as well as exteriors and you never have to worry about dark porches and patios again!
Related: check out our best picks for Hunter ceiling fans
Things to Keep in Mind Before Buying
A list of things you want to keep in mind before making this purchase.
1. Blades don't go the way you think they do
It is important to be attentive while assembling the blades and parts. Make sure you attach the metal piece that holds the blades together, correctly. Observe the given picture and determine the correct sides and only when your are confident about it, attach the part.
It is easy to get confused and assemble it with the metal part on the wrong side, so make sure to assemble it correctly! You can read Amazon customer reviews to learn more about this issue.
2. No remote in the box, only pull chain
Having a pull-chain system to control fan speed and settings, a remote is of little use and is this not included in the fan parts. However if you do require it, it is available to be purchased separately.
Warranty Information
Always maintaining a standard, Hunter's Biscayne Fan ensures customer satisfaction and it is their utmost priority which is why they provide a 1 year limited warranty with every purchase of their Fans. This not only provides a sense of security but also covers all repairs and guarantees a good customer experience.
More about warranty here.
How Does It Compare with Other Hunter Fans?
Here's a side by side comparison of how this fan compares with other popular Hunter ceiling fan models.
* As advertised on Hunter website. Estimated based on typical use, excluding lights.
Who Should Buy This?
Anyone who desires a good night's sleep without any disturbance will benefit greatly from the WhisperWind motor that provides cold air without a racket. Event planners for outdoors parties can also install these for large gatherings thanks to their outdoor compatibility.
Apart from that, if you have a patio and love to watch the sun dissolve to twilight without getting baked by it, you can too be at an advantage with this purchase. Moreover garage owners with large, stuffy spaces can also cool down with the Key Biscayne fan's unique air manipulation. This is a must-have product for any interior!
** This product is currently not available.**
Our Verdict
We hope you can agree with us through our Hunter Key Biscayne review above, that this fan is not merely a decorative piece of metal that adds to the aesthetic appeal of your interiors but is also functional, and an excellent quality machine that instantly cools down or warms up any room. Built with immaculate features this machine is amazing and durable.
Its sturdy materials allow it to long last and not rust quickly while it warranty gives you security and guarantee. This will definitely be a purchase worth making!
What's Next?
Got the fan? Here's how to install it now.
Check out our top ceiling fan picks from other brands here: best ceiling fans.
If you want ceiling fans that are great especially in the bedrooms, here are those: best bedroom ceiling fans.
Wondering what other brands are out there: Best ceiling fan brands.
Ceiling fans can help with mosquitoes too! Did you know that? Well now know.