Note that the products discussed on our site are independently selected by our editors. Your purchases through our recommendations may earn us a commission at no extra cost to you.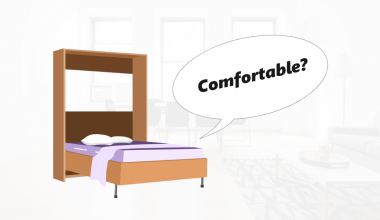 When you live in a small apartment where you don't have a lot of room to house a dedicated bed to accommodate guests, or even to use it as your main bed, looking into space-saving bed options becomes a no-brainer. Out of all the options out there, a Murphy would easily catch anyone's attention in such a situation.
In case you don't already know what they are, they are a type of bed that you can fold away into a cabinet or an adjacent wall after you are done sleeping. And once the need to sleep arises again, you pull the bed down and sleep on it as you'd do on any regular bed. More about Murphy beds here and here.
Despite their being highly space-saving and convenient to use, are murphy beds comfortable compared to regular beds? This is a question that a lot of people have, and perhaps you do too!
To put it in a few words, Murphy beds are just as comfortable as any regular bed as long as you put a comfortable mattress on them. The comfort level of Murphy beds totally depends on the mattress you use. Therefore, if the mattress is comfortable, so would the bed be.
If you need a more detailed answer, find it below.
Are Murphy Beds Comfortable?
As mentioned earlier, murphy beds these days are well-engineered to get you the comfortable sleep you enjoy on any regular bed. There are many ways in which Murphy beds accomplish this goal. Following are a few of them.
They Accommodate Regular Mattresses
One of the most common misconceptions people have about Murphy beds is that, as these beds are uniquely designed, you can only fit some sort of unique mattresses on the frame. This is something totally wrong and not true about the Murphy beds that are currently available in the market.
These beds rather come in all the regular sizes for accommodating mattresses of all the regular sizes. You will find Murphy beds in sizes such as twin, full, king, and queen. Get a mattress of any of these sizes, and you'd easily find matching Murphy beds in the market.
This fact also solves another concern that users have – comfortability! As these beds allow you to use regular mattresses, the comfort level you'd get on them would also be the same. So, if you find your traditional size mattress comfortable and buy a bed that fits that mattress, you should get the same comfort level while sleeping.
Thick Mattresses (Unlike Thin Futons)
When it comes to bed comfort, the thickness of the mattress plays a crucial role here. A good rule of thumb to remember is – the thicker the mattress, the more comfortable it feels to sleep on it. More thickness means the mattress has room to house more fluffy material inside which allows it to better accommodate the shape of the sleeper's body on top of it. It also allows the mattress to better absorb the pressure at the pressure points, and give a very comforting experience to the sleeper. Many people that go with other space saving bed options such as futons complain about the thin mattresses they have to use with those bedding options. Because, those thin mattresses do a pretty bad job of giving a comforting sleeping experience to the sleeper.
Murphy beds solve this problem very efficiently by allowing the use of much thicker mattresses than those thin futons. Any modern Murphy bed would easily accommodate a mattress of up to 12" in thickness, which is in no way considered thin, according to the standards of today. And it doesn't seem that mattresses would need to be thicker in the future either.
So if you are afraid as to whether you can use thick mattresses on Murphy beds or not, rest assured that you won't be disappointed here.
Pro Tip: While getting a mattress of the right thickness, consider your body weight as well. If you weigh more than 230 lbs. you may need a mattress thicker than 9 inches.
Flat Support for Mattress (No Uncomfortable Bars Underneath)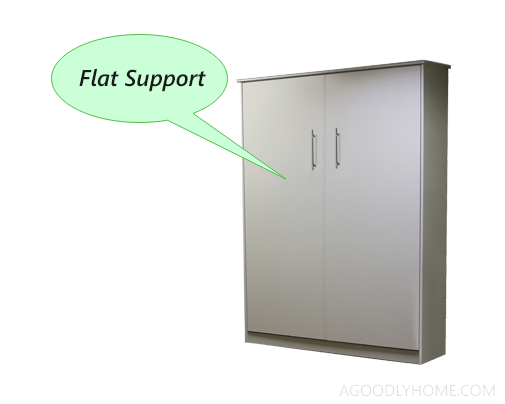 One of the areas where traditional beds cannot compete with Murphy beds is that there's no supportive bar underneath the bed, in most cases. Some Murphy beds do have bars, but then underneath them, you have a flat panel to support the mattress, unlike traditional beds where they only have those poking bars.
This bothers me a lot when I sleep on a bed that has supporting bars underneath the mattress. I can easily feel being poked on my back by those bars. You can experience this clearly if the mattress isn't that thick. Also, for someone who is overweight and sleeps on a relatively thicker mattress, he/she would still feel the same. Someone looking for a cozy and comfy sleeping experience would find this very annoying like I do.
Murphy beds again set themselves far apart from traditional beds in this regard as they don't have such bars underneath the mattress. Most of these beds have completely flat support instead underneath the mattress. So, they solve the problem in two ways here. For one, you have the option to use a thick mattress. And second, even if you choose to use a thinnish mattress for any reason, you wouldn't find annoying bars poking your back all the time, ruining your cozy sleeping experience.
Easy to Open and Close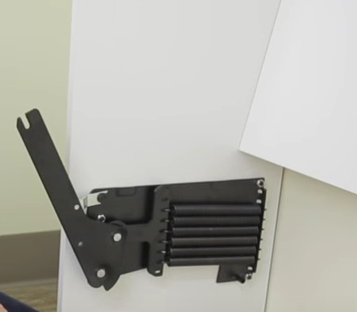 Many people have a question with regards to folding the bed – is it hard to fold up and down? If you are one of them, well, take good news.
Murphy beds are designed in a way to make folding like a breeze. Regardless of the size and thickness of the mattress you put on it, you won't have to put much effort into folding it back into the wall. Without any heavy lifting, you can fold the bed in a few seconds. A larger bed does not mean it would be heavier to lift, because the lifting mechanism will also be more powerful in that case. So, as long as you follow the manufacturer's recommendations with regards to choosing the mattress, you should not have any issue with pulling the bed up or down.
On the technical side, the folding mechanism of Murphy beds is getting easier. More or less, all these beds come with sophisticated spring-loaded or piston-loaded mechanisms to make it an effortless task to open and close the bed. You can even do it using one hand. Easy as a breeze!
Ways to Ensure Comfort on Murphy Beds
Up until this point, we have discussed the importance of choosing the right mattress. The million dollar question now is – how do you know which mattress is the best for your Murphy bed? Which type? What about thickness? Anything else?
Well, the following sections will provide you the much-needed info regarding this.
Get a Mattress of Proper Type
If you take a look around in the market, you will find people talking (primarily) about 3 types of mattresses for Murphy beds.
Memory foam mattresses
Innerspring mattresses
Latex-foam mattresses
Not all these mattresses are equally good. They differ in many aspects such as price, longevity, convenience, and even comfortability. So, read the following discussion to understand which type of Murphy bed mattress would be best for your particular situation.
1. Memory Foam Mattresses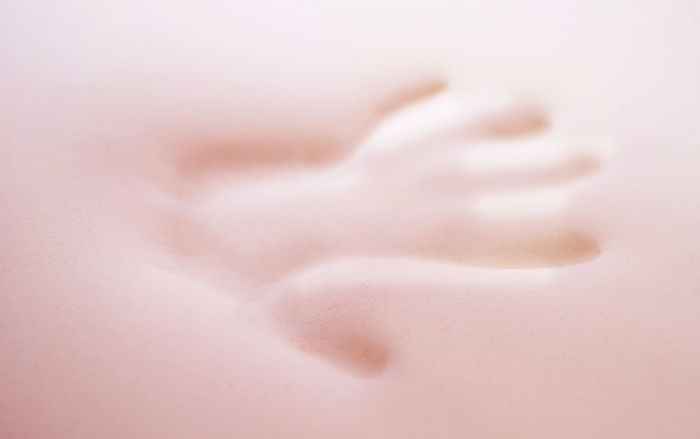 For all beds, including Murphy bed, memory foam mattresses are the best. If getting the most comfortable sleeping experience is the highest of your priorities with your folding bed, this is the mattress type you should get.
These mattresses adapt your natural body shape the more you sleep on them. For individuals under 150 lbs, the top layer and the support core of a memory foam mattress would be more than comfortable.
After a few days of use, the foam will sink in to provide you the much-needed pressure relief on your shoulders and hips to get a comfortable sleep.
If you are someone who weighs more than 200 lbs. be sure to get a firmer memory foam mattress with a supportive spring core. This will make sure your body doesn't shrink too deep into the materials. Don't overlook this factor if you have back pain, hip pain, or any posture issue.
Innerspring Mattresses
An innerspring mattress will be the right pick for your Murphy bed if you're looking for more of a budget option as these mattresses tend to be a little cheaper than their memory foam counterparts. These mattresses have an upholstered top layer with natural fillings to make the top layer comfortable to sleep on. And inside, they have arrays of springs put in an organized way, allowing the bed to provide enough flexibility to the sleeper's body on top.
When compared to memory foam, the comfortability won't be the same. But still, these are the best alternative to memory foam mattresses for murphy beds.
Latex Mattresses
The most durable alternative would be latex mattresses. But this mattress option might get you the minimum comfort you need for your small bed setup. These mattresses are heavier, thus not as suitable for murphy beds as the other two options we have discussed above.
Also, when it comes to pressure relief, these mattresses prove to be less efficient than the memory foam. Memory foam mattresses would allow the curves of your body to deeply sink into them, whereas latex ones allow the sinking of the overall shape of your body, not the details. Therefore, pressure relief on these mattresses are good, but not as good as you'd find on memory foam ones.
However, the reason we don't recommend these mattresses for Murphy beds is that the bed would be closed for prolonged periods, in standing position. As these mattresses are made of more flexible and heavier materials, there is more chance of them distorting their shape over time due to being put in standing position for such prolonged periods.
Get a Mattress of Proper Size and Thickness
As you have decided which mattress type to go with, choosing the right thickness comes next. Usually, mattresses for Murphy beds are available in 6 to 12 inches. You need to consider your bed size, manufacturer's recommendation, and your body weight to be able to select the right thickness.
If you are an average person less than 200 lbs. you won't need more than 8 inches of thickness. Individuals above 200 lbs. require a thicker mattress.
Also, if the bed is for a couple, you might need a relatively thicker mattress to ensure equal comfort for each person.
Above all, you should follow the manufacturer's recommendations in this regard.
Get a Mattress of Proper Weight
This factor will automatically be checked by the thickness of the mattress. Still, to make sure nothing goes wrong, do consider the manufacturer's recommendation before you finally purchase a mattress.
The weight factor of the mattress will influence the convenience of opening and folding the bed. It shouldn't be too heavy to fold up, nor should it be too lightweight, so it doesn't close up accidentally. More about Murphy bed mattress here and here.
Murphy Bed Recommendations
After discussing about Murphy beds for this long, it would only be appropriate that we add some recommendations here. So, following are some ready-to-assemble Murphy beds that we recommend. If you want to go the DIY route, here's our guide on that – Murphy bed DIY kits.
Final Words
To sum everything up, murphy beds can be similar to any regular bed when it comes to comfort. The unique form factor and folding mechanism don't make it an uncomfortable bed as long as you choose a bed of the right size and a suitable mattress as per your needs.
So, are murphy beds comfortable? If someone asks you this question, whether for an opinion or recommendation, you now have a lot of things to explain.
Next Up
Murphy beds tend to be more on the expensive side of beds, learn here why they are expensive. And here are some pros and cons if you are still not sure whether to buy one or not – Murphy bed pros and cons.