Note that the products discussed on our site are independently selected by our editors. Your purchases through our recommendations may earn us a commission at no extra cost to you.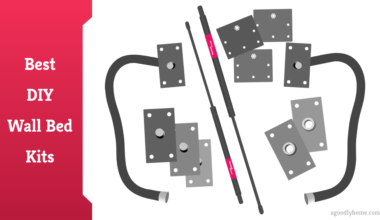 If you want a simple, spacious, and modern home, a Murphy bed is a must-have in your rooms, especially the guest room. These are the beds of the future. The ability to just pop them into a wall when you're not resting or sleeping gives you more space in your room that you can use to add more decors, workouts, or for anything in between.
But this kind of futuristic beds do come at a pretty hefty price tag, easily over $1300 pre-built. Don't be put off though, as there are DIY solutions in the market for these beds which will cost you only $700-$800 in total. So if you don't mind spending a few hours at the of the weekend building a murphy bed with your family, while also having fun, this article will be of great help to you – we hope.
Related: our recommendations for the best murphy beds (pre-built) if you rather want to go that way.
Following is a list of some of the best murphy bed hardware kits that we recommend for your DIY murphy bed project, with detailed explanations of each. This way, you will know exactly what you are getting into before your purchase so that there are no bad surprises.
Best Murphy Bed Hardware Kits in 2021
To make it easier for you to choose a good Murphy bed kit out of all of the ones available in the market, we have listed down below three of our favorites. We're sure one of these will fit your needs and won't disappoint you.
Create-A-Bed Deluxe Murphy Bed Kit
Images from Amazon Product Advertising API / Affiliate links / Last update on 2021-01-20
Made with the best quality material, designed to be easy to install and easy to use are only a few qualities that make this our top pick. If you're looking for a Murphy bed hardware kit that will last you years without sagging or malfunctioning, this is the one to get.
Even first-timers will be able to install this bed without having to call in any professional help, thanks to all the detailed instructions that it comes with including a video. The end result will be a basic piston lift system Murphy bed that requires little to no effort to pull down and push back up.
This kit comes in all six sizes so you can build your dream murphy bed of any size.
Things to Like
Durability
One of the main reasons why we recommend this first is because of the product's durability. Murphy beds are not the easiest to maintain or replace. Therefore durable beds make your life easier. The hardware in this kit is built to last.
During the installation, you will notice a delicate fit. There is no binding, or over exceeding. Meaning, you get a quiet and smooth setting for your bed. Even though all the parts are made with high-quality metal, there is no resistance, squeaky noise, or slacking.
Ease of installation
We've mentioned before that Murphy beds are not the easiest things to install. To make this process easy and fun for you, this set includes a step-by-step DVD. In this DVD, you will find all the steps of the assembly process explained in great detail.
Seeing the bed getting installed makes the task more doable. Besides that, you also get a booklet that has illustrations of the installation process. Templates, cut sheets, and bills of materials have also been included for your betterment.
Piston lift system
Gas piston lift systems have many advantages over traditional spring ones — one of the main ones being the lock feature. No matter how good and strong of a material your bed is built with, it is always better to keep things locked in when pulled up into the wall.
This product has a great locking system that prevents any accidents, and unwanted Murphy bed falls.
Besides that, this piston gas system also makes your bed silent and more comfortable to fold in and out. More balance is also added thanks to this feature. Piston gas lifting systems won't break or slacken over time.
Design
This well designed Murphy bed kit is going to build your dream bed if you do not have much space to spare. It comes in both vertical and horizontal versions. You can also use the space above the Murphy bed frame for storage by adding shelves. Also, floor mounting is nor required to install this bed. Rather, it must be mounted to the wall, which increases safety plus helps save space!
What's in the Box
Tube legs which are foldable and made with heavy-duty metal.
All the screws and nuts you will need.
Commercial grade piston lift system.
Pivot hinge that has a solid steel peg, snap ring design, and precision welds.
All other necessary hardware of standard kits.
Templates, cut sheets, and bills of the materials.
Detailed DVD and instruction guide.
Warranty Information
As only solid steel, metal, and industrial-grade material go into the making of this kit, the company is confident enough to give you a lifetime warranty for it.
The Good
Comes in all sizes.
Top notch hardware.
Cabinet can be made of any material of your choice.
Easy to install, all kinds of necessary instructions are provided.
Not So Good
A bit overpriced considering that lumber and mattress do not come included.
You will most likely need another person to help you while you build this.
Easy DIY Murphy Bed Hardware Kit
Images from Amazon Product Advertising API / Affiliate links / Last update on 2021-01-20
The Easy DIY Murphy Bed Hardware Kit is a great alternative to the Create-A-Bed Deluxe Murphy Bed Kit. It too comes in all the standard sizes just like the previous one. It's not a lot different than the previous one. It comes with all the standard hardwire you'd expect in a murphy bed kit. That includes the 2 gas pistons, the lower brackets, folding legs, the Allen key, and of course, the manual.
So you get a single or medium-sized bed with this kit. There is no floor mounting involved! Made with high-quality metal, this kit ensures that there is no need for a replacement in the foreseeable future.
Things to Like
No Floor mounting
This kit makes your work way easier by eliminating the need for you to do any floor mounting. And this is a great option if you have an expensive polished or wooden floor that gets scratches easily. With floor mounting out of the picture, your installation process becomes easier as well.
Ease of installation
An easy to follow instruction guide is what helps you assemble a Murphy bed with this kit. The instruction is well detailed and also includes pictures to guide you and show you where everything goes.
With this kit, you get a complete cut list that tells you everything that you will need. Take this list with you to the hardware store and get all your supplies in one simple trip.
For more help, you also get links to online videos that show you exactly how everything is done. If you are someone who understands more by reading, a PDF is also available with labeled illustrations.
Piston lift system
This piston lift system helps you both pull down and push up the Murphy bed easily. What a great option for people who'd frequently have to use the bed a lot! The system is built specifically to make pulling down and pushing up the bed easier and smoother.
You won't need much effort to operate the bed. Everyone from a child to an elderly will be able to do it without needing any help.
A sturdy and smooth piston lift system is important for murphy beds as they go quite high up on to the wall. The locking system available in piston lifts also makes high Murphy beds safer.
Vertical positioning
If you have a high ceiling, a vertical bed will be the better option for you. Vertical Murphy beds look great in any room and can make your house look modern and chic. Although there is no possibility of adding shelves on top of the system for more storage, the narrow frame makes up for it as you have space beside the bed frame.
Hardware quality
All the parts that you get in this kit are constructed to last for years. The solid steel and metal construction help hold your high bed frames in place without sagging, breaking, or creating any noise.
What's in the Box
A nylon strap that holds the mattress in place when pushed up
All the hardware you will need including an Allen key
Heavy-duty folding tubes made with high-quality metal
Lower brackets
Easy lift gas springs
Pivot plates with auto locking system
Necessary instruction manuals
Warranty Information
All parts of this kit are proudly made in America and have a lifetime warranty.
The Good
Very durable and high quality hardware
Counterbalance provided thanks to the piston lift system
Quiet and smooth operation
Comes in all sizes
Good instructional manual provided
Not So Good
You'll need to put some good amount of work to build with this
Murphy Bed Depot DIY Murphy Bed Kit
Images from Amazon Product Advertising API / Affiliate links / Last update on 2021-01-20
Although most people prefer gas piston Murphy beds, spring lifting ones are still in demand. This is mainly because if there is any sagging, or if any parts become damaged, you can easily replace the part without having to replace the whole Murphy bed set up.
If you are looking to build your murphy bed with a spring lift system, this is the best murphy bed hardware kit for you. We rank this as the best spring lifting murphy bed kit in our list, thanks to the high-quality and durable parts that it is made of. You can use this kit for a bed of any size.
Things to Like
Very clear cut-list and instructions
Very clear instructions are more than necessary for a DIY project as complex as a murphy bed DIY. Fortunately, this kit includes very clear instructions and cut-lists in the box. If you care to read and follow those instructions, it won't feel as complicated as it may seem to build your first DIY folding bed.
Easy to lift
All the metal parts used in this kit come well made and work well together. So there is no unwanted situations to be expected.
You can control the level of resistance according to your preference so that it is easy for you to lift the bed and pull it down as well. Some people like a bit of hold when pulling down the bed so that they have more control while others like a smooth and fast fall.
Supports all sizes
There is no restriction in this kit when it comes to bed size. The sturdy spring parts can handle a bed of any width or length. This way, you don't have to sacrifice sleeping on a queen-sized bed because you installed a Murphy bed!
Spring lift mechanism
Most of the old Murphy beds were made with spring lift mechanism. This kit might not be as sophisticated as a gas pivot one, but the kit is very functional, thanks to the many strong springs that it makes use of. Adjust and control how fast and smooth you want your bed to pull down and go up with the help of this spring lift system.
Although this kit is made of high-quality parts that last years, even if one or two components do fall apart, you will be able to replace them without having to spend too much money.
Supports both vertical and horizontal systems
This kit can be altered to work for both horizontal and vertical Murphy bed systems. Flexible Murphy bed kits like this one will be of great advantage because you will be able to build your bed even if you have a low ceiling. Just go for a horizontal bed. But if you have high ceilings, go for a vertical bed. Those look better and also saves more space from the floor.
What's in the Box
Spring lift mechanism made of steel
All the springs that you will need
Foldable Legs
Adhesive, nuts, bolts and screws
Cut-list and manual
Warranty Information
This one, like all the other products we have mentioned in our list, also comes with a lifetime warranty. So, you can count on this one to last you forever!
The Good
Spring lift system that consists of easy-to-replace parts.
Supports beds of any size.
Can be altered to fit both horizontal and vertical Murphy bed system.
Very clear instructions are provided.
Not So Good
A bit more expensive than the other two mentioned above.
A bit more complex to assemble as there's a lot of springs to install.
How to Choose the Best Murphy Bed Kit
Before you go ahead and buy a Murphy bed kit, there are certain things that you should be alert about. These factors will help you understand the product better so you can know exactly what you want.
Choose the Right Size/Dimensions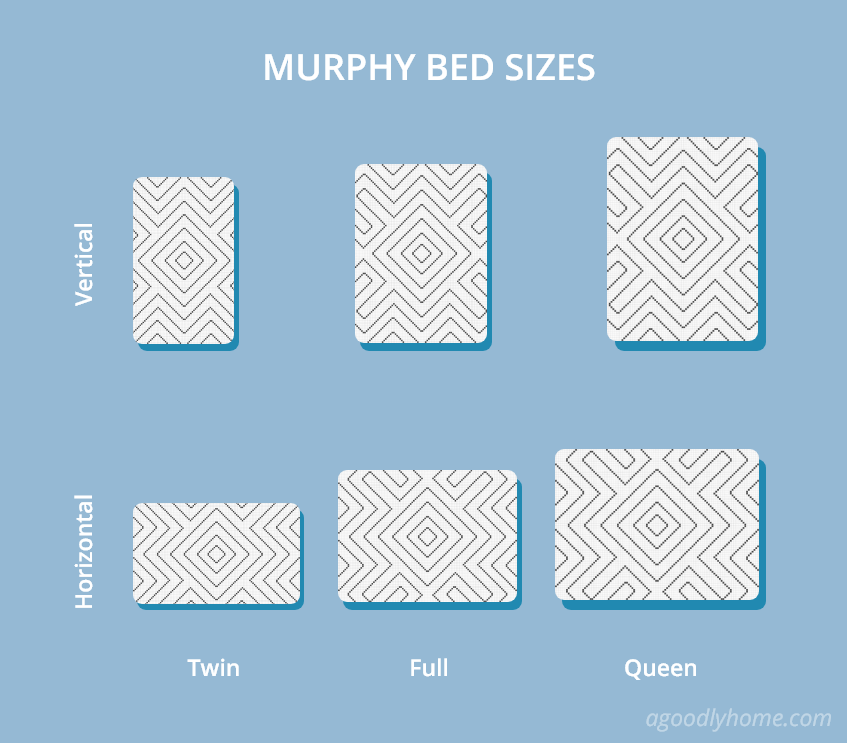 It's quite easy to get too excited and end up with a bed that is too large for your room. When choosing a Murphy bed, you need to be careful about the dimensions as they differ from normal bed frames.
You have to keep in mind that they need a little bit of space around the bed frame to help you push the bed into the wall and pull it down comfortably.
Firstly you will have to decide which size bed you want. Usually, all sizes from single to queen sizes are available. Keep in mind beds that are too large will be tougher to get down and pull up.
After that, you need to see how much space you have in your room. The length and breadth of the bed have to be compatible with the capacity of your room. For vertical beds, the height of your room needs to be measured beforehand so that you get a good fit.
Horizontal vs. Vertical
Which Murphy bed type is best for you depends on the amount of space you have.
Vertical Murphy beds go up to your ceiling, giving you a longer bed. And vertical Murphy beds are best known for being narrow but can be altered to a broader size.
Horizontal Murphy beds are the best option if you don't have much space from floor to ceiling. They are perfect for houses that have lower ceilings. These types of Murphy beds give you wider but shorter (in height) beds.
If you have adequate space for both types of beds, you can go for any type you like. But generally speaking, vertical wall beds are more space-savvy.
Gas Piston vs. Spring Lifted
Originally, most Murphy beds were built with a strong spring mechanism. Although these were popular because of the durability, they did make stowing and pulling down wall beds harder because of the high resistance.
A great advantage of owning a spring-lifted Murphy bed is that when the bed sags, you'll be able to adjust the resistance and fix that problem within seconds. They can also handle a lot of weight and do not fatigue.
However, gas piston is the new and better mechanism that works better for Murphy beds. They are more stable and controllable. Air pressure and gas pressure is used to operate the bed. You can also lock your bed in this mechanism. This safety feature is mostly why people love gas piston Murphy beds so much. Even if your bed sags, the frame will stay in place, locked.
The only disadvantage of this mechanism is that the frame is quite visible and does not blend into the wall. Also, if the piston loses strength over time, no adjustment can be made to salvage the system. You need to replace the system entirely.
Ultimately, which option you choose is up to you. For your benefit, we have included both gas piston and spring-lifted Murphy bed kit options. Two of the Murphy beds on our list of three are piston loaded. And the other is spring loaded.
Build Material
Changing or fixing up Murphy beds is certainly not a task that you will want to do quite often. To ensure that your bed stays fit and in one piece for a longer time, you need to invest in good build material.
The most popular material of choice for Murphy beds is solid wood. As the material is quite strong, it is used for the structure of the bed, but the solid wood is never used on the outside. This is because wood can get dents and scratches easily while being pushed up or pulled down, ruining the look of your bed.
If you want the durability of solid wood but cannot afford it, you can try out plywood. Plywood is constructed of several thin layers of wood, layered together. This material does not chip or get scratches easily, so it can be used for both the exterior and the structure of the bed.
Other cheaper alternatives you could go for are particle boards and MDF wall beds. These options are sturdy enough to last a few years but might contain chemicals and toxins.
Check Warranty/Ensure Reliability
Checking comments and reviews on the product you intend on buying will ensure that you get a reliable kit that will make your dream murphy bed a reality. Getting a glimpse of what the installation and sleeping experience was like for other real users will help you know what to expect from the product. As these builds are quite expensive, getting a kit that has a good warranty will be a smart choice in case something goes wrong. Check for companies that have good customer service and are well known for manufacturing reliable products.
Check What's Not Included
The kit that you buy should include all the tools and accessories that you will need to build your Murphy bed. Drills, angle brackets, screws, and stud finders are a few of the things you might need.
If you check and see that these are not included, you might want to buy them beforehand, so you have all the necessities ready for the installation process.
Good Instructions Manual Are More than Important
We're not going to sugarcoat this; installing a Murphy bed on your own is no easy task. So having a guide or instruction manual that is easy to read, written in simple language, and not too hard to follow will be a blessing to have.
Thoroughly detailed instruction manuals that have pictures that guide you or links to videos that show you how to install the bed will also be appreciated. A good example of such is the first kit on our list, namely, the Create-A-Bed Deluxe Murphy Bed Kit.
Frequently Asked Questions
If you still have any confusion regarding a Murphy bed kit, here are some commonly asked questions that users have when making the purchase.
Are Murphy beds comfortable?
Murphy beds use quite high-quality mattresses that are not only comfortable but also help you relax your muscles and de-stress after a long day of work.
How much does it cost to build your own Murphy bed?
This will depend on the size you are going for, but typically, a good DIY murphy bed build would cost around $500 to $1000. This includes the cost of the actual kit and the cost of other supplies and the primary build material such as wood.
Can you use a regular mattress on a Murphy bed?
You can use any coiled mattress on your Murphy bed.
How does the mattress stay in place on a Murphy bed?
Often mattresses are stripped down to the frame with an elastic strap to keep things in place.
How much weight can a Murphy bed support?
A good-quality Murphy bed will be able to support up to 1500lbs. Sometimes even more.
Final Words
Murphy beds are fun, comfortable, good for your back, and they also help you save space in your room. These beds do not cost much more than any regular bed but certainly noticeably amps up your rooms décor plus saves you space.
Buying a good murphy bed would cost you well over $1400 or more. But with the best Murphy bed kit in your hand, you can install the bed yourself in a day or two, reducing the cost down to around $700-$800.
Interesting read: Reasons why murphy beds are expensive (and what you can do about it).
Now that you know how to choose a wall bed and how beneficial these beds are, there is no reason for you to wait around. Get your family involved and build a wall bed together for more fun and to save some space.