Note that the products discussed on our site are independently selected by our editors. Your purchases through our recommendations may earn us a commission at no extra cost to you.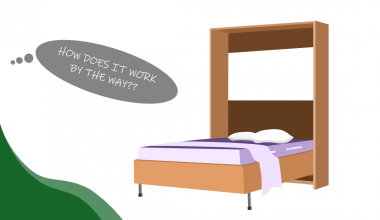 Have you ever heard of Murphy beds? Do you know how they work? Well, if no is the answer, then you're just on the right track to get heads up on various info about Murphy beds and how they work. But before we proceed, it'll be nice to understand the term 'Murphy bed' first.
A Murphy bed is a type of space-saving bed that utilizes lift mechanisms to fold the bed vertically into a wall, cabinet, or closet. And it can also be described as a wall bed, fold-down bed, or pull-down bed. In addition to that, Murphy beds come in different designs, colors, and styles, plus they also support additional features like lighting, storage areas, and many more.
All in all, a Murphy bed is a perfect approach for folks looking to manage space in their small apartment, and it has become a safer, more functional, and affordable option too. So if this sounds like a bed you'd be looking to acquire soon, don't hesitate to read further and find out more.
How Do They Actually Work: The Murphy Bed Mechanism
The short answer?
You pull the bed down when you need to sleep, and you pull it back up when you are done sleeping. The process is made easier with the use of lifting mechanisms, either with a Piston Mechanism or a Spring Mechanism. Some very entry level murphy beds don't use any lifting mechanism at all.
And the long answer? Find it below.
Murphy beds utilize lift mechanisms, making it easy to lift and pull down at one's convenience. The bed is mounted on the wall with safety measures and a number of locking systems. Hence, when the need to use the bed arises, you just have to pull down the bed from its mounting place and voila! And once you're done using the bed, it can be folded back to its resting position and your room space is again available to be used for purposes other than sleeping. These lift mechanisms used in the Murphy beds are of only two types, which are 'Spring Lift Mechanism' and 'Piston Lift Mechanism'. With advancements in technology, the sturdiness of the bed, its functionality, and design have been improved and with increase in demand, timely changes will be done as well.
Piston Mechanism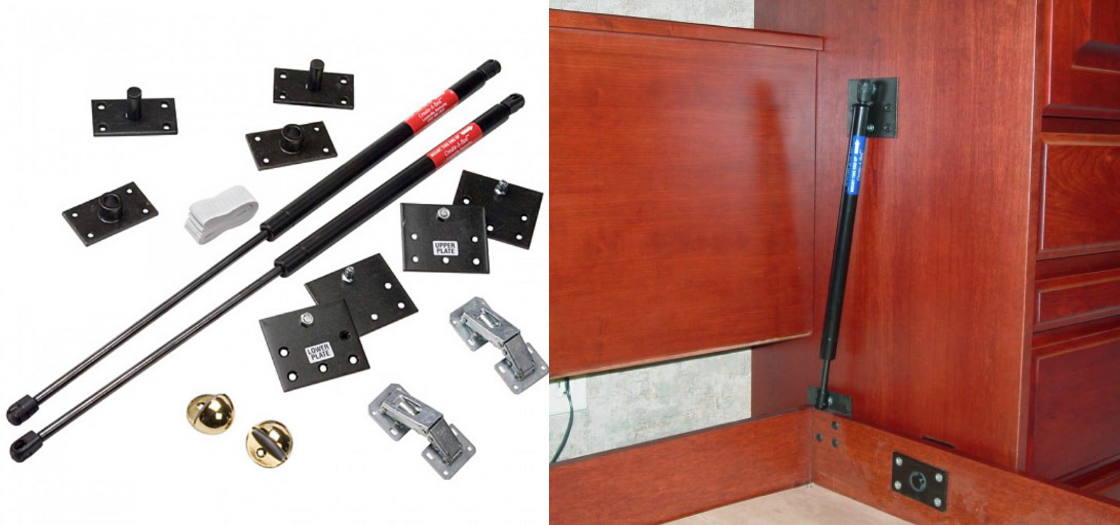 Piston Mechanism involves the use of both air and gas-pressurized piston to lift and pull down a Murphy bed. This mechanism makes it easy for you to utilize any-size bed of your choice, being it a king-size or twin bed. Unlike the Spring Mechanism, the Piston mechanism has an easy installation procedure, takes up less space, has fewer moving parts, and doesn't make any noisy sound even after using it for years.
However, it should be noted that the Piston mechanism doesn't support readjustment after installation. However, it usually has a strong locking system that prevents the bed from folding accidentally.
Spring Mechanism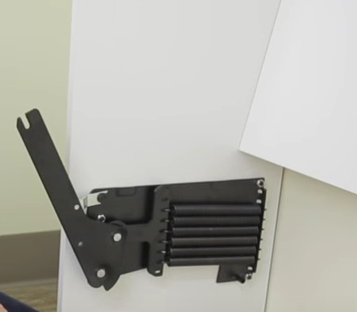 On the other hand, the Spring lift mechanism utilizes robust steel springs to power the lowering and lifting of the Murphy bed, making it easy to handle weight and pressure. In this case, the number of springs attached would affect how heavy or light you feel while operating the bed. As a general rule of thumb, it should be noted that a Murphy bed powered by a spring mechanism must have at least 6 springs on each side. Plus, it's recommended you, users, to retighten and grease the springs every few months to avoid noisy sounds and sagging.
Here are a few videos to show you the process of operating a Murphy bed. Enjoy!
Here's a very similar one, but with a desk.
These mechanisms are available as retail purchases for those planning make their DIY beds (more on that later). Check our review of Murphy Bed Kits here, in case you are interested.
How Many Types Are There?
Most Murphy beds come in different styles and sizes! As a result, choosing the one that best suits your requirements based on your apartment space can be a little bit tricky. Thus, this section will give you a brief knowledge of the different types of Murphy beds based on Sizes and Styles.
Murphy beds are primarily of two types –
Horizontal Murphy Bed
Vertical Murphy Bed
They are mounted either horizontally, or vertically, as their names suggest. Horizontal murphy beds are built for apartments that tend to have a low ceiling. Vertical ones on the other hand, are more suited for apartments that have good ceiling height. Generally speaking, Vertical murphy beds tend to look better than their Horizontal counterparts. They're also more space efficient, as they take less floor space than vertical ones. So, if possible, you should get a Vertical murphy bed. But if your ceiling is not high enough, go with a horizontal one.
Another aspect of Murphy bed styles is the set of features they come with. Following are some Murphy bed types depending on their feature sets.
Cabinet Murphy bed
These Murphy beds come in cabinets. Basically a large rectangular box that stores your bed. From the outside, it may look like anything but a bed, but when you need the bed, just remove the cover, and pull your mattress out, and voila! A nice bed to have a good night's sleep on.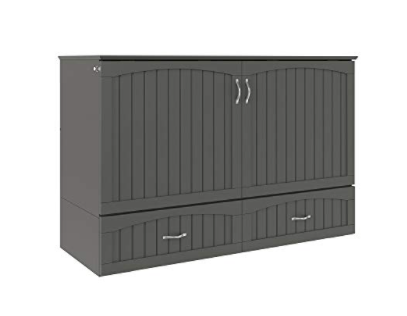 Library Murphy bed
These beds are specially made for book lovers! With all the many bookshelves at the front side, it's pretty much a library. But only until you need the bed. Which is when it turns into a comfortable bed for you to take a long rest on!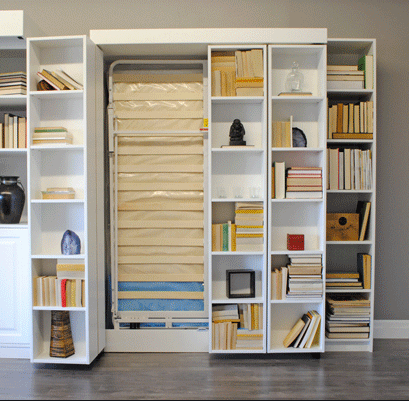 Desk Murphy Bed
Desk Murphy beds come with the purpose of accommodating one or more desks, along with the bed. Plain and simple. You can sleep on the bed the whole night, and when you're done, just pull the bed up, and it'll present you with a beautiful desk for you to do your study or work on for the rest of the day. Until you need the bed again in the night, which is when you repeat the process. The good thing about these beds is that you don't even need to clear the desk off before you pull the bed out. Because the desk stays flat, perpendicular to the floor, so you can leave your things on the desk, and at the same time, pull the bed in and out without any problem. Pretty neat!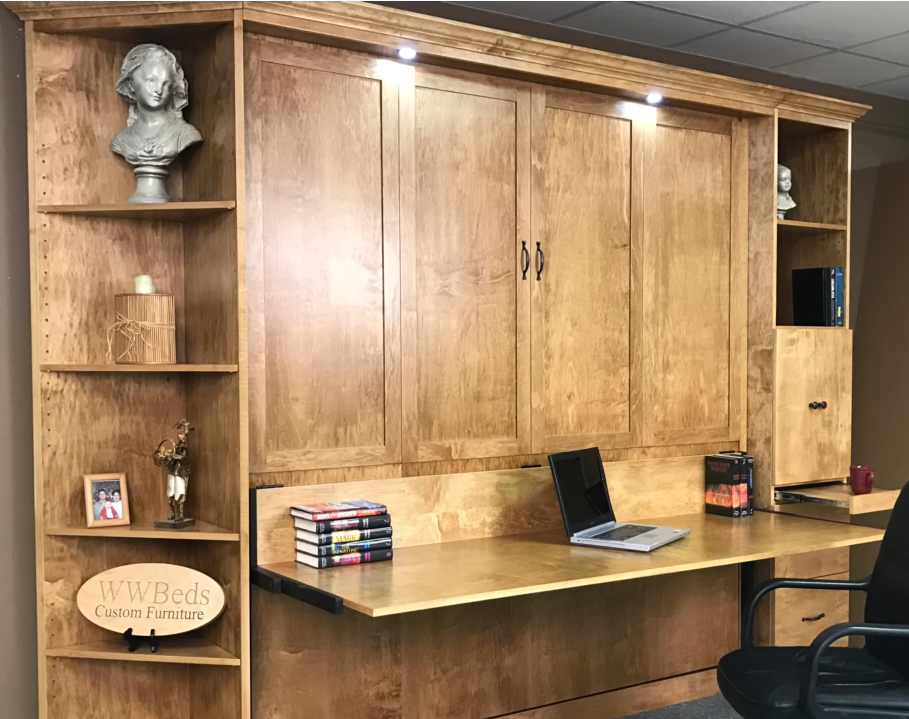 Sofa Murphy bed
Many folks prefer a sofa set when their Murphy bed is closed. So manufacturers took the idea, and created the Sofa Murphy bed. It's basically a Murphy bed, as usual. But this time, it offers a sofa set when closed.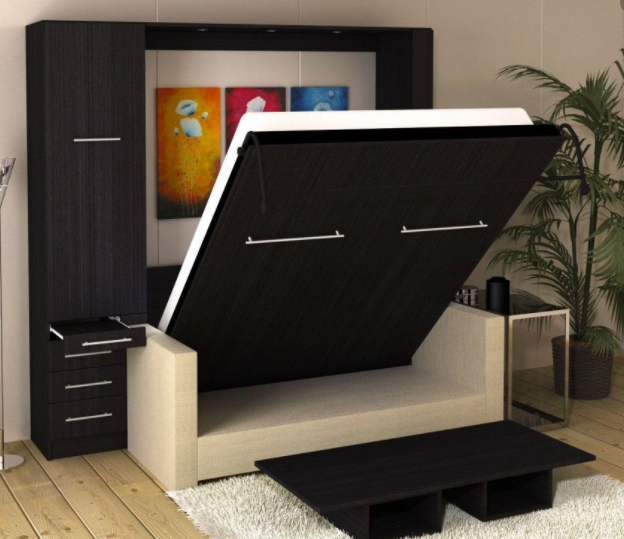 Bare-bone Murphy bed
This type of murphy beds don't come with any extra features. Just the bed frame. More than often, you will need to purchase the mattress yourself.
Murphy Bed Sizes: What Size Murphy Bed You Need?
As it relates to size, Murphy beds come in pretty much all the traditional sizes, namely, Twin, Full, Queen, and King size.
Twin Murphy bed is ideal for a child since they need the least space to have a good night's sleep on. Hence, manufacturers produce the smallest of beds, namely the Twin murphy beds, targeting our little stars!
Full size Murphy bed is a traditional sized bed that may be good enough for two adults.
Queen bed is a little bigger than the Full sized ones, and will comfortably accommodate two adults.
And last but not least, the King-sized Murphy bed. This kind of Murphy bed supports lots of options depending on the kind of mechanism it uses. King size murphy beds can hold up to 2000 lbs of weight.
It is important to know that some Murphy beds come with mattresses included, and some don't. In the later case, you will have to buy a mattress separately. Look for info. from the manufacturer of your bed to know exactly how you should go about a mattress for your bed. Check our "About Mattresses" section below for more info.
Here follows a show room tour showing the many types of Murphy beds that we have discussed above.
There you have it. By using all these types of Murphy beds, you can turn your apartment into a multifunctional space that rocks!
About Mattresses: What Mattress to Use With Murphy Beds?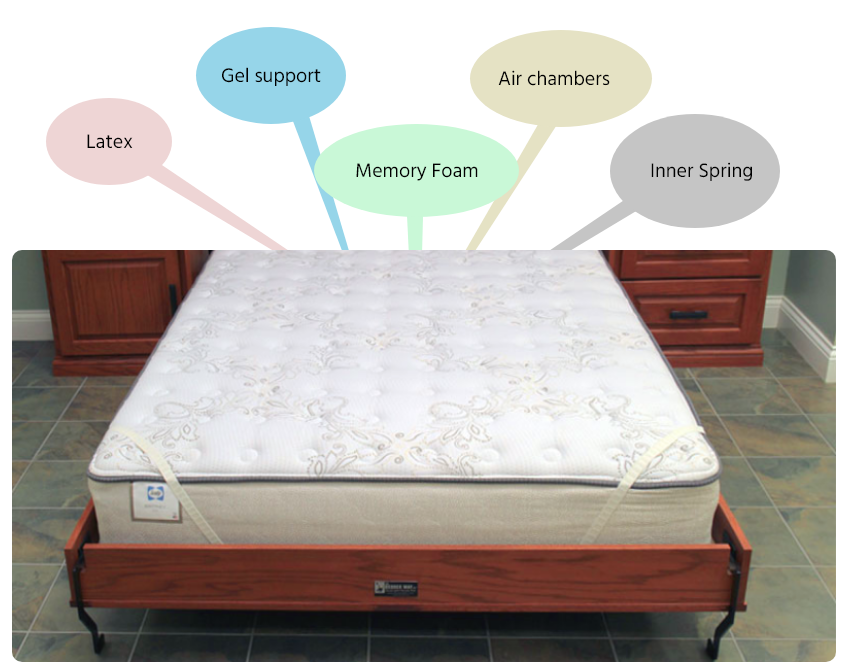 Some Murphy beds come with mattresses while some do not – just like other beds. If your bed has a mattress with it, you need not worry, just go with the offer. But, if you have to figure out a mattress for your Murphy bed yourself, take note of the following points to ensure you get a peaceful sleep and do not get up with body pains or in a cranky mood.
Type of mattress
Memory foam mattresses are found to be the most compatible with Murphy beds. Innersprings work too! But make sure not to go with Latex or Air filled mattresses. They don't work well with murphy beds. Memory foams are good because they tend to take the shape of the weight put upon them and get back to their normal shape once the weight is released. With this feature, when folding the bed, if some weight goes on the mattress, it will not spoil its shape and it will get back to its normal stature once you pull your bed down.
Weight of mattress
Mattresses usually give a rough weight estimate which they can support. Murphy beds also give their rough numbers. Get the average weight of the person who is mostly going to use the bed and accordingly figure out whether the mattress you are planning to buy will be able to support the weight or not. If you are a couple who is planning to use the bed, add the weight of both the partners and accordingly figure out the weight of the mattress. Additionally make sure that your mattress is no lighter than 50-55 pounds. You need to maintain a good balance here, and get a mattress that is neither too light nor too heavy. This will ensure that your bed will stay stable and not tend to come up, nor become too difficult to pull up and close.
Thickness of mattress
Last but not least, you need to ensure optimum thickness of the mattress you plan to buy. Too thin could make you feel uncomfortable when you sleep on it. And too thick could make it harder to close the bed in its position when you are done sleeping. It can also negatively affect your decorations on the wall behind the bed when closed. The ideal thickness for most murphy bed mattresses is around 6-12 inches. Check your manufacturer's manual to find out how thick of a mattress your bed can support. At the end of the day, you need to make sure that there remains 2-3 inches of gap between your mattress and the wall behind it when the bed is closed.
Pro Tip: Usually mattress companies give a 90 day trial period. Make the best use of it. Ensure that when you pull your bed up, your mattress is not getting impacted. A three month testing duration is sufficient for you to know whether your mattress will be compatible with your Murphy bed or you have to change it.
More about mattresses here.
The Prices: How Much Do Murphy Beds Cost?
Prices of Murphy beds vary greatly depending on their quality, size and manufacturer. Their prices start at around $700, and go well over $4500. Given the versatility of the features they come with, affecting the prices accordingly, you can always find a product within your budget.
The more attractive you want your bed to be, the costlier it gets. For a basic Murphy bed to be installed, the charges are not very high. However, some beds come with attached shelves, racks and other storage options to allow your murphy bed to be more functional, all while making sure that your home interior looks good. Such beds cost you a bit higher than normal Murphy beds, but if you can afford it, more than often the extra cost is well-justified.
On top of that, some wall beds come with the mattress included in the box. This also affects the prices the end user has to pay.
Related: Why Are Murphy Beds Expensive? Here's Why…
Are Murphy Beds Comfortable?
Murphy beds are comfortable if you use comfortable mattresses with them. They are like any other beds, with the only exception that they are space saving beds. Meaning, they save you space. But that doesn't mean that they're not comfortable, or that they are always comfortable. Their comfort level is totally dependent on the mattress you use. And generally speaking, the comfort you get on murphy beds is the same as any other beds, as you'd be using pretty much the same type of mattresses that you'd use on a regular bed.
If you are planning to buy a murphy bed that comes with the mattress included, go find what people are saying about it in the 'review' sections of e-commerce websites, or in forums. If your bed won't come with a mattress included, well then you decide which mattress you buy, and you control the comfort level you get with your mattress.
More detailed explanation here: Murphy beds – Comfortable?
Is a Murphy Bed Worth It?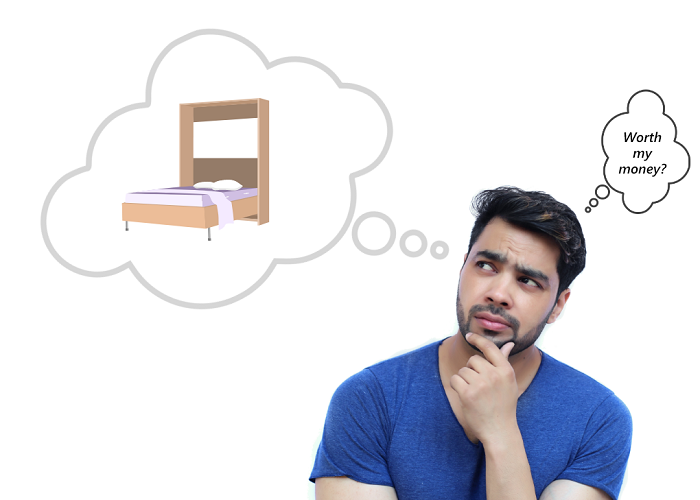 In short, Murphy beds can be considered a great investment due to the many benefits they offer to the end user. They save space very efficiently for those living in cramped spaces, and they can add to the aesthetic appealing too! They are not too costly either if you are ready to buy an entry level one.
For people living in cramped spaces, such as studio apartments, Murphy beds are a great option. They can be installed in almost any place where you have some room to install one. Use of Murphy bed ensures optimum use of space.
In terms of durability, they last for a considerable amount of time. Some of the beds also come with a 25 years of warranty. So generally speaking, they are very durable. However, the quality of the bed definitely differs depending on the quality of materials used. And this depends on the manufacturer a lot. So you should go with one that has a good reputation in the industry.
Finally, due to the many modern design changes brought to Murphy beds over time, nowadays it has reached a level where it can also add to the décor of your living space. So it's not a "functional only" piece of furniture any more, it's rather decorative too! Therefore, Murphy beds can be considered a great investment.
Check out the pros and cons of buying a Murphy bed to get a better understanding.
Where to Buy Murphy Beds?
There are many manufacturers that sell high-quality Murphy beds are available in the market. And there are some eCommerce sites as well that do the same such as Amazon. But before making a final decision, it's advisable you make the proper research necessary.
All-in-all, there's no bad place to purchase a Murphy bed, but the ball is in your court to choose the right vendor that you think is best for you.
Murphy Bed Recommendations?
At this point, you may be wondering if we have any recommendations for murphy beds? So, here follows some great options that we recommend. (We will be updating this list over time as we find better options)
More Murphy bed recommendations here.
DIY Murphy Beds?
Another aspect that we want to touch on at this point is DIY solutions for murphy beds. Since this article aims to provide you with pretty much all the knowledge you may want to learn about murphy beds, we thought we'd not leave this area untouched.
Yes! It's possible to make DIY murphy beds. There are many sellers online that sell DIY Murphy bed kits (AKA, DIY murphy bed mechanisms) which include all the necessary "Mechanisms", nuts, bolts, steel plates, wood cut-lists, and manual. If you have the time and energy to build your own bed, you can save some money buy doing so. Check out this article where we listed some DIY murphy bed kits that we recommend, both Piston lifted, and Spring lifted, if you want to go that way. An example of such a kit would be this kit from Create-A-Bed on Amazon.
Conclusion
We hope that our insights into how a murphy bed works has enlightened you about the bed. So hopefully, we can both agree that the concept of Murphy beds has changed the entire concept of bedding all together! While people used to rent mattresses when guests used to come, Murphy beds have made it convenient to meet bedding needs in a small space as well. These beds are extremely high on space saving and look very classy if maintained properly. Being cost effective and attractive, these beds are a boon for the people living in small apartments such as studio apartments. With the ease of mobility, they climb up the ladder of liking amongst people.
While doing research, we found most users were happy and content with their experiences with Murphy beds and have all the nice things to say about them. While some find them convenient, some are in love with their design and look. Others on the other hand are satisfied with their utility value. All in all, the reviews are excellent and it is highly recommended to make a purchase for these as, and when the need arises without any second thoughts.