Note that the products discussed on our site are independently selected by our editors. Your purchases through our recommendations may earn us a commission at no extra cost to you.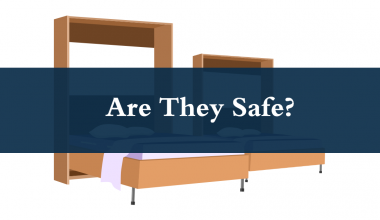 Have you ever thought about the bed invented by William Murphy? The Murphy bed is an excellent choice for most households, thanks to how much space it can save. It has an innovative design that allows it to fold up into a wall. Its minimalist design is ideal for small spaces, including office-guest room combos. What's more, this design allows you to tuck the bed aside whenever necessary, affording you more space in the long run. At a glance, you could easily assume that the Murphy bed is too complicated for your liking. Yet, its seamless operation could strike you.
While this is all good, many people may wonder – are Murphy Beds safe? And that is what we are going to discuss today.
To put it short — Murphy beds are generally safe to use, although they may seem intimidating at first glance. If installed and used properly, the safety hazards are not anything more that what you'd find with any other furniture of the same size in the house.
If you want a more detailed answer, find it below.
Murphy Bed Safety: Bursting the Myths
Murphy beds are significantly safe. With proper installation, you are confident of enhanced protection against injuries, fatality, and even trapping. You could attribute this enhanced safety to the various advanced mechanisms and technology. For instance, it has the hinge mechanism, which holds the bed to the wall, cushioning it against sudden folding.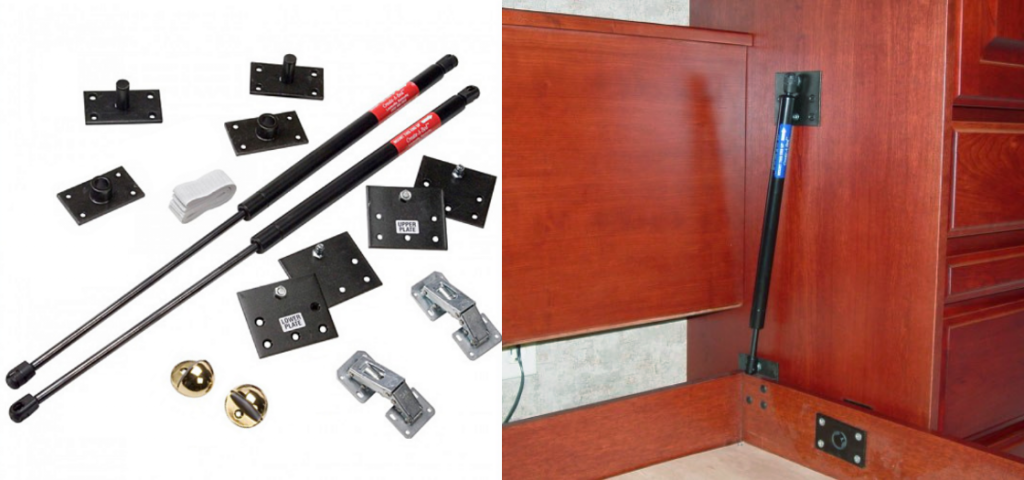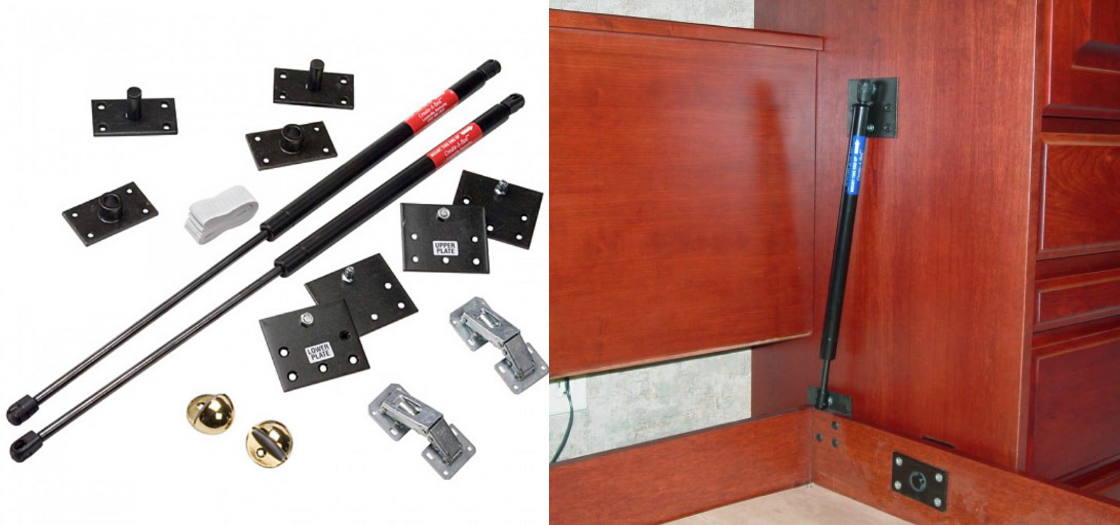 Today, the technology used to build the Murphy bed allows it to descend slowly when unfolding or getting pulled away from the wall. This aspect implies that you can hardly hurt your fingers or hands during the installation process. In addition, it has catches that help hold the bed upright, mainly during storage. Its additional straps will ensure that the mattress remains in check.
At the same time, this bed does not suddenly spring up or down. Instead, its hydraulic system ensures that the bed snaps to its correct position once you get in. Its robust design implies that it will remain static even after the safety latches get released. Perhaps, answering the following questions will provide more insights.
Can a Murphy Bed Fold Up or Down All of a Sudden?
The Murphy bed comes with significantly robust frames, enhancing stability. Proper bed mounting helps improve your safety levels, ensuring that this bed does not fold on you. Besides, it has a hydraulic system, which prevents the bed from getting out of its natural position. This system is supported by pistons, which enhance the bed's stability. These pistons keep the bed in the proper position too.
Murphy beds have a push button, which helps improve your safety. Pressing this button ensures no manual lifting. This technology ensures that your bed remains stable too.
Can the Murphy Bed Detach From the Wall and Fall?
Every professional will recommend that you install your Murphy bed properly. This move ensures that the bed does not detach from the wall and fall in the long run. That means a Murphy bed can detach from the wall if you do not install it accordingly. Detachment can result in potential injury and fatality, mainly when a crucial part falls off.
At the same time, this bed comes with a hinge mechanism, which helps keep the bed attached to the wall. This mechanism also keeps your bed from folding automatically, preventing sudden detachment. What's more, multiple fixtures keep the bed strapped to the wall, including those that contain the bed from opening up quickly.
Can It Kill? Has there Been a History of the Murphy Bed Killing?
Various incidences of bed-related fatality and injuries have been reported over the years. It is no different from the Murphy bed. Most Murphy bed-related deaths and injuries were reported due to improper installation.
In 2005, two people got trapped in the Murphy bed, suffocating to death. There was also a fatality incidence in 2014, where a person died because of a faulty Murphy bed.
It is relatively easy to avoid Murphy bed-related fatality. Usually, you'll need to start by installing the bed properly. You could hire a professional to help handle this process. At the same time, ensure that all relevant safety features are in place.
Also read: Are Murphy Beds Comfortable?
Ways to Ensure Murphy Bed Safety
Your safety is paramount. That means you must find ways to improve safety levels when using your newly-bought Murphy bed. Thankfully, various tips come in handy in this mission. Here is a breakdown of what to consider.
Get Your Bed From a Reputable Brand
A brand determines the quality of the Murphy bed you get. Opting for a renowned brand assures you of premium-quality materials, a robust frame, and enhanced safety levels. In addition, the cost of the Murphy bed will vary with the brand you choose. It would be best to compare various top-level brands, picking one that meets your preferences.
Various Murphy bed manufacturers are at your disposal. Always prioritize brands that offer wooden beds since they are sturdier and safer. The most reputable option would be the Lori Wall Beds, an excellent choice for those on a tight budget. This brand provides you with a broad range of styles, making blending with multiple finishes and decors easier. What's more, it assures you of more sleeping space.
You could also consider the Bestar Lumina brand, an ideal choice for limited spaces. This brand assures you of beds with multiple storage options, a lightweight design, and easy installation.
Other notable brands include Atlantic Furniture, Beachcrest, Bedder Way, and Night & Day Furniture. Compare all these options and settle on one that matches your needs.
Be regular in doing any maintenace work needed
Proper maintenance helps improve the safety levels of your Murphy bed. You could consider hiring a professional or doing it yourself, per your preferences. First, always ensure that your bed is flush with the wall. Such a position will help prevent the bed from crushing. You could also add a stud to boost such stability. These studs must be evenly spaced.
Further, tight screws are essential. Tight screws ensure that the bed remains significantly stable and sturdy. Tightened screws will help prevent entrapment.
Your angle brackets must be accurate too. Ensure that you check them from time to time. This way, it becomes much easier to attain the stability you need from your bed. The brackets must also be tightly fixed and flush to the wall.
Hire a pro to do the installation
Suppose you want unmatched steadiness. In this case, it would be suitable to fix your bed per the manufacturer's instructions. Yet, following all the instructions might not necessarily translate to proper installation. Relying on the services of a professional installer will, however, ensure that the bed is stable and safer.
Professionals boast extensive experience and skills to handle the Murphy bed installation process. They will ensure that the process is efficient and takes a relatively short time. Further, they understand points of vulnerability. That means professional installation helps minimize the chances of the bed breaking down much sooner.
This professional will help minimize gaps arising between the floor and the frame. This problem usually arises from improper attachment to the wall, damaging the wall and the bed. As such, an expert minimizes the shearing forces between the wall and the bed, reducing the damage.
However, it would be best if you chose a reliable professional. This expert must come with excellent reviews and referrals.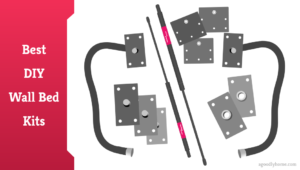 Ensure the bed has indeed been locked up after closing
Your safety will significantly depend on how you lock your Murphy bed. Locking ensures that the bed remains in an upright position. Remember, most Murphy beds come with a lock that allows you to secure the body in an upright position. This lock is suitable for children too, ensuring that they do not mess with the bed in the long run.
Installing an additional safety mechanism could also help. This separate locking mechanism should be flexible and relatively easy to adjust. Flexibility and adjustability help create a custom lift, raising and lowering the bed whenever necessary.
Don't stuff it with more than what it has been designed to handle
A Murphy bed is designed to handle a specific weight and even accessories. Overstuffing this bed could make it malfunction, failing to open, close, or rise as usual. While you might be tempted to add pillows and toys to your Murphy bed, it would help if you did not.
This move implies that your bed will not be vulnerable to the effects of excessive weight. Minimizing additional weight to this bed ensures that it remains balanced. Besides, you'll not compromise the tension offered by the relevant bed mechanisms.
Abide by manufactuer's recommendations
Manufacturers often offer a manual guide that tells you how to use the Murphy bed. This guide usually provides the steps of installation. Following these steps, including tightening screws and bolts, will help improve your safety levels.
You'll also need to consider the recommended mattress size. That is because beds are designed to accommodate specific mattress sizes and even types. Using the right style, size, and thickness of the mattress will ensure that your bed lasts for a long time. For instance, most Murphy beds use mattresses no more than 13 inches thick.
At the same time, the manufacturer will likely indicate how to maintain your bed. Following these instructions will help avoid compromising the quality of your bed. Excellent cleaning methods will also come in handy.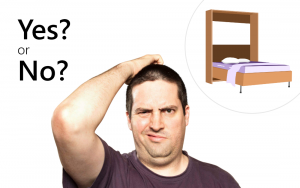 Safety locks to the rescue
Excellent safety locks ensure that your bed remains in an upright position at all times. This element protects the bed from falling, assuring you of peace of mind. These locks are an ideal choice for Murphy beds with no hydraulic systems. They ensure that the bed does not fold suddenly or fail to be in an upright position.
You could also consider safety latches, especially if you have children. Latches come with safety locks on the sides of the bed, where a child cannot reach. You could also place these latches on drawers and cabinets. It makes it easier to avoid finger injuries, pinches, and smashes.
Adequate lighting will help access these safety locks much more seamlessly. As such, ensure that you operate the safety locks only under sufficient lighting. Sufficient lighting minimizes accidents, injuries, and damage.
Keep children away when opening and closing
Keeping children away from the bed will often help improve safety levels. Ensure that they are not close when closing or opening the bed. This way, you minimize the chances of these children getting pinched. At the same time, be wary of pinch points, which are areas that could hold your child's fingers, bedding, or clothing.
Do not leave your child near the bed, especially if you are unsure how they will control themselves. These children could tamper with the various hinges or mechanisms used on the bed, affecting its functionality. Above all, such tampering could expose them to injuries and pinches.
Don't Panic! It Is Unnecessary for the Most Part
Murphy beds are a popular choice today, thanks to the various benefits they draw. These beds are multifunctional and can save space. You can use them in small apartments, offices, and bedrooms. In addition, they could come in handy as excellent storage units. Unfortunately, most people might want to question their safety levels. You could attribute this to their foldable design. While this design could be vulnerable to various issues, you are confident that advanced technology has helped circumvent all these problems. The most prominent solution would be to install your bed correctly, preferably by a professional. The insights above will also help you overcome safety issues.
After all of this reading, we hope that we have been able clear up your confusion about Murphy bed safety, and you now longer ask – are Murphy Beds safe? ?