Note that the products discussed on our site are independently selected by our editors. Your purchases through our recommendations may earn us a commission at no extra cost to you.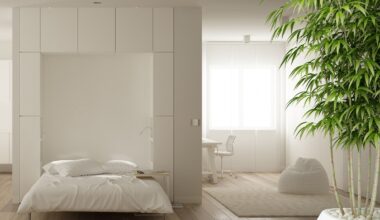 If your home would benefit from an extra bed in the house but don't want to commit to it taking up space all the time, then a fantastic Murphy Bed is the answer to your problem. Although they have been around for hundreds of years, Murphy Beds have come a long way since they were invented back in the 19th century. No matter what your reason for needing an extra bed, how often you may need it and what space you have, a Murphy Bed is a space saving, versatile and eye-catching addition to the home. Read on to learn a bit more about Murphy Beds, the very Best Buys currently available on Amazon and how to get the very best out of your Murphy Bed.
Murphy Beds: A Brief History
Murphy Beds have become an intrinsic part of many households. They have come a long way from their original invention back in the 1900s. Legend has it that William Lawrence Murphy wanted to woo a young Opera singer. However, the moral and social conventions of the day meant that it was considered unacceptable for a single man to invite a woman to his bedroom.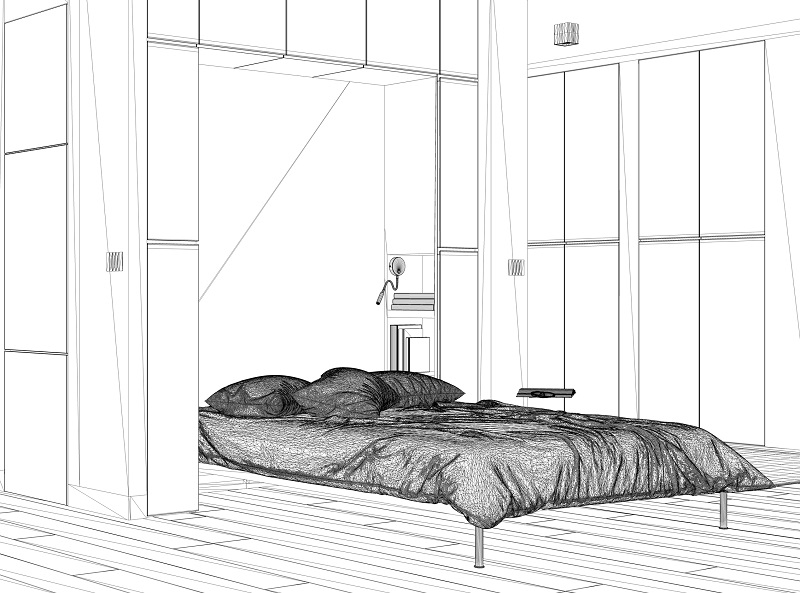 As William lived in a one bedroomed apartment, he didn't have a living space to entertain his lover. Rather than be defeated, William invented the first ever Murphy Bed. A bed which folded up into a cabinet against the wall turning his bedroom into a daytime parlour. William's story ends happily in every way. Not only did he end up winning the heart and marrying the young Opera singer, but he also patented the design of the Murphy Bed and it quickly took its place as an essential piece of furniture across the world.
The Smithsonian Museum consider the Murphy Bed to be an intrinsic part of American Heritage. The subsequent boom in American population and smaller living spaces meant that more and more families were in need of an extra bed which didn't permanently take up the space.
Since the original invention, the design and multi-functionality of Murphy Beds have progressed a long way. Nowadays, you can buy Murphy Beds in numerous sizes and eye-catching designs. They now provide not only a spare bed but extra storage space, display units or even sofas for everyday use.
Interesting read: Futon Mattresses
There are thousands of fantastic Murphy Beds available today and that can make it hard to know which are the Best Buys. We've saved you some time by picking out from Amazon what we believe are the cream of the crop for Murphy Beds today. Whatever space you have, whatever dual purpose you would like the unit for, read on for lots of inspiration.
The Best Murphy Beds – Overview
Atlantic Furniture AC614144 Southampton Murphy Bed Chest
Highlights:
Additional drawer for extra storage
Tongue and groove finish on the doors
Charging points for your devices
Comes with its own mattress
Beautiful classic design
Buy on Amazon
Images from Amazon Product Advertising API / Affiliate links / Last update on 2021-01-21
The first selection in our list of the best Murphy Beds comes from Atlantic Furniture. Atlantic Furniture's manufactures its products in the USA and this piece is a fine example of a classic American traditional design. This Queen size Murphy bed comes complete with a thick memory foam mattress which will ensure a good nights sleep for anyone who uses it. When not in use, the unit simply folds away (no need to take the sheets of) into the cupboard.
The unit also has a deep drawer at the bottom of the unit meaning you can store pillows of anything else completely out of sight. This piece not only looks good it's built with practicality in mind. Atlantic Furniture have included to USB charging points in the unit so you can charge your phone or other device whilst you sleep. The Murphy Bed, which is a part of the Southampton range, is available in an impressive five colors making it easier to finish that will complement your existing décor. The tongue and grove finish on the doors add the final touch of class to a unit that is not only practical but will look good in any home.
The Good
USB charging points
Traditional American design by an American manufacturer
Drawer at the bottom for extra storage
Mattress included
Choice of five color finishes
Not So Good
This a sturdy (and so heavy) piece of furniture so may not be easy to move around
Would suit traditional décor best
Night & Day Furniture MUR-DSY BC Murphy Cabinet
Highlights:
Country cottage design
Can take up to 500lbs combined weight
Extra drawer for storage
Finished in Butter Cream
Queen size bed
Buy on Amazon
Images from Amazon Product Advertising API / Affiliate links / Last update on 2021-01-21
Night and Day are well known for making quality furniture and we have chosen two pieces to include in our recommended buys. If your home enjoys a country cottage style to it then Night & Day's Murphy Cabinet bed is a beautiful piece of furniture which simply oozes both functionality and style. This Credenza styled cabinet is the perfect height to use as a TV cabinet during the day.
Not only that, the Daisy Murphy Cabinet can take up to 500lbs of combined weight on the bed. The mattress (which is included) is infused with a tri-folding gel infused memory foam mattress which neatly folds away into the cabinet when not in use. This Murphy Cabinet only weighs 200lbs so is considerably easier than some units to move around your room if necessary. The Cabinet itself is made from Asian Hardwood and also benefits with a drawer at the bottom for that bit of extra storage space which always comes in handy.
The Good
Country cottage Credenza style cabinet
Comes with gel infused memory foam mattress
Well-made and sturdy piece of furniture
Drawer for extra storage space
Can be easily moved around
Not So Good
You may need a mattress topper
Night & Day Furniture Murphy Cabinet Bed
Highlights:
Tasteful traditional design
Comes complete with mattress
Impressive guarantees
Built to last
Brushed nickel knobs
Choice of three finishes
Buy on Amazon
Images from Amazon Product Advertising API / Affiliate links / Last update on 2021-01-21
Our second top recommendation from Night and Day is one that we simply had to include in our list of Best Buys. This Murphy Cabinet Bed is part of Night and Day's Clover Collection and has a traditional style which radiates class in every respect. Made in Malaysia the unit is made from solid hardwood and is available in a choice of Cherry, White or a Chocolate finish. The cabinet knobs are made from brushed nickel and add an even greater sense of history to this beautiful piece of furniture.
Like Night and Day's Daisy Murphy Cabinet, this Cabinet bed benefits from a bottom drawer for storage. Night & Day have also included a gel infused mattress which will ensure a comfortable night's sleep for anyone using. We especially like that this particular Murphy Bed comes with some very impressive guarantees which can give you peace of mind when purchasing it. The unit itself has an impressive 10-year guarantee and the mattress a 3-year guarantee. There is no doubt that this is a great quality piece of furniture and won't fail to impress any who buys it.
The Good
Traditionally styled down to the finest details
Superb product guarantees to give you piece of mind
Additional drawer for storage
Gel infused mattress provided
Sturdy and reliable
Not So Good
This unit weighs over 300lbs so won't be easy to move around
You'll need to check if the delivery driver will carry the item indoors for you
Bestar Versatile Queen Wall Bed
Highlights:
Finished in built to last materials
Can take up to a twelve-inch thick mattress
Eye-catching design
Solid steel frame
Modern design
Buy on Amazon
Images from Amazon Product Advertising API / Affiliate links / Last update on 2021-01-21
This is the first of five recommended buys from Bestar – furniture designers who specialize in space optimization. This modern Queen Wall Bed is one of the best Murphy beds you can buy now. It provides functionality and a potential accent piece which is ideal for an everyday living space. It comes with four adjustable shelves at each side of the bed which are perfect for adding those extra special display pieces to wow visitors to your home. The unit is finished in an attractive white giving it a clean modern feel.
However, the Bestar Versatile Queen Wall Bed doesn't just look good, it's also well-made and comes with lots of little extras. The bed itself will take up to a twelve-inch-thick mattress promising a luxurious rest. The frame of the unit is made of solid steel and uses hydraulic springs to ensure a smooth and safe open and closing. The back panel of the unit even has wire grommets which will allow you access any power outlets without having to move the unit. There is no doubt about it this is Wall Bed that is both functional and stylish and well worth its place on our Best Buys list.
The Good
Perfect for a living space
Sturdy and functional design
Adjustable shelving for display pieces
Stylish design with clean lines
Hydraulic springs ensure seamless opening and closing
Not So Good
This is a hefty piece (it weighs 654 pounds) so you won't be able to move it around much.
You may need some help in assembling the unit.
Bestar 115"Queen Wall Bed kit – Versatile
Highlights:
Finished in a tasteful Tuscany Brown
Produced by reputable manufacturer
Shelves each side for display
Takes a standard Queen-sized mattress
Fixes safely to the wall
Buy on Amazon
Images from Amazon Product Advertising API / Affiliate links / Last update on 2021-01-21
Our second recommendation from Bestar is the 115" Queen Wall Bed. This beautiful unit is finished in a tasteful Tuscany Brown making it an ideal addition to a home with more traditional décor. Bestar have been producing quality furniture since 1948 and this bed, along with their others, uses a unique fixing system that ensures that it is fixed extra securely to the wall it is placed against.
The Bestar 115" can carry up to 1000 pounds in weight meaning you can have peace of mind knowing this is a safe and reliable Murphy Bed. Like our previous recommendation from Bestar, the 115" Queen has display shelves at either side of the bed. Two of the shelves are fixed and four can be adjusted according to your own preferences. The bed uses Euroslat foundation and takes a normal Queen size mattress between 8-12inches in thickness which you can choose according to your own preferences.
The Good
Perfect for homes with traditional styling
Uses a Euroslat foundation for the bed
Adjustable shelves for display
Can carry up to 1000 pounds in weight
Strong and reliable fixings to the wall
Not So Good
Bestar recommend three people to assemble the piece
Pillows must be removed when the unit is closed
Bestar 90" Queen Wall Bed kit – Pur
Highlights:
Great for smaller spaces
Easy to assembly
25-inch wide storage shelves
Available in three finishes
Choice of where you put the storage unit
Buy on Amazon
Images from Amazon Product Advertising API / Affiliate links / Last update on 2021-01-21
If you like the design of the previous two offerings from Bestar but need a slightly smaller unit and more choices, then the Bestar 90" Queen Wall Bed Kit could well be an ideal option. The piece comes with one storage unit which you can place either side of the Murphy Bed – whichever way enhances your current room design the most.
This bed also allows you several color options. The 90" Bestar has a range of three different finishes – Bark Grey, Chocolate or White. Whatever your existing room palette and styling, this piece gives you the option to either complement your existing pieces with or provide an impressive accent. If all this weren't enough, the unit is easy to assembly. It is likely to take a few hours but the end result will be well worth it. Like other Murphy Beds from Bestar, everything comes in 100% recyclable packaging and with great Customer Service to match, you can be secure in buying a quality piece from this company.
The Good
Adaptable storage piece can be placed where you like
Choice of three finishes
Easy assembly and great customer support
Perfect for those needing a space-saving design
Recyclable packaging
Not So Good
Not as much storage space as some units offer
Mattress not included
Bestar Queen Wall Bed – Versatile
Highlights:
Choice of a White or Tuscany Brown finish
Built to last
Comfortable base
Crown moulding to the top
Contemporary finish
Buy on Amazon
Images from Amazon Product Advertising API / Affiliate links / Last update on 2021-01-21
The Bestar Queen Wall Bed is another great example of some of the best Murphy Beds as it provides a modern design whilst not compromising on the quality workmanship of Bestar. The Versatile Queen-sized bed has three panels faux panels across and a vertical panel above. Each section has stylish brushed chrome handles which add an area of interest to the front.
The unit itself is made from high density particle board. This ensures that the wood won't warp or sag over time, ensuring that this Wall Bed will be a long-lasting and reliable addition to your home. The Bestar Queen Wall Bed comes in a choice of two finishes – White or Tuscany Brown and has crown moulding at the top to add that quality final touch.
The unit also benefits from an ultra-comfortable Euroslat base and can take up to a twelve-inch mattress. Unlike many Murphy Beds, you can store your pillows inside this Wall Bed when it is closed. There is a handy ledge which will take two pillows so you don't need to be searching for extra storage space to store your pillows when the unit isn't being used.
The Good
Modern design
Brushed chrome handles
Space to store pillows inside
Can take up to a twelve-inch mattress
Choice of two finishes
Not So Good
Weight of the mattress must be under 100 pounds in weight
Doesn't come with a mattress
Bestar Oak Veneer Queen Wall Bed – Novello
Highlights:
Tasteful traditional design
Finished to a high standard
Crown moulding gives it a sense of class
Additional units in the Novello collection are available
Fits in most spaces
Buy on Amazon
Images from Amazon Product Advertising API / Affiliate links / Last update on 2021-01-21
Our final offering from Bestar for the best Murphy Beds is the smallest width bed we have on offer amongst our Best Buys for Wall Beds. If your space is at an absolute premium then this Murphy Bed comes in at just under 90 inches across and so should fit in most spaces.
Bestar have combined practicality with aesthetics in producing this beautiful classic design. Finished in a warm oak veneer, the crown moulding at the top of the unit adds an attractive finishing touch to this simple but elegant piece. The surfaces on the Queen Wall Bed are easily cleanable making it ideal for a busy households where everyday spills are commonplace.
The Bestar will take a Queen size mattress that weighs between 45-90lbs and the whole piece can take up to 1000lbs weight including the mattress. If you want to add to your collection, there are matching shelving units available to buy separately from the Bestar Novello collection.
The Good
Finished in a beautiful warm oak veneer
Perfect for homes where space is at a premium
Matching furniture pieces are available
Easy to assembly
Can take up to 1000lbs of weight
Not So Good
Check that your room's ceiling is high enough for the bed to open
The mattress needs to be the correct weight for the unit to work properly
FDW Sectional Futon Sofa Bed
Highlights:
Use as a corner sofa during the day
Simple assembly
Sleek design with clean lines
Easy to clean up any spills
Arrange to fit your room
Buy on Amazon
Images from Amazon Product Advertising API / Affiliate links / Last update on 2021-01-21
Nowadays the term "Murphy Bed" is used to describe all sorts of beds that can be used for a different purpose during the day. The FDW Sofa Sectional Futon Sofa Bed offers every homeowner the best of both worlds. During the day, you can arrange the bed into a corner shape or whatever configuration works for your room. The sofa is a good size and is great for all the family. At night, the sofa easily transforms into a comfortable Queen size bed.
This piece has a nice Modern-Industrial design making it a classy addition to any room with contemporary styling. The unit is covered in black faux leather ensuring it both look great and be easy to clean up in the case of any accidental spills. The frame itself is made from solid wood so is likely to be a long-lasting addition to the home. Another great feature about this unit is that it is probably the easiest of all our Best Buys to assemble. All tools you need come supplied in the box and all you have to do to have the sofa bed ready to use is screw on the legs and two hooks. Easy!
The Good
Firm and comfortable sofa bed
No need to buy a mattress
Adjustable headrests
Modern Industrial design
Quick to assemble and use
Not So Good
Delivery drivers will only take this item to your doorway – not inside
Wouldn't suit a traditionally furnished home
Furniture of America Franklyn Twin Loft Bed
Highlights:
Professional-looking design
Ample workspace
Cupboard and drawers for storage
Two shelves for display or storage
Mission Style railings
Buy on Amazon
Images from Amazon Product Advertising API / Affiliate links / Last update on 2021-01-21
We now come to the first of our two recommendations for Murphy Beds that are geared towards children and teens. Our first Best Buy is the Franklyn Twin Loft Bed which is produced by Furniture of America. This traditionally styled bunk bed provides a bed, multiple workspaces and storage that will add a touch of class to any younger family member's bedroom. This piece is constructed from solid wood and finished with a espresso colored wood veneer.
The Bed has Mission Style rails at the head and foot of the bed which add to the overall sense of heritage that this unit communicates. Below the twin bed there are an impressive three separate work spaces. The Franklyn also provides you with two additional drawers and a cabinet for plenty of extra out-of-sight storage. In addition to all this there are also a further two shelves which can be used to store books or displaying items

The Good
Three separate workspaces.
Traditionally styled
Beautiful espresso finish
Sturdy construction
Lots of out-of-sight storage
Not So Good
You may need some help in putting this together
The unit has some stickers on them which you'll need to remove
Donco Kids Low Study Loft Bed
Highlights:
Clean and contemporary design
Range of finishes available
Optional pull-down sides
Loads of storage and display space
Pull-out workspace
Buy on Amazon
Images from Amazon Product Advertising API / Affiliate links / Last update on 2021-01-21
Our final suggestion in our tour of the top Murphy Beds has to be this fabulous Low Loft Bed from DONCO Kids. If anyone knows how to make furniture that is perfect for children and teens then it is DONCO Kids. They are a family run manufacturer who specialize in versatile, attractive and resilient furniture aimed at younger members of the family. The Low Loft Bed has a clean contemporary design and is available in five different finishes which means you can buy a Bed that will please just about every taste!
The Queen size bed is fitted on the top and then underneath it offers an impressive four shelves and three ultra-deep drawers. If all that extra storage or display space isn't enough, the Low Loft Bed also has a pull-out desk which is 27 ½ inches tall. Depending on which finish you go for, you have the option for the bed to have pull-down fabric sides. This can create an additional play space for younger children or a handy way to hide any clutter that might have built up under the bed!
The Good
Sturdy construction
Made by a family company who specialise in children's furniture
Attractive design
Lots of space beneath for storage and workspace
Same day shipping
Not So Good
Finish is more "white" than cappuccino
Doesn't come with a mattress
Why Murphy Beds – The Advantages
A Guest Room That Isn't "Full Time"
You never know when you will need an extra bed for visitors. Whether it's people staying over after an evening entertaining, relatives coming to visit the family or a short-notice sleep-over for the kids we all need an extra bed at times. However, with our living spaces becoming smaller, many of us simply can't dedicate a whole room of the house over as a permanent guest room. If space is at a premium or if your use of a spare bed will be infrequent, Murphy Beds are a fantastic furniture alternative that allows you to provide a comfortable and high-quality bed, without it always having to be in situ.
Many Murphy Beds come with attractive display spaces or can be used for other purposes. Because they take up a relatively small amount of floor space when not in use, a Murphy Bed allows you to use your space for other things whilst still have the option of having space for people to stay over when the need arises.
A Bed With Extra
Some Murphy Beds don't simply fold away into an eye-catching cabinet. Many are multi-functional pieces that allow a bed to be used for other purposes. For example, child and teens Murphy Beds can include work and storage space and even additional play areas. Murphy Beds for adults can provide lots of much needed extra storage or display pay. They can even be used as an accent piece for the room.
Easy To Use
Most Murphy Beds have double hydraulic pistons meaning you don't need to have a lot of strength to open and close them. As most of the bedding (usually excluding pillows) can be left in place, they can be set up within a matter of seconds instantly providing an extra bed and tidying it completely away when needed.
Must-Have Buy
Over the years Murphy Beds have come in and out of fashion. They become more popular in the 1980s and 1990s but over the last few years, with living spaces becoming smaller and our lives becoming more social, Murphy Beds are having something of a resurgence. With so many potential designs and suiting so many different spaces, it's not difficult to see why more and more people are opting to include Murphy Beds as an essential piece of home furniture.
Buying Guide: Things to Consider When Buying The Best Murphy Beds
So, what do you need to look for when you are choosing a Murphy Bed? Read on to find out everything you need to know before you make your purchase.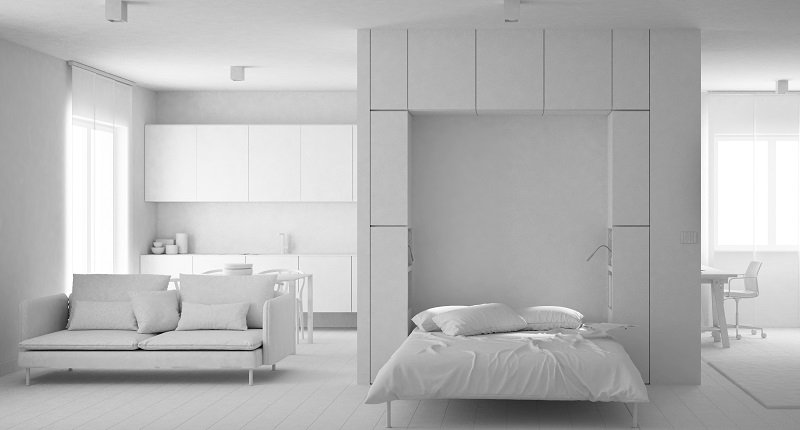 What Space Do you Have?
The first thing you need to do is to measure the space that the Murphy Bed will be going into. Make sure you check how much height your wall has to avoid any embarrassing moments if you find the bed won't fit into your space once you get it in your house!
Something that some people don't consider before purchasing a Murphy Bed is that the back of the unit needs to be placed flat against the wall. This may mean that you'll need to remove the baseboards on the part of the room where your Murphy Bed will be positioned so that it can be secured flush to the wall.
How Often Will It Be Slept In?
Secondly, how often will your Murphy Bed be used? If it will be slept in regularly, it will probably be worth choosing a Murphy Bed that either has a memory foam mattress or one that will take a thicker mattress which you can then choose from a shop.
What Else Will You Use It For?
Next, think about what other purpose (if any) do you want your Murphy Bed to serve. Do you want it to simply fold away out of sight? If this is the case you could opt for a Bed that is purely a cabinet which works with your current room styling. However, if you want your Murphy Bed to be multi-functional then there are lots of options.
Many home owners enjoy having the chance to have extra display space or much needed storage space. It might be that you are wanting to add something to your room that is not only functional but also a real accent piece to draw the eye. If this is the case, there are several options on our Best Buys list that can those things.
For others, they may have a small space that ideally would contain several pieces of furniture. In this situation, Murphy Beds can provide a space-optimizing solution. For example, Murphy Beds for children and teens that not only offer a sleeping space but storage, work and play space – all in one versatile piece of furniture.
Types of Murphy Beds
There are lots of different types of Murphy Beds available. What your needs are and your available space will help you decide which Bed is the best option for you.
Murphy Beds are also known as Cabinet Beds or Wall Beds. Most Murphy Beds fold away into a cabinet. Most fold vertically but some fold horizontally (along the length of the bed). Beds that fold horizontally work better in spaces with ceilings which can't accommodate the height of a vertically closing Murphy Bed. They will also take up a longer length of wall space.
Most Murphy Beds open and close using a piston system. This ensures that, as well as smoothly opening and closing, it also stays in the correct position. You can buy some DIY Murphy Beds kits that have no opening mechanism at all. Although these tend to be cheaper, they rely on strength to open and close them and tend to be considerably heavier than normal Murphy Beds to ensure they stay open correctly.
Despite all we've said so far, not all Murphy Beds fold away. Some have beds which are out all the time. In these cases, the Murphy Bed will provide other additional uses (for example display space). Other types of Murphy Beds are transitional units and can be turned into beds when needed – for example sofas for a living or media room which can be easily turned into a comfortable bed when required.
Safety Features
Nowadays, Murphy Beds are very safe and there should be no more danger involved in using them than any other piece of furniture.
When you are deciding where to position your Murphy Bed, make sure it is either next to a solid wall or aligned to your wall studs. This means that when you use the manufacturers fixing system, your bed will be safely secured to the wall leaving it with no chance of toppling over.
Some Murphy Beds have a safety latch on them as an extra protection against the unit opening when it shouldn't. However, even if the unit you like doesn't have a latch, check what weight mattress the bed needs to take. If you keep to these weight guidelines, the unit is designed to automatically counter-balance – making it impossible for it to open or close when it shouldn't. You can easily add a latch if the bed you buy doesn't have one if it will give you that extra peace of mind.
How Much Assembly Is Needed?
Finally, make sure that you check details about how much, if any, assembly is required. This can vary a lot from one bed to another. Depending on your DIY skills, you may want to use Amazon's White Glove Service. This is a great service where, for a small fee, someone will come and put your Murphy Bed together in your home. Depending on how complex the job is, this could be a stress-saving option.
After You Purchase: Murphy Bed Maintenance Tips
There is no reason why, with a small about of tender loving care, your Murphy Bed shouldn't be a long-lasting part of your home. Here's are some simple tips that will help expand its lifespan and keep it looking and working to perfection.
Installation Is Everything
We can't emphasis enough how important it is to follow the manufacturer's instructions when you are putting together and installing your Murphy Bed. If you skip a few steps in the instructions, have screws that aren't tightly fixed etc., the chances of your Murphy Bed increase dramatically. If you don't feel you have the skills (or time!) to put together and install your Murphy Bed, Amazon Installers work across the UK to do the hard work for you and to ensure the job is done to the highest standard.
Look After the Joints
The whole point of a Murphy Bed is that it can be folded up out of the way when it's not in use. If the joints on the Murphy Bed become damaged then the bed will become unusable. Thankfully, the joints on all the beds we've listed on our Best Buys are top quality and as long as you don't misuse them, they should last for many years. To take care of the joints in your Murphy Bed, make sure that the bed is free from clutter when you are folding it up. Ensure that loose bedding isn't getting caught in the mechanism as this will damage it over time.
Also, avoid (if at all possible!) children jumping up and down on the bed or any heavy weights being suddenly dropped on it. Both of these things could jar and damage the joints. Make sure that you never put in excess of the manufacturers guide on the unit because this will also reduce the lifespan of the bed and may make any guarantees void.
Keep It Looking Great
The inside of a Murphy Bed won't need to be dusted but make sure that you only use gentle polishes (no harsh chemicals) on the outer surfaces. Use a soft cloth (a micro fibre cloth is ideal) and furniture posh to keep the surfaces looking great. Again, if you follow the manufacturers guidelines, your Murphy Bed will keep looking amazing for many years to come.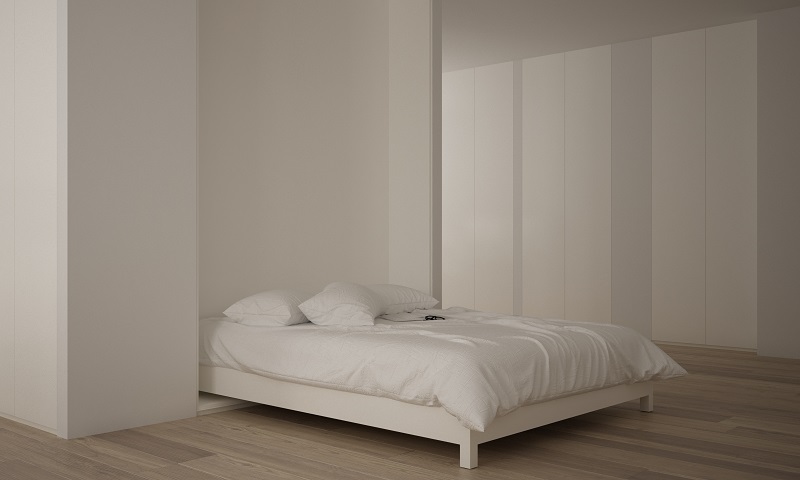 Q1: Are Murphy Beds Comfortable?
In a word – yes! Murphy Beds have come a long way since their invention. The Murphy Beds that we have highlighted as Best Buys and come with a mattress supplied all have memory foam mattresses. Memory foam mattresses are known to be the most comfortable on the market today and adjust themselves to provide the maximum comfort according to the person who is sleeping on it. For those Murphy Beds that don't include a mattress, each one takes a standard size mattress. This means that you can choose the mattress that would suit you best. So, there is no reason why you or your guests wouldn't be just as comfortable on a Murphy Bed as you would be on the normal bed you sleep in.
Q2: Do You Have to Have a Special Mattress for A Murphy Bed?
Some Murphy Beds come with a mattress supplied but all Murphy Beds come in standard sizes which you can buy in any mattress store or online at Amazon. The Murphy Beds we have highlighted as Best Buys all take either a Twin or Queen-sized mattress. If you are buying a mattress for your Murphy Bed, read the Manufacturer's Guidelines as to what thickness (or depth) of mattress your Murphy Bed can take. These do vary from bed to bed and, to ensure your bed opens and locks in place correctly, you need to follow these guides.
Q3: Are Murphy Beds Safe?
You may have seen some Charlie Chaplin or other slapstick comedies where a Murphy Bed closes up when a person is lying on it. Rest assured that this really isn't normal or at all likely. Murphy Beds now come with hydraulic springs and the unit locks into place once it is lowered to the floor. If you have used the weight and thickness that the manufacturer recommends it is virtually impossible for the bed to close when someone is on it. Equally, Murphy Beds often come with a latch which means that when you have closed it, it will stay shut until you want it next. Although it's impossible to say an accident will never happen, nowadays Murphy Beds are no more or less dangerous than any other piece of furniture. In fact, Jody Rosen, writing in the New York Times, stated that people were no more likely to be hurt by a Murphy Bed than they were to be injured by an ottoman. We hope that puts your mind at rest!
Q4: What Is the Price of A Murphy Bed?
Prices vary greatly depending on which bed you choose, the materials it's produced from and what its other purposes in your home will be. On Amazon, the cheapest Murphy Beds (other than DIY kits) start at around $1000 and go up to just under $5700. If you are wondering why they are so expensive, check out: why murphy beds are expensive (and some bonus tips).
Q5: How Thick Is a Murphy Bed?
As we've already mentioned, this can vary from bed to bed. When looking at beds, look at the thickness of mattress which the bed will take. The Manufacturers will always tell you this on their information as they want you to have the most comfortable sleep on their bed whilst ensuring that it will fold up safely. It's also important to note that most Murphy Beds allow space for you to leave sheets on them when folded but many require you to remove pillows or comforters when closing the unit up after use.
Wrapping Up
We've shown you an amazing assortment of the best Murphy Beds that are currently available on Amazon. They have certainly come a long way since their 1900s invention! Whatever your space and whatever your interior design style, we're sure that amongst our top picks you can easily find the perfect Murphy Bed that will provide you the very best in versatility, function and style. We hope you enjoy choosing your very own Murphy Bed and enjoy using it for many years to come.
Next Read
After you're done purchasing and installing your Murphy Bed, spruce up the setting with a pair of nesting tables.
And here are a few console tables to give the settings an even better look.
What more? Install a pair of wall sconces to fulfill the lighting needs.
Since murphy bed come at a pretty hefty price tag, if you don't mind making your bed yourself, check out our recommendations for the best murphy bed DIY kits.